With Logos, commentaries are more powerful than ever. Configure them to follow your study automatically, examine any Bible reference or footnote without leaving the commentary, capture notes and highlights, and conduct advanced searches.
Skip ahead to:
Link Commentaries to Your Bible
Open Commentaries
Select the Library menu icon

to view your resources. To view only commentaries, expand the Filters icon

and select the Bible Commentary type. Search for a commentary and choose one from the list.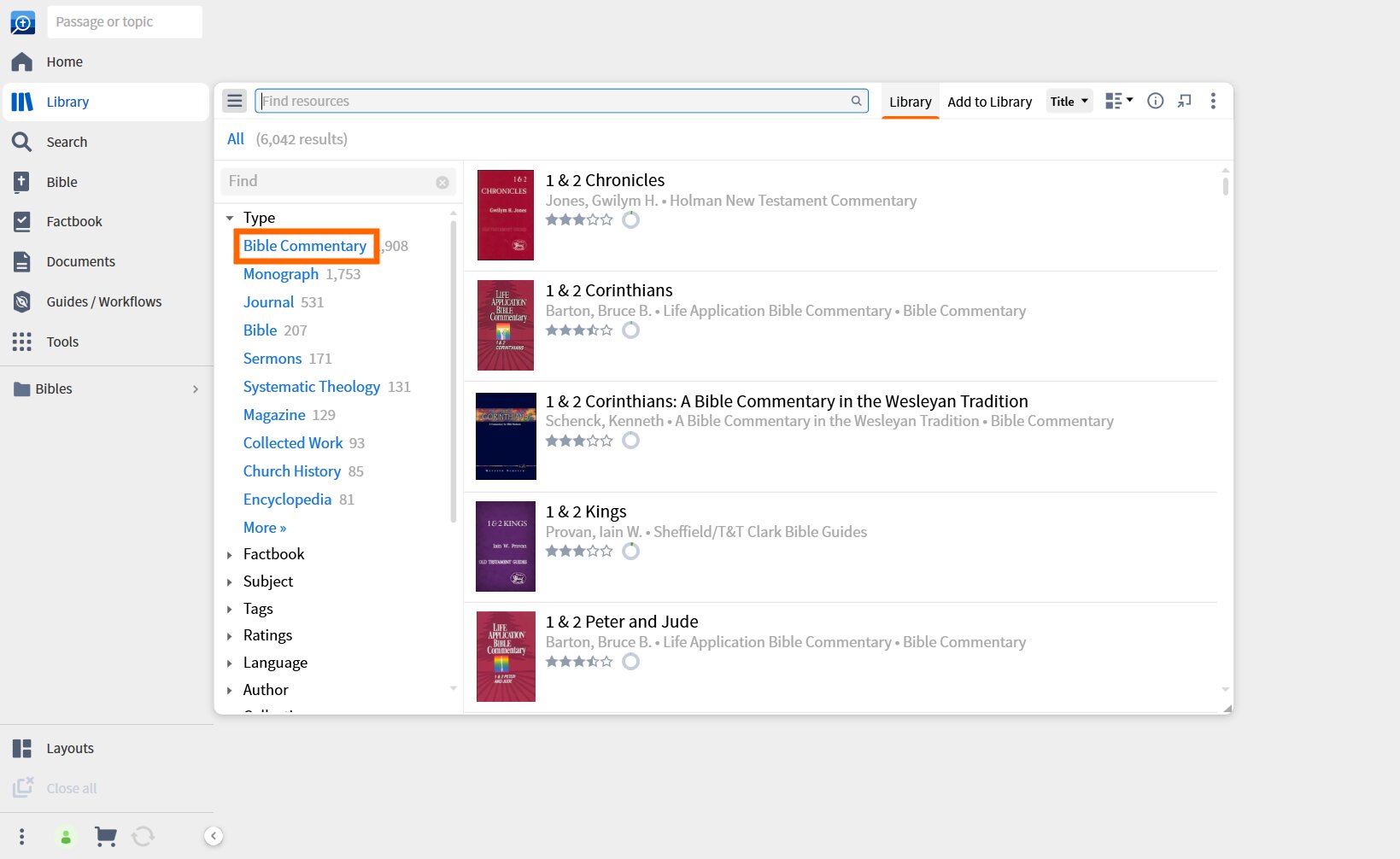 You can create shortcuts to favorite resources by dragging any resource icon to the Shortcuts bar.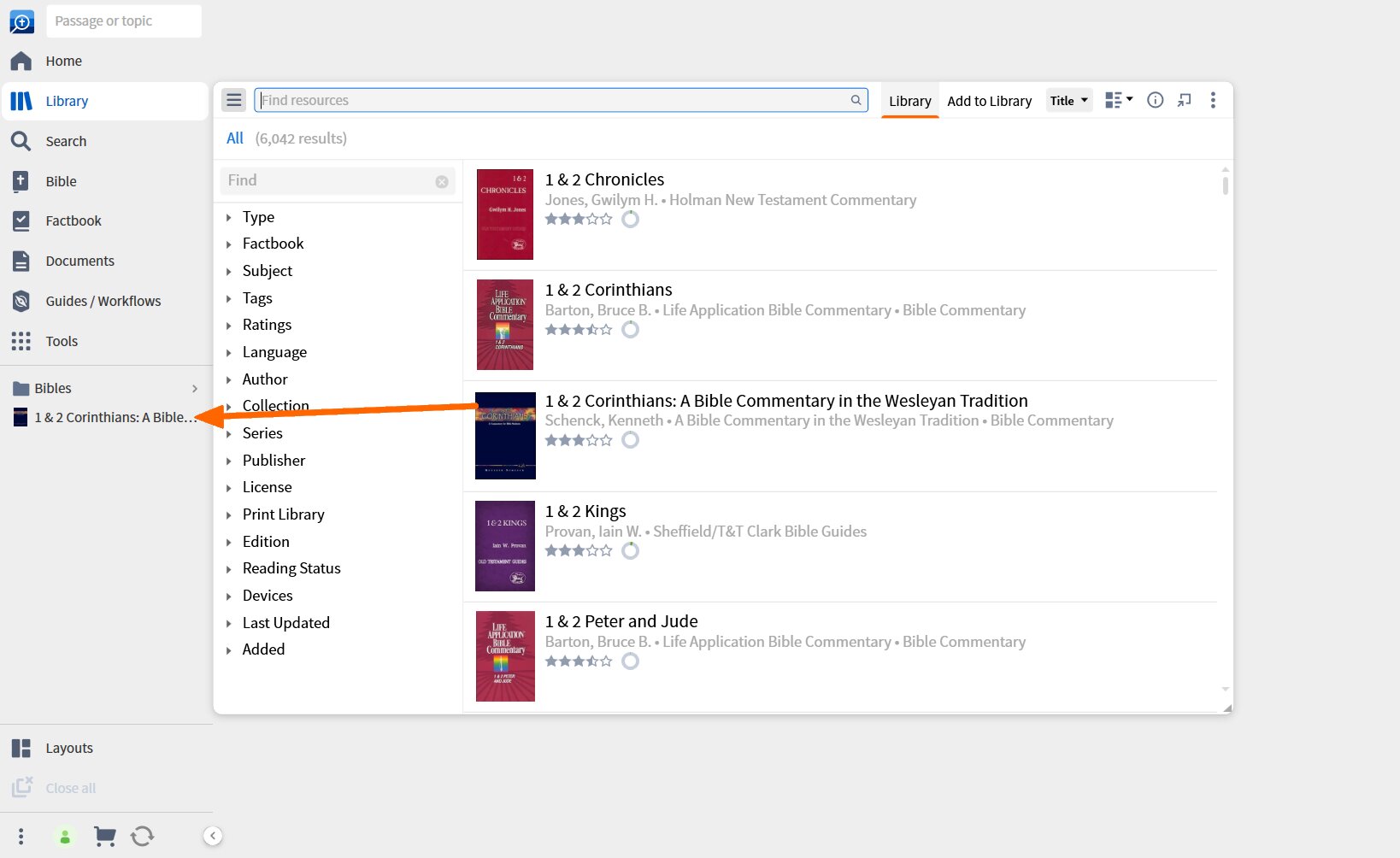 Prioritize Commentaries
You can tell Logos which resources to access first in different areas of Logos (e.g. Top Bibles, Guides, pop-up menus within resources, etc).
While viewing the library:
Select any resource(s).
To select multiple resources, hold Ctrl in Windows or Cmd⌘ in macOS and click the desired resources.
Right-click your selection and click Prioritize this resource
If your resource is part of a series, Logos will present two options: Prioritize this resources or Prioritize this series. The prioritized resources panel opens showing your added selection. Logos will prefer resources from this list, reading top-to-bottom.

Note: Learn more about prioritizing resources.
Link Commentaries to Your Bible
In Logos, you can keep two or more resources in sync using link sets.
Open two or more resources.
Select a common link set.
Click the panel menu icon for each resource and select a letter from the Link Set options. A small icon showing that letter will appear in the tab for that resource. All resources with the same link set will scroll together. Save your layout to retain link sets across sessions.

You can remove any resource from a Link Set by clicking the panel menu icon in that resource and selecting None.
Note: Learn more about linking resources together.
Search Commentaries
Because commentaries in Logos are indexed, you can perform in-depth searches to quickly locate important information.
To quickly search any commentary, expand the inline search icon

and conduct a search.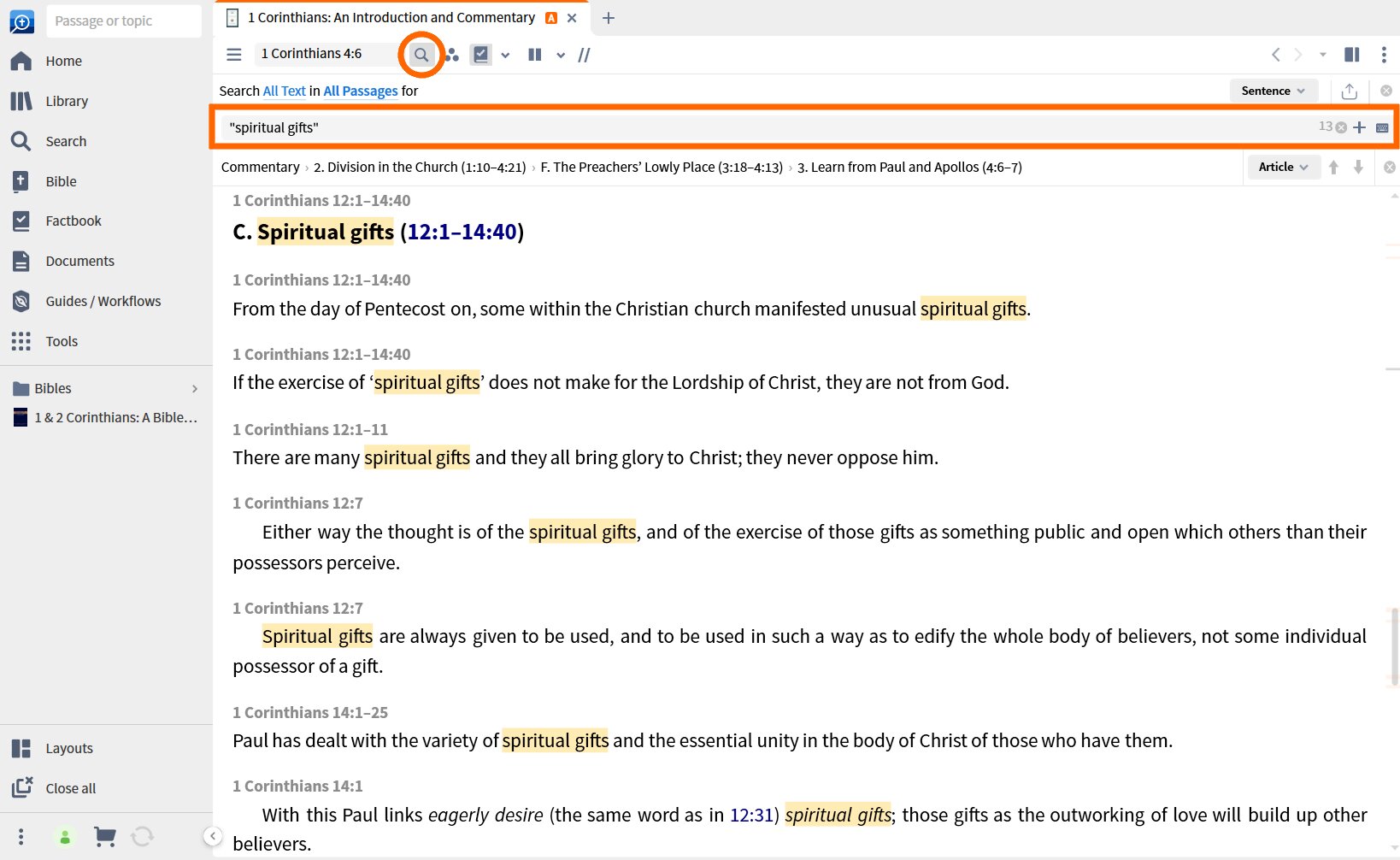 Alternatively, if you can select a word or a phrase in a commentary, right-click to open the context menu, and select the inline search option on the right.
Note: You can choose to view search results by Sentence, Paragraph, or Article to the right above the search input box. Each option progressively reveals more context to the searched term.
For help searching, open a book search from the main menu. (If not already selected, click the Books tab to run a book search on your commentary.) Select the current resource being searched and change it to your open commentary.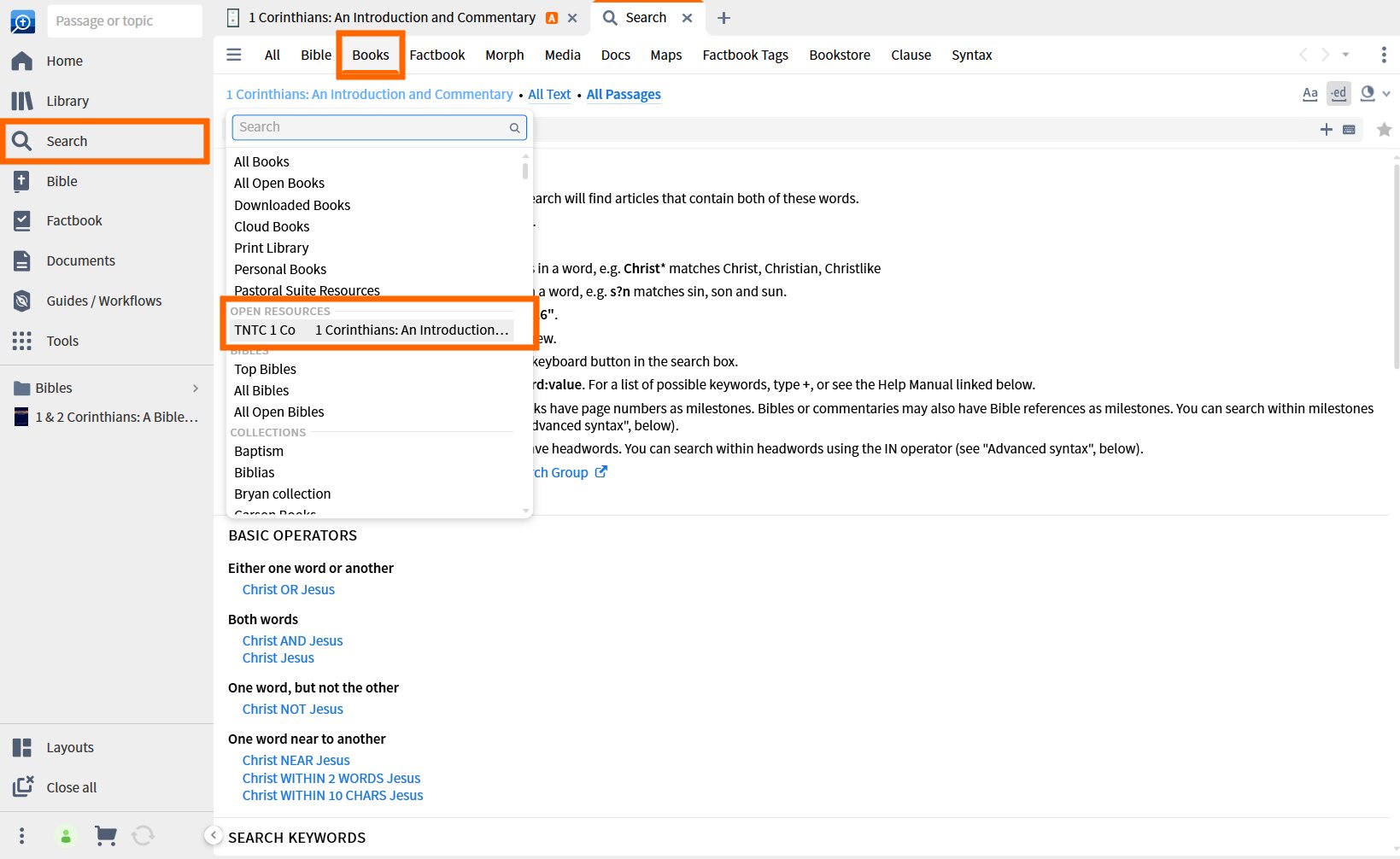 Expand the Search Templates icon

to access help with more complex searches, like finding any instances of both "spiritual gifts" and "tongues" in the same section of the commentary.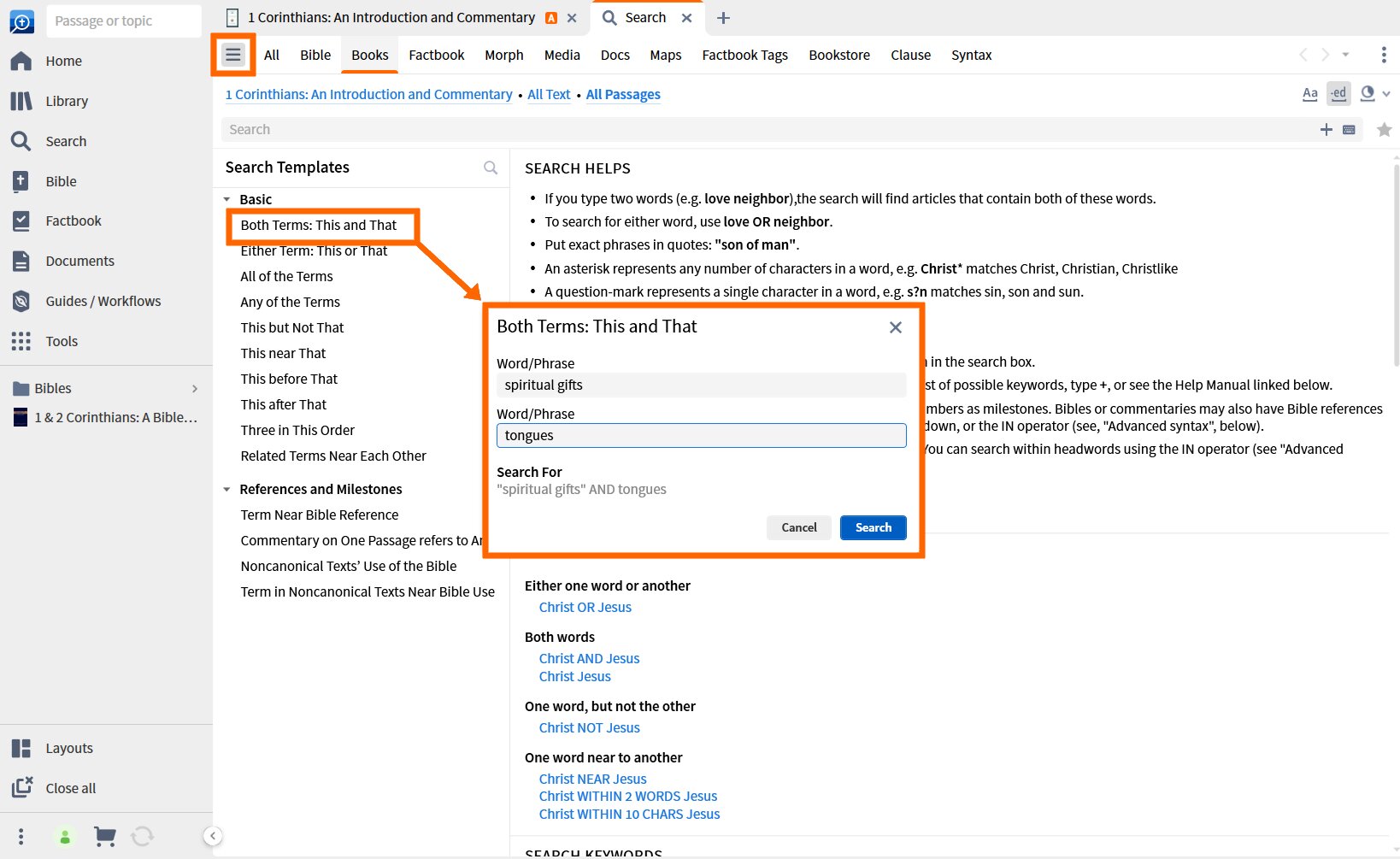 A full list of results show. Select any search result to open your commentary to that location.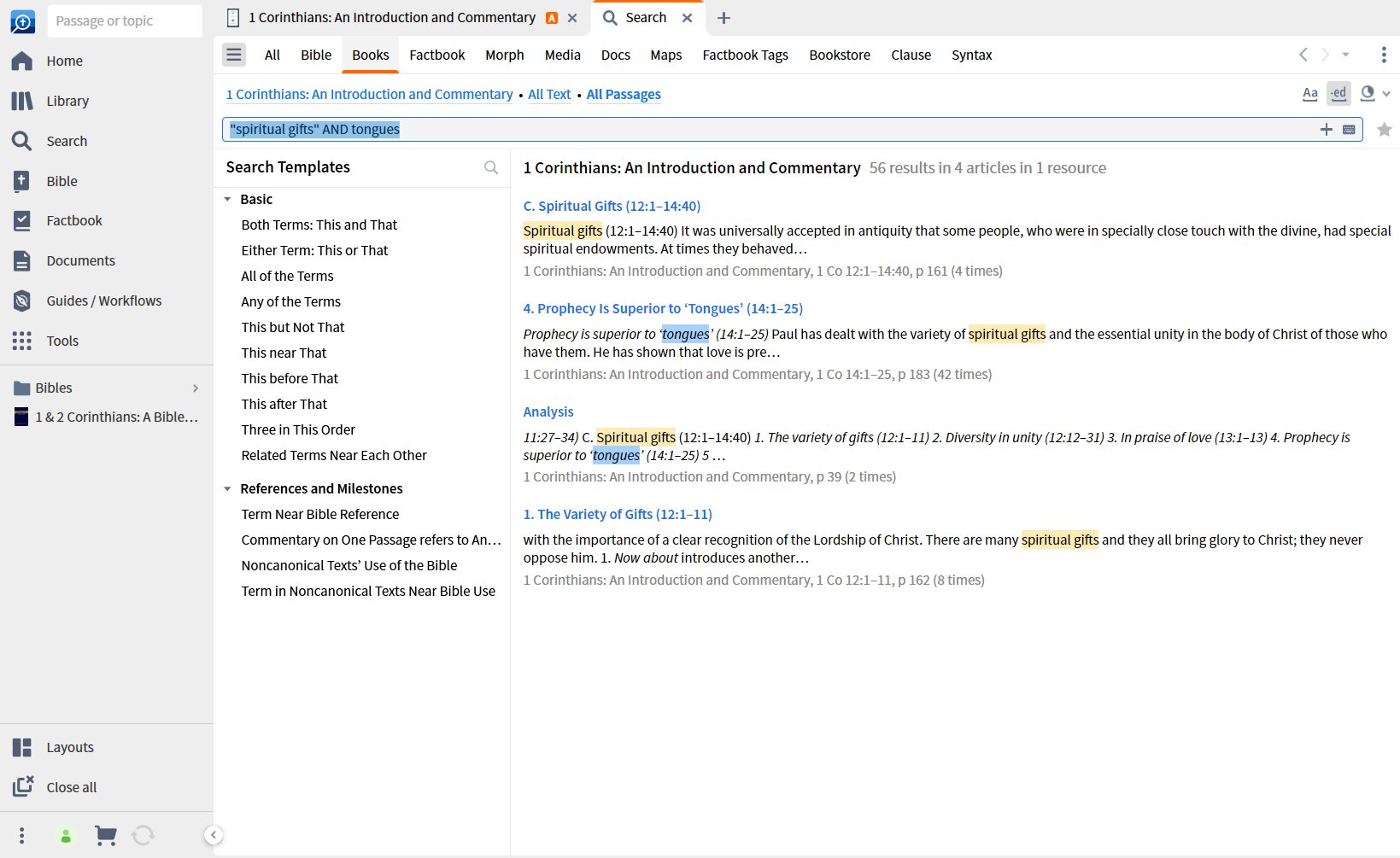 Note: Learn more about searching your Bible and other books.
Capture Clippings and Notes
Logos allows you to capture clippings and notes to gather your research together in manageable documents.
Capture Clippings
Clippings allow you to extract and store excerpts from any resource to use later. With any text selected, right-click to show the Context Menu and select either Add a clipping (if you haven't yet created a clipping document for your study) or expand the arrow and choose an existing clipping document.
Give your clipping document a descriptive title and add tags or notes to your individual clippings.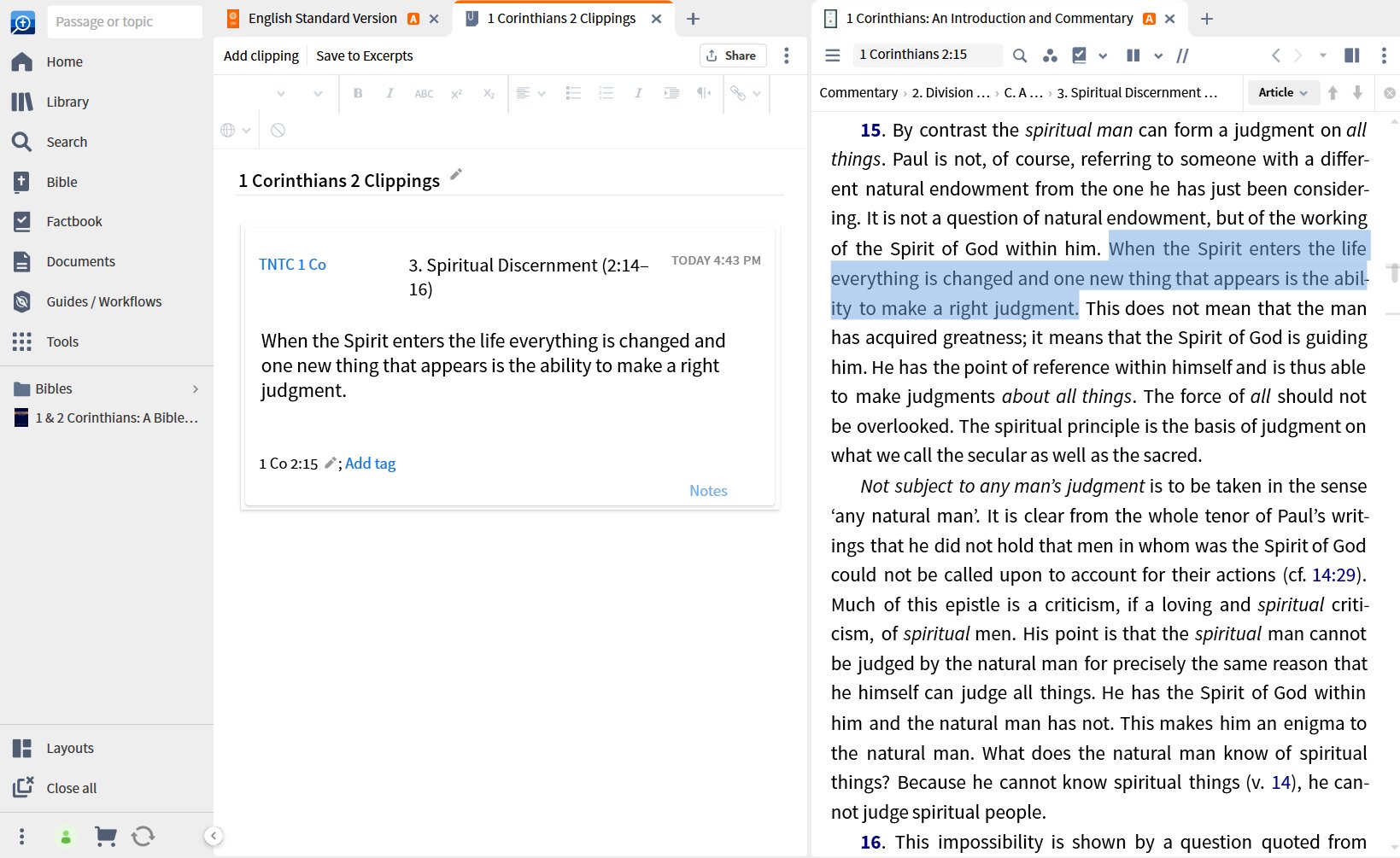 Note: Learn more about creating, organizing, and exporting clippings.
Capture Notes
The Notes tool allows you to record your thoughts as you study, organize those thoughts into custom notebooks, and then recall what you've learned with detailed searches. With any text selected, right-click to show the Context Menu and select Add a note.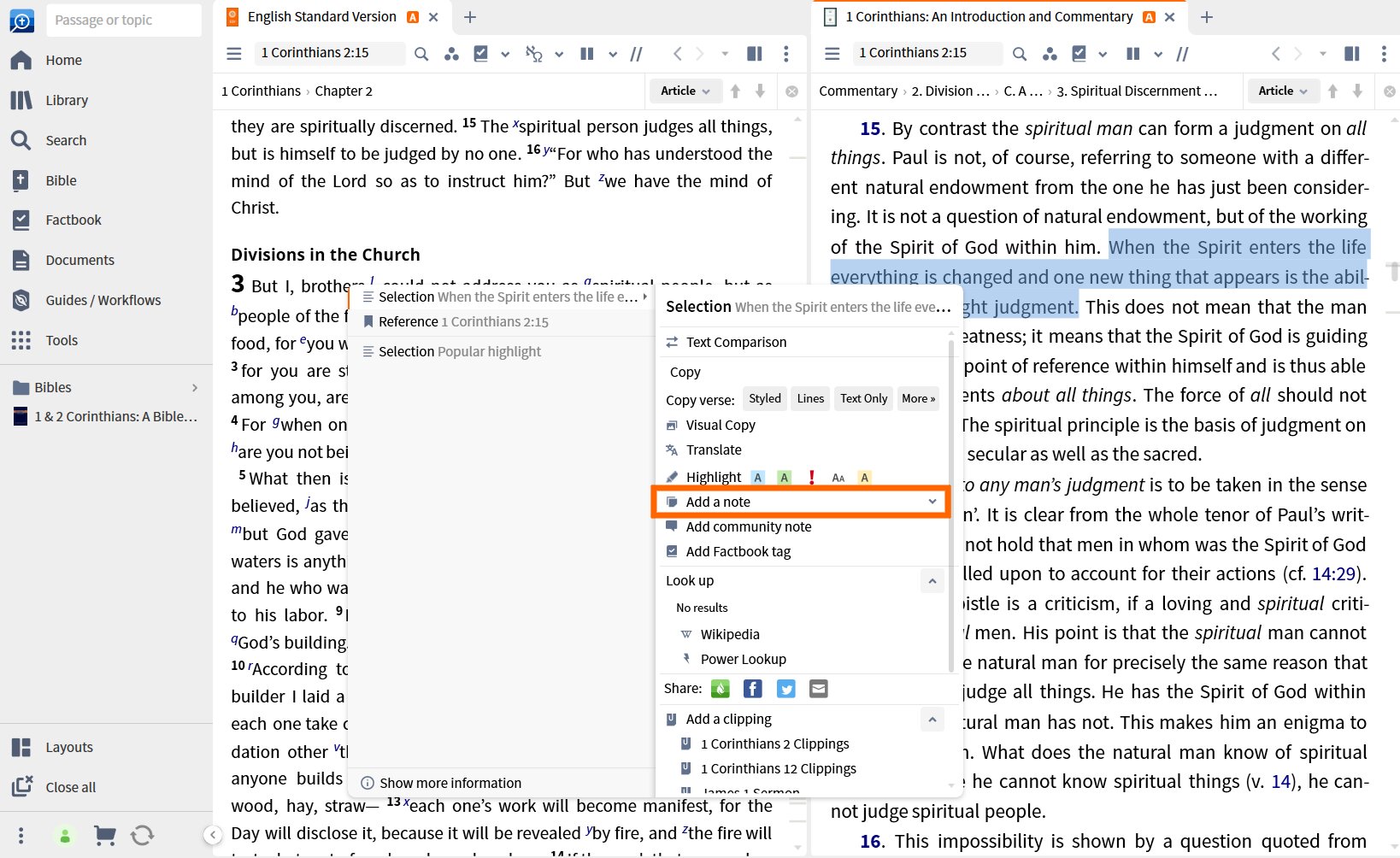 Note: If you already have a note created for the passage you're studying, open it from the Tools menu to avoid duplicating note files.
By default, Logos will add an anchor to the resource from which you created the note. You can remove the anchor and add additional anchors (e.g., one for the biblical passage, 1 Corinthians 2:6–16) to keep all notes on a given passage or topic together. Existing notes display an icon

whenever you view a resource that contains their anchor(s).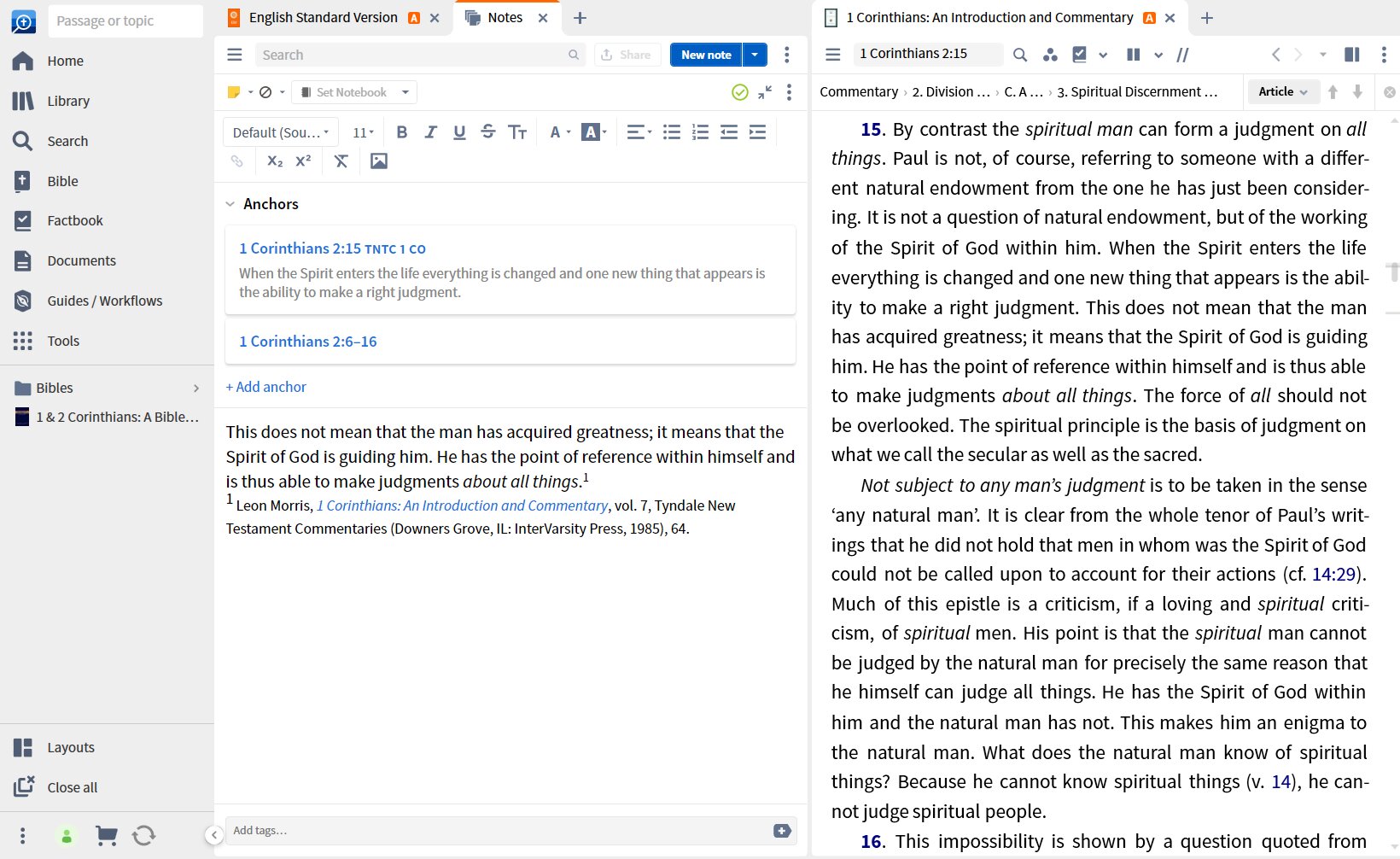 To further organize your notes, add rich text styling. Copying any text from a resource automatically generates a footnote for you. Note that any Bible references or links to resources are hyperlinked so you can quickly open the resource for more context.
Note: Learn more about using the Notes tool in Logos.
Share Commentary Quotations
You can visually format any quotation and share it right from within Logos. With any text selected, select Share on the Selection Menu.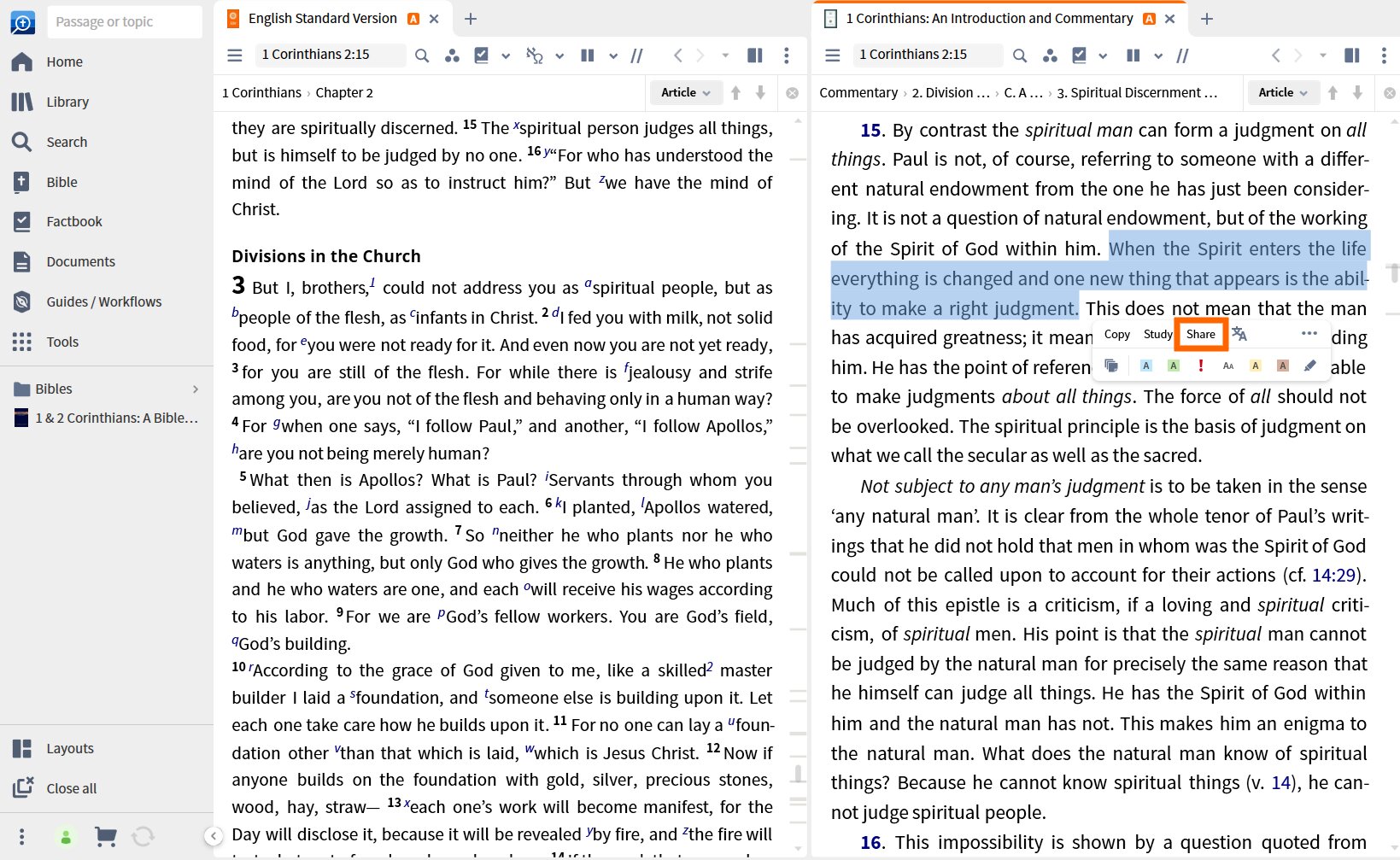 Note: Alternatively, right-click to open the Context Menu and select Visual Copy.
In the Media window that displays, make adjustments to your quotation or select Find Media or Upload Media in the top navigation bar to change the background. Then using the top navigation bar, choose between a variety of sharing options:
Copy: save the image to your clipboard.
Save as…: save an image file to your computer.
Send to: share the image with presentation software like PowerPoint, Keynote, or Faithlife Proclaim.
Print: Send the image to your printer.
Social Media icons: Send the image to a social media platform or via email.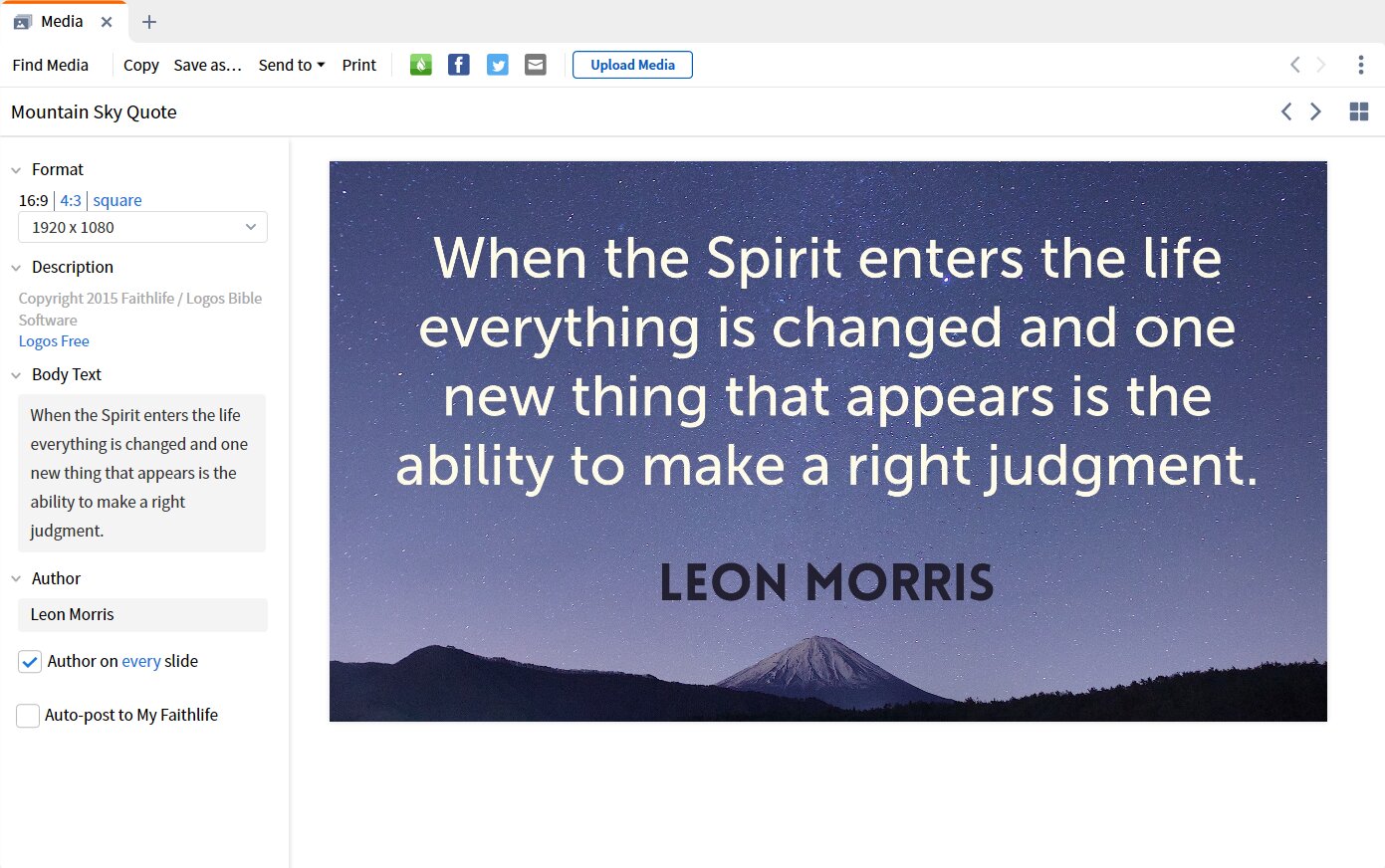 Note: Learn more about using and sharing media in Logos.