This article guides you through the steps of creating and sharing documents with others. You'll also be able to find and access documents created by others and add them to your local installation as well as restore deleted documents.
Skip ahead to...
Navigating the Docs Menu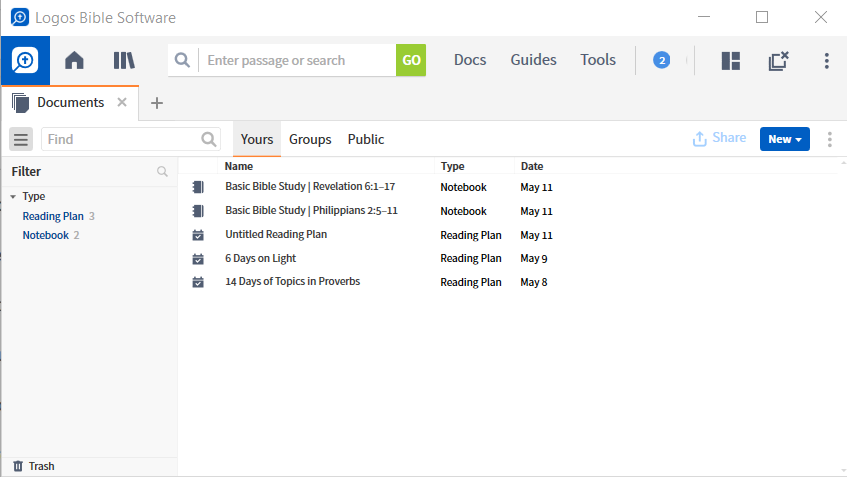 The Navigation Drawer icon expands or collapses the Filter menu on the left of the panel. This menu allows you to filter the available documents in each location by various categories.
The search box is used to search for particular documents by name.
The tabs labeled Yours, Groups, and Public display documents available depending on who owns them.
Depending on the tab selected, the Share or Add to your docs icons enable you to share or download documents.
The New button opens a drop-down menu of available document types(Some document types may be greyed out because they are not available in your current installation but are licensed in higher feature sets).
The Docs menu can be opened in its own panel by clicking .
Creating a Document
Click New to reveal the menu of document types.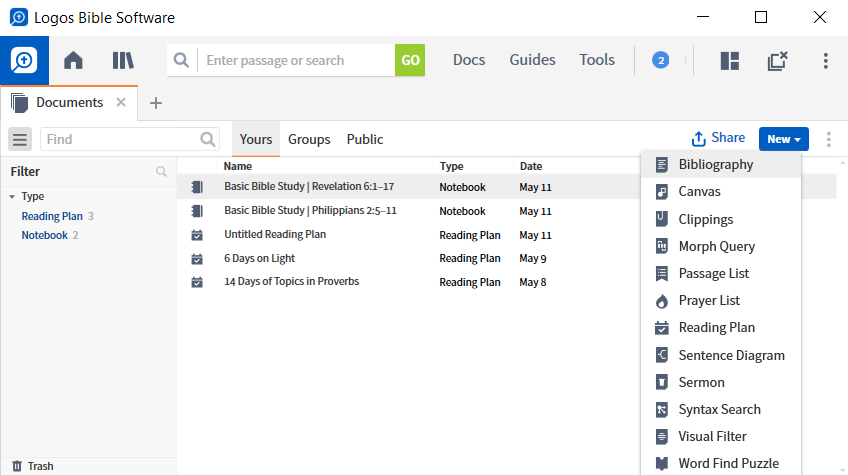 Bibliography--creates a list of resources suitable for publications, classes, sermons, etc. based on a variety of Logos milestones. Multiple formats are available. Learn more.
Canvas--allows you to visually interact with the selected text by capturing, organizing, and sharing your thoughts on any passage of any resource in your library. Learn more.
Clippings--allows section(s) of a single resource or multiple resources to be collected and stored under a single heading. This feature is like digital index cards. Learn more.
Morph Query--provides a point-and-click interface for building complex morphological queries. The Morph Query document provides several capabilities not available in the regular Morph Search. Learn more.
Passage List--opens a blank document to build a list of passages from scratch or from predetermined criteria. Learn more.
Prayer List--opens a template to record prayer requests and set the frequency for praying for the items on the list. Learn more.
Reading Plan--opens a window to create a plan to read a resource in your library. Available options include the amount of text to read, the frequency of reading, a target date for completion, and whether you want to do this by yourself or with one of your Faithlife groups. Learn more.
Sentence Diagram--create diagrams of biblical passages. Learn more.
Sermon--allows you to write your sermon and quickly create slides, handouts, and questions. Learn more.
Syntax Search--allows you to search the grammatical structure of the Hebrew Bible, Greek New Testament, or Septuagint. Learn more.
Visual Filter--This document creates a visual filter where various search terms can be entered, filtered, and highlighted with numerous highlighting options. These visual filters can then be applied to any open resource. Learn more.
Word Find Puzzle--allows you to create a puzzle based on a passage of Scripture that you choose. You can either solve the puzzle in Logos or export/print a copy by clicking the panel menu icon
. Learn more.
Word List--allows you to save, import, and organize lists of words from references, resources, search results, and passage lists. Learn more.
Sharing a Document
To share a document that you have created:
Click Docs.
Select the document you wish to share by clicking adjacent to the document name. Once you select a document, Share changes from inactive to active.
Note: Clicking the document name opens the document in a new panel.
Click Share, opening a panel that allows you to make the document available to others.
To make the document public, click the radio slider to change the answer from No to Yes. This generates a link that can be copied and shared or embedded in another application.
Once you make a document public, any Logos user is able to find, view, and access your document through the Public tab.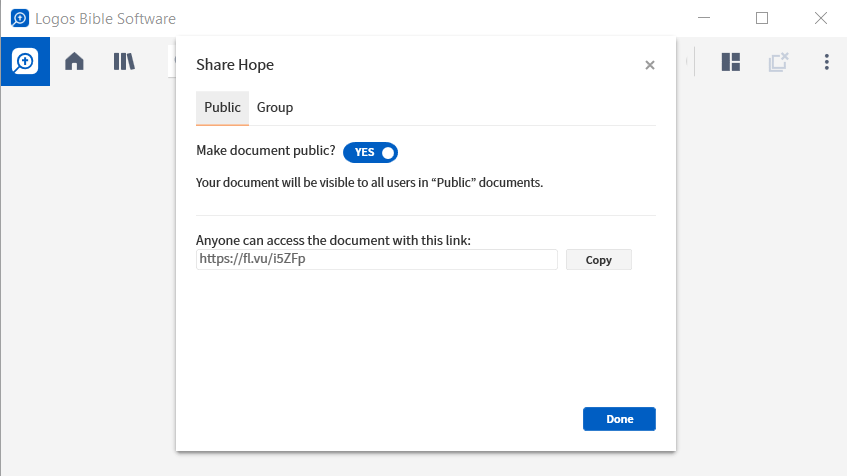 To share the document with a Faithlife group, click the Group tab. Expand the menu and select the group you wish to share your document with. (To learn how group members can find this document, click here).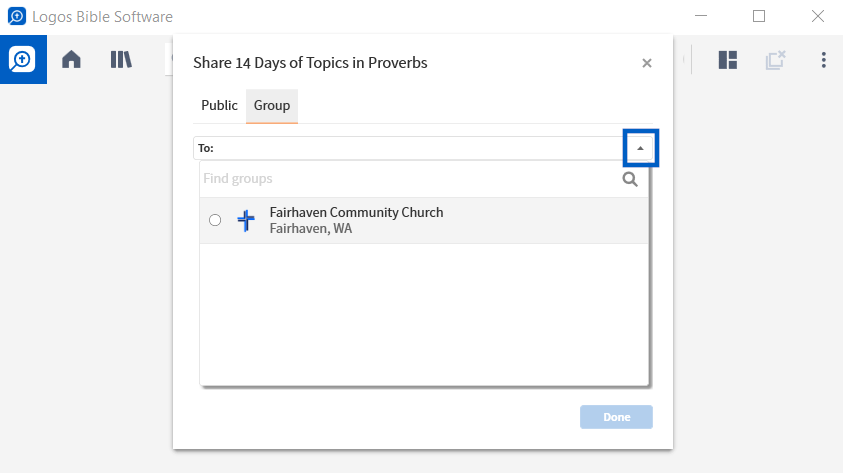 If you want other group members to be able to edit this document, check Collaborate.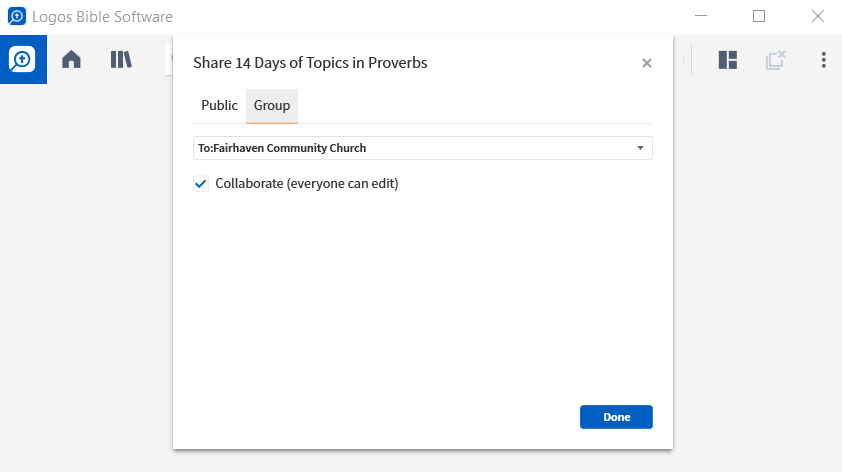 Unsharing a Document
To unshare a document with a Group:
Click Docs.
Click the Yours tab.
Click the icon to the left of the document you wish to unshare and click Share.
Click the Group tab and select Change sharing.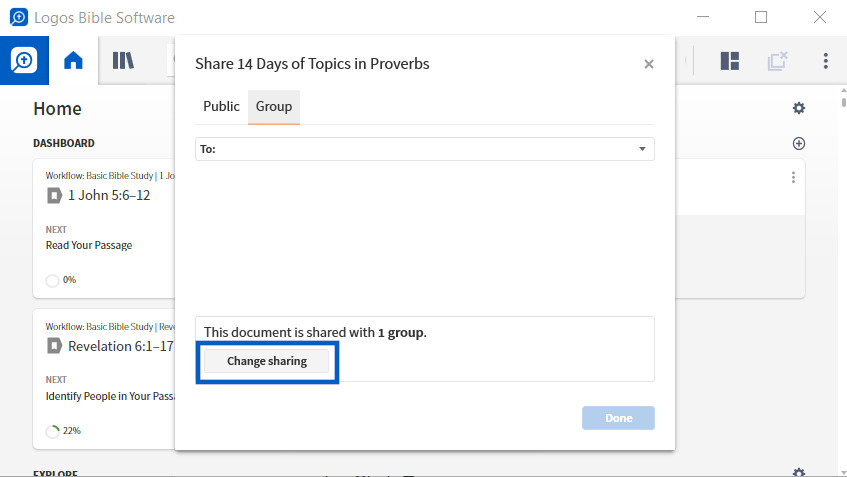 Uncheck the group you wish to un-share the document with. Click Done.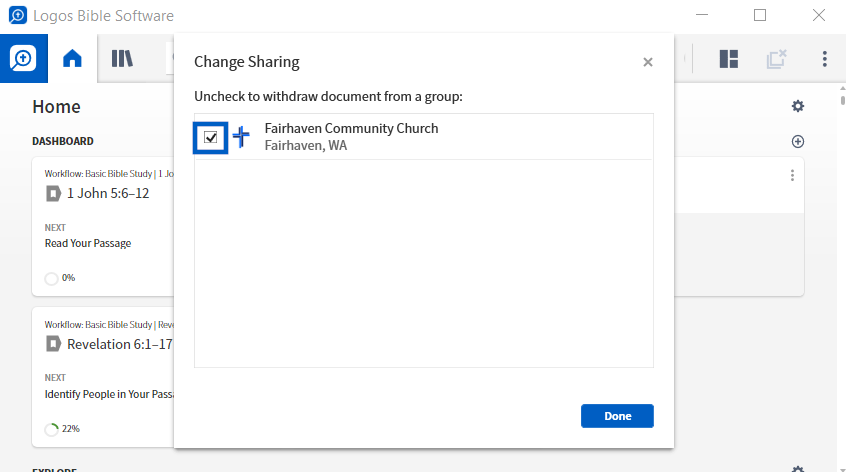 The document will no longer be available to group members.
To unshare a Public document:
Click Docs.
Click the Yours tab.
Click the icon to the left of the document you wish to unshare and click Share.
Under the Public tab, click the radio slider from Yes to No.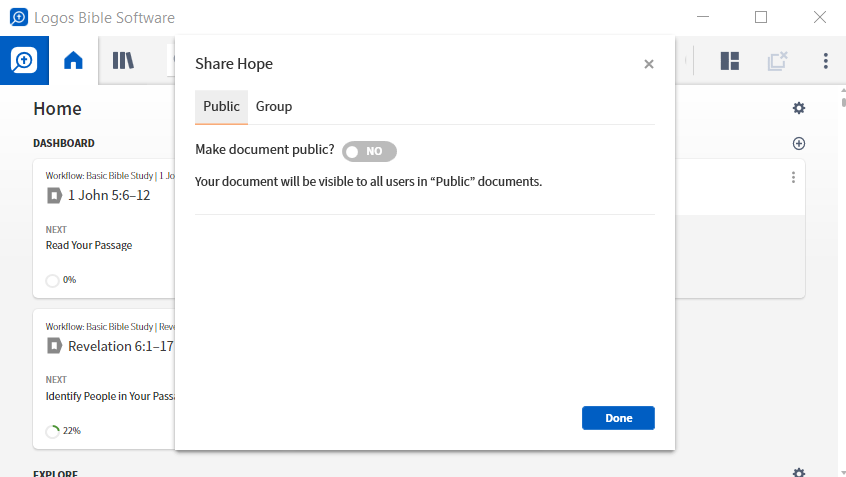 Click Done. The document will no longer be available to other users.
Note: If another user creates a duplicate of your document, the duplicate is now owned by that user and will not be deleted if you unshare your document with the group.
Finding a Shared Document
You can access documents that have been shared by other users and add them to your local installation. (Documents created using features and/or resources that are not included in your Logos collection will be visible but not accessible to you.)
Click Docs and select the Public (or Groups) tab.
Choose one of the displayed documents or scroll down the list to find a document that you would like to add to your Docs.
Note: You may filter the available documents by clicking the Navigation Drawer
icon, or you may search by document name or type using the search bar.
Once you select a document, Add to your docs activates. Click the highlighted text to add the document to your list.
Note: To access a document from a group, select the Group tab and follow the same steps as for Public documents.
Restoring a Deleted Document
Click the Trash icon located at the bottom of the Filter pane. This opens a page in your internet browser that displays all of the deleted files which have been synced with Faithlife's servers.
Select document(s) to undelete and restore to your local Logos installation.
3. Click Undelete to restore the document(s) to your local installation.