Use the Community Notes tool to share thoughts on words or passages from any Logos resource with other members of a Faithlife group. These notes are accessible within Logos, at Bible.faithlife.com, in Faithlife's mobile apps (Logos and the Faithlife Study Bible), and on the group's Faithlife.com feed. Your shared notes can become the site for good conversation, discussion, and collaborative learning. Follow the steps below to access your Community Notes.
Open your desired resource by entering its title in the Command box, or by opening your Library and entering a title or abbreviation in the Library Search box.
Make sure the Community Notes Visual Filter is selected. If the visual filter is not selected, shared notes from your group will not be displayed within the text.

Open the Community Notes tool by clicking Tools > Social > Community Notes or by clicking any existing community note icon within the text.
To add a note on a passage, select the passage and click Add note in the Community Notes panel.

Note: If you are a member of multiple groups, make sure you select the relevant group when adding a new note.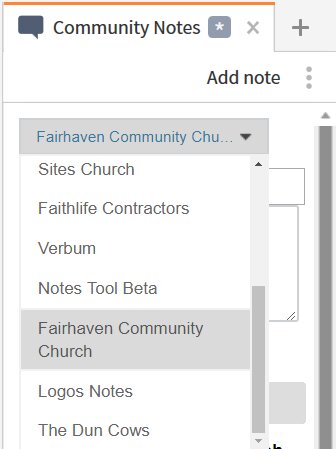 As you read through the resource, notes from your Groups will appear within the text. Click any of these community note icons to view the note in the Community Notes panel.
With a note open in the Community Notes panel, you can reply to an existing comment by clicking the Community Note icon or respond with a quick affirmation.