This article demonstrates the various facets of your Logos Library and teaches you how to use the tools associated with it.
Looking for how to use the Logos library on your mobile device? Learn how.
Skip ahead to:
View and Edit Resource Information
Manage Resources on Mobile Device
Open the Library
You may open your library in three different ways:
Click the Library icon in the toolbar.

OR

Right-click the Library icon and choose either Open in a new tab or Open in a floating window.

OR

Press Ctrl+L (Windows) or Cmd+L (Mac).
A menu appears showing an alphabetical list of all of your resources.
Click the resource cover icon or title.

Double-click a resource to open it in a new panel.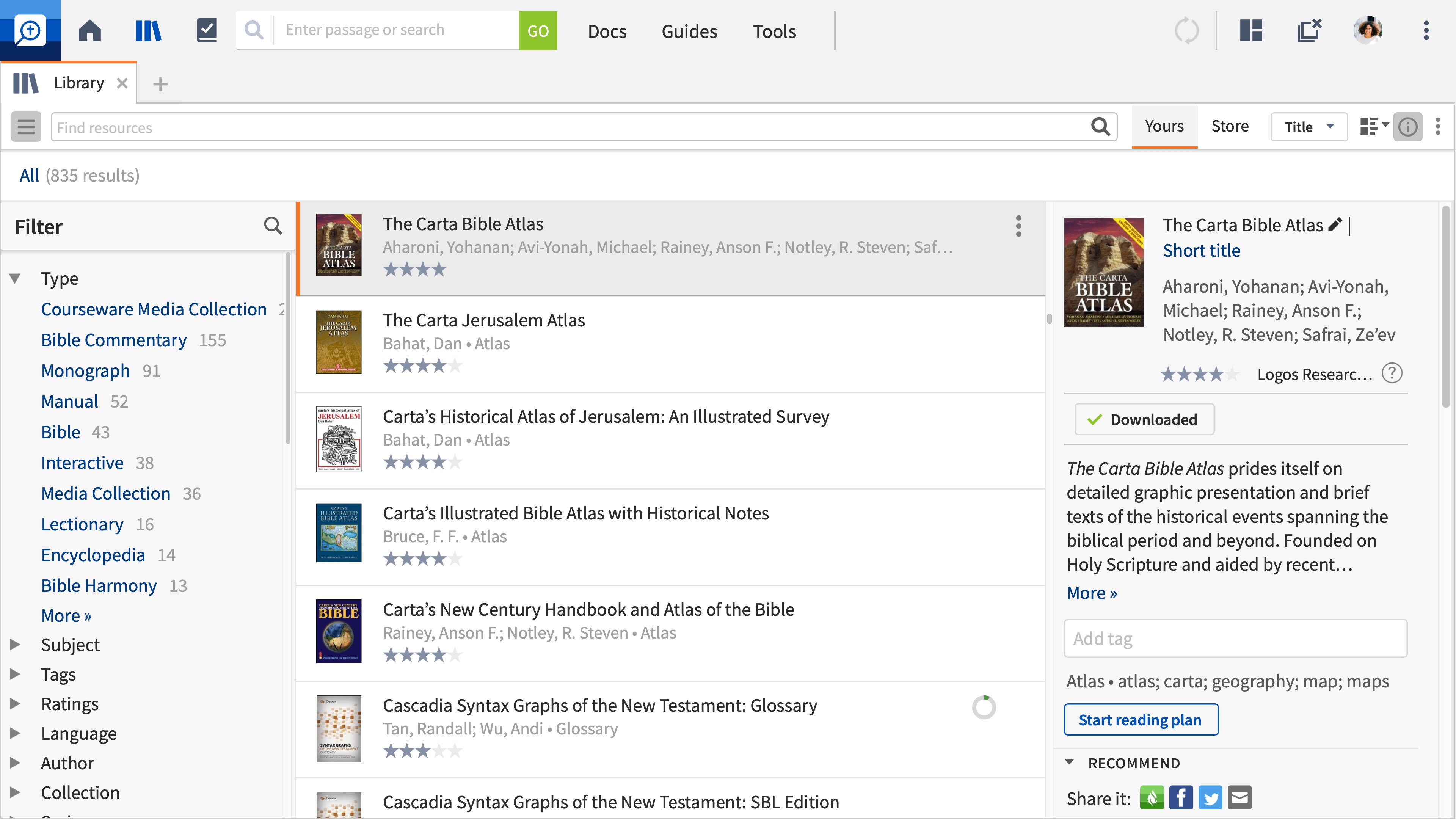 Note: This screenshot shows the Library open as a tab.
View Your Resources
The library is viewable in three modes. These can be selected from the Views drop-down menu in the Library toolbar.
Cover view — Displays the covers of your resources in a grid.

Tile view — Displays the covers of your resources in a vertical list, along with author, resource category, and tags.

Details view — Displays your resources in a vertical list with multiple columns showing detailed information about each item.
Note: The icon in the toolbar will update to reflect your selected viewing style.
You can find more information about a resource by clicking the information icon

(you can also press Cmd+Shift+I on a Mac or Ctrl+Shift+I on Windows). This opens a sidebar displaying a summary of the resource, personal and community tags, local download status, a citation, copyright information, and more.
Access Cloud-based Resources
All the resources that are included in your installation of Logos are visible in your library even if you did not download them when you installed Logos.
Cloud-based resources are indicated by the presence of the Download icon to the right of the resource.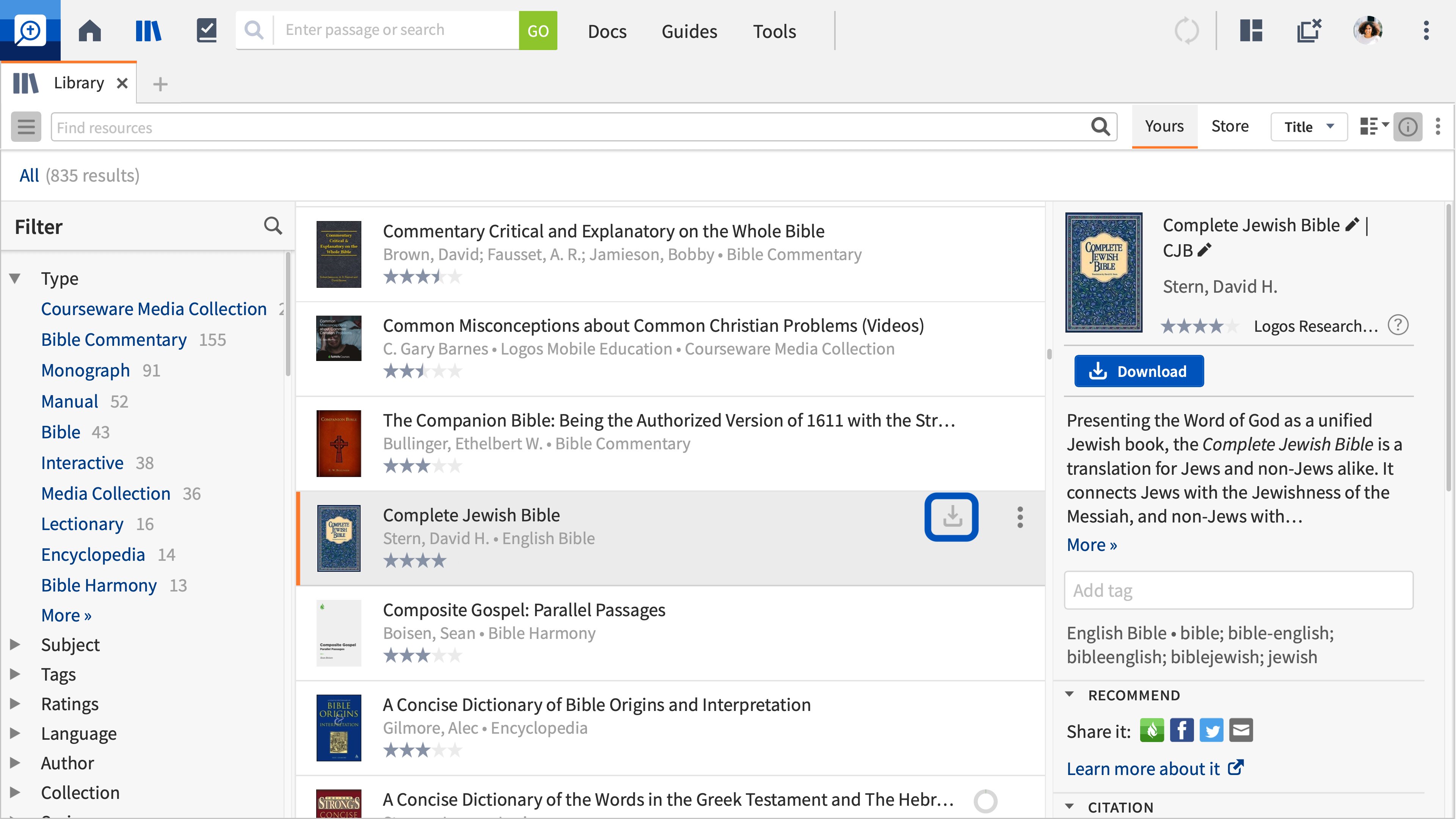 Cloud-based resources are included in search results and can be previewed in your local installation or accessed using the Web App with an internet connection. If you want these resources to be available without an internet connection, click the Download icon

to add it to your local installation.
For more information about cloud-based resources, access the article here.
Access the Logos Store
The library also provides a quick and easy way to find interesting Logos resources that you don't yet own. To do this, click Store at the top right of the panel. Just like with the resources in your personal library, you can search, sort, and filter available resources.
When you find a resource you're interested in, click its title to open a preview in a new panel. This preview also features the option to add the resource to your cart on Logos.com. Simply click Add to cart to open your cart in a browser window, where you can review your selection and place your order.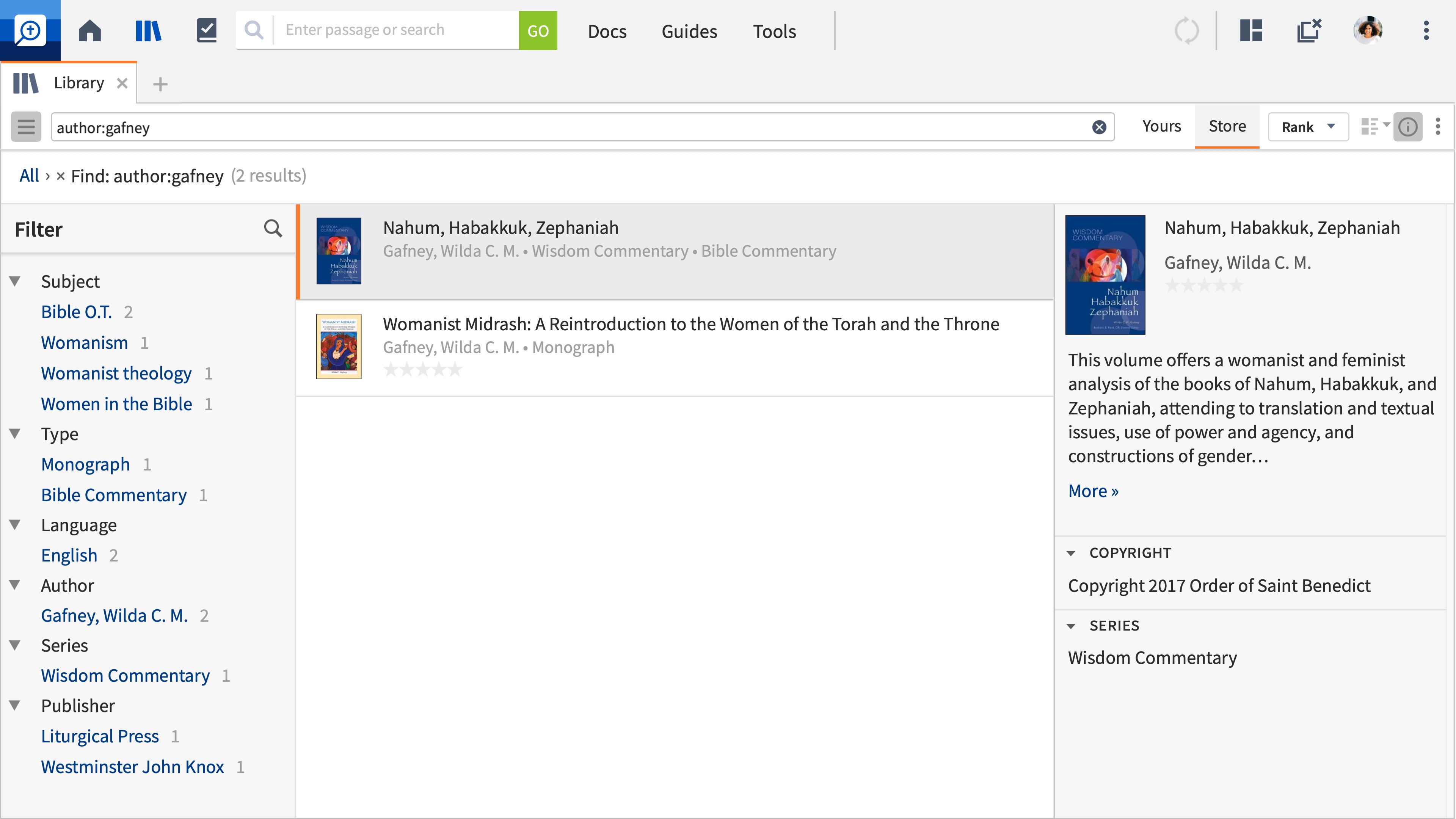 Search Your Library
You have several options for how to search for the resources you want to find in your library including: by keyword, title, author, and date added.
Find a resource by keyword
Begin typing words from your desired title in the Library search bar. Logos will filter your library and display resources containing your search terms according to relevance.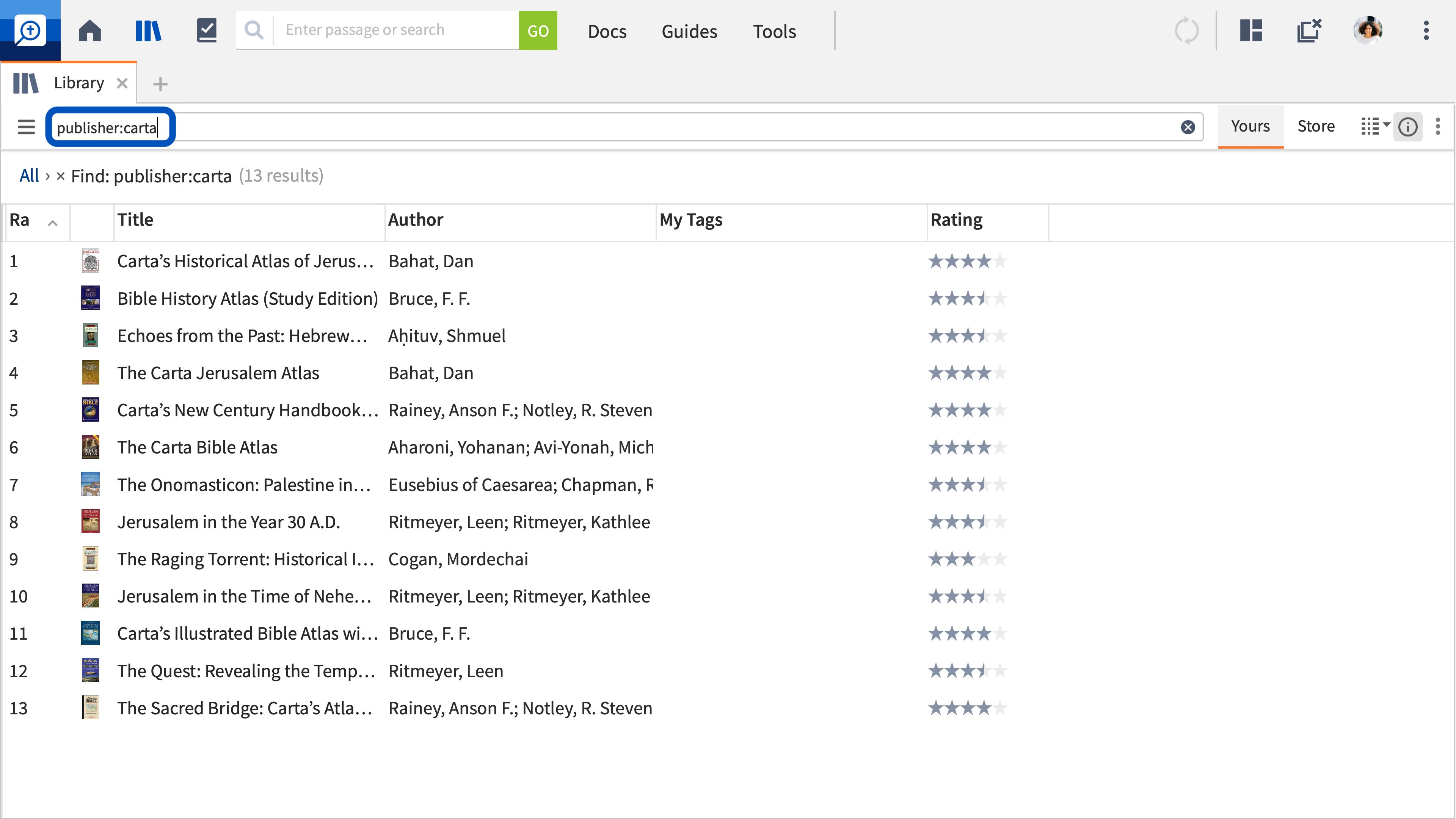 Click the desired resource title to open it in a new panel.
Note: The resource will open to the last location you accessed in that resource.
Find resources by title
Type title:[search term] (no space after the colon).
For example: title:John
Note: Simply searching for John displays resources whose author contains John in the name. Adding title: before the search term limits your search to titles with John in the title.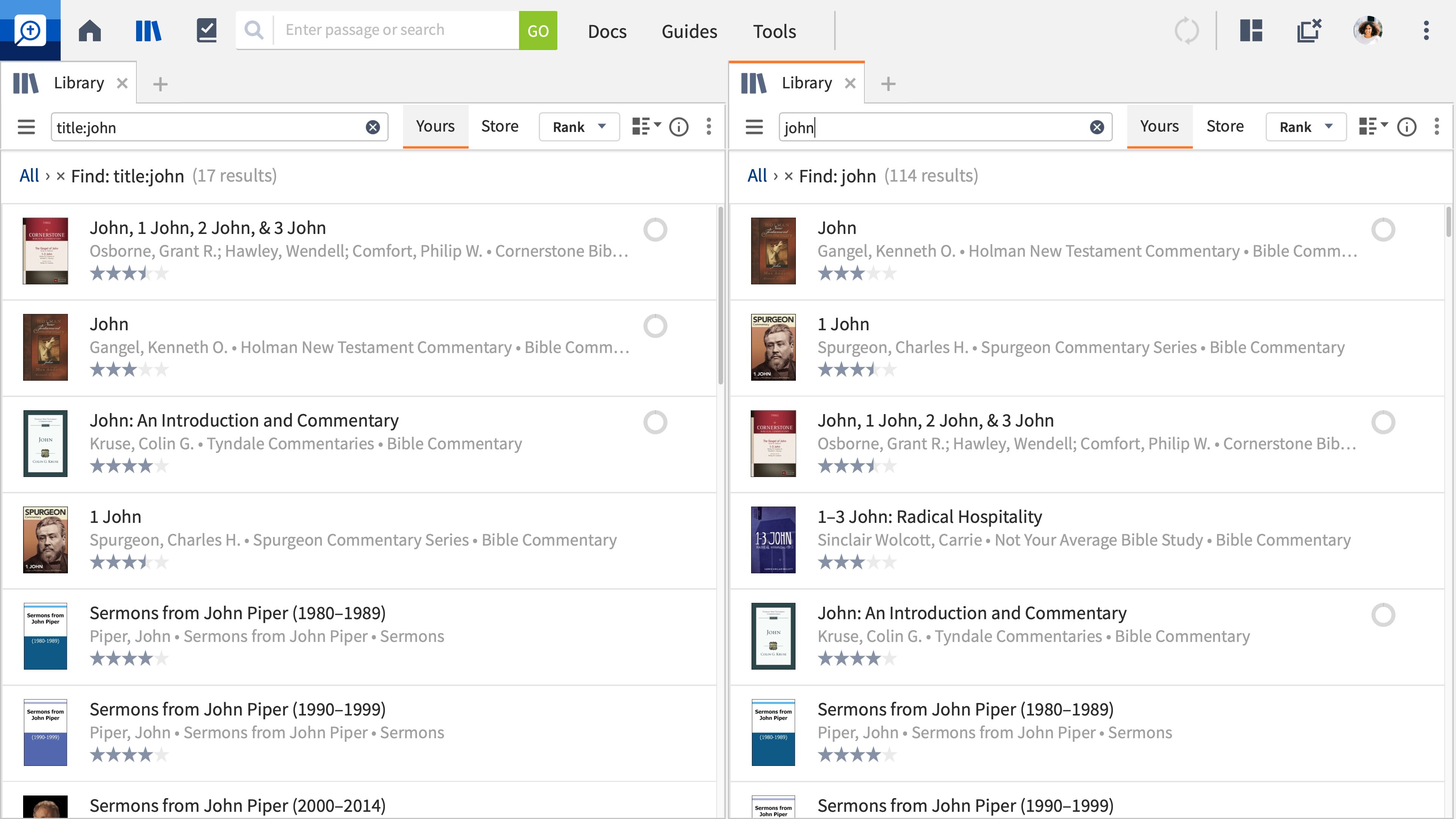 Find a resource by author
Click the drop-down menu for the resources display mode and select Details view.
Sort your library by author by clicking the heading labeled Author. You are able to view an alphabetical list of authors in your library. Scroll until you find the author you are looking for.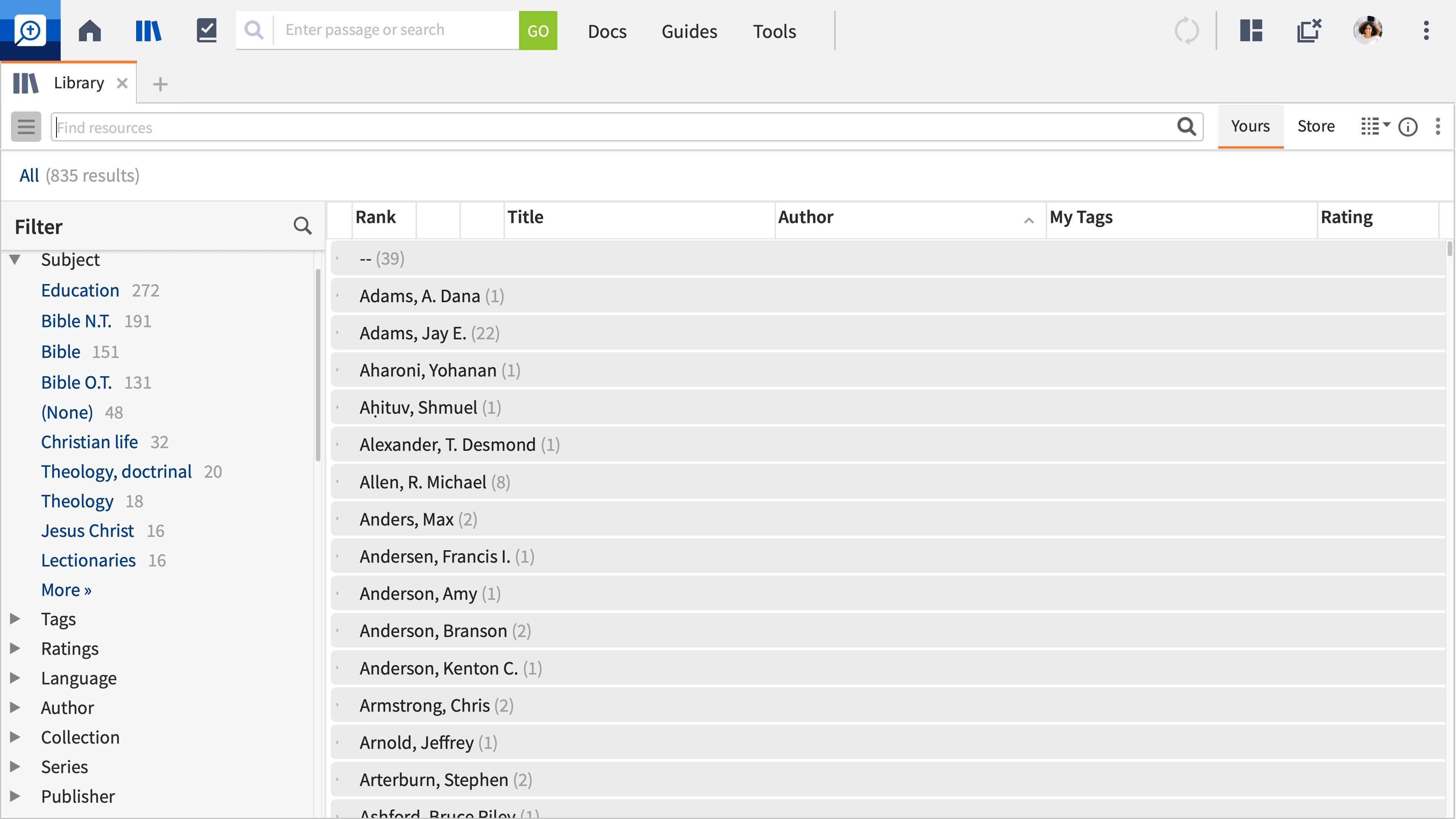 Did you know? You may show or hide column headings by right-clicking them. You can reorganize the headings by dragging them to the desired location.
You can also:
Click the Navigation drawer to reveal faceted browsing options.
Scroll down to the Author section. This section filters your library by author and lists resources based on the number of resources by each author.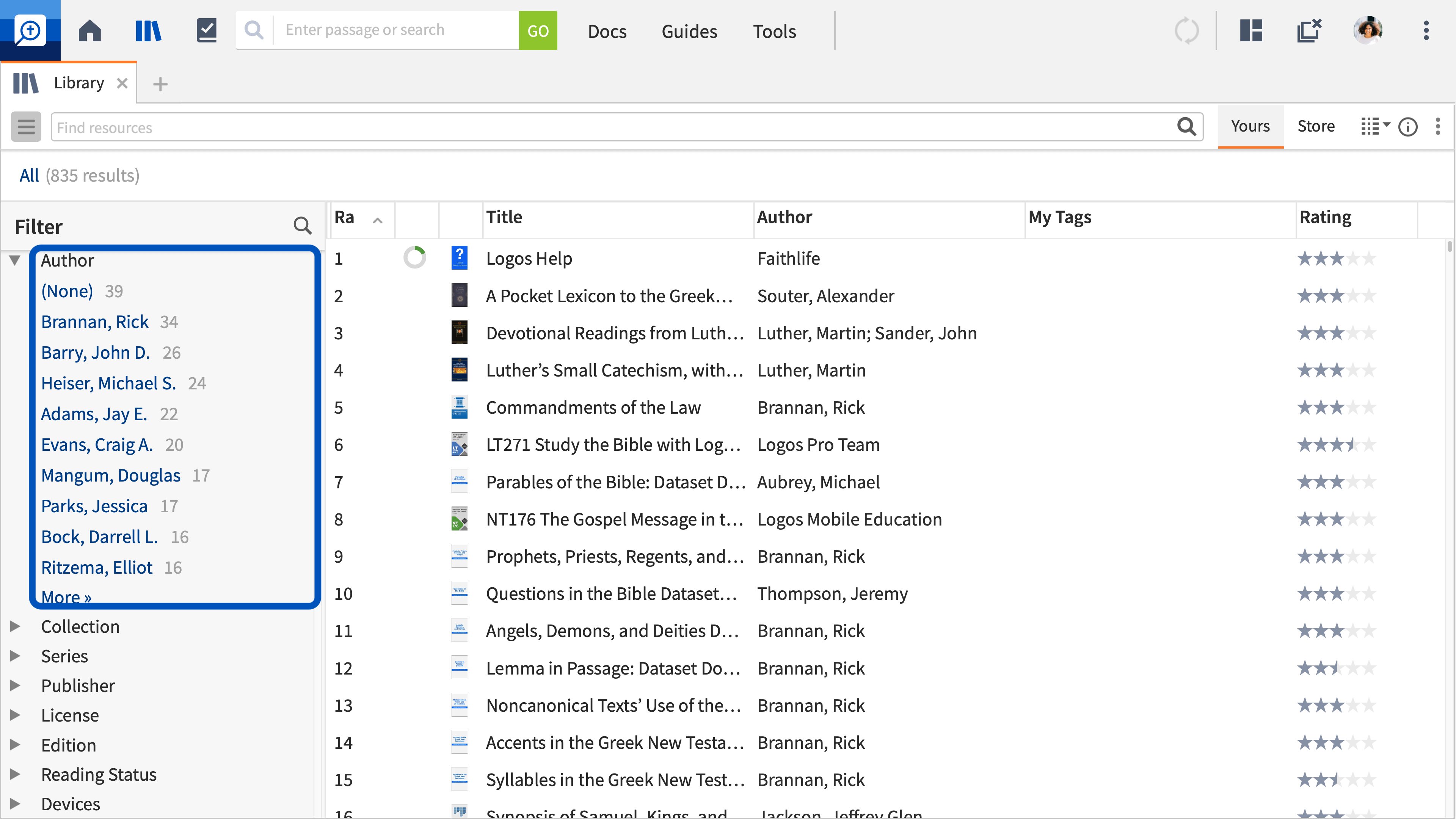 One more option to find resources by author is:
Type author:[first and/or last name] and press Enter.
Logos displays all resources written/edited by this person.
Note: Simply typing an author's name in the library search bar may yield results where the person is prominently featured in the resource but is not the author.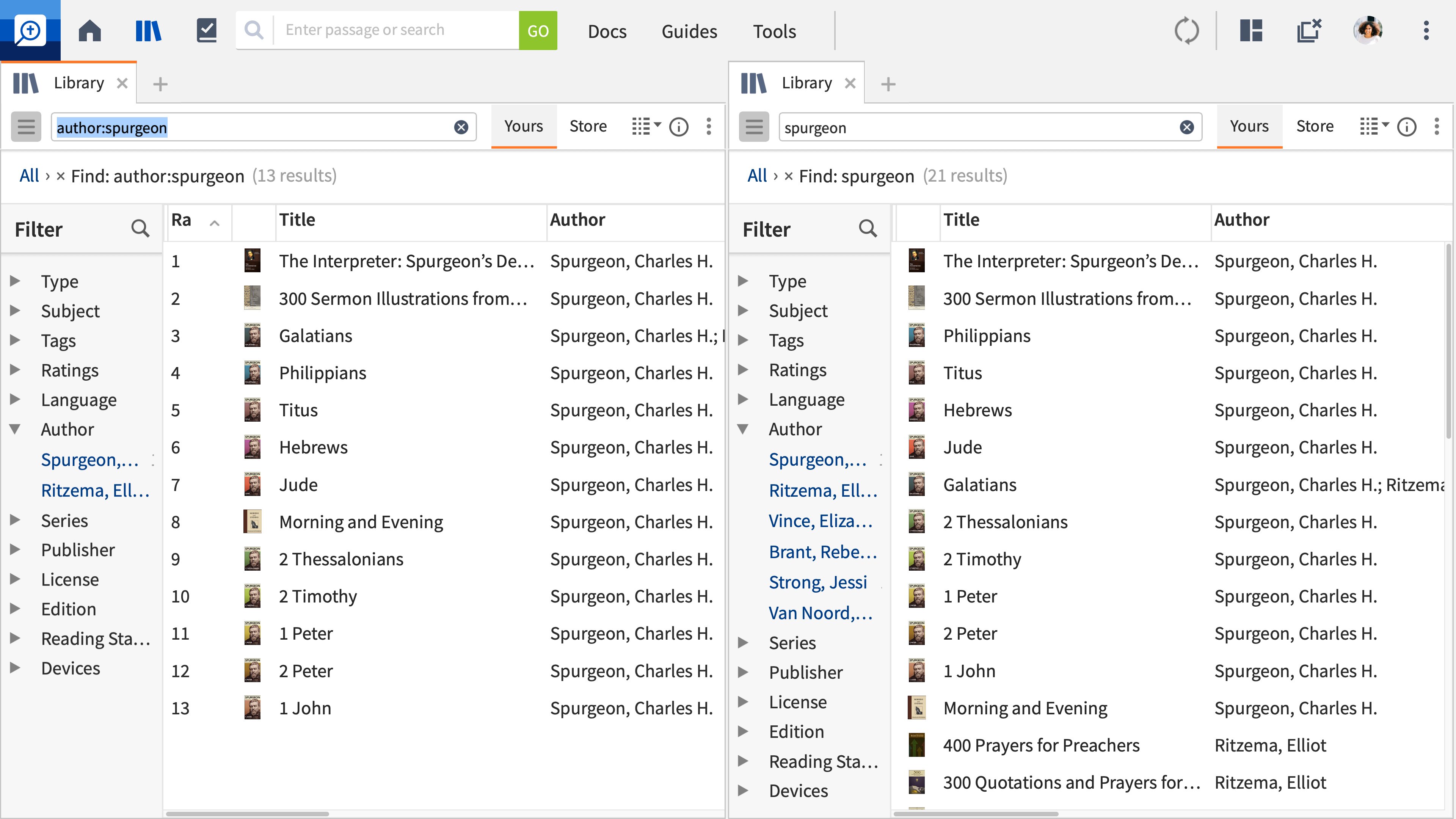 Tip: Any of the headings displayed in the Filter column can be entered directly into the library search bar. To use a filter field, type [filter field]:[search term].
For example, entering subject:leadership shows all the resources about leadership.
Find recently added or updated resources
Scroll to the bottom of your library window.
Logos displays filters for Today, the Last 7 Days, the Last 14 Days, and the Last 30 Days.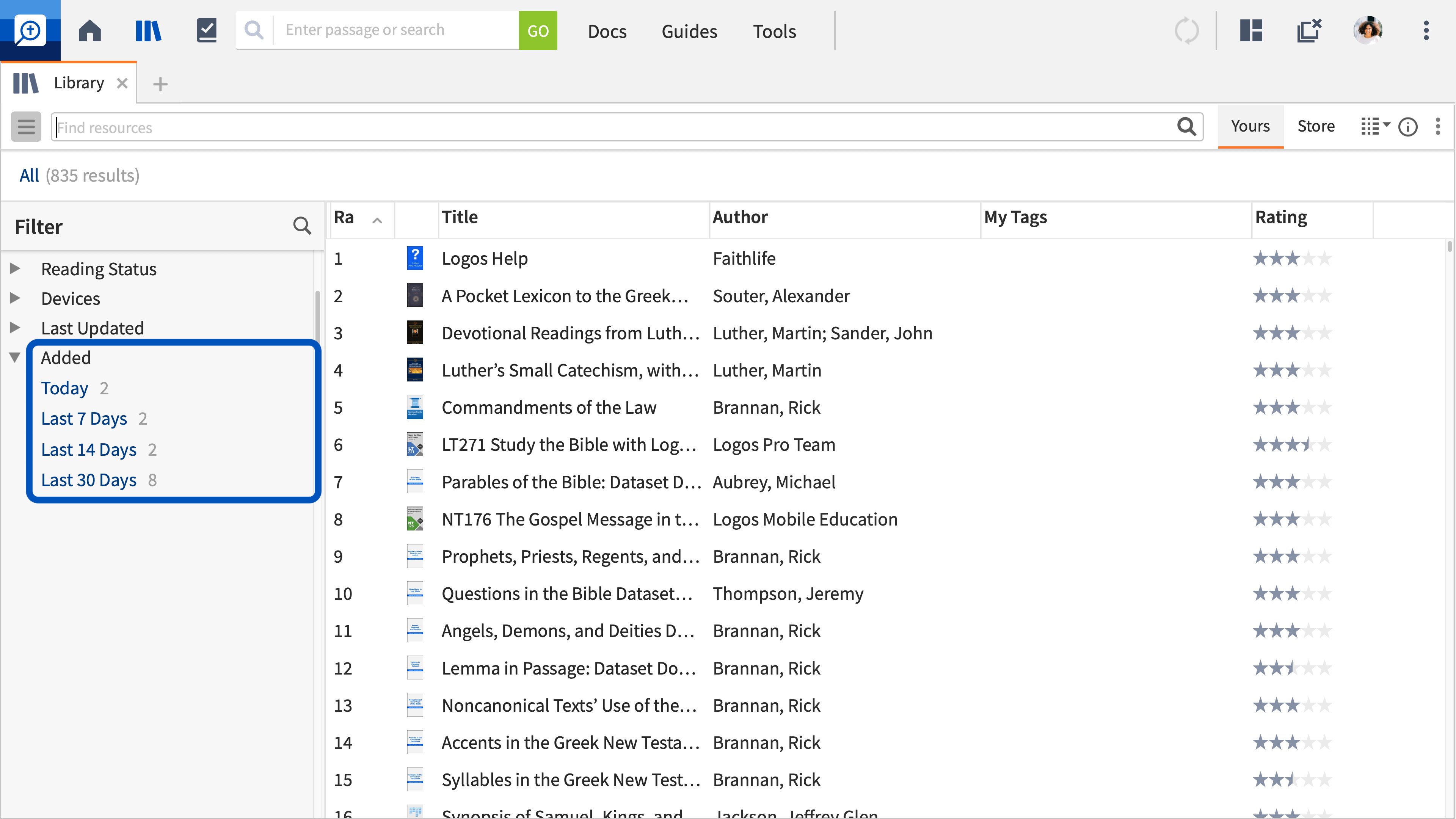 If you have purchased a resource and it doesn't appear under one of these filters, Logos may need to be synchronized. Click the Refresh icon located near the top right corner of the main Logos window.
If Logos is up to date and your resources are still not visible, confirm that you purchased the resource using the same login as your Logos installation. For further assistance, contact Logos support at 1-800-875-6467 or by clicking here.
Prioritize Resources
Prioritizing resources allows you to instruct Logos to display results from your selected resources ahead of other results or when you click a Bible passage link.
Right-click the resource(s) you wish to prioritize and select Prioritize This Resource. This opens the "Prefer these resources" panel.
Note: If you have selected a volume from a series (such as a commentary series), you'll also see the option to prioritize the entire series.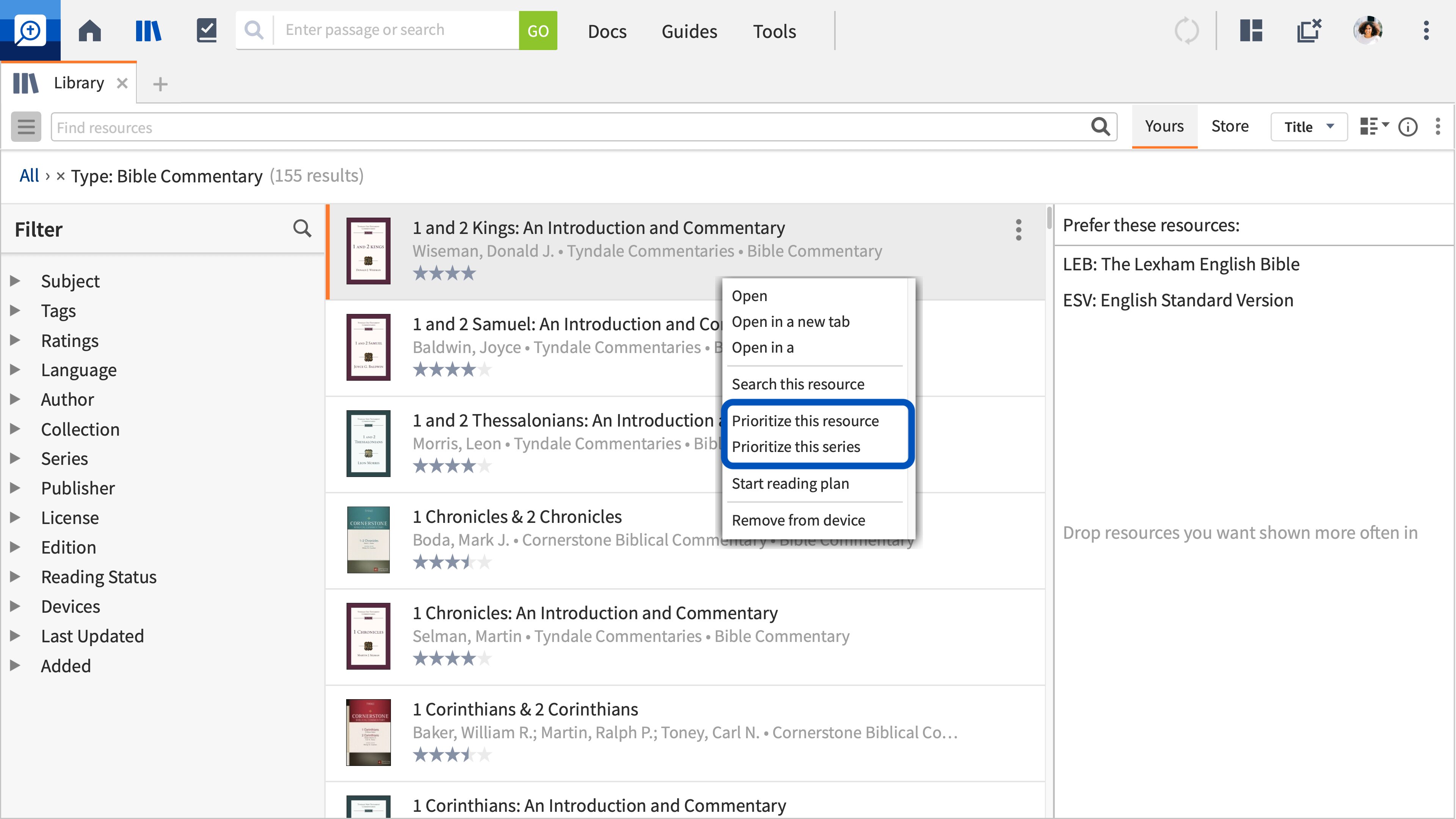 Drag resources to reorder the priority list.
Note: To un-prioritize a resource, right-click it in the Prioritize panel and select Remove From This List.
For more information on Prioritize Resources, access the article here.
Start a Reading Plan
With your Library open, find the downloaded resource you want to read. Right-click the title and select Start reading plan. Logos opens a new Reading Plan document based on your selected resource.
Note: This option is specifically designed to divide your readings by chapter. Once you start a reading plan using this option, it cannot be edited.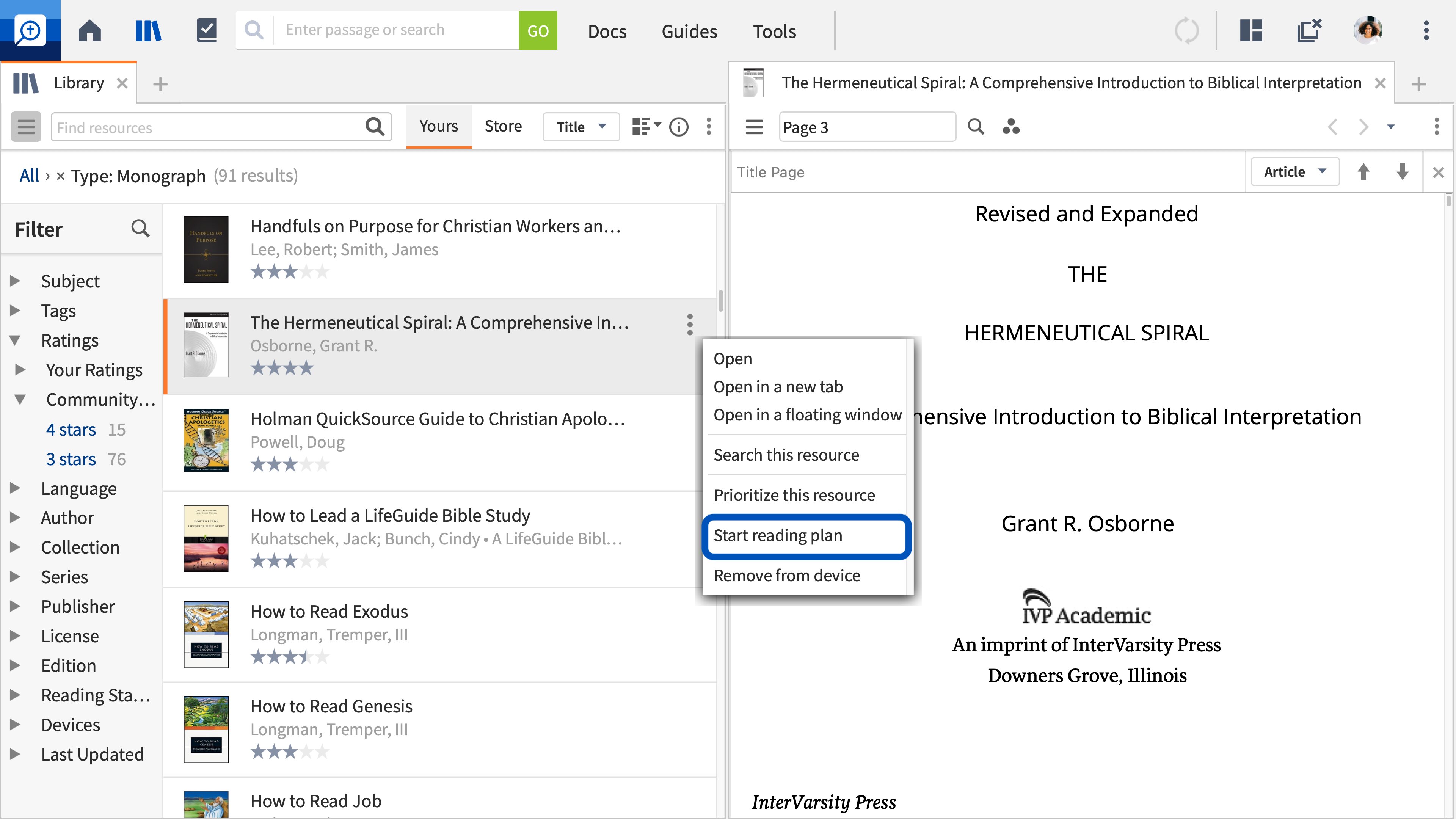 Define Collections
Collections are individually created, customizable groups of resources, which can be searched specifically in several places within Logos.
To create a custom collection of resources,
Select the resource(s) you want to add.
Tip: Select multiple resources by holding Ctrl (Windows) or Cmd (Mac) while clicking the desired resource(s).
Click the Information icon in the upper right corner of the Library panel, and select Save as Collection.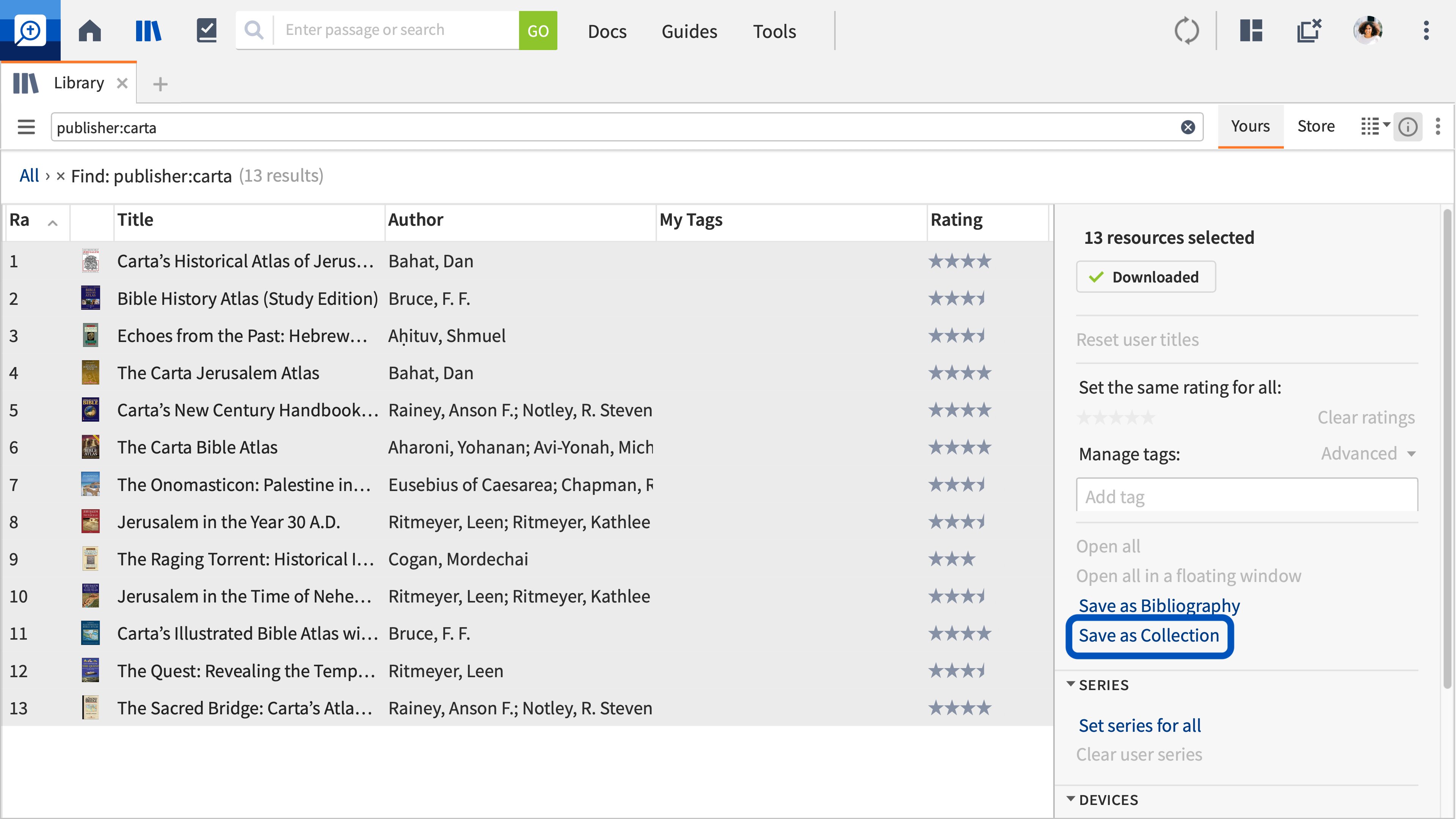 The Collections tool opens, providing you with additional options related to your new collection.
Give your collection a name. (for example: Carta)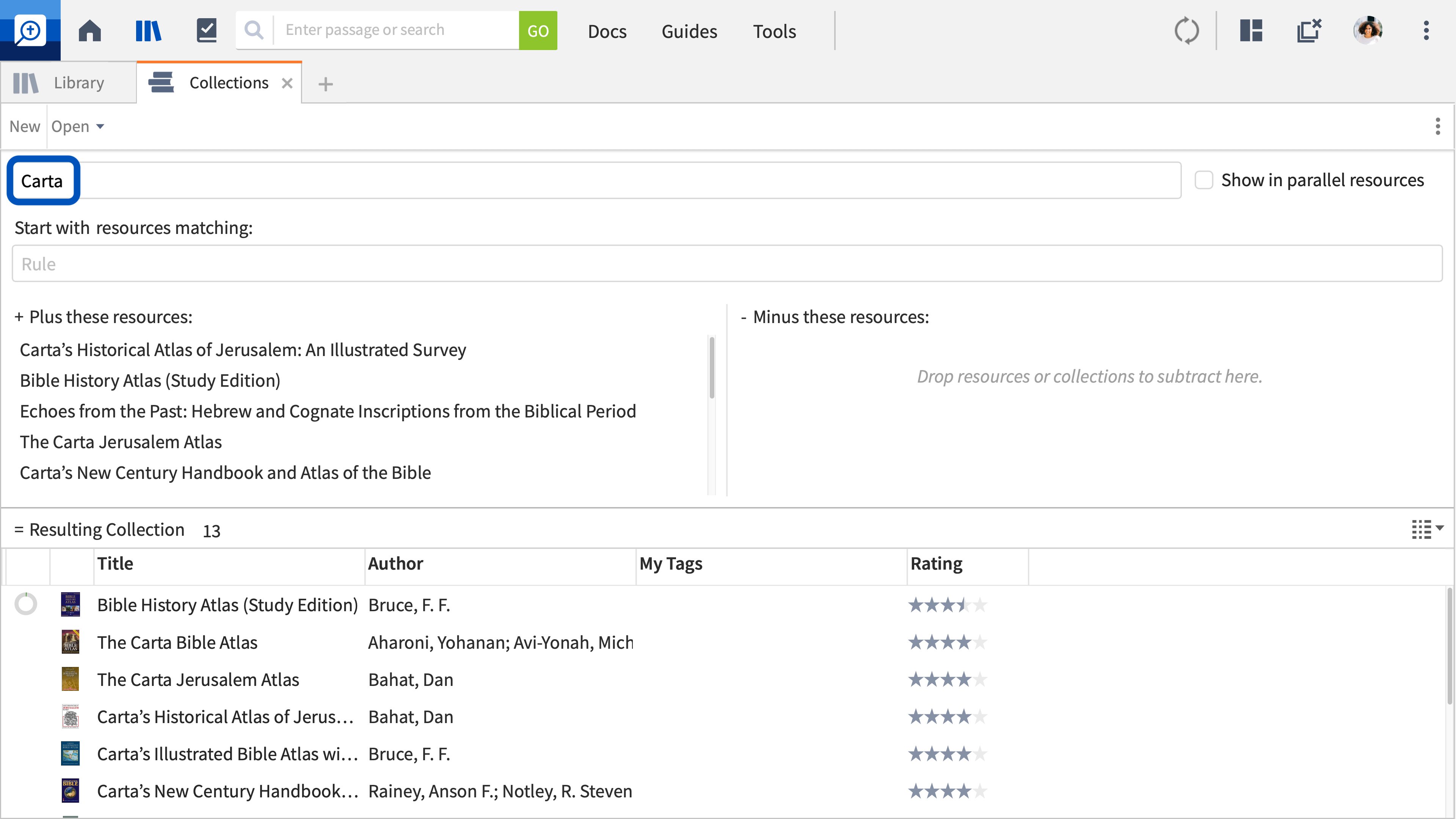 To add resources to a collection,
Enter your desired search term.
For example: atlas
Drag and drop resources from the lower panel to the panel labeled +Plus these resources.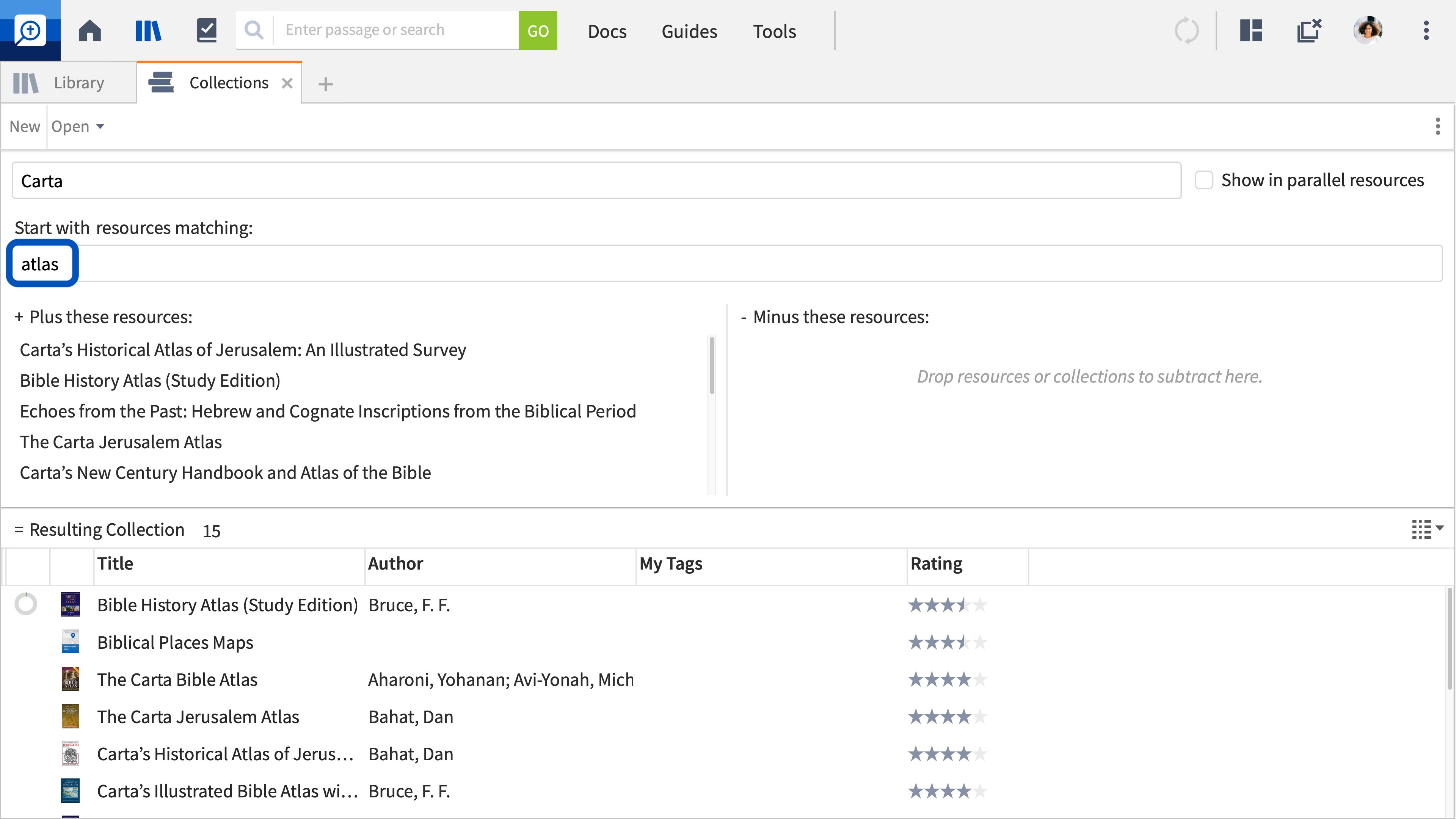 To learn more about managing collections, see the article on the Collections tool here or go to the Logos Help section on Collections here.
Note: You may open the Collections tool directly by clicking here.
View and Edit Resource Information
You can view and modify information for a single resource, or for a group of resources, by using the Info window.
Select a resource(s) and click the Information icon .
You'll notice that the window provides different options and information depending on whether you have one or multiple resources selected.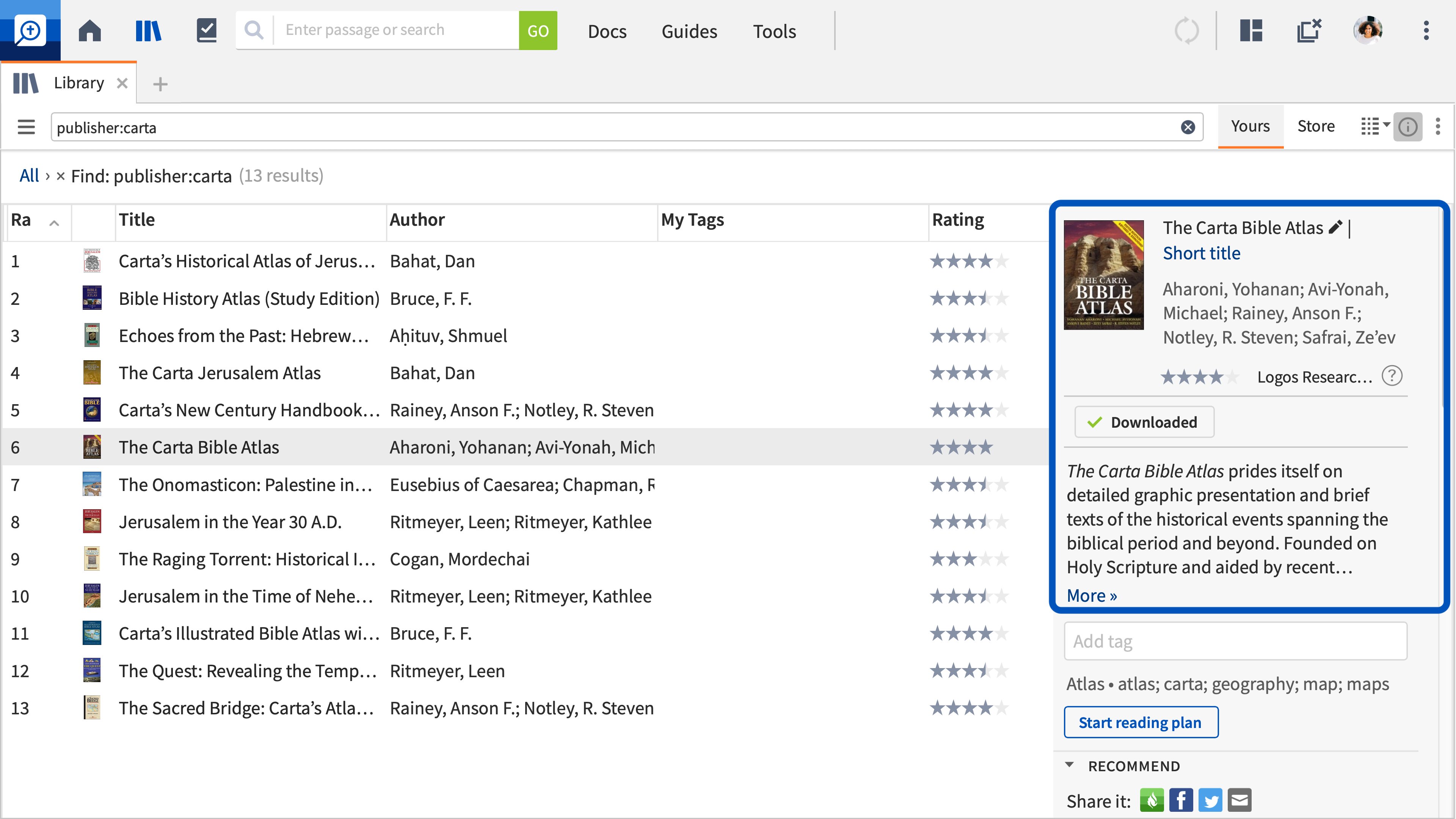 Rating
To rate a resource, click the rating stars. Your rating will overwrite the default rating for the resource and will impact the order in which your search results appear when you sort by rating.
Tags
You can create custom tags for any resource. Resources you've tagged will appear when you enter the same tag in the Library search window.
To tag a resource:
Select the resource and click the information icon to open the info panel.
Scroll to the tags section and type a tag into the text box, then press Enter. To remove a tag, click the X adjacent to the tag.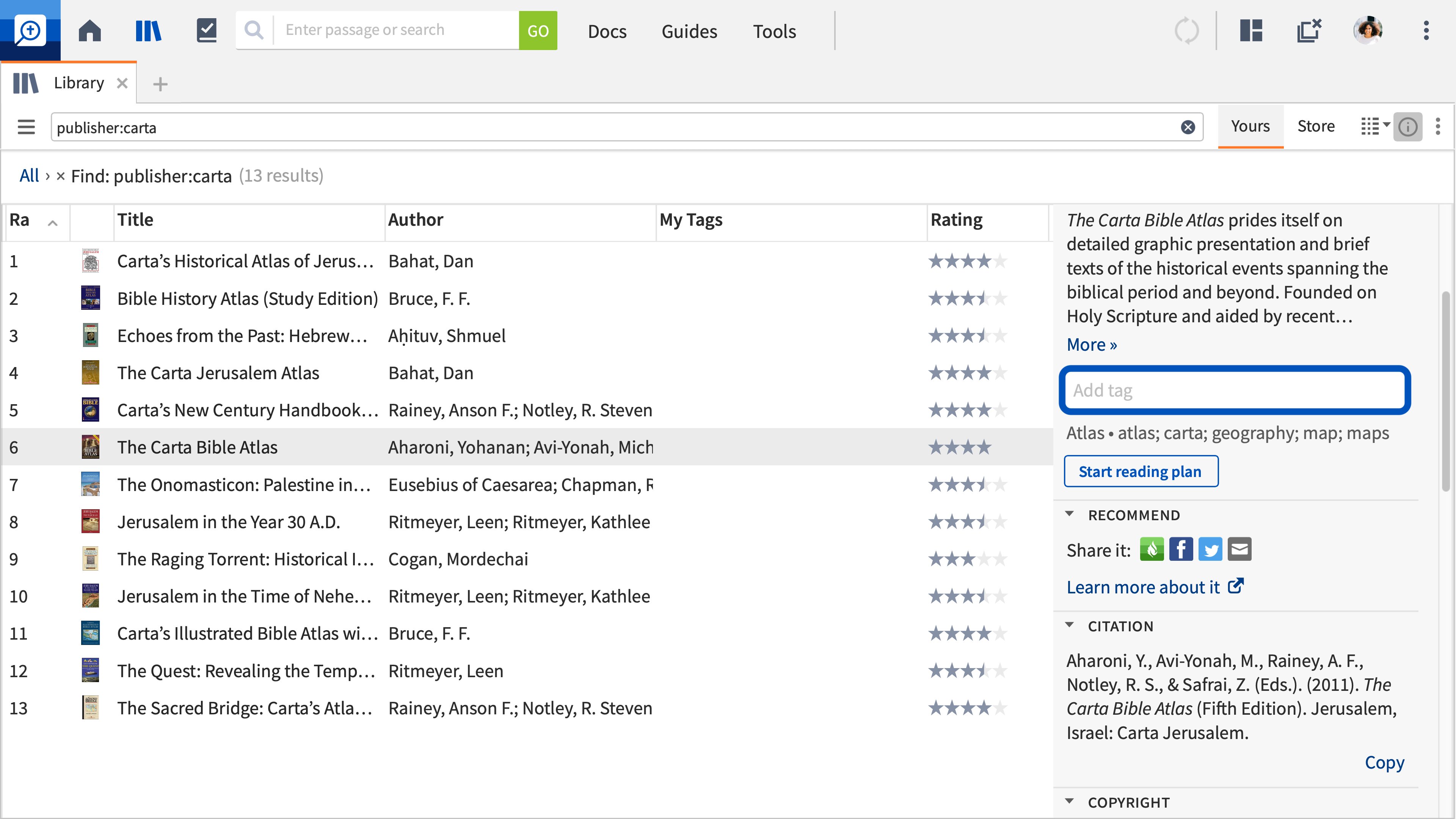 Recommend
Logos makes it easy for you to share your thoughts about your resources with others. Under Share it: you have the option of posting thoughts or recommendations about a resource directly to Faithlife.com, Facebook, Twitter, or sending a link via email. Simply click the desired icon to start the action.
Citation/Save as Bibliography
Logos generates a citation for every resource in your library. To cite a single resource:
Select your desired resource.
Open the resource information panel by clicking the Information icon .
Scroll to the citation section. Click Copy to add the citation to your clipboard. You may then paste the citation as you would any other text.
To generate a bibliography:
Select multiple resources in your library.
Open the information panel by clicking the Information icon .
Click Save as Bibliography. A new bibliography window appears with entries for your selected resources.
Note: For more information on Bibliography, click here.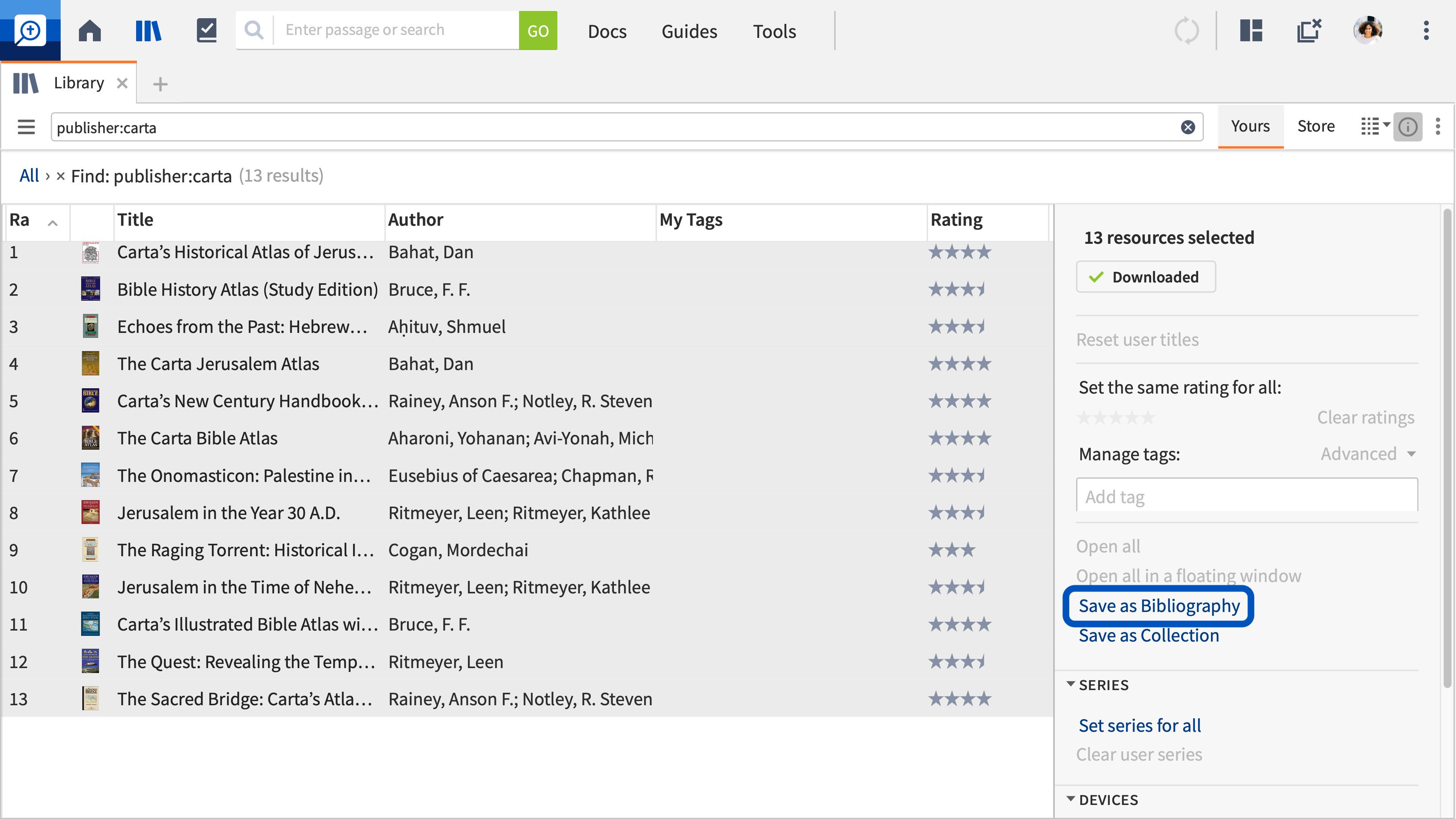 Manage Resources on Mobile Devices
You can use the Library to set which resources download to your mobile device(s) so they can be accessed while the device is offline.
Note: The Logos Bible mobile app must be installed on the device, and must be linked to your user account.
Select a resource. If it is not currently on your device, the download icon is visible on the right-hand side.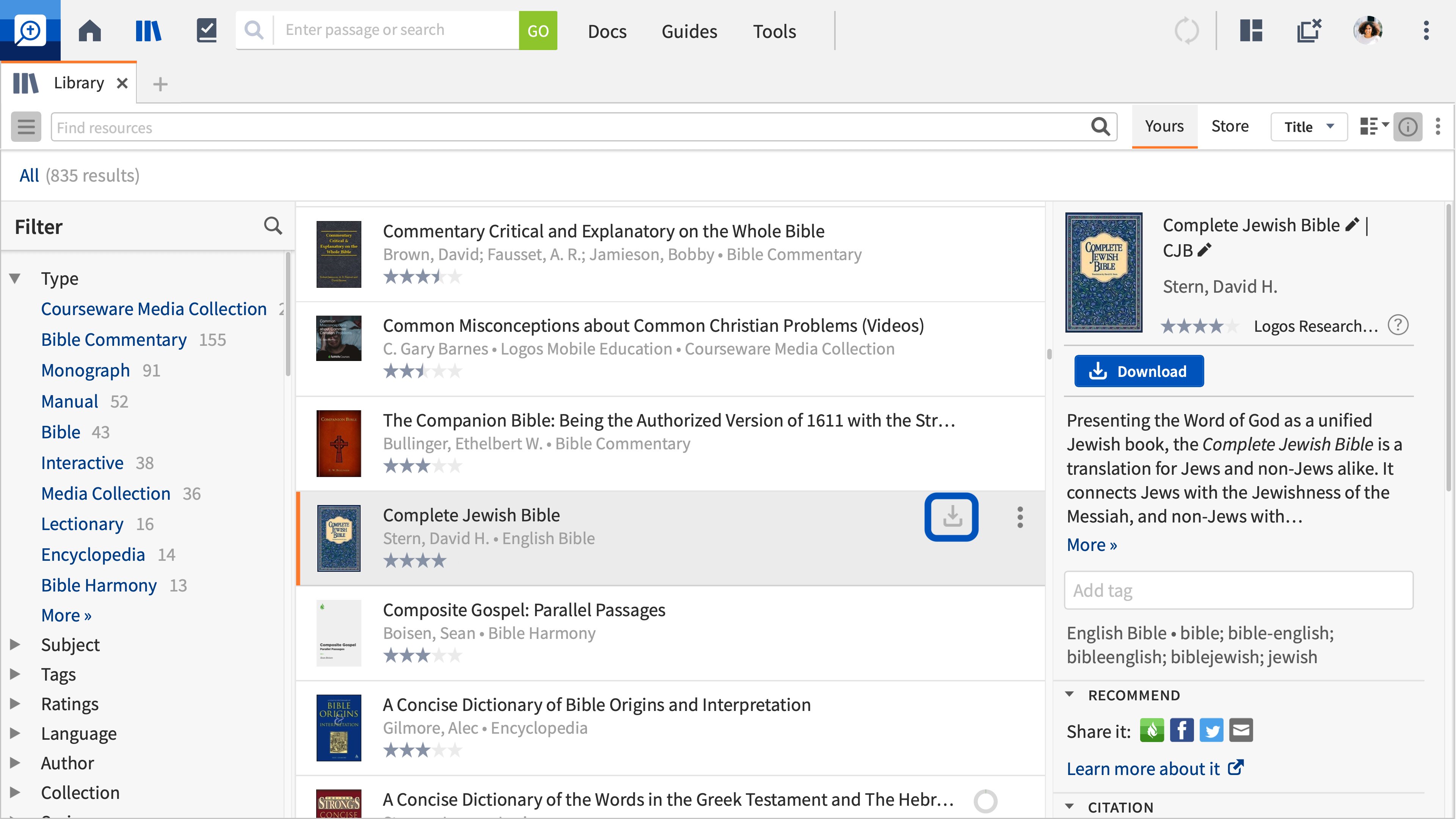 OR
Open the Info panel by clicking the Information icon .
Scroll to the Devices section.
Checking the box sets your selected resource to download on your mobile device.
Unchecking the box removes that resource from your device (it will still be available when you have an internet connection).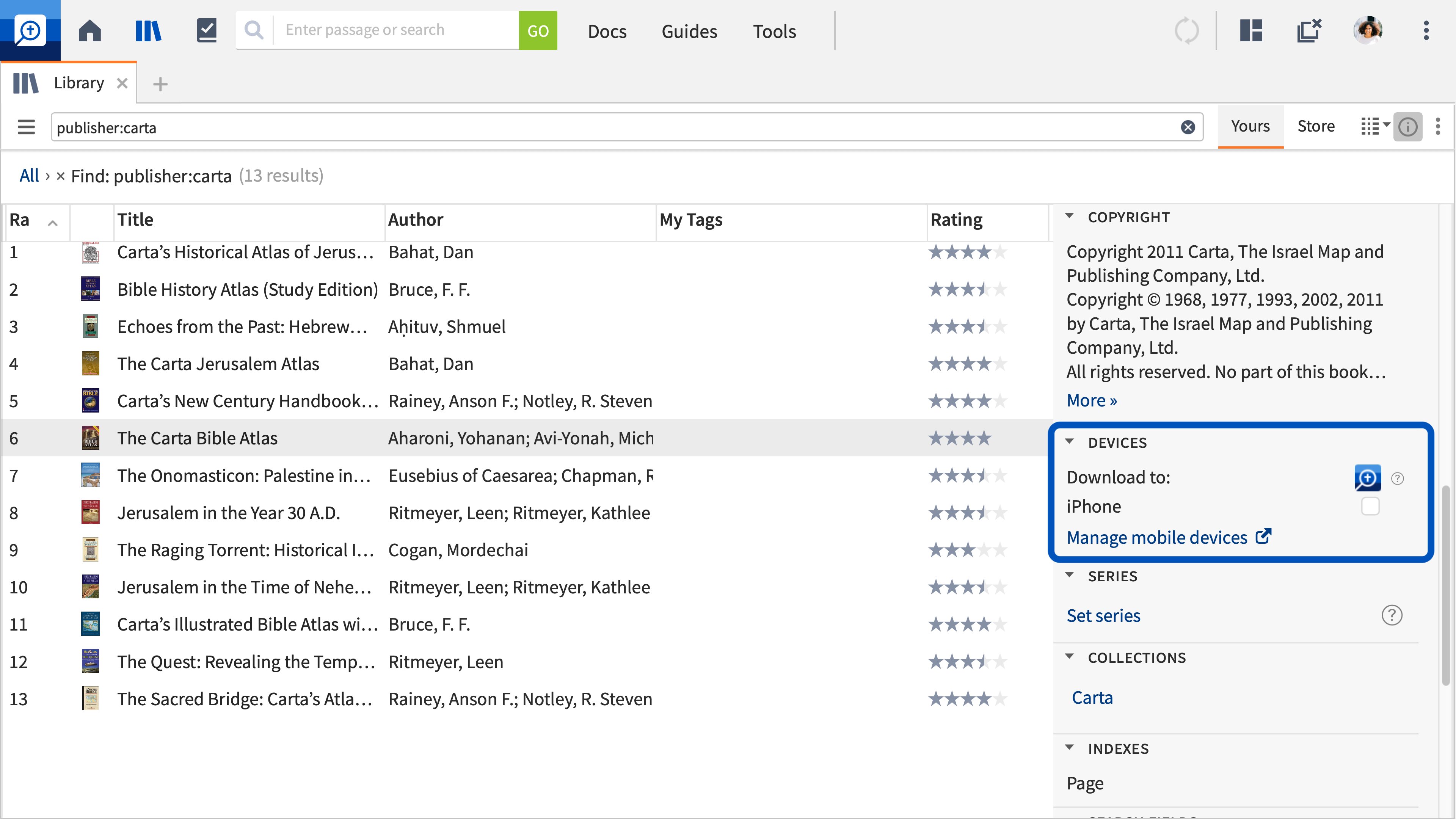 For more information about downloading resources to mobile devices, access the article here.