With Cloud Resources, Logos introduced a major feature to library management: selective downloading. Cloud resources allow you to easily and intuitively manage which resources are downloaded on your local device, saving space on your computer while still allowing you to access the resources you want.
Skip ahead to:
Cloud Results in Everything Search
Configure on First Login
Your first exposure to Cloud Resources may occur when doing a fresh installation of Logos or signing into an account on your device for the first time.
When you initiate either of these processes, Logos will display a new configuration screen that allows you to select sets of resources to download before the software opens for the first time. Your options include:
Minimal, which only downloads your datasets and a few resources,

Recommended, which includes all the items from the Minimal option plus a curated list of resources in your Library and any resources you have added to your preferred resources list, and

Everything, which downloads all the resources in your library.
Each option will provide an estimated install size to help you determine which set to download. This resource-set picker will only be displayed the first time you sign in to your account on this computer. Through your library, you can always download Resources that weren't included in the resource-set you selected, so don't worry about missing out on any of your resources.
After selecting your resource set, tick the box to Automatically download new resources if you would like Logos to automatically download any new resources you add to your Library in the future. You can change this setting later through Program Settings.
Click Start Download when you're ready. While your resource-set is downloading, you can select your preferred Bible translation if you haven't done so already.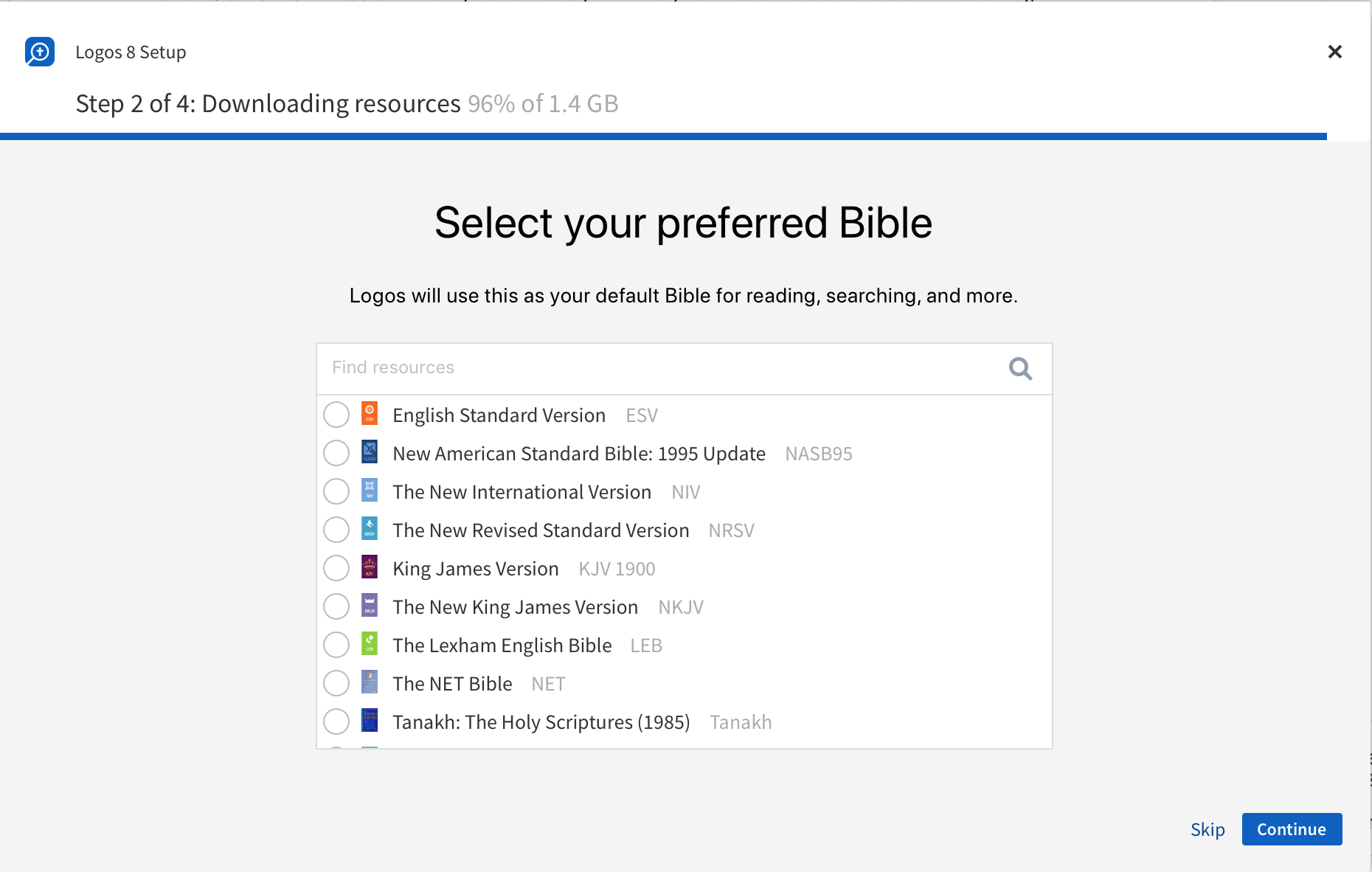 You can also visit the Logos web app to get started right away, browse the Logos Help Center for articles and videos on how to use your new Logos software, or make changes to your Faithlife.com account.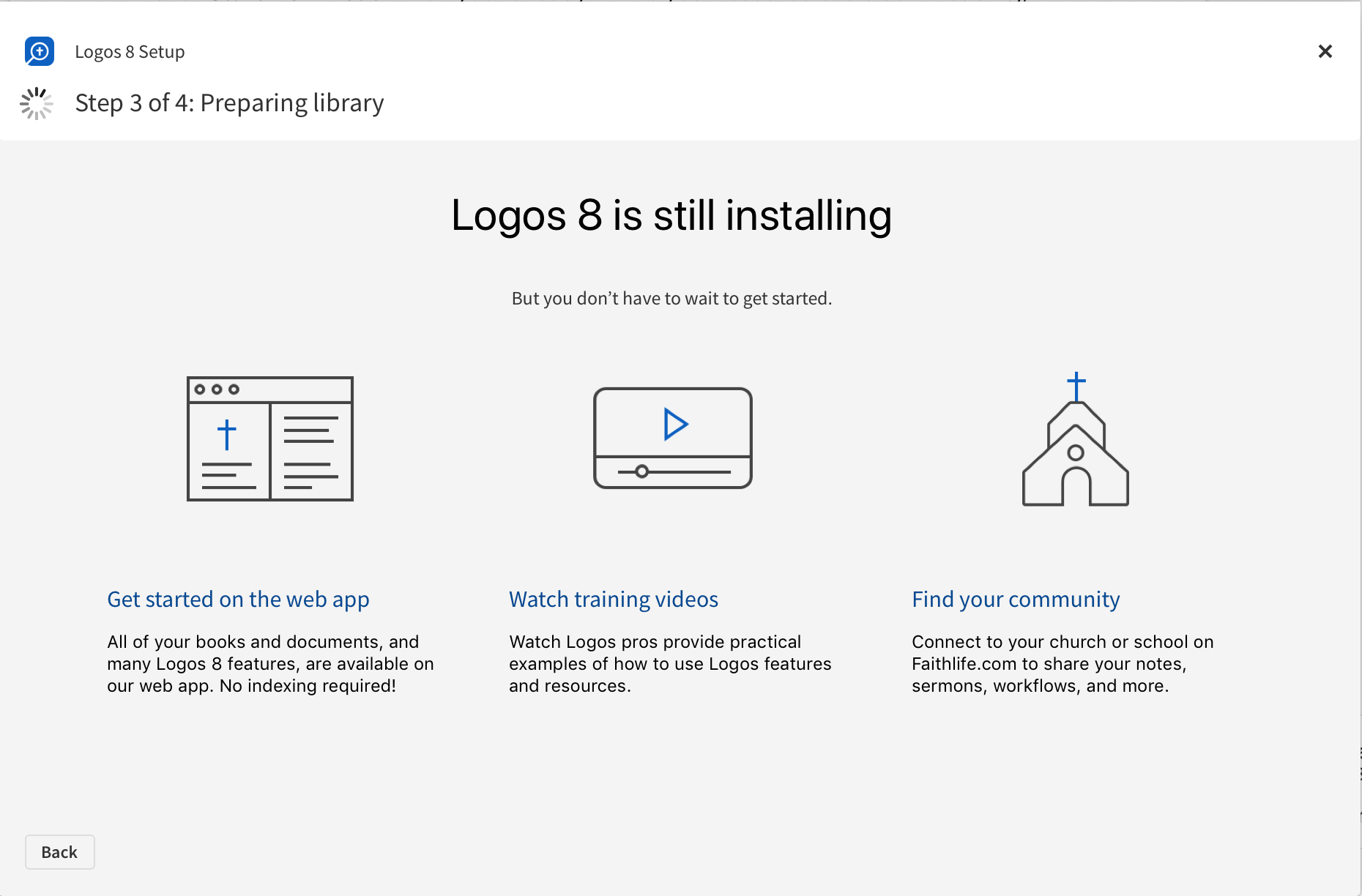 The amount of time required to download your resources will depend on the size of the resource set you have selected and the speed of your internet connection. Once the resources have been downloaded, your local installation of Logos will be ready to use.
Remove Local Resources
Cloud resources are indicated in the library by the download icon

 in Tile view, and are grouped together under the "Not on this device" facet. You can remove resources from the Library's context menu by right-clicking or by clicking the resource menu icon

, and by clicking Downloaded in the Information pane.
While removing a resource deletes the file from the hard drive, it does not delete it from the Library Index. To reclaim hard drive space from the Index after removing a large number of resources, type Rebuild Index in the command box. This may take some time depending on the size of your library.
Library Context Menu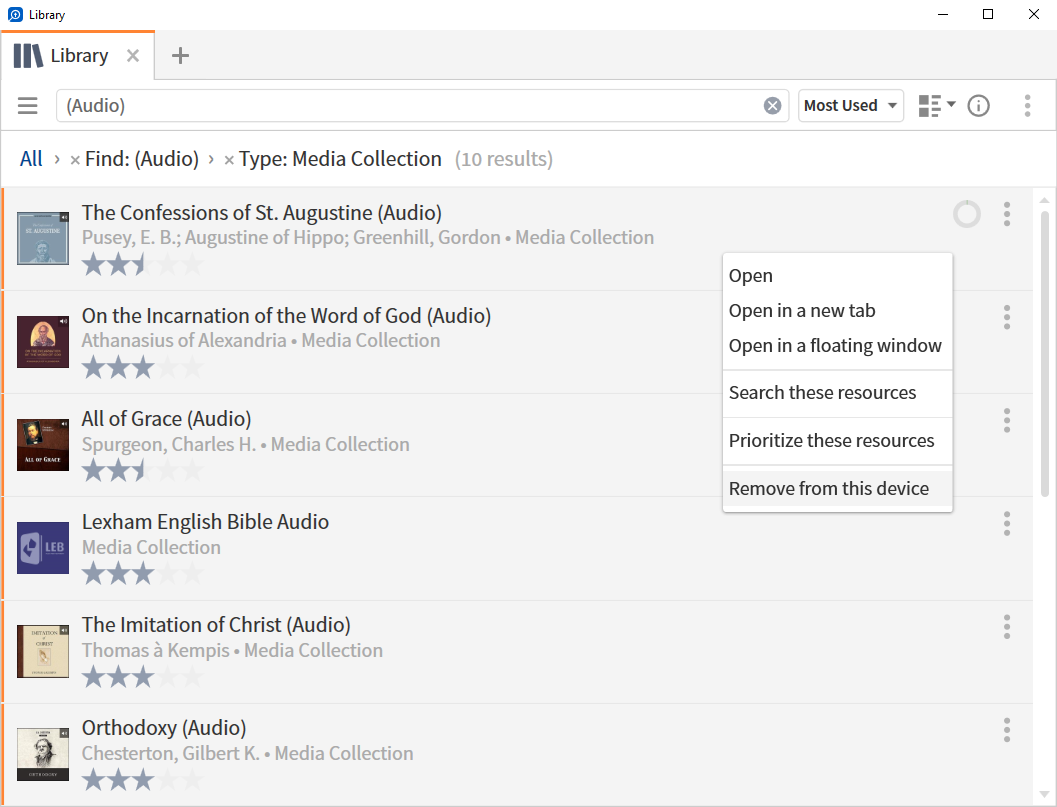 Open the Library.

Facet the Library to display the resources you want to delete. This is especially helpful when seeking to remove a large number of resources at one time.

Select the resource(s) to remove by clicking near, but not on, the resource title.

Right-click and select Remove from this device. This option is also accessible by clicking the resource menu icon.
Resource Information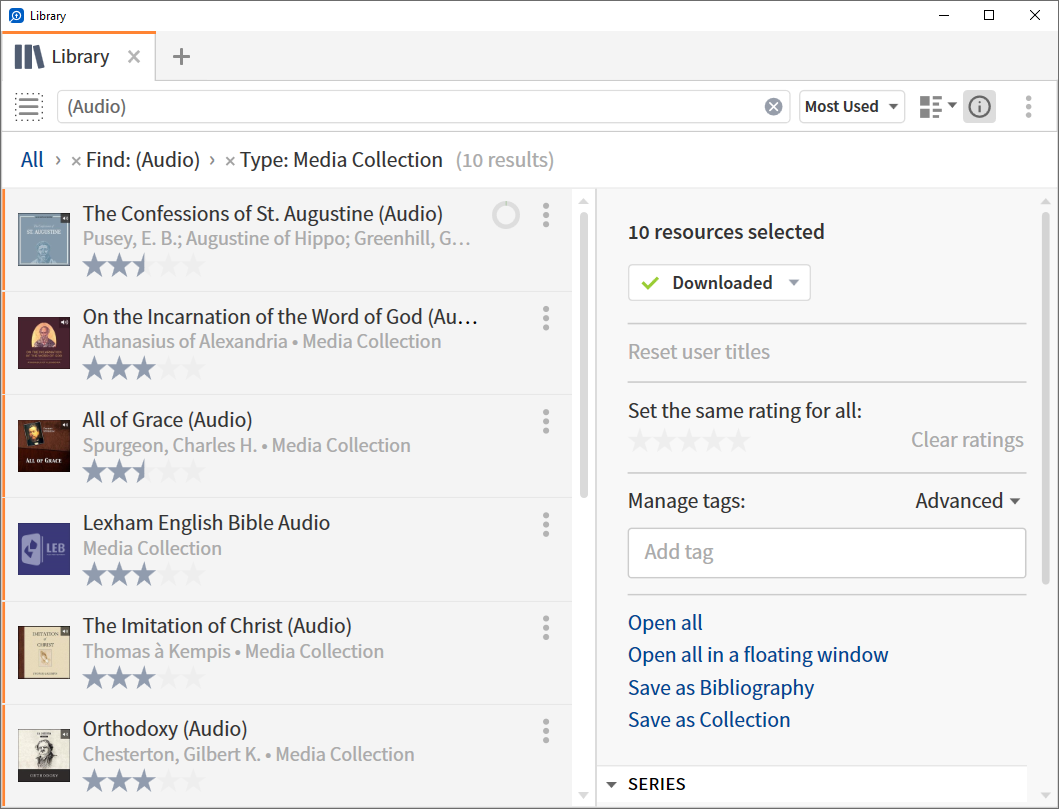 Open the Library.

Facet the Library to display the resources to be deleted.

Display Resource Information by clicking the Information icon , or by pressing Cmd+I (Mac) or Ctrl+I (Windows).

Select the resource(s) to remove by clicking near, but not on, the resource title.

In the Resource Information pane, click Downloaded > Remove from device.
Download Resources
You can download titles by clicking the download icon for each individual title, or you can download multiple resources at one time.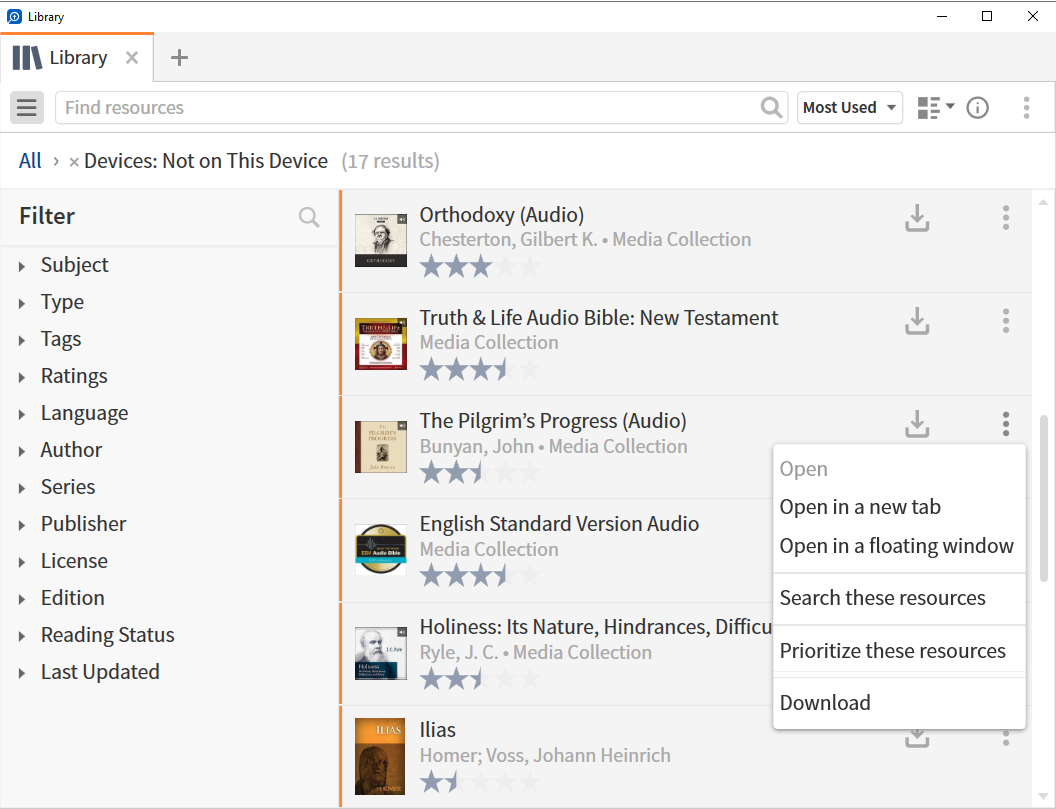 Open the Library.

Select the Devices filter from the left-hand toolbar and click the Not on This Device section.

Select the resource(s) to download and repeat one of the options described above (using the Library context menu, Library panel menu, or Resource Information pane).

To select and download all of your cloud resources, click one of the resources in the list. Press Cmd+A (macOS) or Ctrl+A (Windows). Then right-click to open the context menu, and select Download.  

Click Download.
You can also send resources to particular devices (as long as they're logged into the same account) from the information pane.
Cloud Resource Preview
If you want resources to be fully functional within the software, you need to make sure they're downloaded. But you can still preview your cloud resources.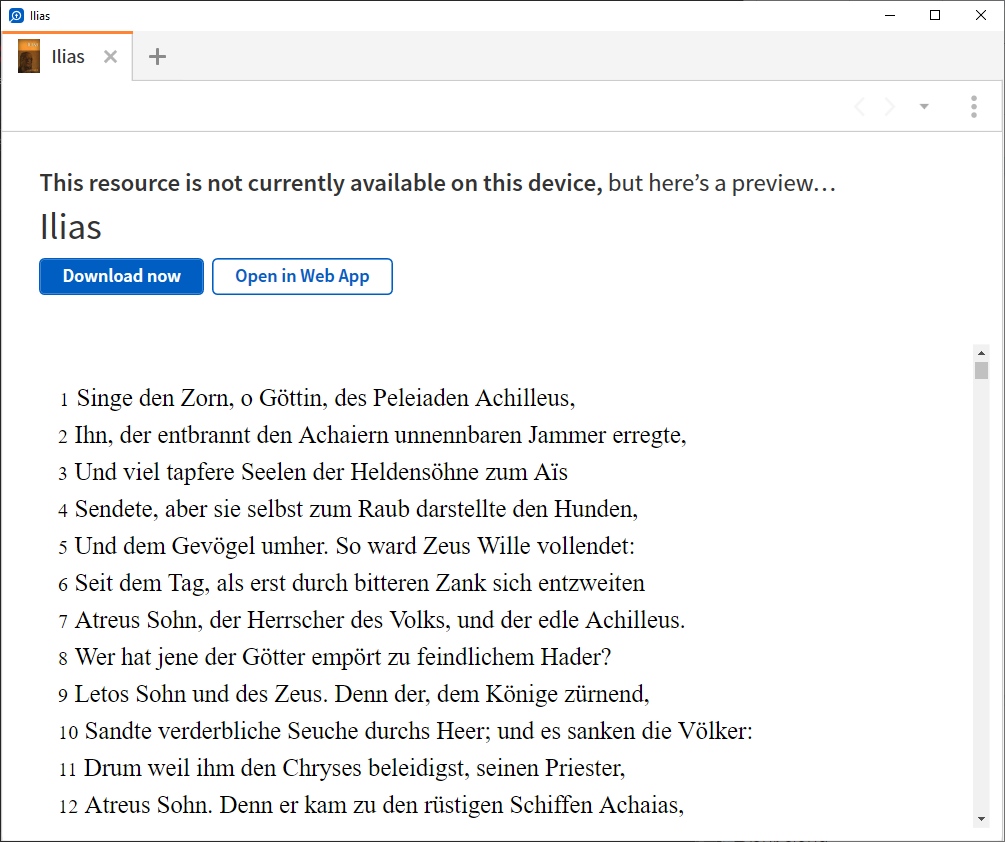 Cloud resources open in a preview panel similar to the one for locked resources. The full text of the resource is available in a simple view with limited functionality. This means, among other things, that you cannot add notes or highlights to the text.
Cloud Results in Everything Search
Your cloud resources will also appear in the Cloud Results section of your Everything search results.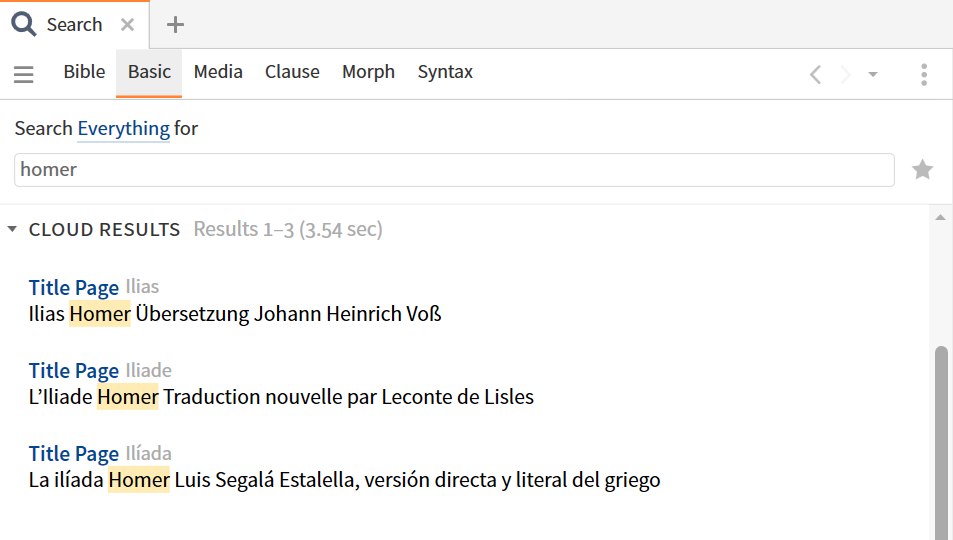 This section displays results from all licensed resources that aren't hidden or downloaded on your device.
Automatic Download
You can control whether Logos downloads new resources automatically or stores them in the cloud through Program Settings. The setting to Download New Resources is found in the Internet section and is set to Yes by default.