Note: Available in packages Silver and above.
The Logos Sermon Builder not only helps you prepare your sermon but makes it easy to present it as well. Using Preaching Mode, you can quickly navigate from your sermon document to a presentation format. This allows you to use a mobile device or laptop to present your sermon.
Note: Preaching Mode requires an internet connection to initiate the presentation. Once your sermon loads, a connection is not necessary to navigate through your sermon.
To Get Started:
1. Launch Preaching Mode
Open your sermon document and click Preach from the upper right corner of the document. Logos sends your sermon to a new tab in your web browser in a presentation view.
2. Adjust Timer
The timer button is located in the upper right corner of the tab. Click the button to adjust the length and/or to start the timer. Logos remembers your adjustments and saves them for future presentations. Click Start timer when you are ready to begin. Clicking Stop timer resets the timer to the most recent setting.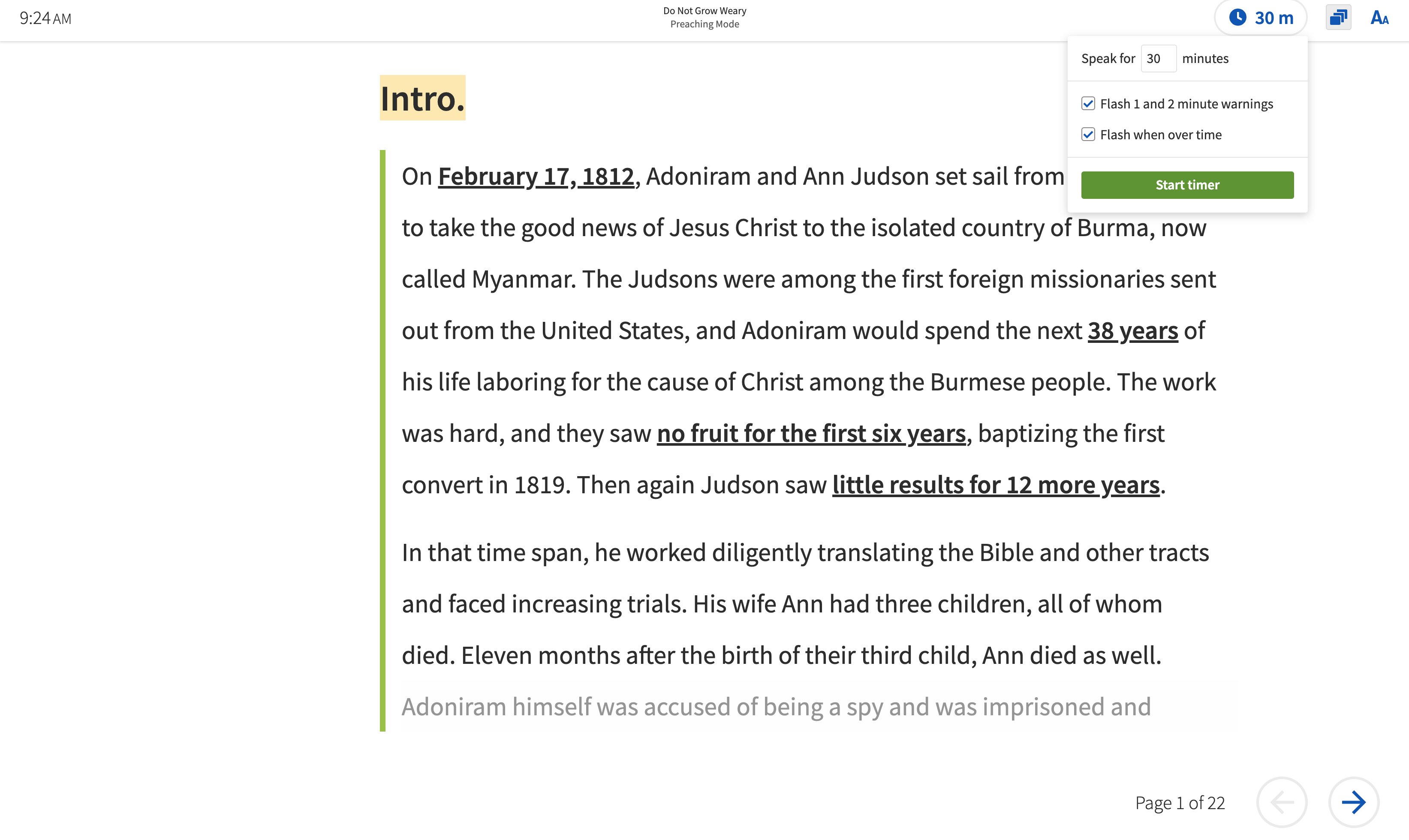 Timer Length
Click inside the box to edit the length of the timer. Once you click Start timer Logos allows you to add additional time by clicking one of the time increment buttons (+1 min, +5 min, or +10 min). Clicking these buttons only affects the timer for the current sermon and is not saved for future sermons.
Notifications
Check the boxes to select notifications for 1 and 2 minutes remaining as well as when you are over time. When Flash 1 and 2 minute warnings is active, the timer button changes to orange and flashes three times when the timer reaches 2 minutes and again at 1 minute remaining. Once the timer reaches zero, the button changes from orange to red and begins to count up each minute. When Flash when over time is engaged, the button slowly pulses red and displays the amount of time you are over.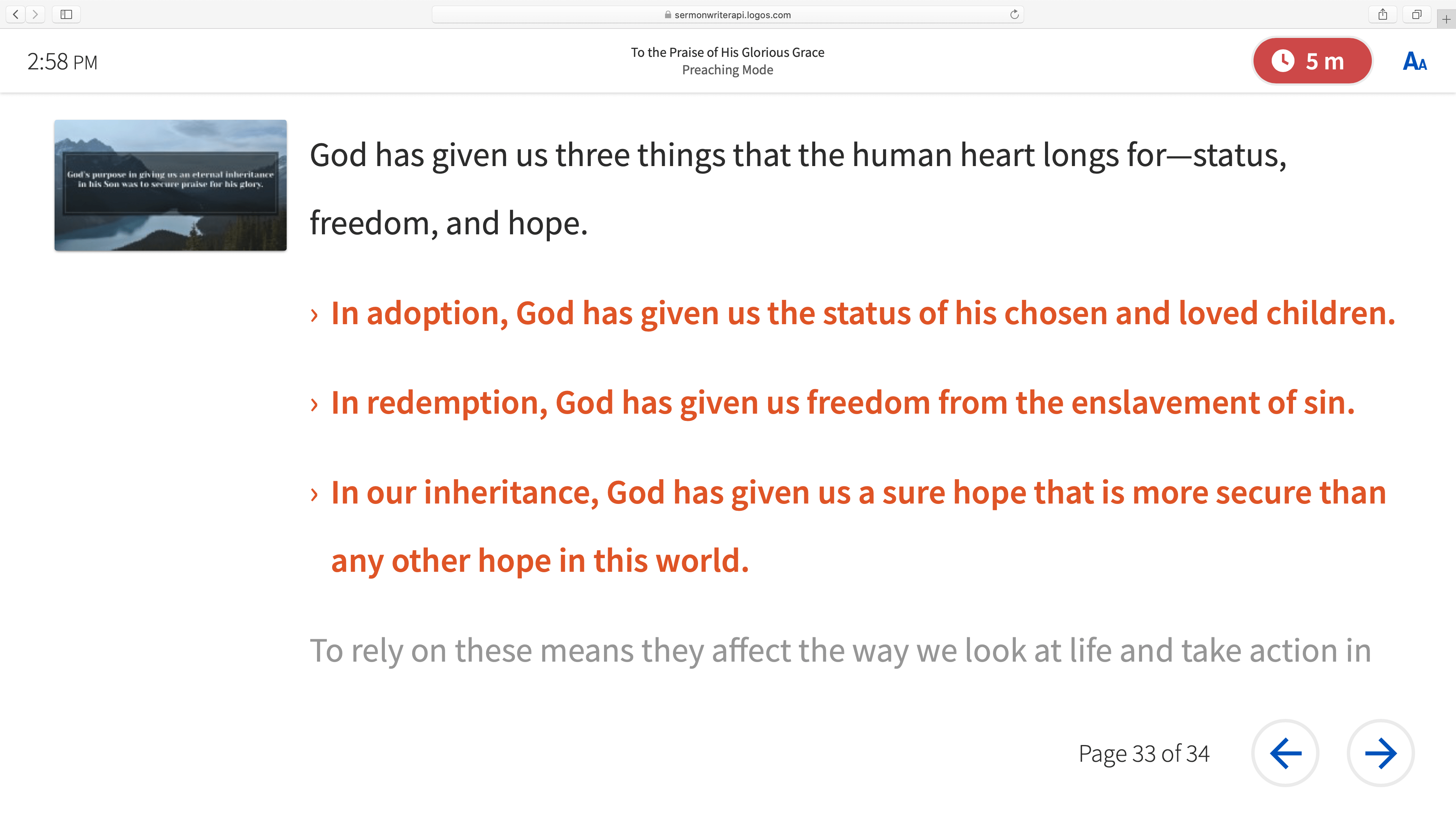 3. Adjust Presentation View
Click the font size icon to open options for your presentation. You can adjust Text Column, Font, Font Size, Line Spacing, and Margins. Changes are made in real-time. Logos remembers your adjustments and saves them for future sermons.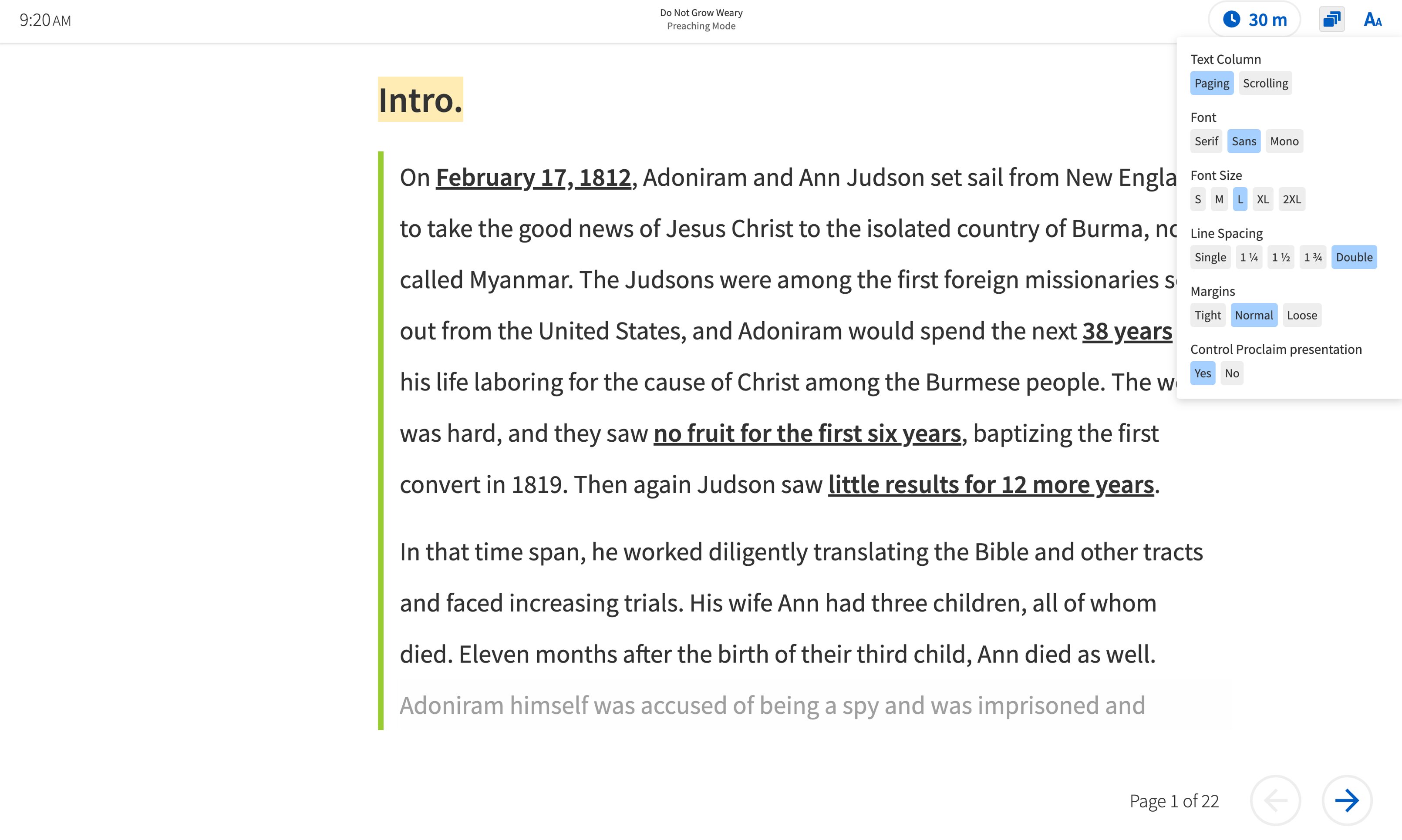 Text Column - Select Paging to present your sermon page-by-page. Select Scrolling to present your sermon as a continuous document. (See more about navigating your sermon below.)

Font - Choose between Serif, Sans (no serifs), or Mono (a monospaced font).

Font Size - Five different font sizes are available. If you used different font sizes when you wrote your sermon, these sizes are enlarged/reduced proportionately. This maintains the relative differences in your original font sizes.

Line Spacing - Adjust the overall line spacing in your sermon with five variations from Single to Double.

Margins - Choose from Tight (narrow), Normal, or Loose (wide) margins.

Control Proclaim presentation - Toggles Proclaim controls from Preaching Mode on (Yes) or off (No). Click here to learn more about using Preaching Mode to control your Proclaim presentation.
Note: You can also run preaching mode from any web browser at app.logos.com or with the Logos mobile app on any phone or tablet.
4. Navigate Your Sermon
When the Text Column is set to Paging, you can navigate your sermon by tapping the forward and back arrows at the bottom of the screen. When using a laptop, you can also advance your sermon using the down and right arrow keys. To go back, use the up and left arrow keys.
When the Text Column is set to Scrolling, you can navigate your sermon by dragging up and down on the screen. When using a laptop, use the up and down arrow keys.
Note: Any slides that are part of your presentation display in the upper left corner of the screen until the next slide advances. This allows you to always see what slide is displayed while you are speaking.
Additional Resources
Open the Sermon Builder in Logos.