With the Logos Bible mobile app you can create and manage three types of Logos documents: Clippings, Prayer Lists, and Reading Plans.
Note: This article should help you get started using each Logos document type available in the Logos mobile app. To view more detailed support, view the full support articles on each document type: Clippings, Prayer Lists, Reading Plans.
Skip ahead to:
Clippings
Clippings are custom collections of saved text from resources in your library. They help you pull together important quotes and insights on any theme, passage, or topic.
To create a clipping on Logos mobile:
Select text in any resource (To select more than one word, tap and hold until blue handles appear. Drag the handles to complete your selection.)

Add a clipping. Tap the right arrow in the selection menu and choose Clipping.

Note: Alternatively, tap the actions menu icon in any resource and choose Make a Clipping.

Add a note (optional) and/or assign the clipping to a notebook. Add text in the notes field to provide further insight into your Clipping. At the bottom, select a Clipping Document.
Note: By default, your most recent Clipping Document is selected. To add your current Clipping to a different document, tap the current Clipping Document and then choose another document or create a new one with the plus icon

. When finished, tap Done to return to your open resource.
To access existing Clipping Documents:
Expand the main menu .
Tap Clippings and choose a document.

Note: While viewing your list of Clipping Documents, you can swipe to delete the entire document. Keep in mind, this will also delete all the Clippings inside the document.
Each Clipping displays as a card within the document. Tap any Clipping to view and edit its contents.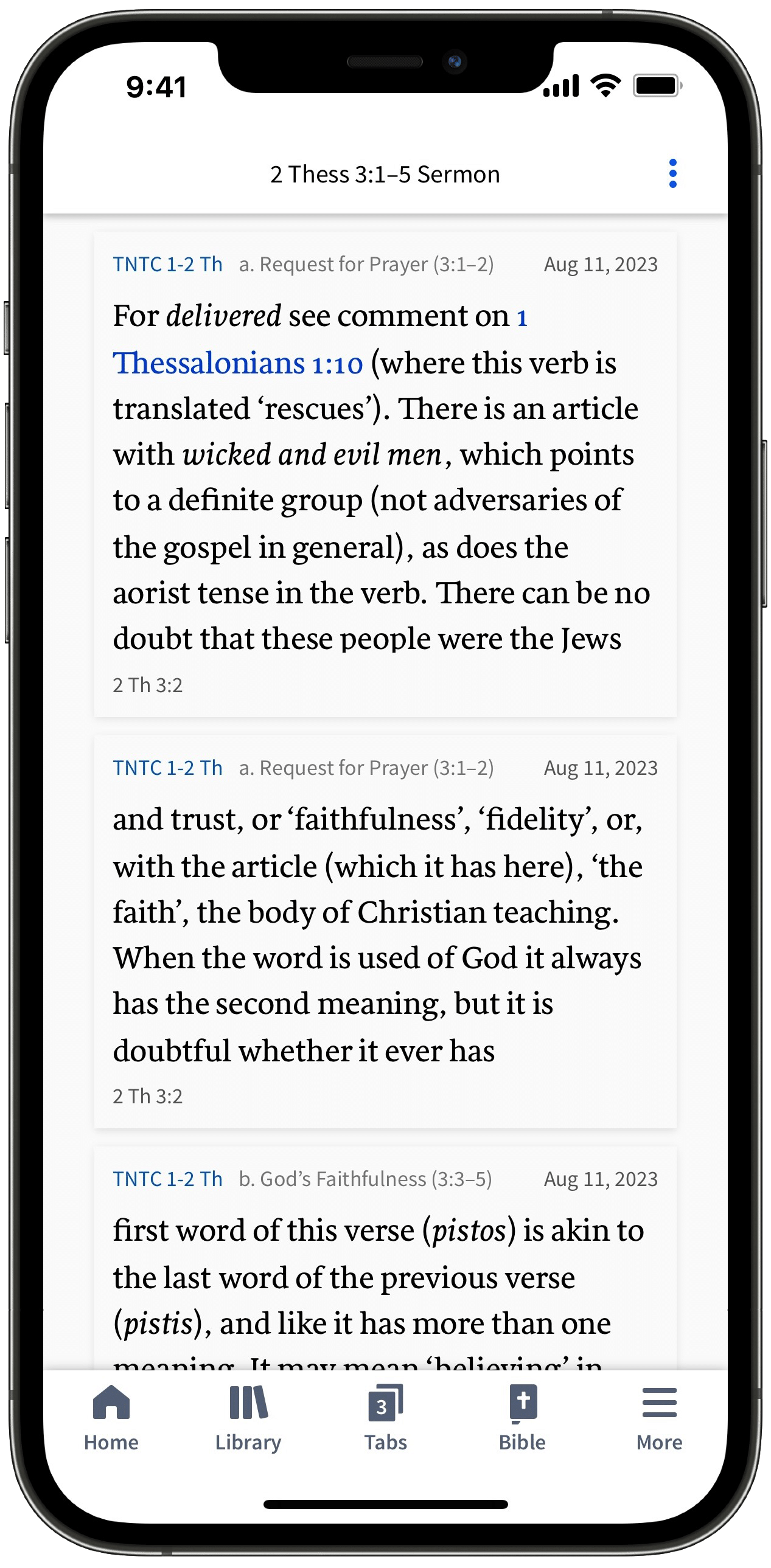 Note: View the full help article on mobile Clippings.
Prayer Lists
Prayer lists are collections of requests you can track and schedule.
To create a prayer list:
Expand the main menu .
Tap Prayers.
Tap the plus icon to add a new list.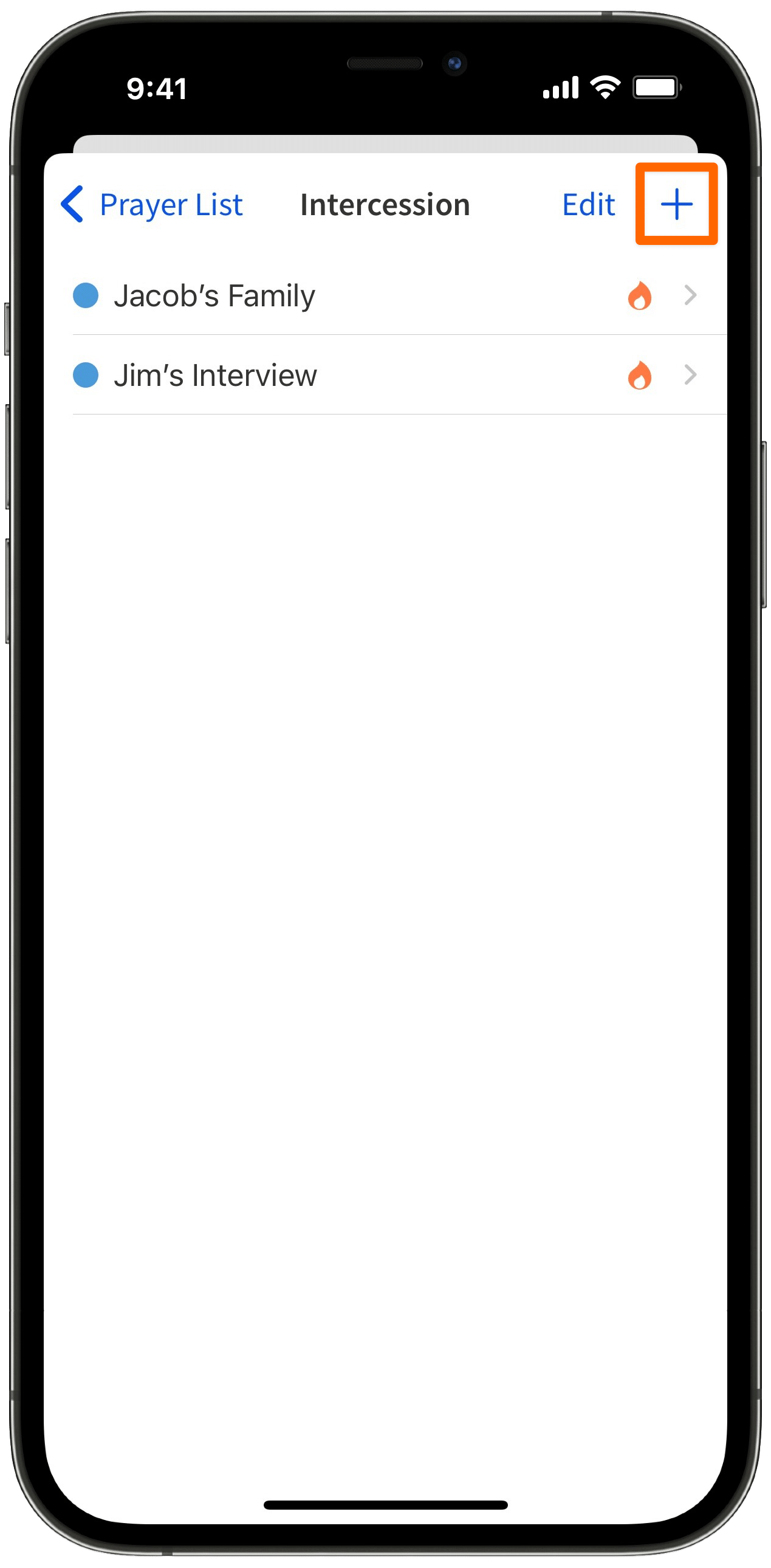 To add new requests to your list:
Select a list to open it.
Tap the plus icon .
Provide details for the request.
Click Add to finish the request.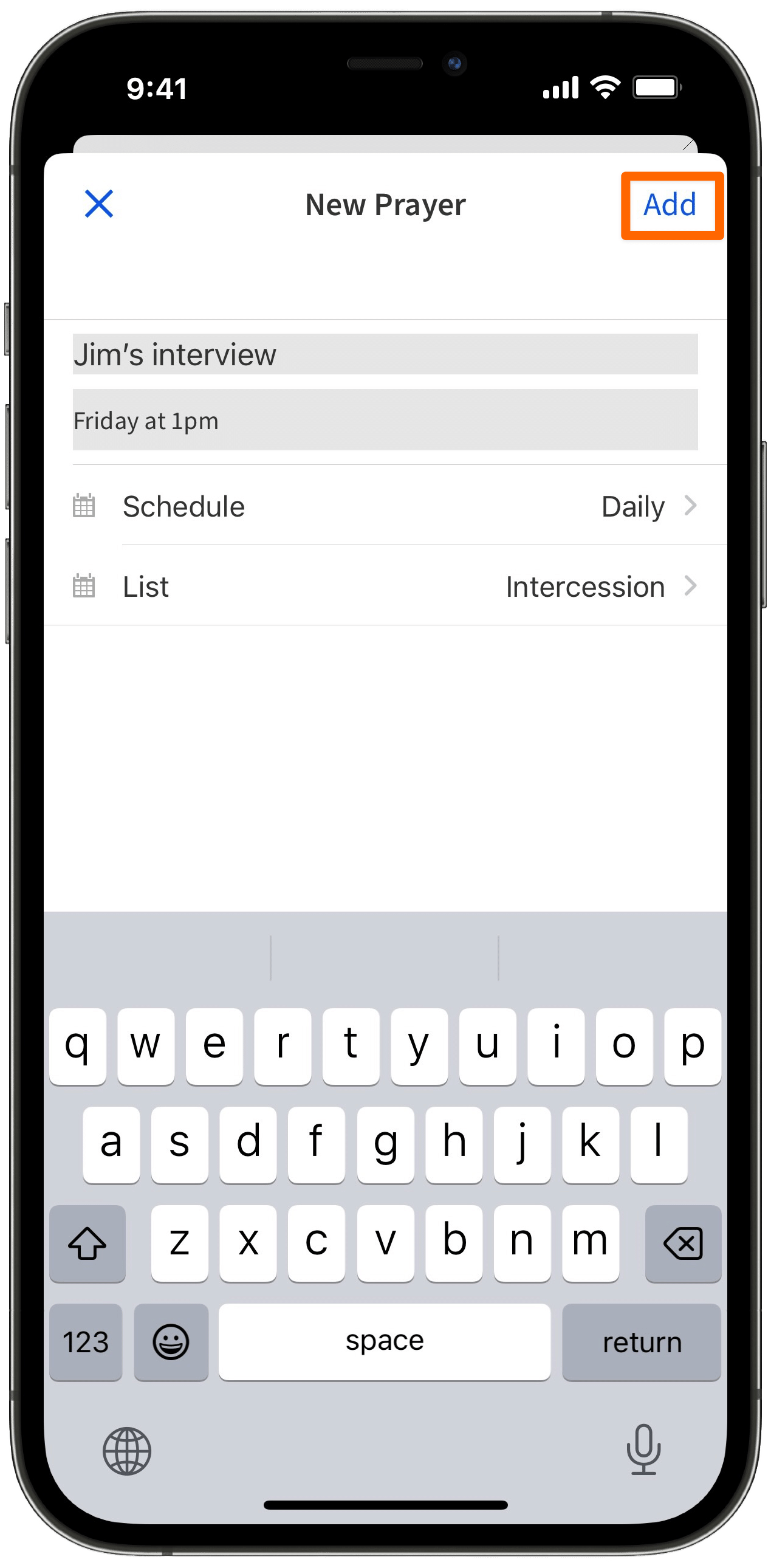 Each prayer request has:
Title: Give your prayer a title in the input field.
Notes: Write key information about your prayer here below the title.
Schedule: Set Logos mobile to place your request on a set schedule.
List: You can change the list on which your prayer request appears.
Tap the prayers card on the Logos mobile home page to pray through your prayers scheduled for today.
Note: View the full help article about mobile Prayer lists.
Reading Plans
To create a reading plan:
Open the Library .
Tap the more options menu on any none-reference resource.
Choose Start reading plan.
Configure and start the plan. Logos shows an automatic schedule based on your resource selection. You can adjust the plan timeframe and sharing options below.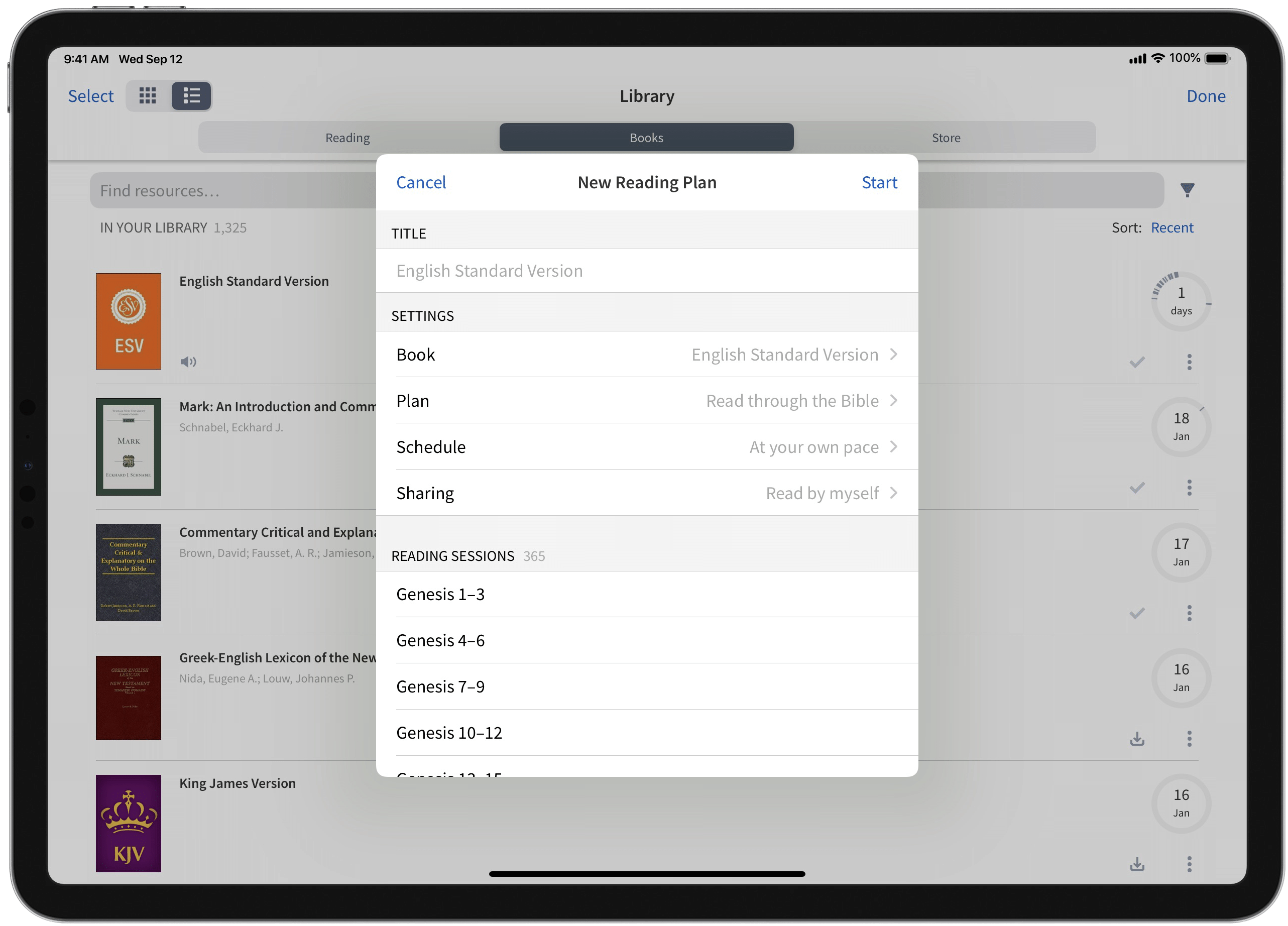 Schedule: By default, many plans are "At your own pace," which means you can read as you have time without keeping to an exact schedule. To set a reading schedule, tap the current schedule selection and make changes.
Sharing: By default, plans are set to read by yourself. You can, however, share the plan with a joined group. Those in your group will need a license to the resource to read along with you.
To access an existing reading plan:
All reading plans are available to you, regardless of whether you created it in the the desktop, web, or mobile versions of Logos. All your active reading plans display in your Library.
Open the Library .
Select the Readings tab.
Tap any plan to open it.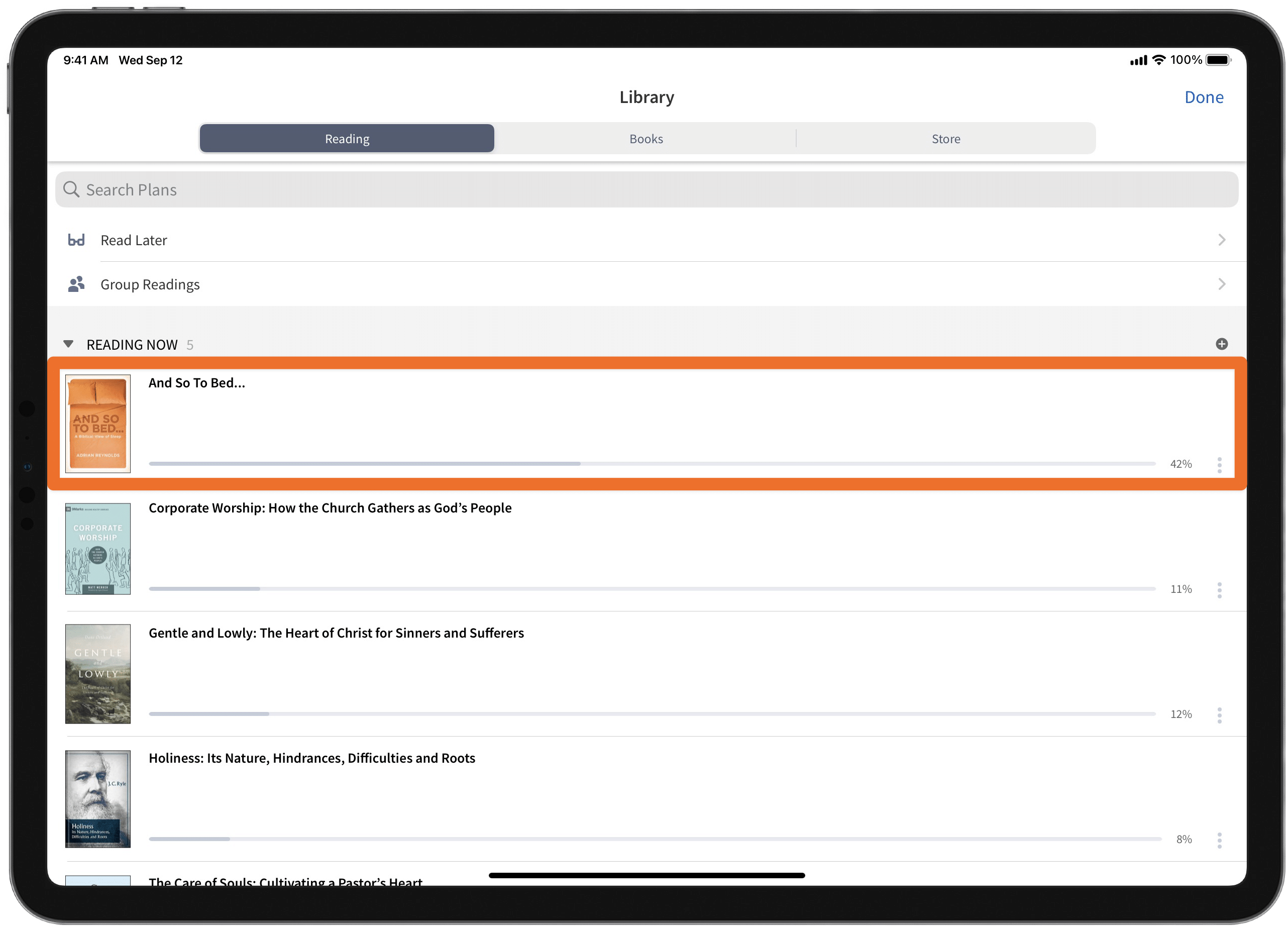 You can also find active reading plans in the Dashboard section of your Home Page. Access your Home Page by tapping the Home icon

. Learn more about using the mobile Home Page.
Note: View the full help article about reading plans in Logos mobile.