This article shows you how to change profiles and switch accounts in the Logos Desktop app.
Note: The only way to switch accounts on mobile is to delete the app and reinstall it. If you have multiple Logos accounts you'd like to merge, please contact Logos Customer Service.
Close Logos.
Re-open Logos. Immediately after clicking the icon to open, hold down Ctrl (or Cmd for Mac).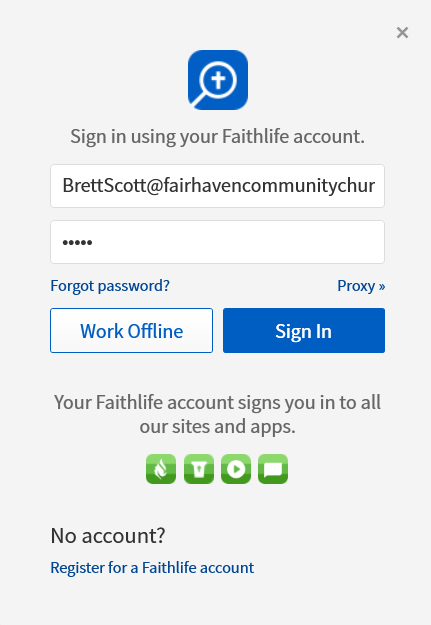 In the upper box, enter the email address for the account that you want to switch to and enter the corresponding password in the lower box.
Click Sign in (Select Work Offline if you do not have internet access or do not wish to be connected to the internet).
Note: Some Logos resources and tools are cloud-based and will not be available in offline mode.
The new profile opens with its corresponding resources.
Note: Because Logos installation is account-specific, resources that are available in one profile may not be available in other profiles, depending on the terms of the local installation (e.g. Bronze, Silver, Gold, Platinum, etc.). If this is the first time that you are logging into this account, Logos will need to index your installation prior to use.
If you connect to the internet through a large Campus or Office network, it is possible you connect through a Proxy. Proxy Settings are usually controlled by your Network Administrator.
At the login screen, click Proxy.
Enter proxy setting information into the Sign In window for Logos on Windows.
Click Sign In.