In Logos, Author Guides offer a brief overview of an author's life, social network, geography, and notable contributions, enhanced with links to the Factbook and Timeline. Author guides provide a survey of an author—the quick facts that orient you to their life, work, and historical setting—with information aggregated from Wikipedia, Theopedia, and other websites.
Skip ahead to:
Finding the Author Guides
To find these, open your library and type series:faithlife author in the search field.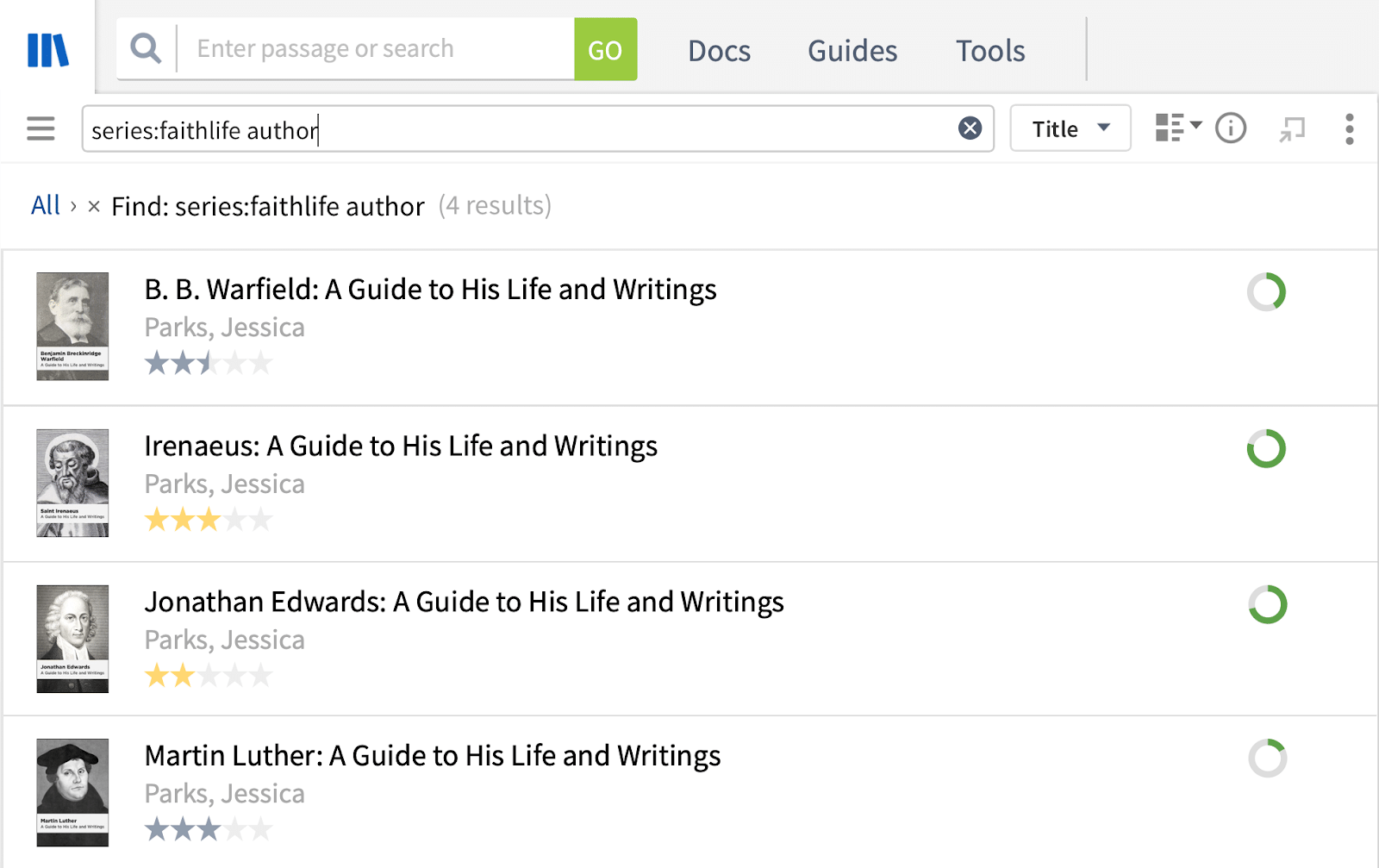 Using the Author Guides
The beginning sections offer historical grounding, while the final sections help you navigate that author's work and find resources of interest. You can read through the guide like a normal resource, but these guides are best used with the Contents menu expanded. Do this by clicking the

icon. With the Contents menu expanded, you can move through the guide to learn about the author's biography, discover what he has written, or browse the sermons he has preached. As you work through a guide, you'll notice links to the Factbook and to the Timeline sprinkled throughout the Overview, Life History, and Social Network sections. Click the links connected to these icons to open the relevant tool and learn more.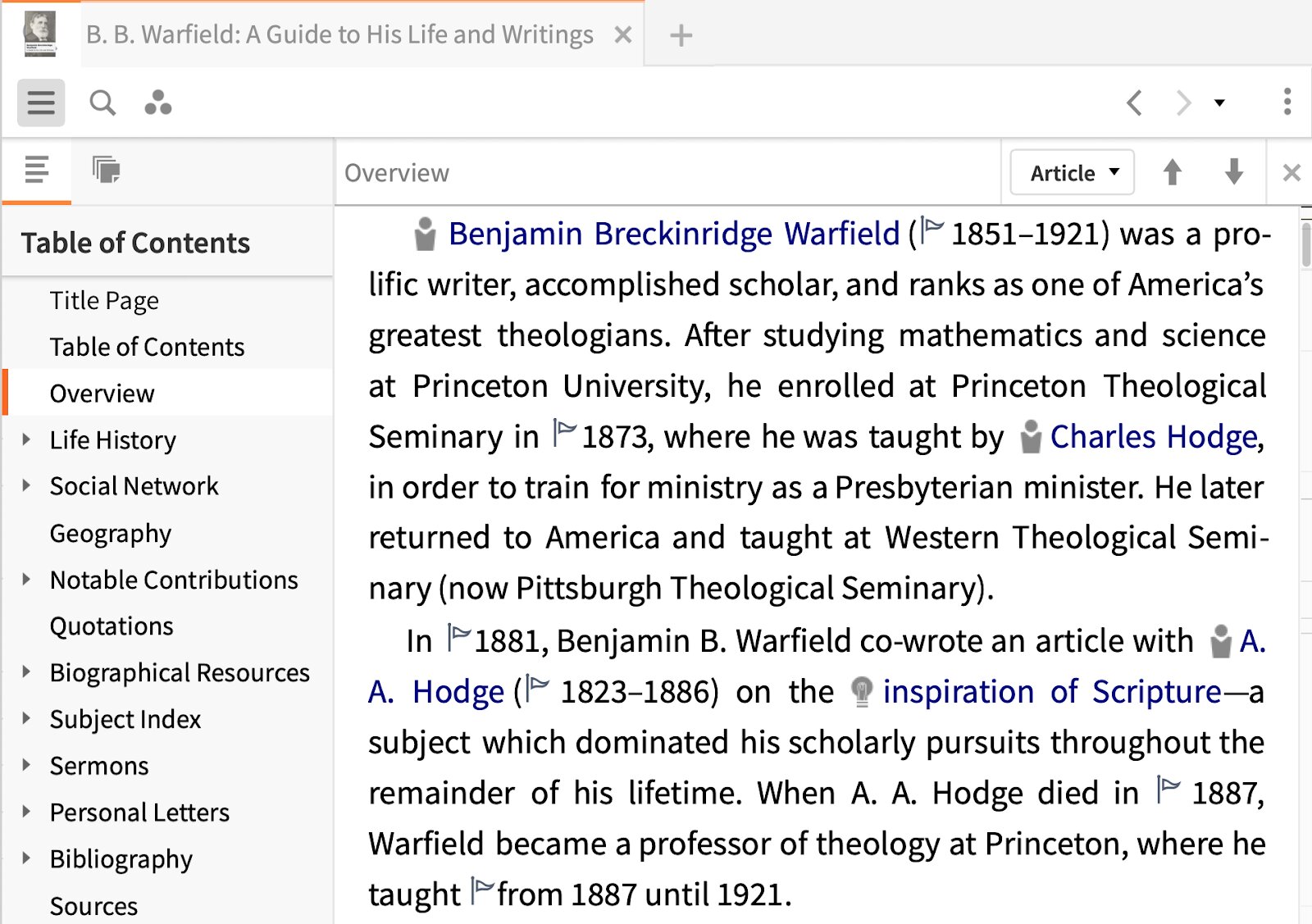 In the Subject Index, the editors have sorted and categorized the authors' writings by topic, which allows us to skim the table of contents to see, for instance, what Irenaeus wrote about creation.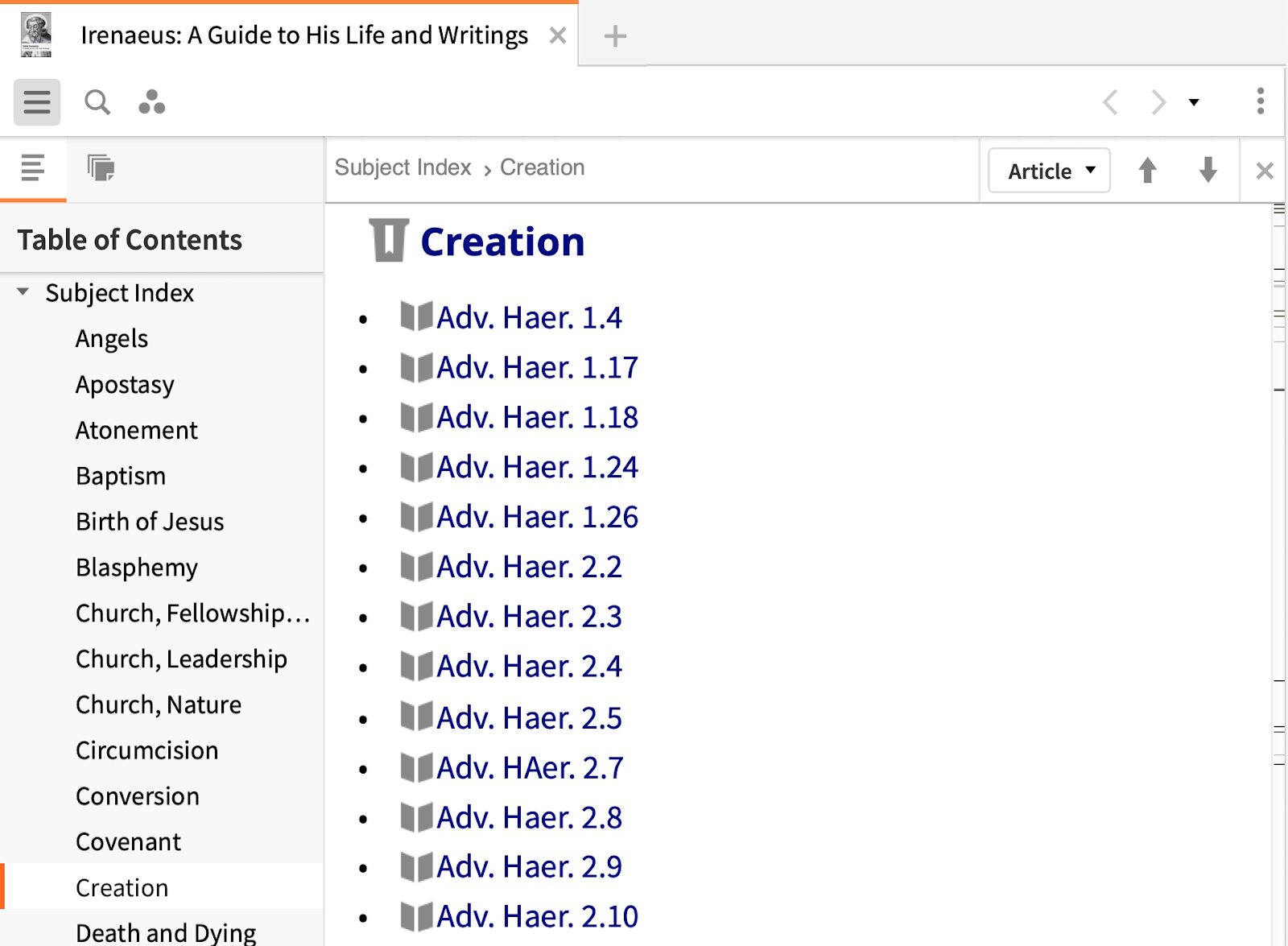 In the Sermons section, the editors have grouped the authors' sermons by book of the Bible, making it easy for us to learn from them as we study. And the Personal Letters section allows us, even if we don't have the linked resources, to see who they communicated with. If, for instance, we want to browse the sermons Jonathan Edwards preached about love, we can navigate down the Contents Menu, expand the Subject Index, and browse for Love.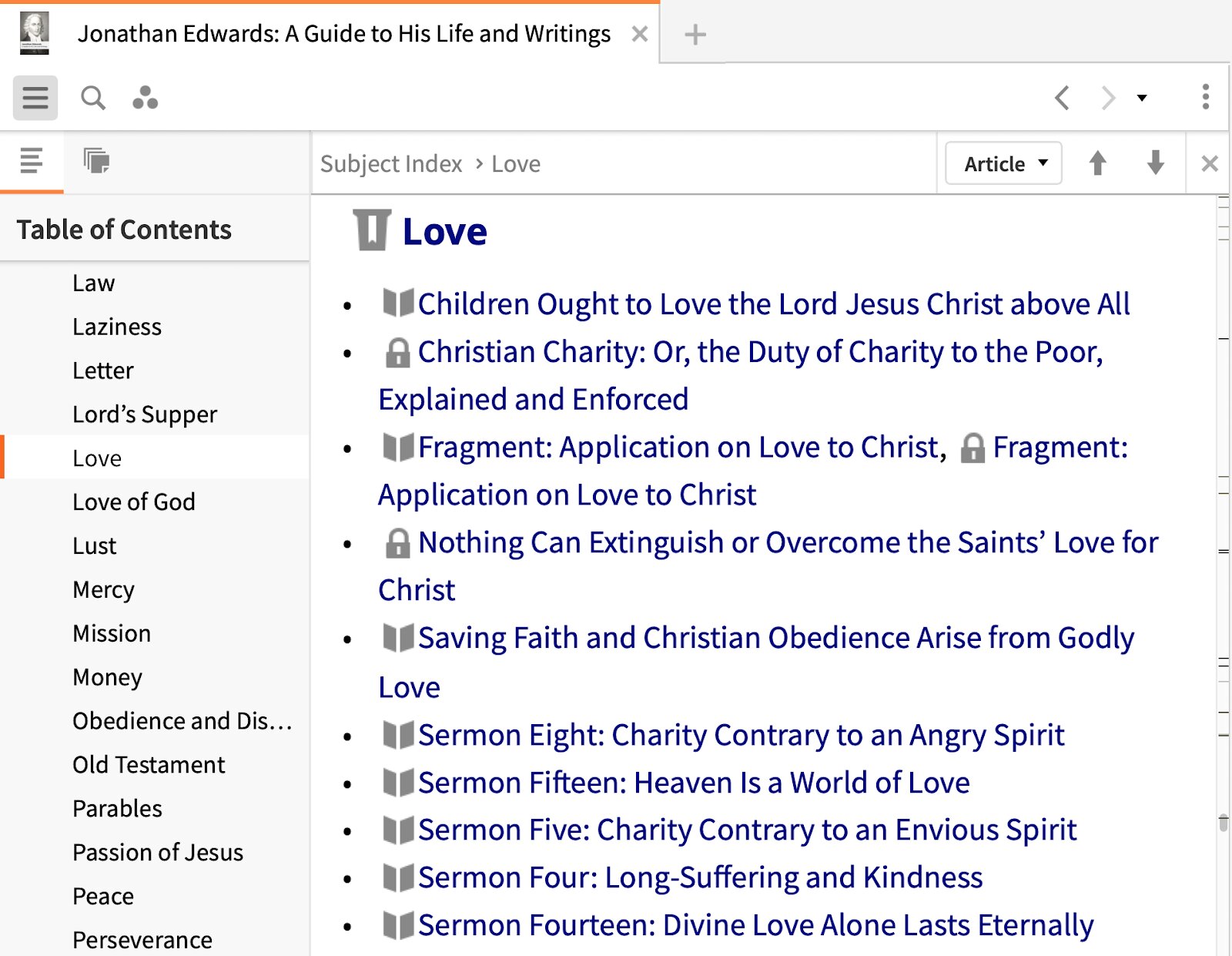 Or if we're preaching through the gospel of John and want to see if Edwards preached on John 10, we can expand the Sermons facet and browse through his sermons to see what fits.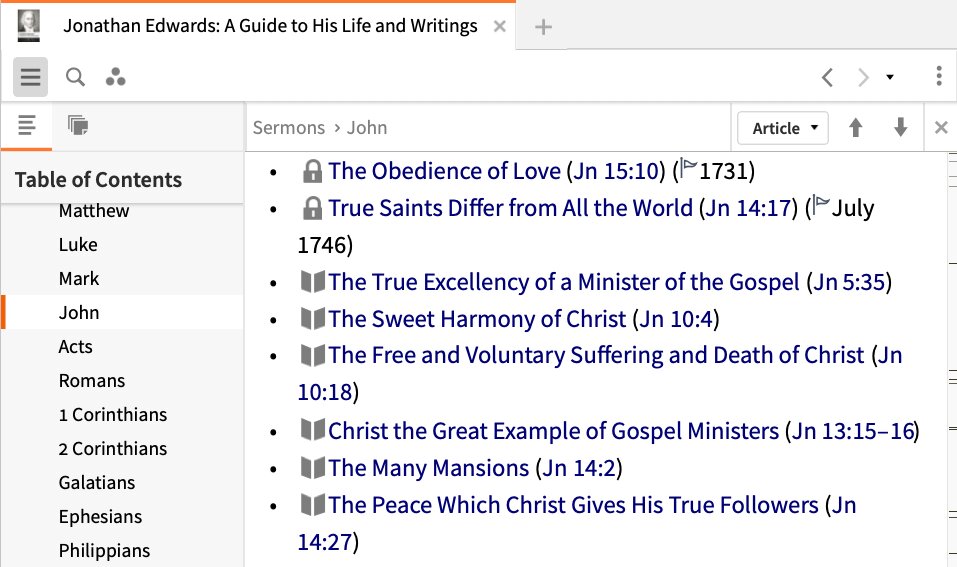 The Personal Letters facet contains links to letters on a wide variety of topics, each giving us a little glimpse into the personal life and ministry of these influential figures in church history.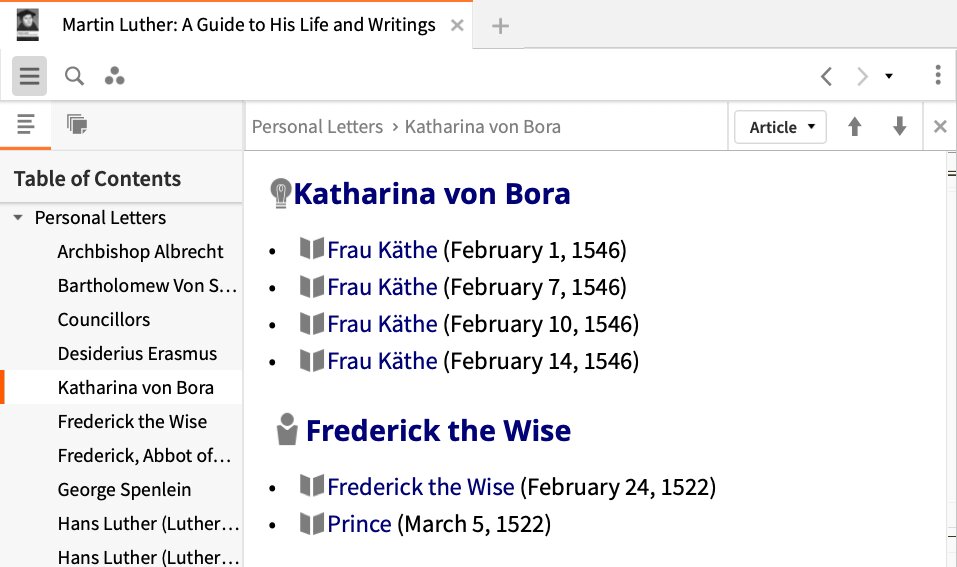 Categorizing and linking to primary texts is an arduous process, but that's part of why Logos is so great: all that time was spent so that we can enjoy the benefits in seconds. They equip you to discover important historical information about key figures in church history and empower you to dive into their writings with confidence.