All of the books in your Logos library are stored in the cloud and available via the Logos mobile app. You can download individual books if you'd like to make them available on your mobile device when without wifi or a data connection.
Downloaded books are no longer streamed from the cloud and will use up space on your device. The amount of space varies by book.
You can download books from:
Alternatively, you can manage the books on your mobile device from the Logos desktop application.
Note: This article will explain how to download written books for offline use. You can also get help in downloading audio books or videos.
Download Books from the Library
To download books individually:
Tap the Library icon at the bottom of the screen to open the Library.
Find the books you want to download and tap the download icon next to each book.

Alternatively, you can download several books at once using the Select option.
Tap the blue checkmark in the top right corner of the screen.

Then either tap each book you want to download,

or tap Select All at the top left to select everything in your Library.

Tap the Panel Menu icon in the book selection bar at the bottom of the screen.
Tap Download.
Note: If you try to download more than 100 resources at a time, you will receive a warning prompt to confirm you want to download this many.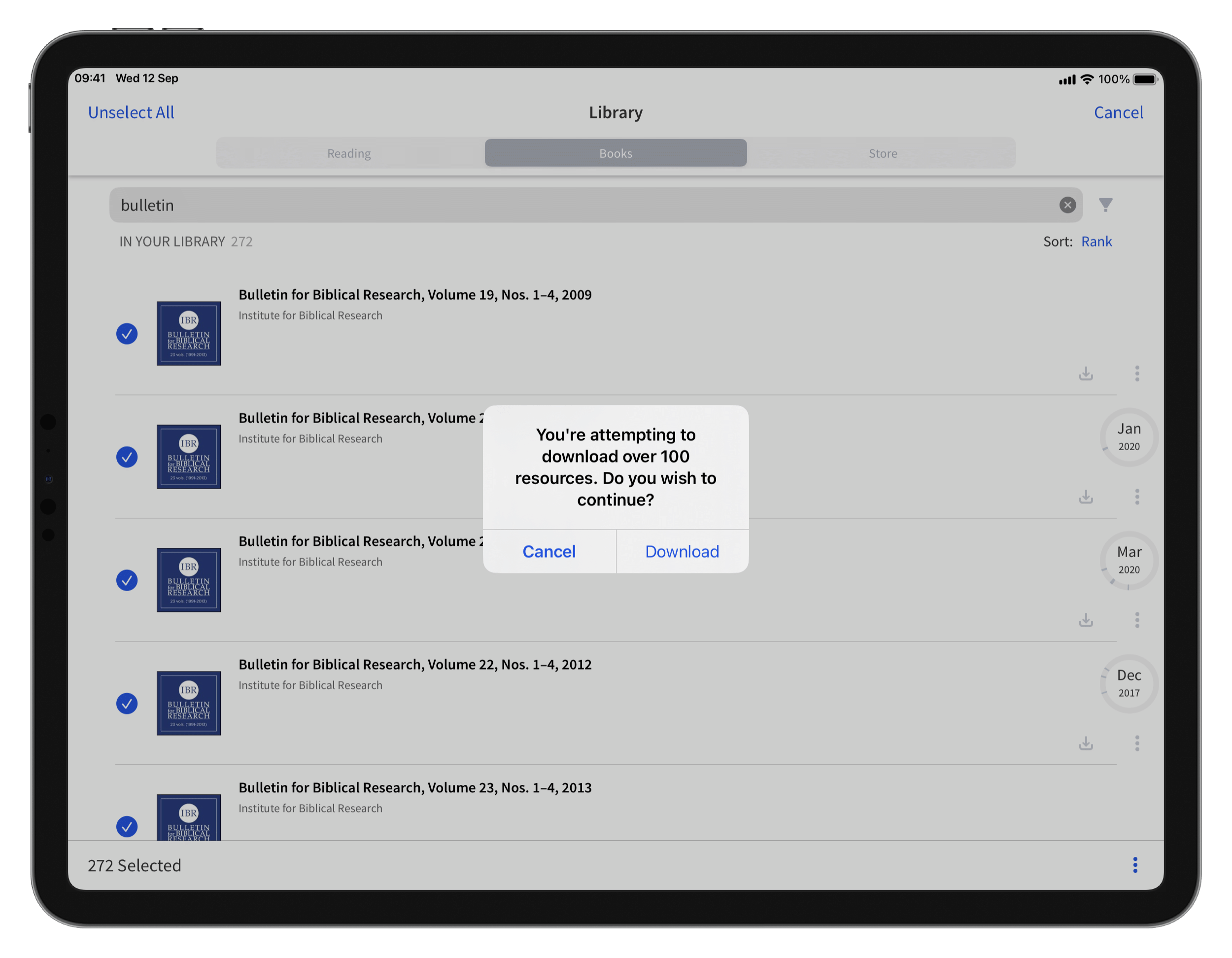 Note: To remove any downloaded book, tap the More options icon

, and choose Remove download.
Download Books from the Panel Menu
With a book open, tap the screen to display the app controls.
Tap the panel menu icon and choose Book Info.


Tap Download resource. The book will download and install.


Tap Done to return to your book.
Note: To remove a downloaded book, follow steps 1–2 above and then tap Remove resource in the Book Info pane.