In Logos, the Copy Location as feature allows you to copy your current location in the active resource (based on the active milestone) to the computer's clipboard in one of five formats.
Note: These links are primarily intended for use in external apps, and not within Logos itself (with the exception of Personal Books). At present, links to resources can only be added to the Home Page, by using Reading Plans.
Click the panel menu icon  in the panel you wish to link to and select from the available options.
Note: This option is available outside of the Panel menu through the shortcut key combination Opt+Cmd+F (macOS) or Ctrl+Alt+C (Windows).
Select the type of link you want to create.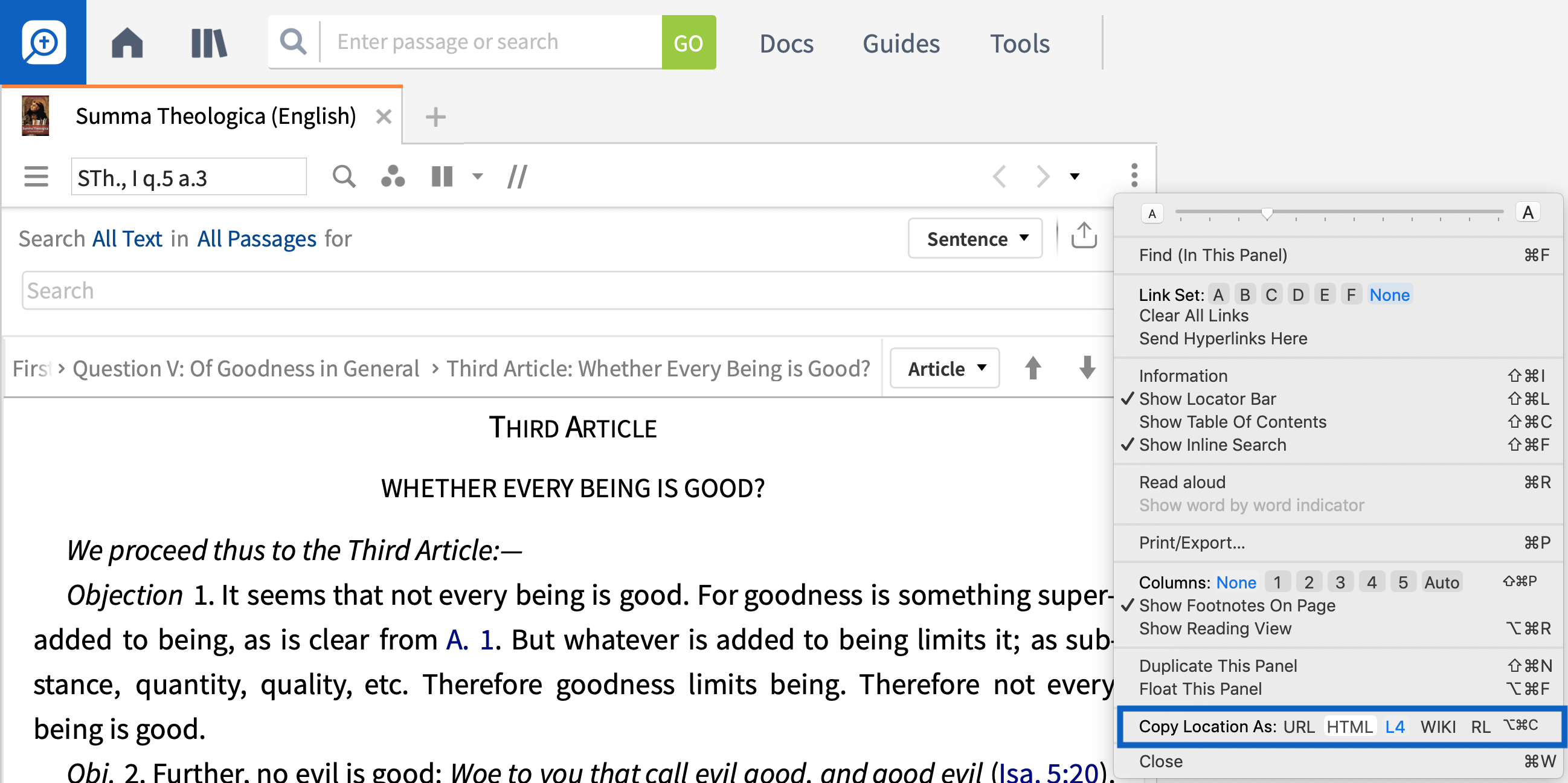 For Word, Google Docs, email, etc., click URL. Paste the link into your document.
For example: https://ref.ly/logosres/jfbcomm?ref=Bible.Ro5.21&off=529<a target="_blank"
To embed a link into a web page, click HTML. Paste the fully formatted link.
For example: <a target="_blank" href="https://ref.ly/logosres/summaeng?ref=Summa.STh.%2c+I+q.5+a.3">Summa Theologica, Prima pars q.5 a.3</a>
To open Logos directly to a specific location, click L4. This link can be pasted into a browser window or used to create a desktop shortcut.
For example: logosres:summaeng;ref=Summa.STh.,_I_q.5_a.3
For example: [[Summa Theologica, Prima pars q.5 a.3 >> https://ref.ly/logosres/summaeng?ref=Summa.STh.%2c+I+q.5+a.3]]
For example: [[Summa Theologica, Prima pars q.5 a.3 >> https://ref.ly/logosres/summaeng?ref=Summa.STh.%2c+I+q.5+a.3]] | Summa Theologica (English)