In Logos, the Copy Location as feature allows you to copy your current location in the active resource (based on the active milestone) to the computer's clipboard in one of five formats.
Note: These links are primarily intended for use in external apps, and not within Logos itself (with the exception of Personal Books. At present, links to resources can only be added to the Home Page, by using Reading Plans.
1. Expand the panel menu.
While viewing any resource, click the panel menu icon

in the top right-hand corner of the resource window.
2. Choose a link type.
Five sharing options display, each for a different use case:
Click on any option to save the link to your system clipboard. You can also quickly copy a resource link to your clipboard with a keyboard shortcut: Ctrl + Alt + C (Windows) or Opt + Cmd⌘ + C (macOS). Logos will copy a link to your currently-selected resource using your last selected link type.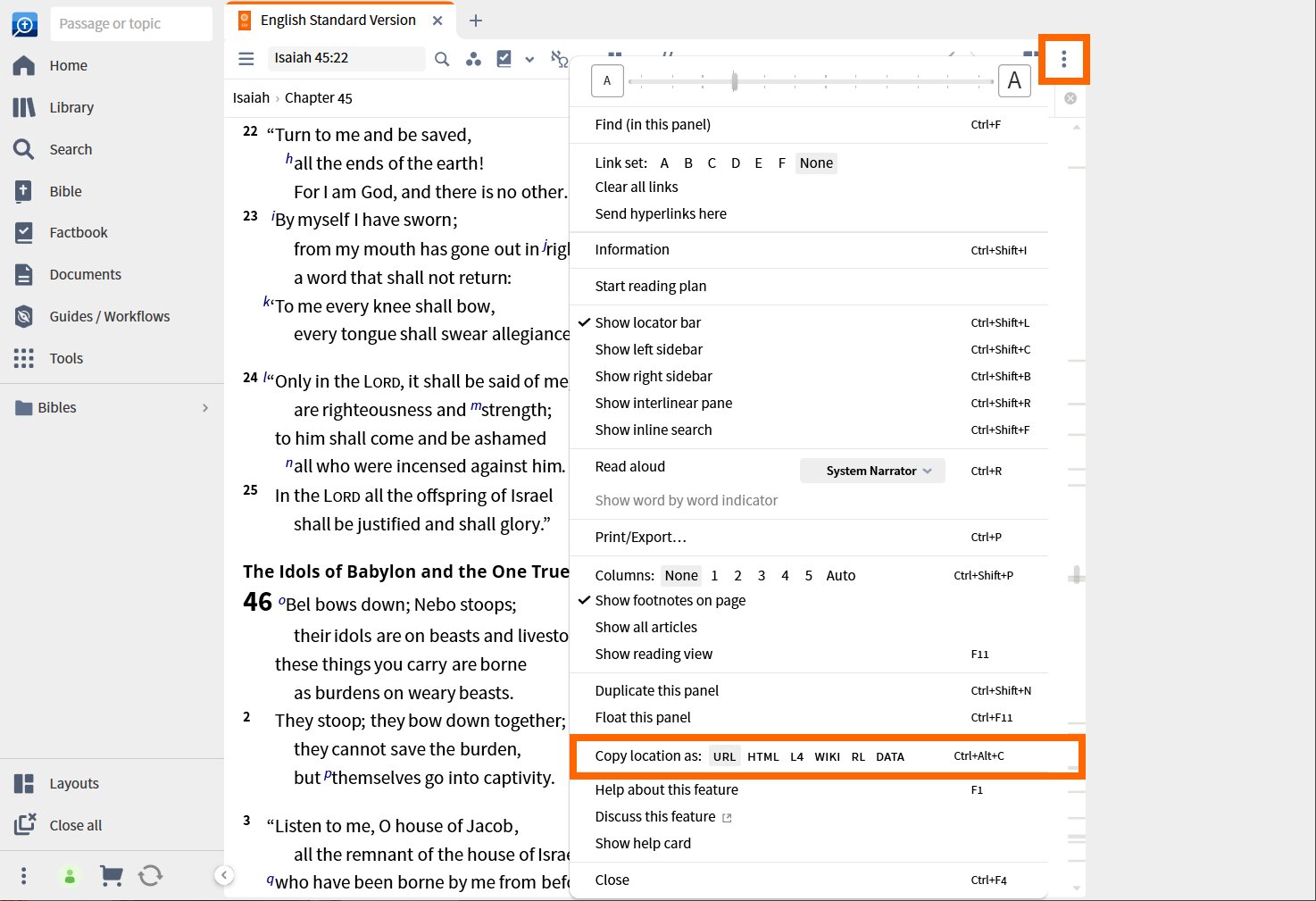 Note: Links you create are linked to your active position in the resource. Logos will remember your link choice the next time you copy a resource location.
URL: Copy a link to app.logos.com.
The URL link is the best standard link type and is ideal for email, the web, and most general use-cases (e.g., Microsoft Word, Google Docs, etc.). URL links open your web browser to the resource location on app.logos.com. If you have Logos installed on your device, you can also choose to open your desktop/mobile Logos application to the resource.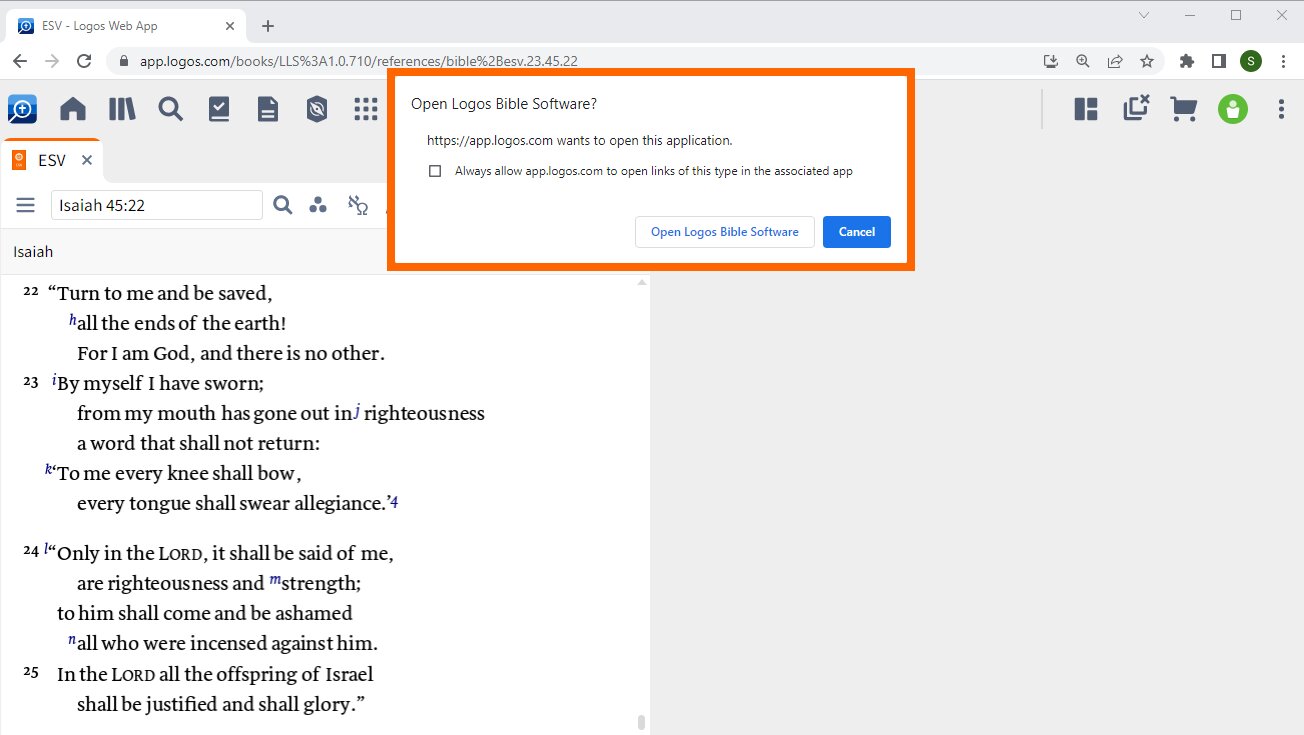 HTML: Copy an HTML-formatted web link.
The HTML option is ideal for web pages.
Example link copied to your clipboard:<a target="_blank" href="https://ref.ly/Is45.22;ESV" class="bibleref" title="Isaiah 45:22">Isaiah 45:22</a>&nbsp;<a href="logosres:esv;ref=BibleESV.Is45.22">&raquo;</a>
Example pasted link on any web page: Isaiah 45:22 »
L4: Copy a link to your desktop Logos application.
A Logos application link copies to your clipboard:
logosres:esv;ref=BibleESV.Is45.22
You can open the link via Open a web browser and paste it into the URL field to show the Open Logos prompt.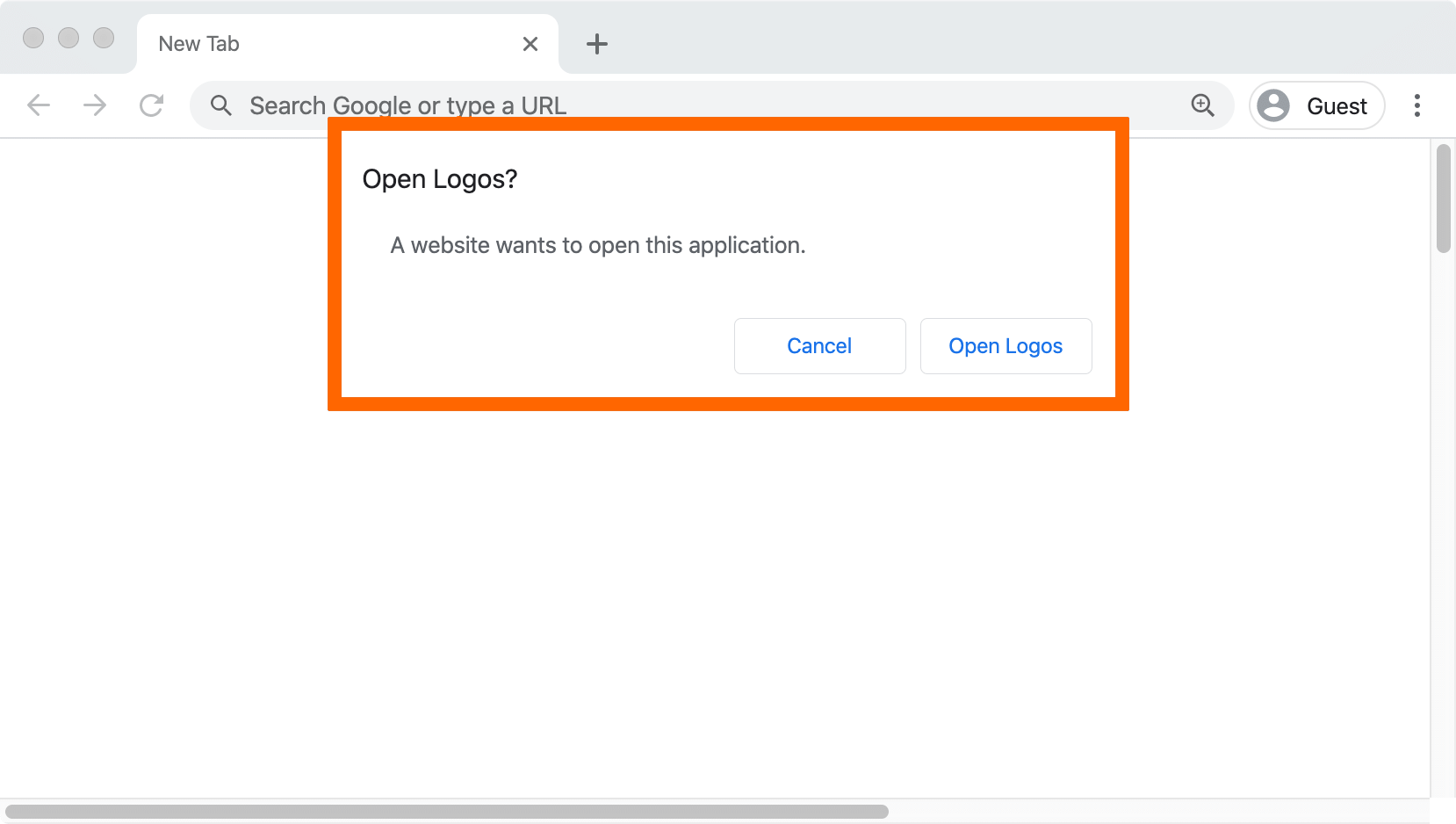 Note: Some web browsers run an internet search instead of recognizing the local link. If your web browser does not show the prompt above, try Google Chrome or paste the link in a text program and click the link to open it.
With this link, you can also create a custom shortcut in Windows or macOS.
Windows: Right-click on your desktop, click New, select Shortcut, and paste the Logos link on your clipboard in the entry field.
macOS: Paste the link into a web browser, press enter, and cancel the prompt. Highlight the link and drag the icon to your desktop.

Note: Add a custom icon to the desktop shortcut to easily identify it later.

Windows: Set the shortcut icon in the shortcut's Properties settings (right-click > Properties > Shortcut tab > Change Icon…).

macOS: Copy a new icon to your clipboard (open an image in Preview, press cmd⌘ + A, and then cmd⌘ + C) and paste it over the current icon (right-click the desktop shortcut > Get info > click the icon in the top left-hand corner to highlight it, press cmd⌘ + V to paste the new icon).
WIKI: Copy a link formatted for WIKI forums.
Example link:[[Isaiah 45:22 >> https://ref.ly/logosres/esv?ref=BibleESV.Is45.22]]
RL: Copy a link for a Reading List at topics.logos.com.
Logos Topics hosts a directory of web links for Bible-related topics.
Example link:[[Isaiah 45:22 >> https://ref.ly/logosres/esv?ref=BibleESV.Is45.22]] | English Standard Version