If you have questions about switching from the Notes system in Logos 7 and earlier to the Notes tool in Logos 8, please review this FAQ.
The Notes tool allows you to record your thoughts as you study, organize those thoughts into custom notebooks, and then recall what you've learned with faceted searching. With this fully cross-platform database you can access your notes on Windows, macOS, iOS, Android, or the web. View your notes as a searchable list, use faceted browsing to filter the list so only the notes you want to see are displayed, or limit results to those addressing a particular book of the Bible.  
Get Started
You can open the Notes tool from the Tools menu, or via the Context menu.
From the Tools Menu
Click Tools > Content > Notes or click Tools and begin typing "notes" in the Tools search box.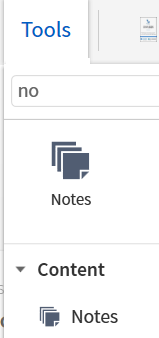 From the Context Menu
Select a word or range of text in any resource.
Right-click your selection, then select Add a note from the bottom left of the Context menu. The Notes tool will open in a new panel.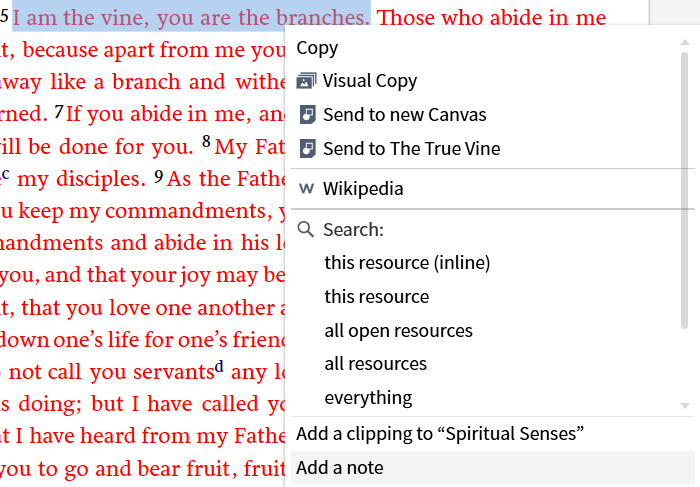 Creating Notes and Highlights 
You can create both notes and highlights using the notes tool. Highlights call out a section of text, whereas notes contain content that you've written.
With text selected in a resource in one panel and the notes tool open in another panel, click the dropdown arrow beside New Note and select new note on selected text. (Clicking New Note will create a note that is not anchored to your selection.)  A new pane in the Notes tool will appear where you can type the content of your note. The formatting toolbar allows you to format your note in a variety of ways.
You can also create a new note by right-clicking on a selection and selecting Add a note in the context menu.
Note: When a Notebook is selected in the Notes tool, new notes will automatically be assigned to it.
Organizing Notes and Highlights
Click the Set Notebook icon with any note selected to add it to an existing Notebook.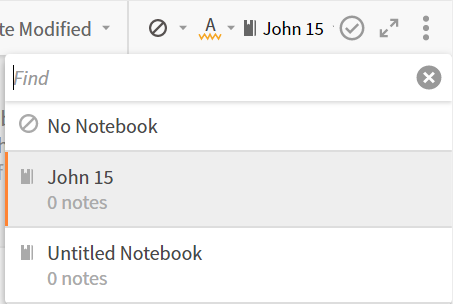 Anchoring Notes and Highlights
Anchoring a note or highlight connects it to one or more locations in a resource. For example, anchoring a note to John 15:4 means that a link to that note will appear whenever you have that passage open (if you have the Notes and highlights visual filter enabled). Access a note's panel menu to Show full anchor text, Add anchor, Close this note, or Delete this note.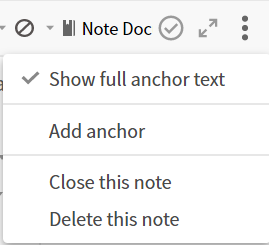 You can also click + Add Anchor within the note itself to attach the note to a particular Reference or selected text.
Using the Notes Tool
The panel toolbar features a search box to quickly search for particular notes and a New note button. When you're interacting with a resource in another open panel, the arrow next to New note may display options to create a New note, New note on selected text, or Highlight selected text. To browse saved notes, click the navigation menu button

 to open the faceted browsing menu.
Each note features its own toolbar offering options for adjusting the Note Icon and color, assigning a Highlight Style, and applying a specific Palette. You can expand the note to fill the entire panel and
Below the note's toolbar, a full set of rich text controls are available to customize the text of that note. You can enter and edit notes in the text entry field, and assign tags to the note by clicking into the Add tags... field at the bottom of the panel.

Navigation Menu 
The navigation menu shows two tabs: Filters 

and Notebooks

. Use the Filters tab to view all notes grouped by: Type, Resource, Bible Book, Data Type, Notebook, Anchor, Modified, Created.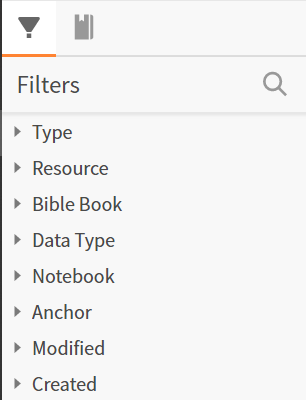 Use the Notebooks tab to create new notebooks or access existing notebooks along with their associated notes. Click the panel menu icon

for each notebook to Rename, Delete, or Share it.

You can click

 Trash at the bottom of the menu to display notes and notebooks that have been deleted. Clicking any deleted item displays options to Permanently delete or Undelete the selected item at the bottom of the panel.

Notebooks
Notebooks are groups of notes that have been gathered together based on highlighting style, palette, topic, or other feature. It's possible to have notes that are not connected to a notebook, just as it's possible for notebooks to be empty.
Visual Filters
All of your notes and highlights can be displayed within your resources by toggling the visual filters display on. Notice that this menu also includes the option to display or hide community notes from your Faithlife Groups.
Click the Visual Filters icon .
Scroll down to the Notes Tool section.
Select the boxes for the Notes you want to display.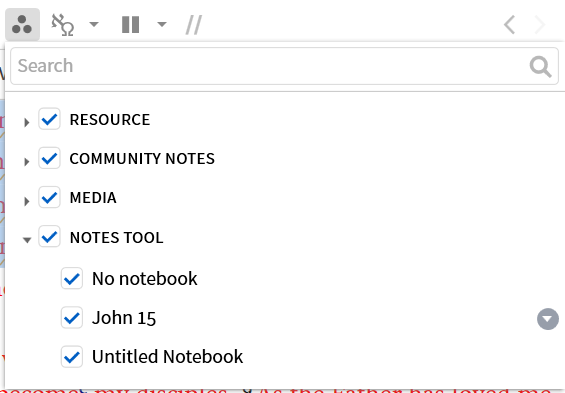 Additional Resources
Logos Help: Notes Tool