The Commentaries guide section provides a list of hyperlinked commentaries from your Library that contain information on the reference you searched for. The Commentaries section can be added to a Passage Guide, a Sermon Starter Guide, or an Exegetical Guide. As with all Guide sections in Logos, the section can also be opened as a stand-alone Guide.
Get Started 
Click Guides, then begin typing Commentaries in the Guides menu search box. You can also click Guides > Bible Reference Guides > Commentaries.
Select the Commentaries guide section when it appears in the Guides menu. It will open in a new panel.
Enter the reference you want to study in the search box and press Enter.

Hover over the title of a commentary to open a popup displaying the book cover, title, author, rating, reading progress, and a short description of the resource. Click the link to open the resource to the relevant section.
Customize Your Results
The collection is set to search All Commentaries by default, but you can restrict results in the Commentaries guide section to a specific collection or series. To do so,
Hover over the top of the guide section and click Settings.
Select the collection or series you want to use to populate the guide.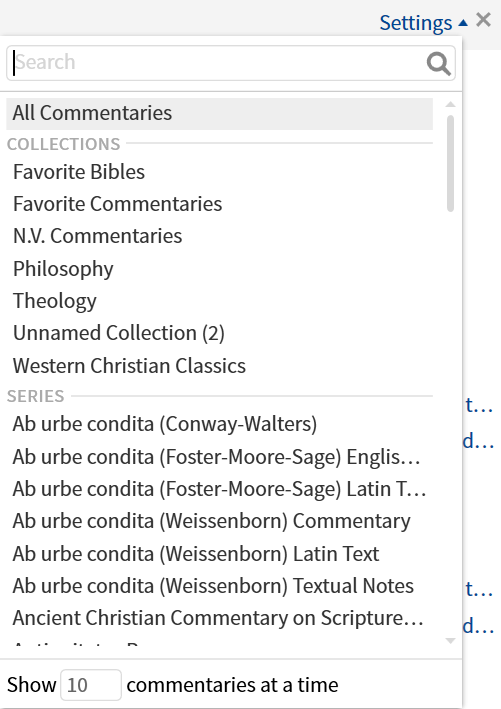 By default, the top ten relevant commentaries are listed. You can adjust this from the Settings menu. Changing this number also affects the number of additional resources that will display when you click more >> at the bottom of the section. The more >> option will continue to be available until all results are displayed.
Open the Commentaries guide section in Logos
Additional Resources
Logos Help: Commentaries