You can use Morph search to find specific morphological constructions in any morphologically-tagged resource in your Logos library.
Note: Requires at least the Logos Bronze package.
Searching
To begin a Morph search:
Click the Search icon in the command box.

Ensure that the Morph search type is selected.

Choose the morphologically-tagged resource you wish to search by clicking the Resource Selector drop-down menu. You can search a morphologically-tagged original language resource or a reverse-interlinear enabled translation. You can also limit your search to specific fields or passages.

Formulate your query. Logos provides several tools to help you create an effective query:
Search Helps (in the main search pane) provide basic guidance about how to construct your search.

Search Templates allow you to build a more complex search without having to use search syntax. Instead, select the kind of search you want to make, then entering your search terms in the dialog box that appears. Search Templates appear in the left navigation menu, which can be toggled on/off using the navigation menu icon .

Search Suggestions: As you type, Logos will populate a list of suggestions to help you refine your search. For best results, select one of these. Otherwise, finish typing your search query and press Enter.
Search for a particular morphological form of one or more words by typing the @ symbol immediately after the word. Logos will display a drop-down menu allowing you to select what grammatical form of the word you would like to search for. You can select as few or as many morphological categories as you want. Press Enter or click the arrow at the bottom right of the dialog box to execute the search.

Logos displays your search results in the search panel. You can view your search results in three different ways.
View Search Results
Verses displays all of the verses containing your search results. Clicking a search result (highlighted phrase) opens it in a new window in your clicked Bible.

Aligned displays the verses containing your results and aligns them by your search terms.

Analysis displays detailed grammatical and semantic information from the original language version of your search results.
Refining Your Search
Bible Sections
You can limit your search to specific sections of the Bible, or to a Passage List, by clicking All Passages to open the reference range drop-down menu and typing a reference or making a selection.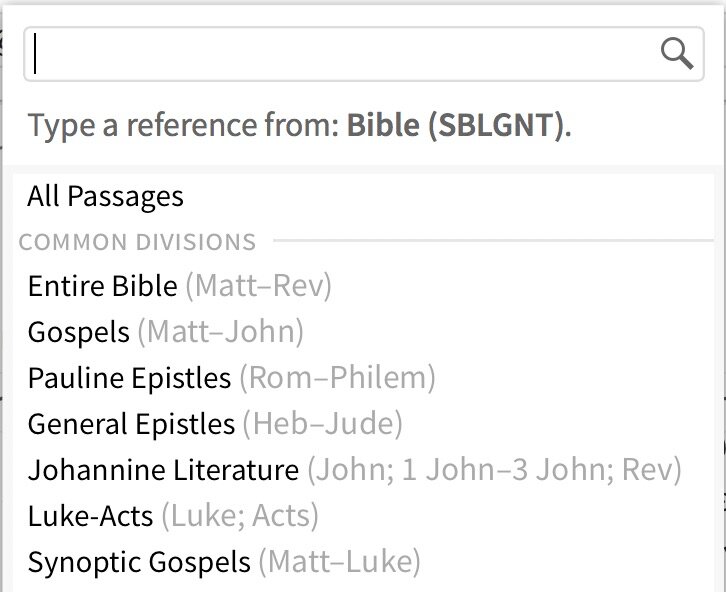 Search Fields
You can also limit your search to one or more fields. Click All Morph Text, to open the search field drop-down menu. Click the arrow beside Search Fields to expand the list of search field options. You can select one or more search fields.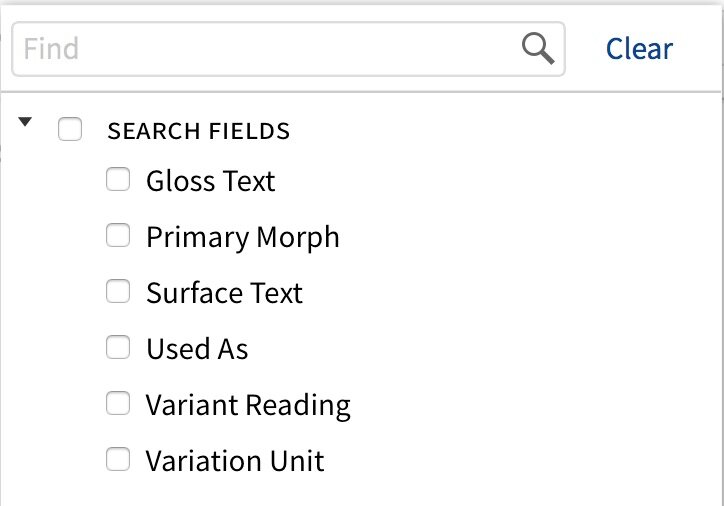 Using Search Operators
You can perform more complex morphological searches by using search operators. For example, use AND to find forms of two words that occur together.

Additional Resources