Note: This video was produced in a previous version of Logos. To see videos featuring Logos 8, visit this page. You can also find this and other videos on FaithlifeTV.
The Passage List document allows you to create lists of passages on a particular topic, word, or other collection of references. A Passage List is a great tool to collect verses you want to study further, and a list can be readily shared with others, such as a small group Bible study. For example, if you or someone you know is battling anxiety, you can build a list of verses that can be easily reviewed in any translation or committed to memory. The Passage List tool also helps you transfer references from a resource, like a lexicon entry, so that you can study them further.
Skip ahead to:
Create a List
You can create a Passage List in three different ways--from Search results, from any open resource that contains biblical references, or from the Docs Menu.
From Search Results
You can generate a passage list from any search that returns a list of biblical passages.
Perform a search.
For example, If you wanted to create a passage list of verses to combat anxiety, you may do a Bible search for the phrase "do not fear"

.
Perform this search in Logos.
Click the panel iconand select Save As Passage List

. Logos creates a new Passage List from your search results.
Note: Logos automatically names the list after your search.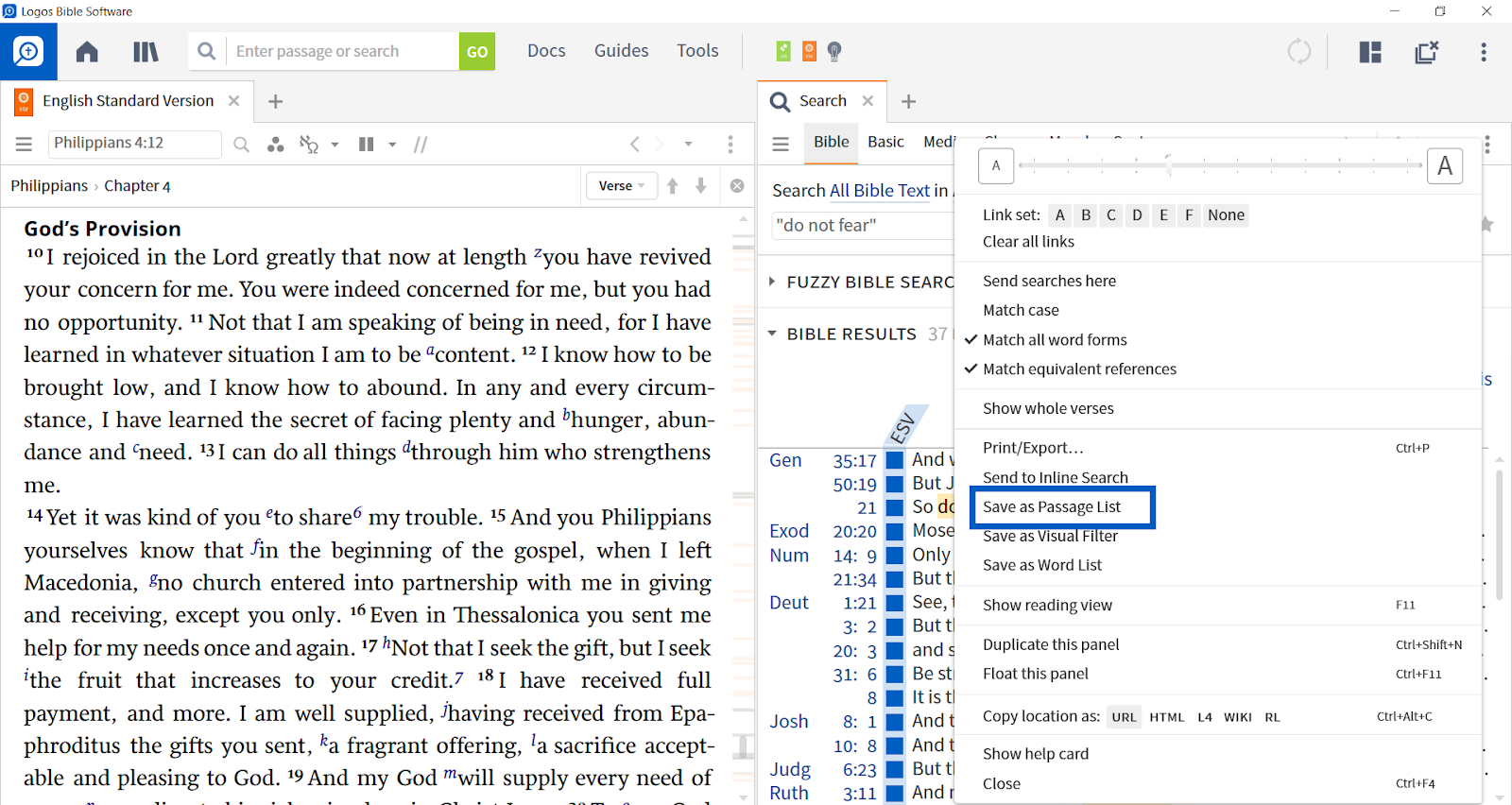 From Other Resources
To create a Passage List from a resource that contains biblical passages, such as a lexicon:
Highlight the section of text containing the Scriptures you want included in the Passage List.
Open the Context Menu and make sure Selection

is highlighted in the left pane.

Select Save as Passage List in the right pane.
Logos creates a new passage list from the references contained within your selection.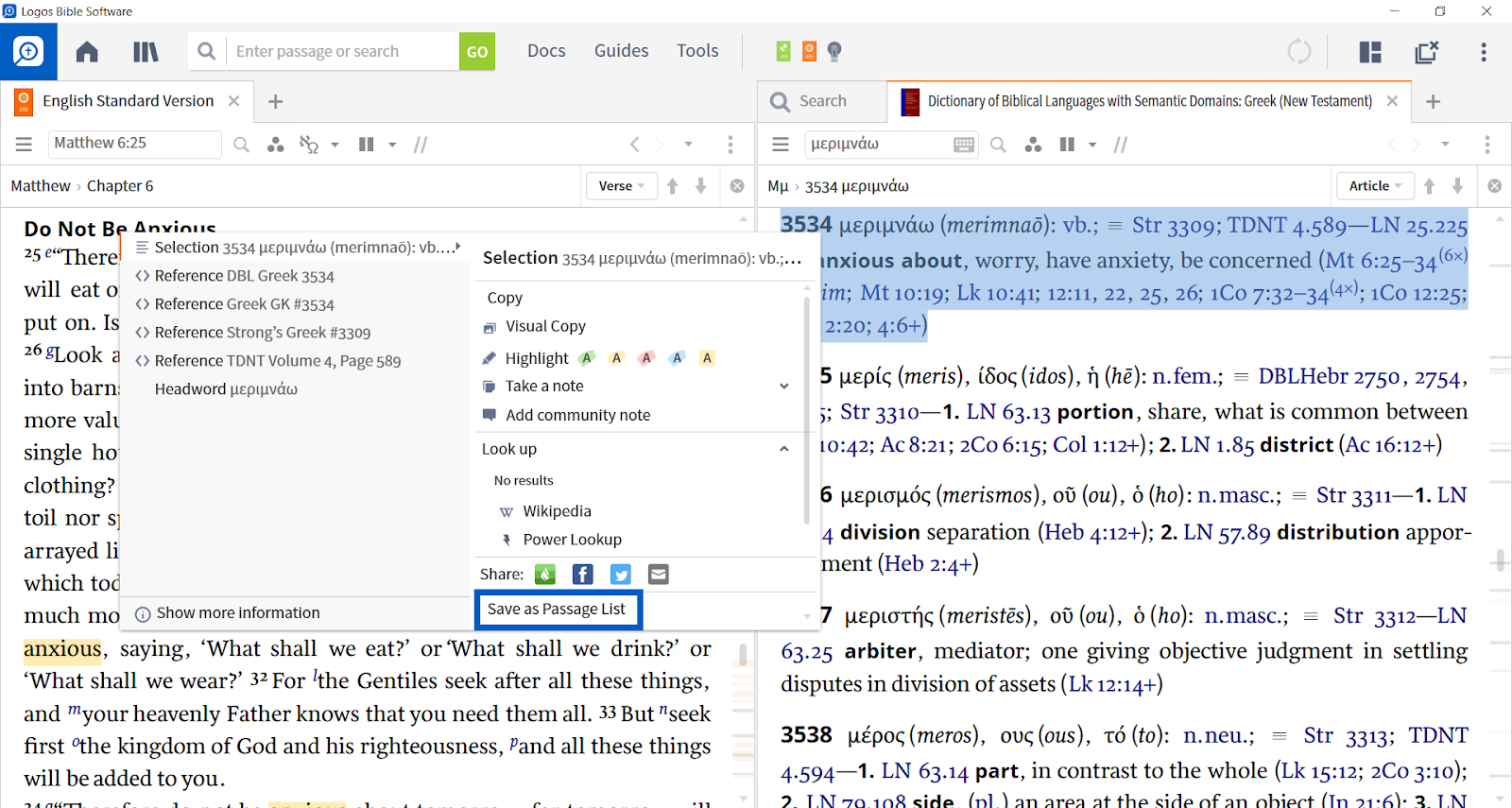 From the Docs Menu
If you want to build a list from scratch, create a new Passage List from the Docs menu:
Start a new list


Click Docs followed by New. Select Passage List from the dropdown menu. Logos opens a panel with your new Passage List.
Open a new Passage List in Logos.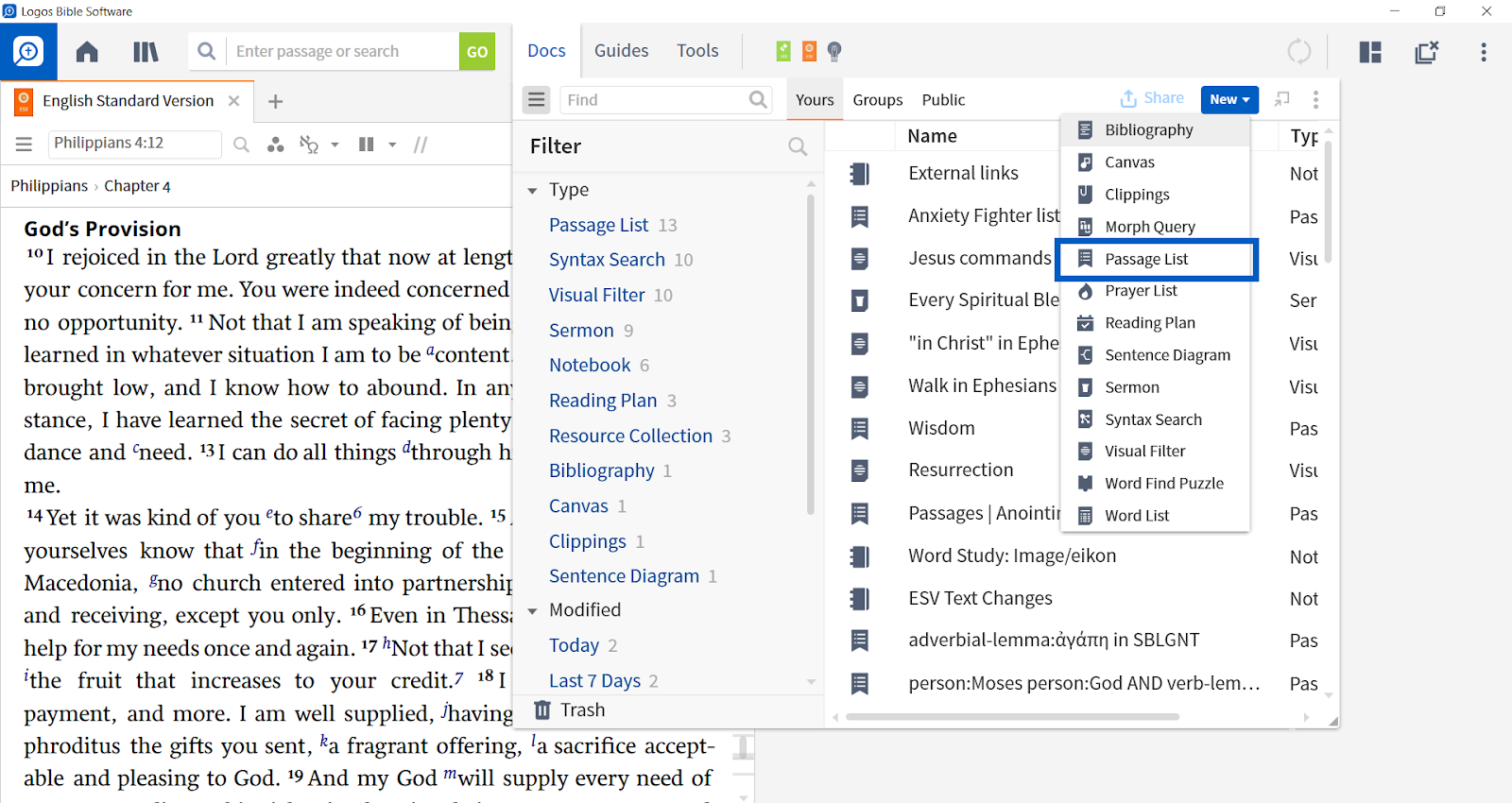 Name your list




Give it a descriptive name by clicking in the title field and typing a title.

Select Bible version(s)
Enter the version name(s) in the version box at the top of the Passage List.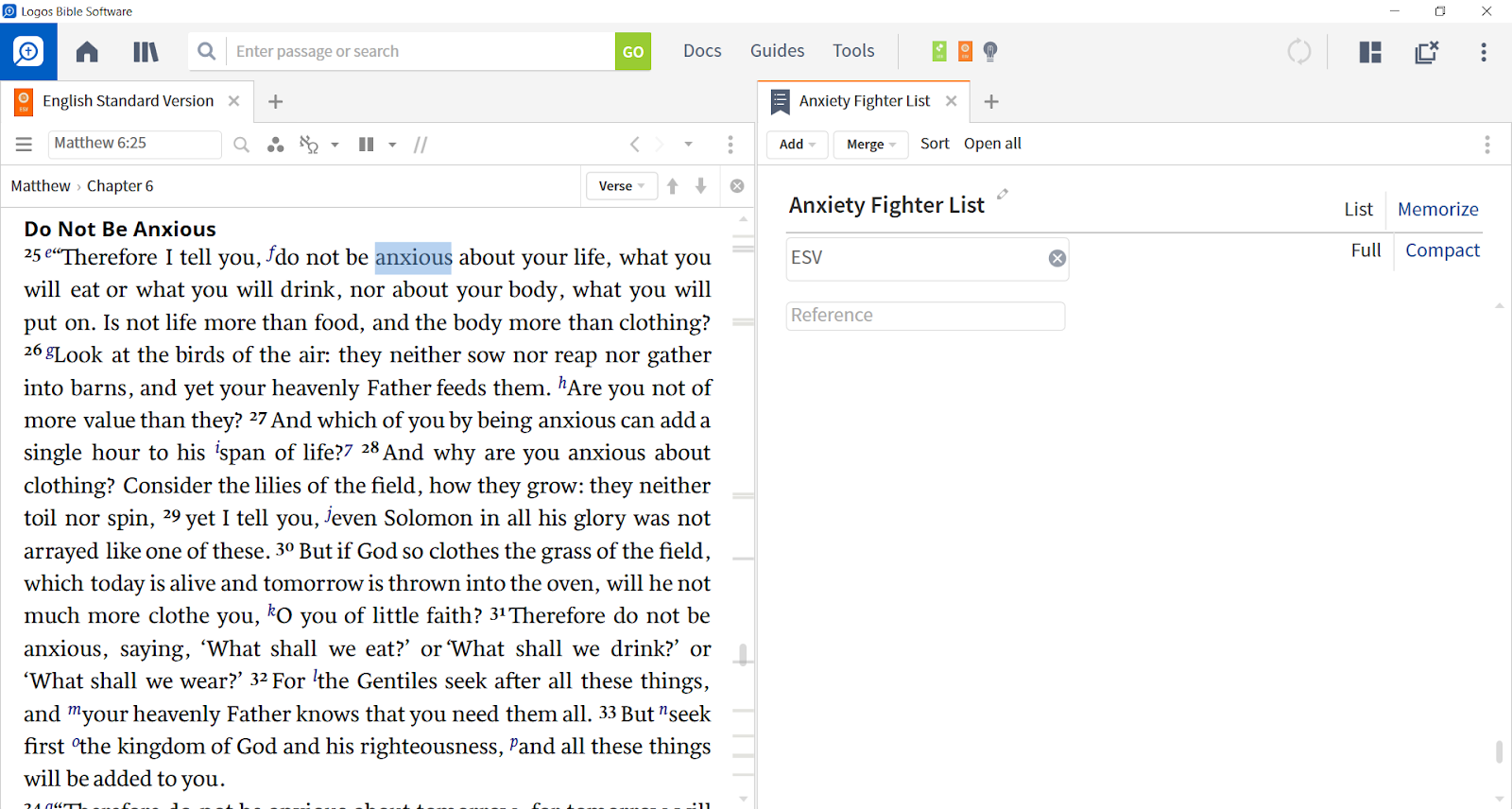 Add passages


Add passages to your Passage List by typing the reference into the Passage List reference box and pressing Enter

. The passage displays in the Bible version(s) you designated when you created the Passage List.
Edit a List
Note: You can find Passage Lists you've already created in the main pane of the Docs menu.
Add Passages
You can add additional references to your Passage List in several ways:
Scroll to the bottom of your Passage List and enter a reference in the Reference box.

Click Add

in the Passage List toolbar and enter a reference, or select an option to import references.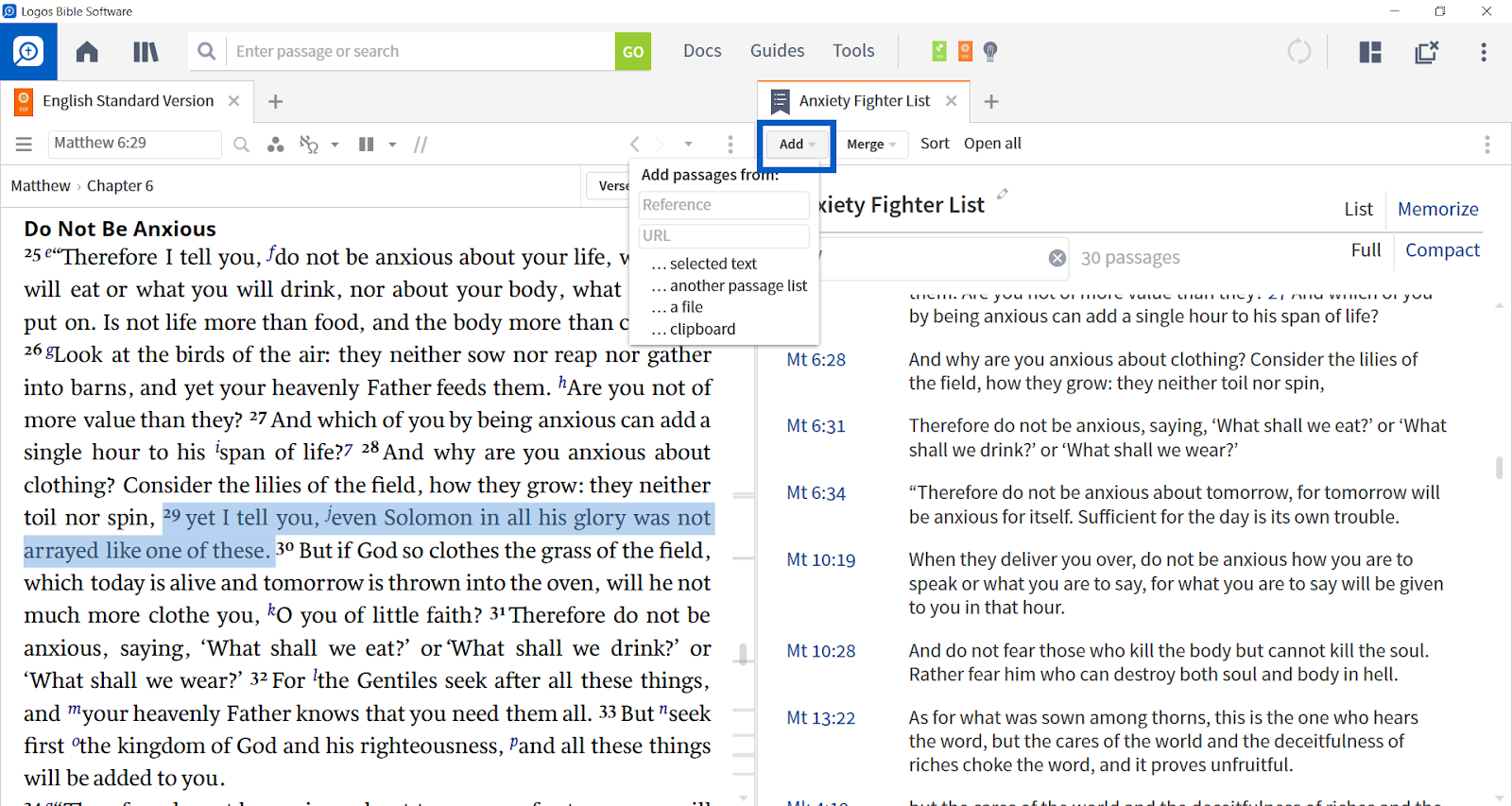 Right-click on a reference in any resource. In the Context menu, make sure that the reference is selected in the left column. Click Add to passage list

in the right column, to view the available lists you can add your reference to.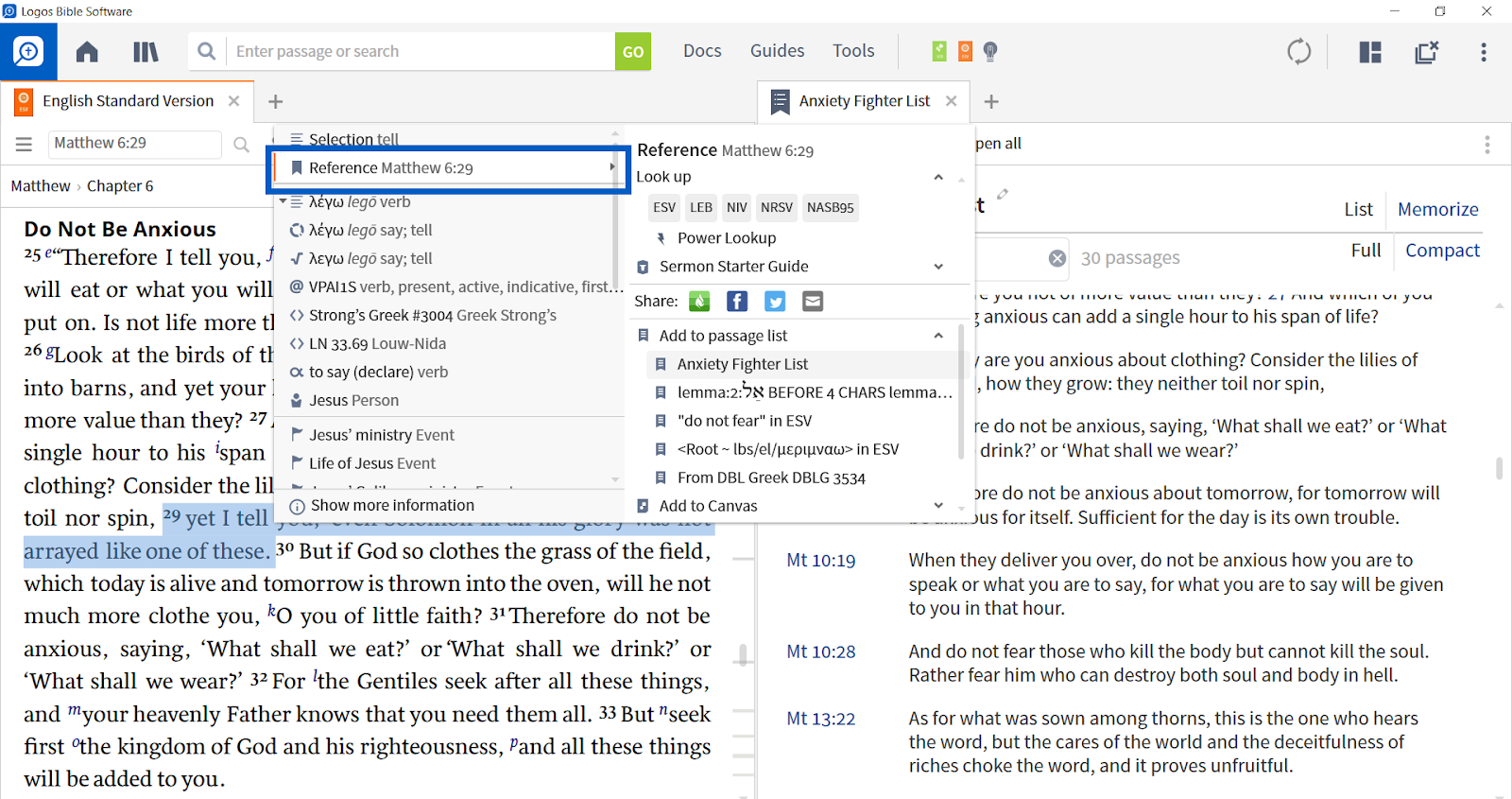 Rearrange passages
Click Sort to arrange your list in canonical order. (You may want to select this option after you add verses to your passage list.)
OR
Drag and drop passages to alter the order of the list.
Note: Select multiple verses on your list by selecting the first verse and holding Shift while selecting the last verse in the series you want to select. Hold Ctrl (Windows) or Cmd (Mac) to individually select multiple verses.
Remove passages
Click the X to the right of the verse you want to remove.
Merge Two Lists
When you merge two passage lists, Logos creates a new list based on the criteria you select. The original lists remain unchanged.
Open one of the lists you want to merge.

Click Merge

and select the Passage List to merge with your current list. Logos provides different options to merge the lists.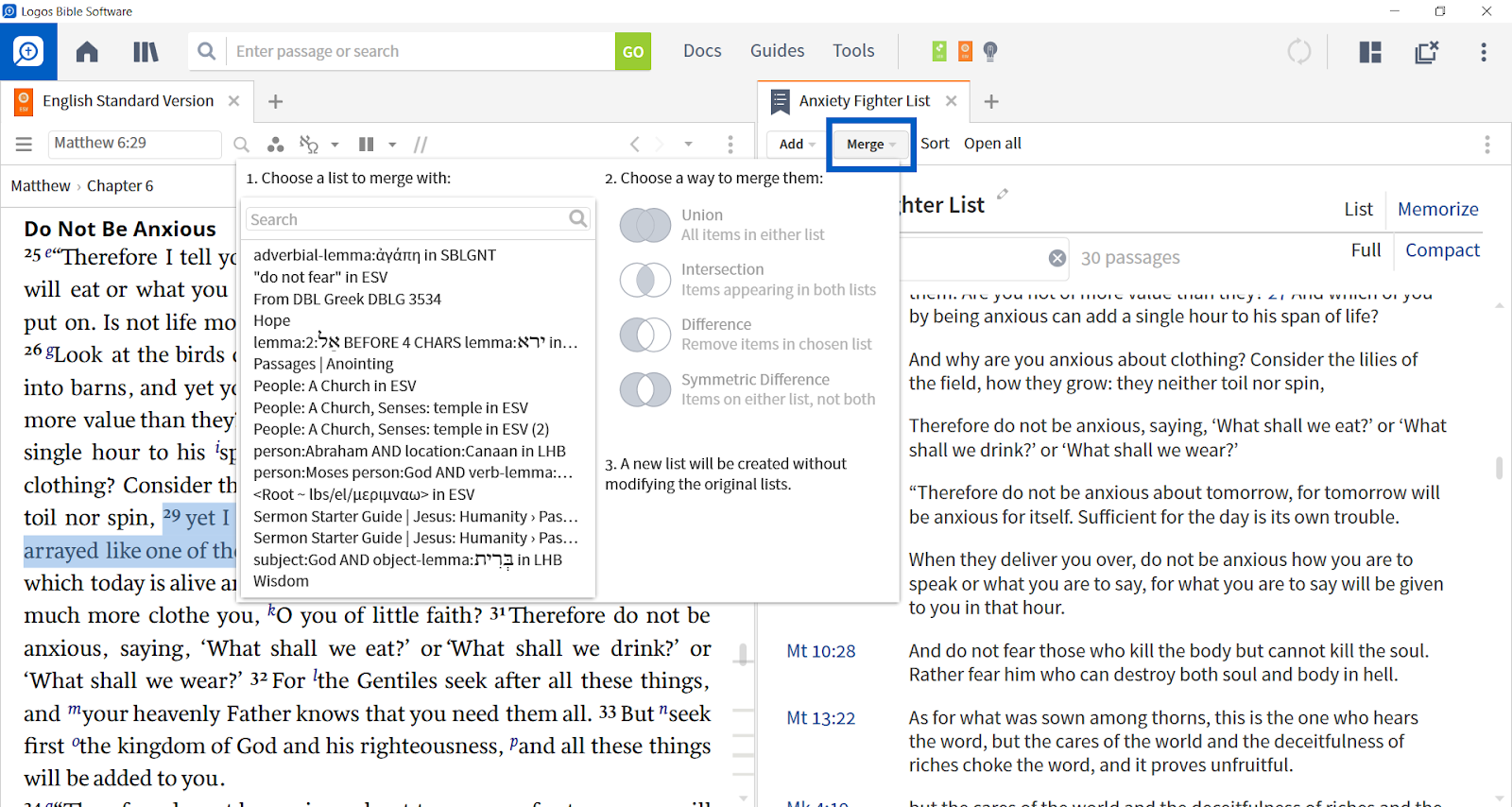 Memorize a List
Scripture memorization is a fundamental practice of spiritual maturity, and Logos assists you with committing verses on your list to memory.
Click Memorize

to the right of your list name.




Logos displays your verses in context. The verses immediately before and after your verse appear in gray.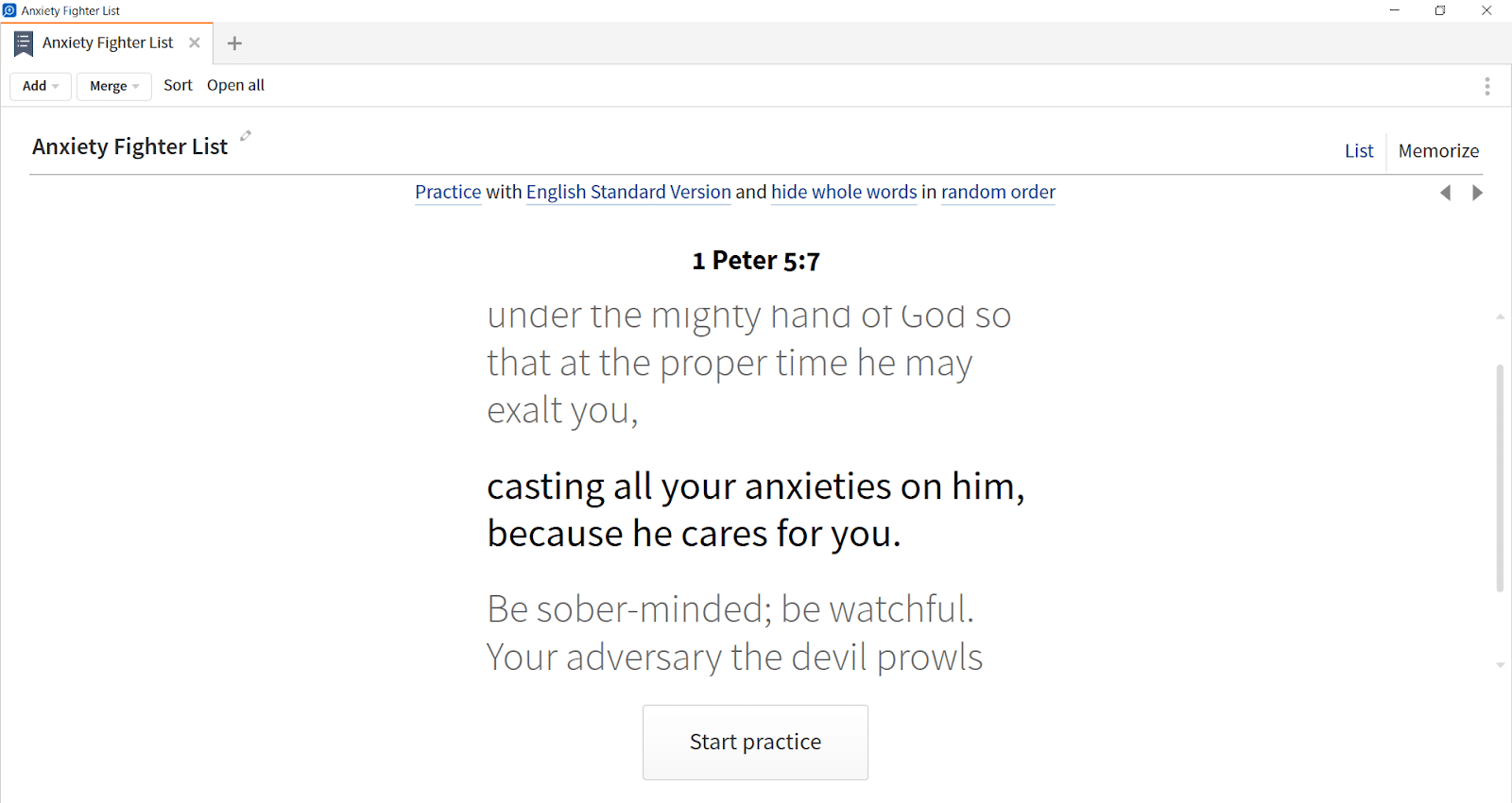 Select the mode.




Click the hyperlinks to select options for memorizing your list.
Note: Selecting Practice starts with the displayed verse. Selecting Quiz starts with a random verse from your list.
Select a verse.


In Practice mode, Logos displays the first verse on your list. Click the triangle buttons

in the upper right corner to navigate to a different verse on your list.

Click the Start practice button (or Start quiz).
Logos displays the verse with blanks. Type the words of the verse to advance to the next word/blank. You do not need to enter capital letters or punctuation marks. After you finish the verse, Logos redisplays the verse with additional blanks. This process repeats with additional blanks until you have entered the entire verse from memory. At the conclusion of each verse, Logos displays your score.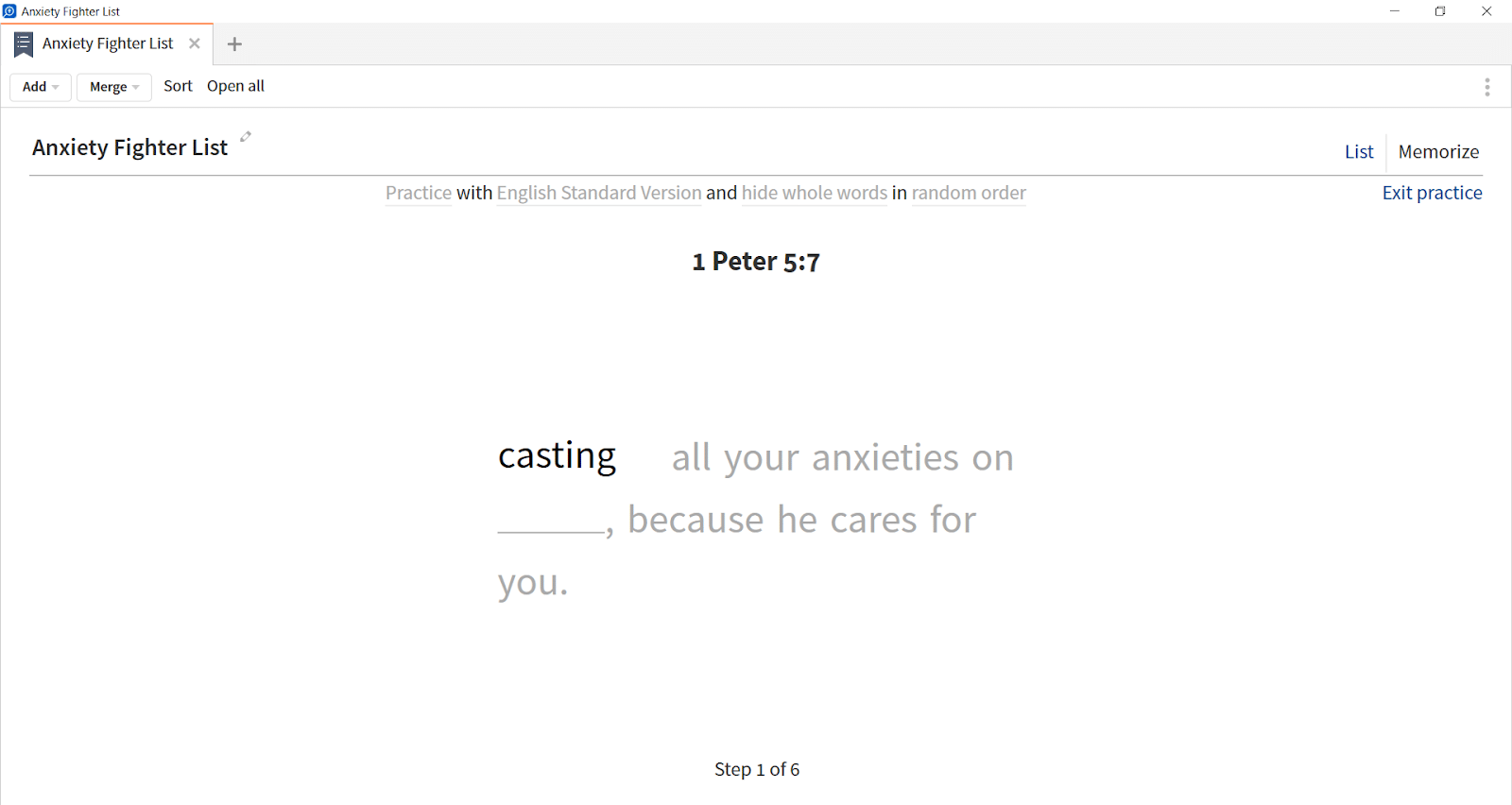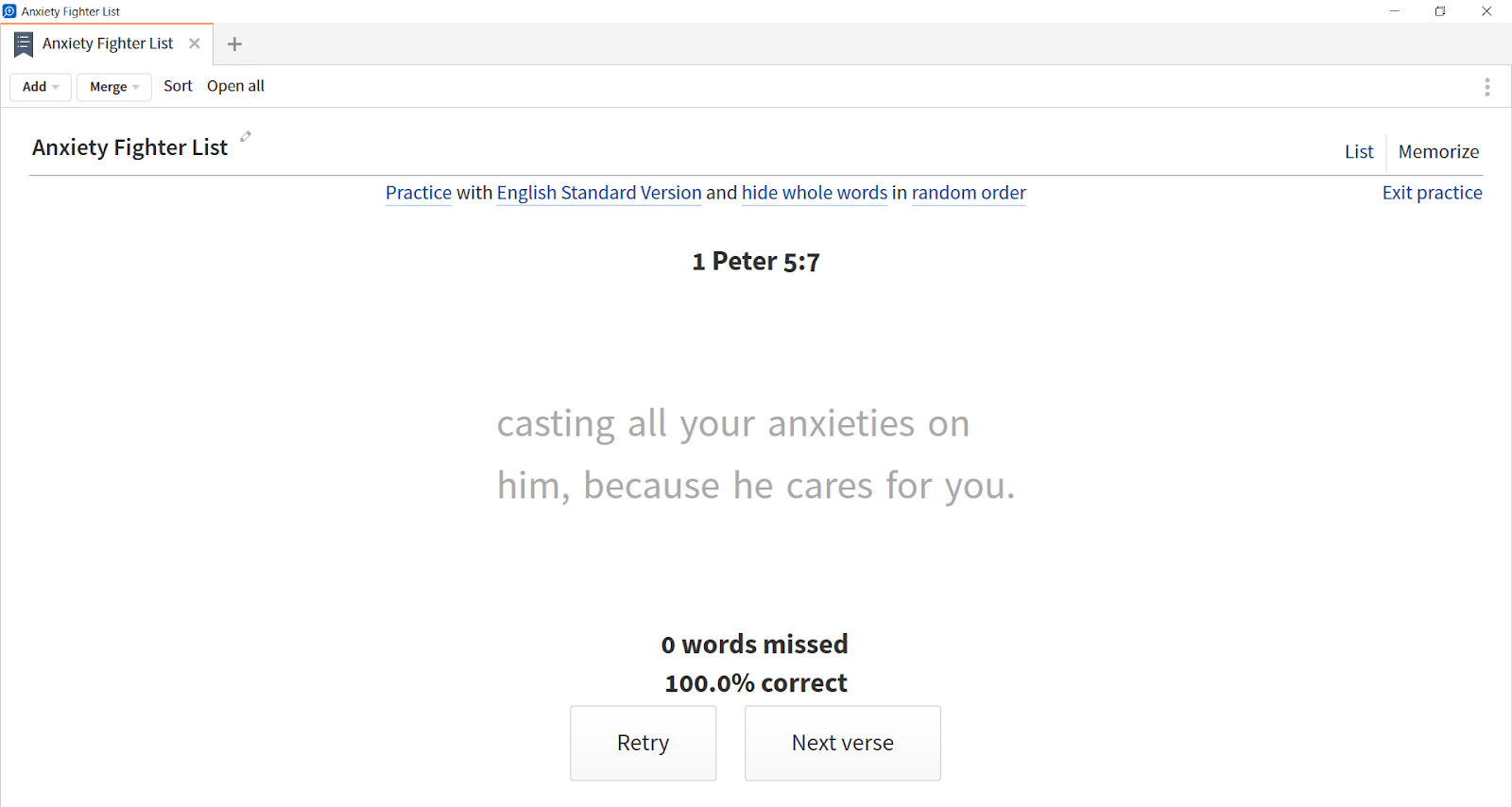 Note: If you choose to hide all but the first letter in Quiz mode, your score does not reflect accurately.
Click Exit practice (or Exit quiz) to return to the Memorize menu. Click List

to return to your list.
Other List Options
Create a Word List of all the words in your list to assist with studying the original languages. Click the panel menu iconand select Save as Word List

.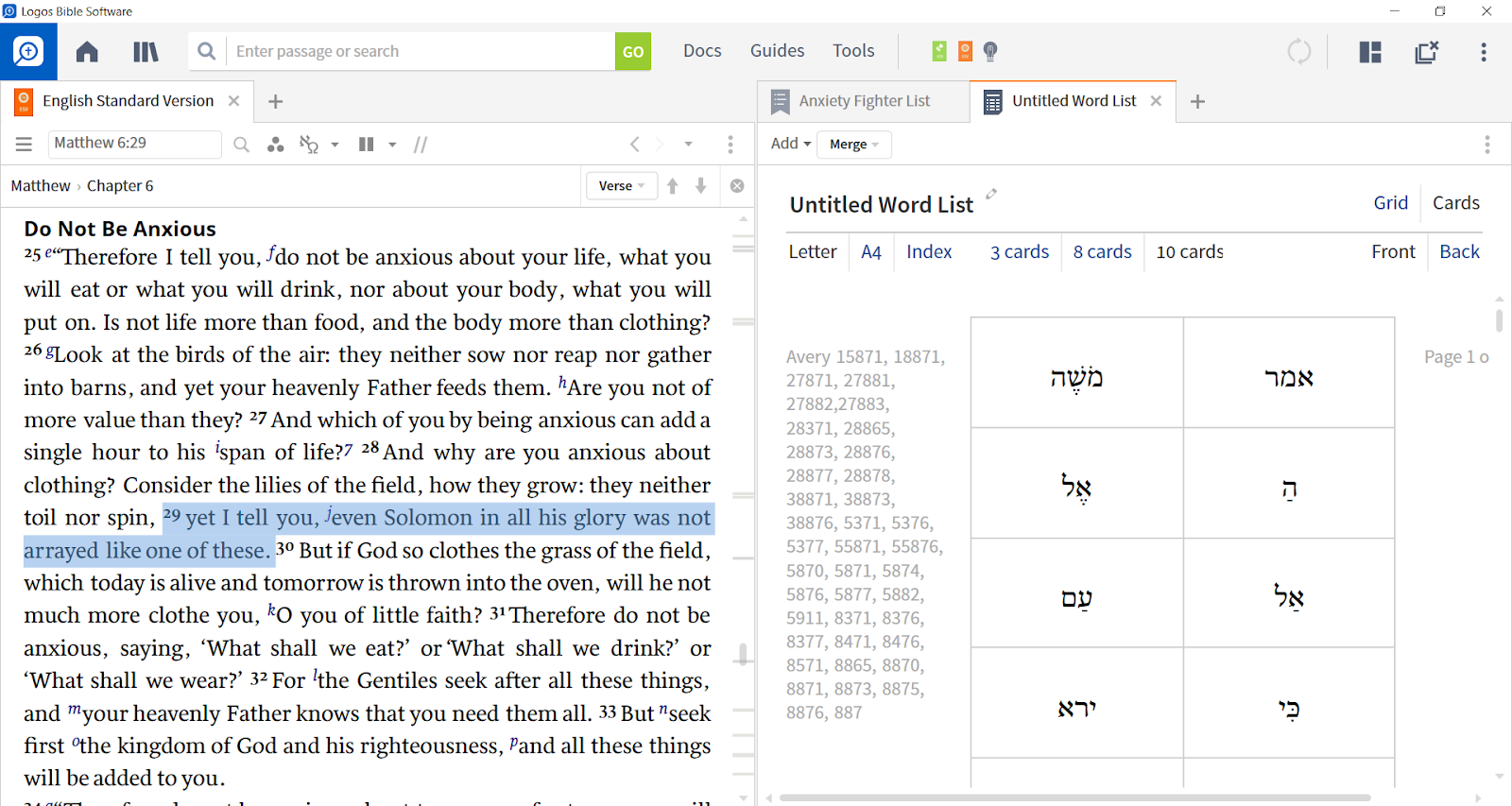 Create a new Sermon document. This creates individual sections/slides for each passage on your list. Click the panel menu iconand select Save As Sermon.
Study each of the passages on your list in-depth by clicking Open all

. Logos opens all the verses in your list in a new panel or tab. You can then perform detailed study of each passage.

Print your Passage List or export it for use in another application by clicking the panel menu iconand selecting Print/Export

. Logos opens a panel with print and export options.
Note: You can view all of your passages in any Bible version by opening that version, clicking on the Visual Filters icon, and checking the box beside the name of your Passage List.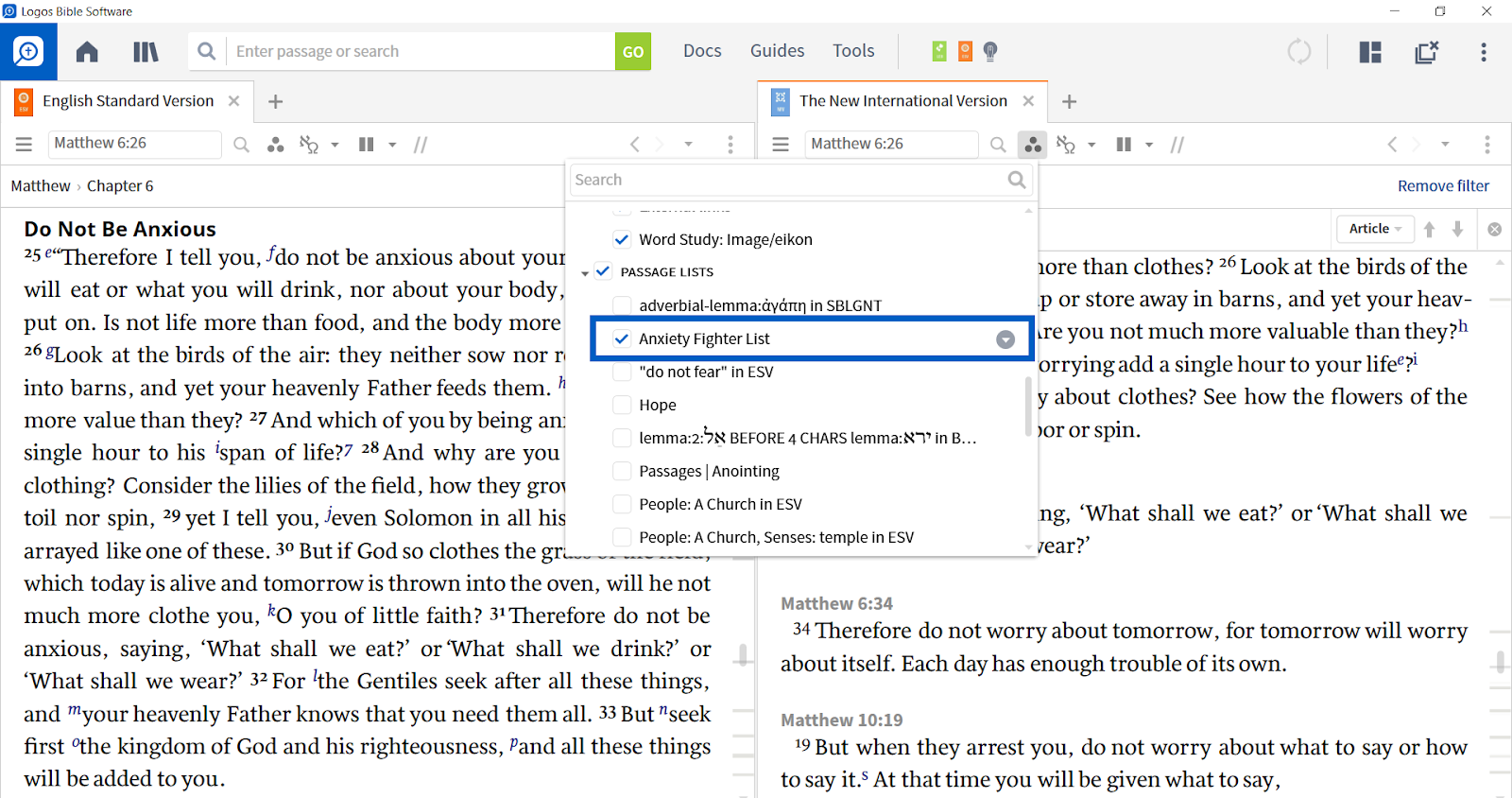 Open a new Passage List in Logos.