About Logos Library System
What is LLS?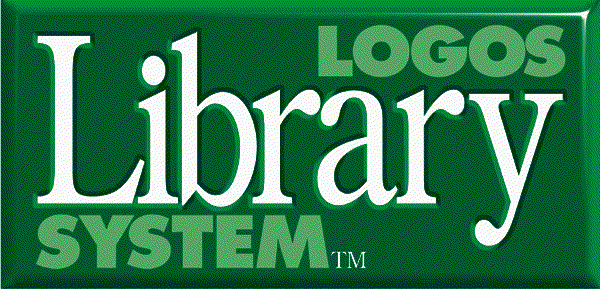 The Logos Library System is a 16bit application designed for Windows 98/2000/ME/NT and is usually compatible with Windows XP. Support for LLS has been discontinued, but it is still possible to access your Logos Library System books in the latest version of Logos Bible Software.
What is the purpose of this article?
This article is for those who have been asked by Logos Customer Support to send them a copy of their LLS backup file. We request this in the event that there are LLS resources that are missing from latest version of Logos Bible Software.
Install Logos Bible Software:
If you have found yourself here looking to regain access to your LLS resources begin by clicking here to get started downloading the latest version of Logos Bible Software. From there you will need to sign in using your Logos.com email and password.
Return here if you need to backup and restore your LLS licenses.
Installing LLS:
If you do not have an LLS backup, you may need to install LLS to create one. This will need to be done with a compatible 32bit computer like Windows XP or 32 bit versions of Windows Vista/7 (there is no way to install LLS in a 64bit version of Windows like Windows 10).
Installation Instructions
Insert your LLS CD-Rom.
Open the Setup.exe (may be "Update.exe" on some CDs).
Follow the prompts to install.
Leave the CD-Rom in the drive.
When installation completes, a Logos Library System, or Nelson Electronic Bible Reference Library icon will be created on the Desktop and in your Programs list.
Saving an LLS Backup
Open Logos Library System (or Nelson Electronic Bible Reference Library) from your Desktop, or Programs list. Be sure your CD-Rom is in the drive before you open the software. When it opens, you should see your books in the "Library Browser" on the left side.
Saving a Backup
("LOGOS.LSB")
Click on Tools
Select Backup Logos System Files
Choose the destination to save the file by clicking on the small drop-down-menu below Drives.LLS Defaults to "A:\" for Floppy Disks. You may receive an error if your computer lacks a Floppy Drive. Click "OK" to proceed and select a new destination.
Save the Backup ("LOGOS.LSB") to a location you can find later (default non-Floppy location is C:\Logos20\).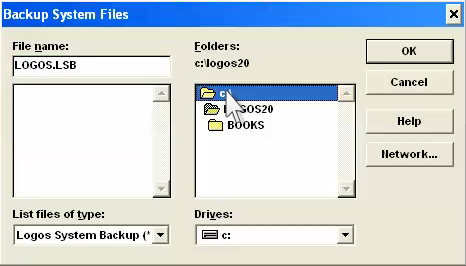 Email the file to Logos Customer Support
Email the LOGOS.LSB file to cs@logos.com with the subject "LLS backup license". Please include the email associated with your Logos account.
If you are having trouble with these instructions, please contact Customer Support at 888-634-2038 (US/Canada) or +1 360-450-3542 (International) or by email.