How to Install Logos Bible Software via a USB drive
Download the Logos USB Quickstart Guide
Step 1: Installing Logos
What to expect on Windows
Insert the Logos USB Flash Drive.
Press Windows+E to open the File Explorer.
Double-click the USB Drive

Note: Drive letter may vary.

Double-click on LogosSetup to open the installer.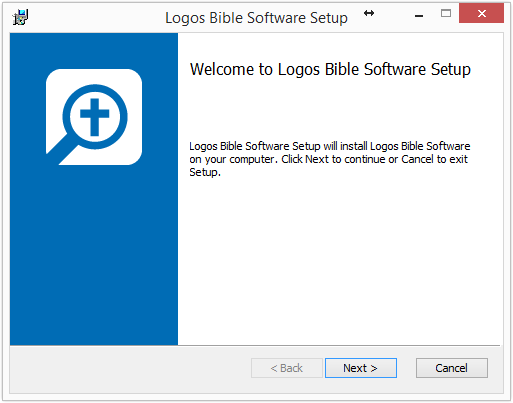 Click "Next" when prompted, and follow the steps to complete the installation.


Note: If you receive an error downloading Microsoft DirectX, please close and open LogosSetup again to bypass.

You may be asked to reboot your computer during the installation process.
Logos should open automatically after setup is complete. If it did not, you can open the application by double-clicking the Logos Bible Software icon on your Desktop.
Note: to minimize additional downloads, please leave the USB drive in the computer until Logos has fully opened.
What to expect on Mac
Insert the Logos USB Flash Drive.
Double-click on LogosMac to open the installer.
Drag the Logos icon into the Applications folder.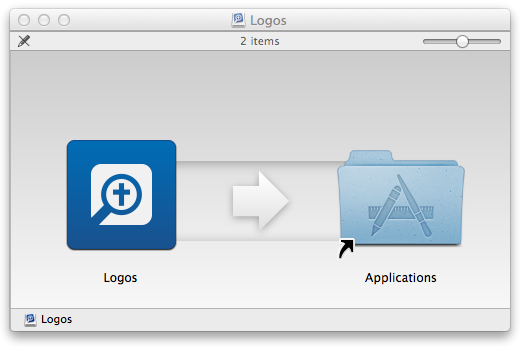 Double-click the Applications folder to view your installed Applications.
(Optional) Drag the Logos application to the Dock to pin a shortcut.
Double-click the Logos icon to begin using Logos Bible Software.
Note: to minimize additional downloads, please leave the USB drive in the computer until Logos has fully opened.
What about Antivirus and Firewalls?
Logos Bible Software should be compatible with most security suites, but if you have any difficulty installing and you're using an Antivirus or Firewall, please visit our Antivirus Support page for assistance.
Step 2: Sign in to your account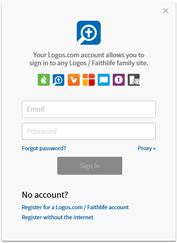 Now that installation is complete and you have opened the software, you should get a "Sign in" window. Sign in with your Faithlife account email and password. (If needed, you can reset your password.)
Note: Logos Bible Software (company) has rebranded as Faithlife Corporation. If you were previously using a Logos account, nothing has changed. Your login information is exactly the same.
Signing in for the first time may take a while. Please do not interrupt the process.
Step 4: Enter your 20-digit serial number
You will be prompted to enter the 20-digit serial number included on the sticker with your base package packaging.
The 20-digit serial number is located on the installation instructions.
Step 4: Preparing your library
After your activation, the newly installed program will start with two automated processes:
Preparing your library. This process does not require an internet connection but may take a while to install and catalog your entire library on the hard drive.
Indexing your library. Indexing powers all of your search capabilities in Logos. The computer must not be turned off or put to sleep until it is complete. For more information about indexing, see the indexing training page.
Note: Additional updates and downloads may occur after installation completes. Download and indexing time will vary according to the size of the library being downloaded and indexed. Please allow extra time for larger libraries. You will not get full search results until the indexing process is complete.
After indexing is complete, Logos will be completely configured and ready to use. If you need to install to another computer, please repeat these steps on that computer. It is recommended to install to only one computer at a time, to improve download speeds.
Step 6: Sign up to stay connected