What is Academic Portal?
Academic Portal was created with your institution in mind. Now that you have a subscription to manage, you need visibility into how many seats are available and who has access. You also need the functionality that allows you to easily distribute and revoke access. The following steps will walk you through how to leverage the power of Academic Portal for all your needs.
If you need help, don't hesitate to get in touch with the Higher Ed Customer Success team at higheredsuccess@logos.com. 
Steps to Manage Your Subscription
1) Assign Administrator Permissions
Before your subscription can be managed in Academic Portal, administrator permissions must be granted to those who need this level of access. This step will normally be completed during onboarding as you work with your Account Executive and Customer Success Manager. Please reach out to these team members if admins need to be added or other changes need to be made.  
2) Access Your Institution in Academic Portal
To access Academic Portal, go to https://academicportal.logos.com/. 
Those with administrator permissions will be directed to the overview page for your institution.  Take note that you will find a list of your main contacts here, and the tabs at the top will be used to manage your subscription.

*If you are the admin for more than one institution, you will see a list of those institutions.  Simply click to select the institution you want to manage licenses for.  
3) View the Details for Your Subscription
Your Logos Research Subscription will be managed under the "Libraries" tab at the top of the Portal.  

Once you click "Libraries", you should see a library listed called "Logos Research Subscription" or something similar.

Click this library to see details about who has access to the subscription.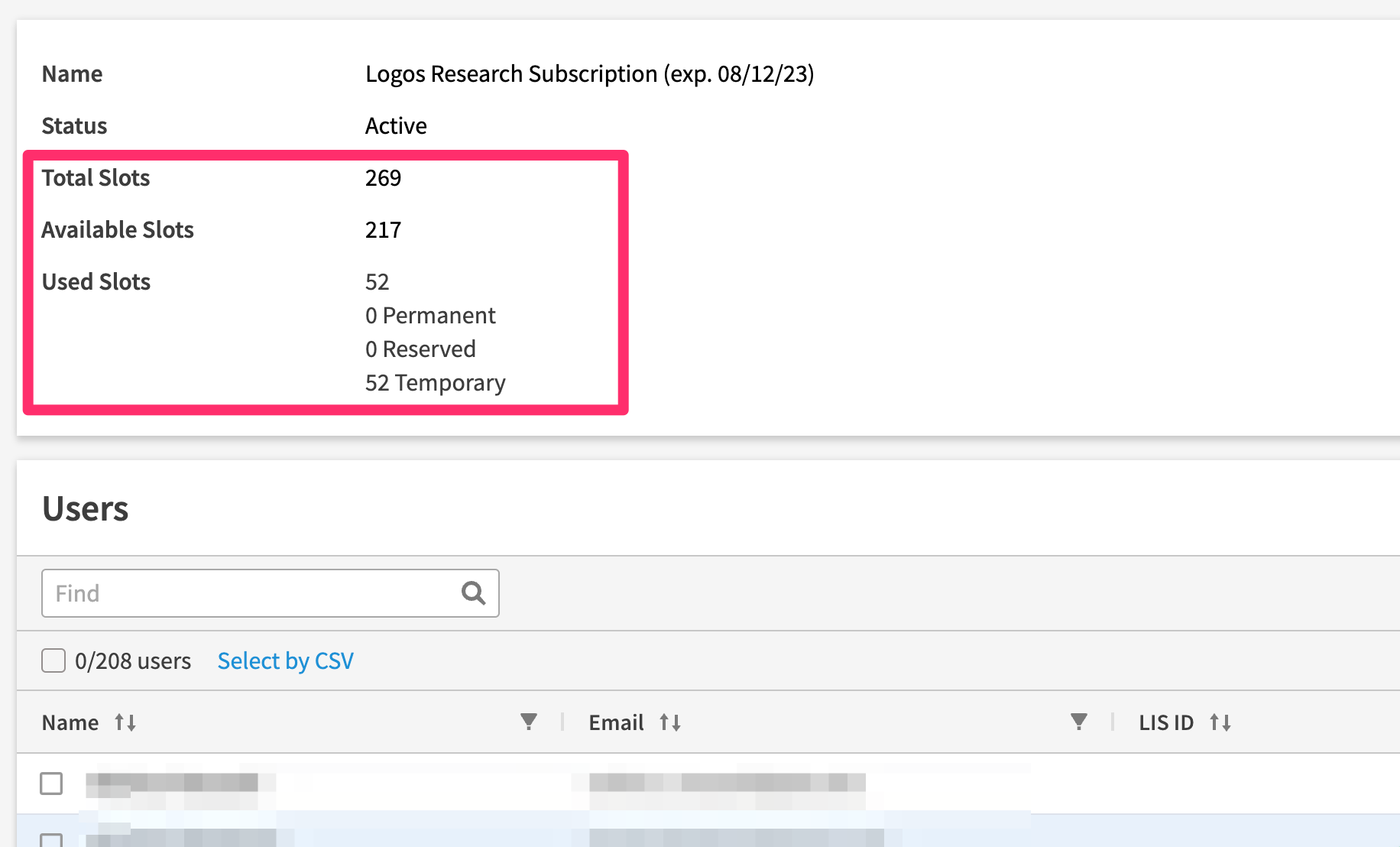 Total Slots: how many total "seats" you have for the subscription
Available Slots: how many "seats" are open and able to be distributed 
Used Slots: how many "seats" have already been distributed
*Keep in mind that the Research Subscription cannot be granted to students for permanent ownership.  As a result, your used slots/seats will always be Temporary or Reserved.  Temporary means student have claimed access to the subscription.  Reserved means you have granted access, but the student has yet to claim it.  
From here, you need to learn how to add students and manage who has access.
4) Add Users
Before you can grant access to the subscription, you will need to add users under the Users tab at the top. Once the Users view is open, you can use the buttons in the top right to add.

Create User- This option will open a dialogue box with the required fields for adding one user at a time.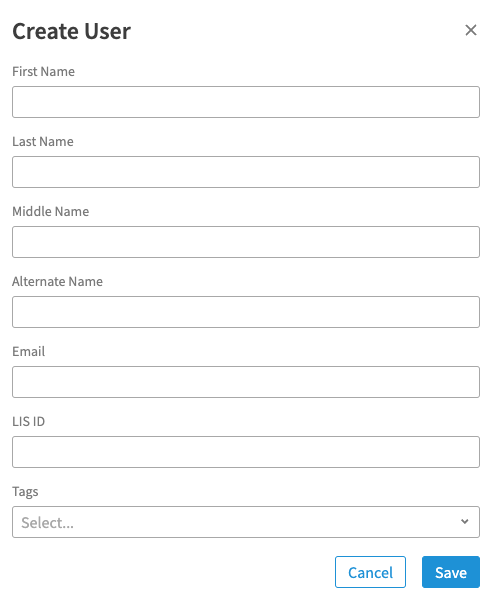 Institution ID, First Name, Last Name, and Email are required.  Institution ID is the school id number, which can serve as a secondary option for identification.  This can be a made up number.
Import Users- This option will enable you to bulk import a list of users using a CSV file.  Download and fill out the template as instructed below.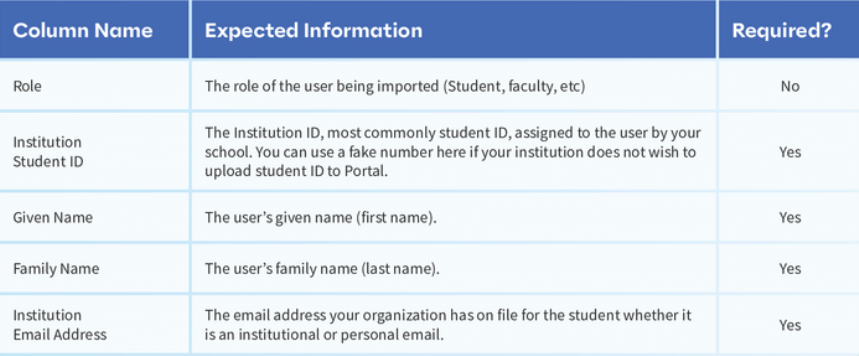 Example:

Make sure the completed template is saved as a CSV file.  Once you are ready to import the file, click "Choose File", select the .csv file, and choose import.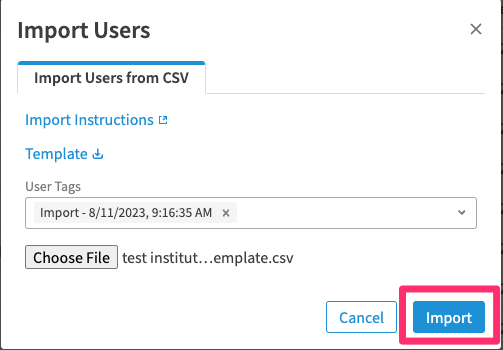 Take note that you also have the ability to add user tags/roles to each user on the list you are importing.  Academic Portal will automatically assign a date and time stamp, but you are welcome to add other tags that will assist in managing licenses later.  Here are a few examples for illustration:
Date Tag- will allow you to narrow users by the date you imported them (automatic)
Role Tag- will allow you to narrow users by their role at your institution
Degree Tag- will allow you to narrow users by degree program
Language tag- will allow you to narrow users by language 
Faculty tag- if you are managing faculty licenses, you may find it helpful to tag those users
Once users have been added, you will find a list at the bottom of the page. You can search for users in the top left, and you can select users using the checkboxes on the left of the rows or by using the "Select by CSV" option in the top left.  It may be worth keeping a record of the .csv files you use to import users because these can be repurposed to select users in later steps.  
Export Users- There may be times when you need to export user data from Academic Portal.  This option will provide you with a CSV file listing the names, emails, user ids, and license status for all users under your institution.  
*If you need to delete/remove a user, select the user(s) and click the kebab menu in the upper right as seen below.
5) Grant Access to Users
Now that users have been added, you can begin granting access.  To do this, you will need to head back to your subscription under the Libraries tab at the top.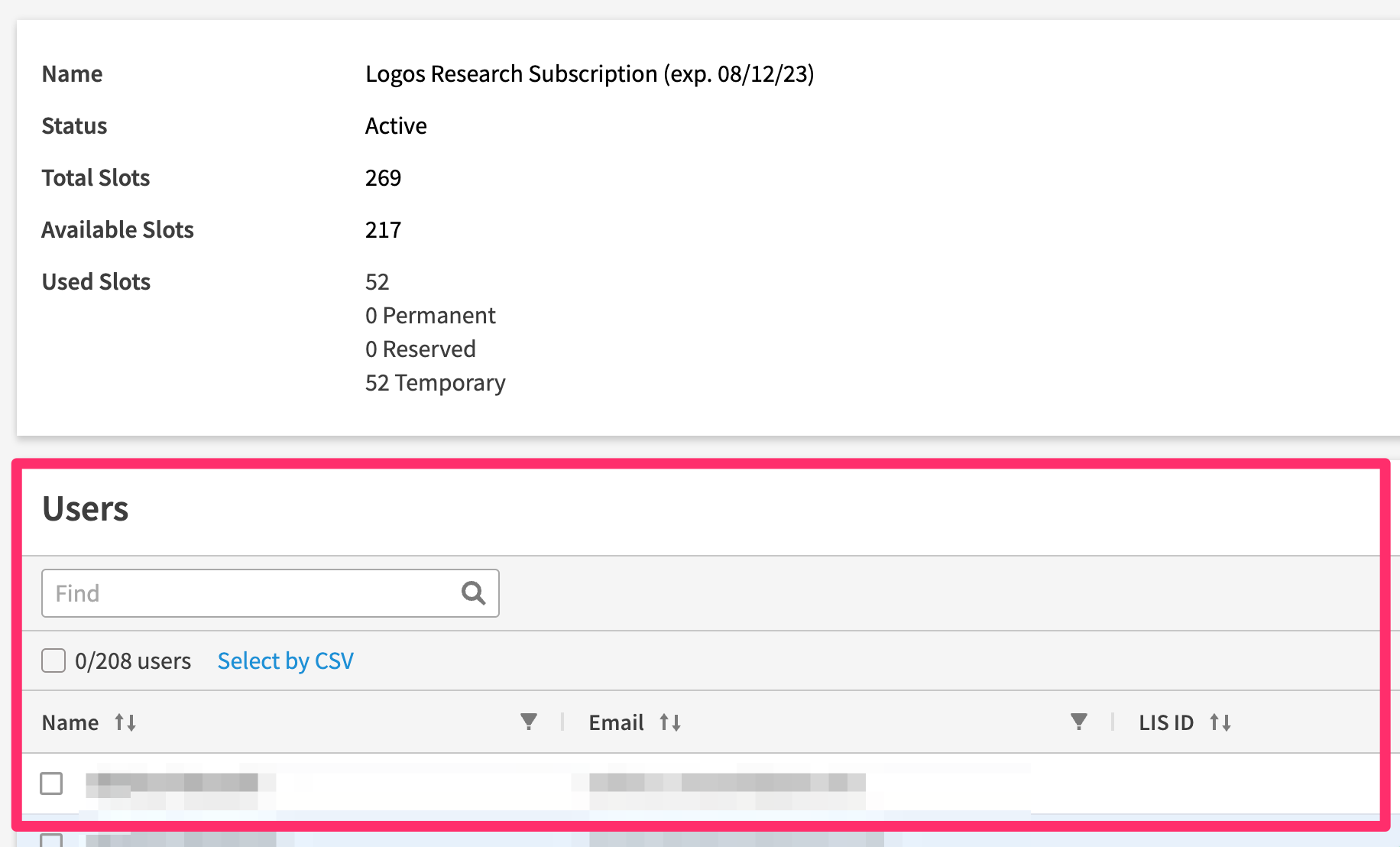 To assign a library to a user, you need to select the relevant user(s) and use the "Actions" menu in the top right.  You can find users by searching, filtering, or using tags. You can select the users by using the checkboxes on the left of user rows or by selecting in bulk using the "Select by CSV" option in the top left.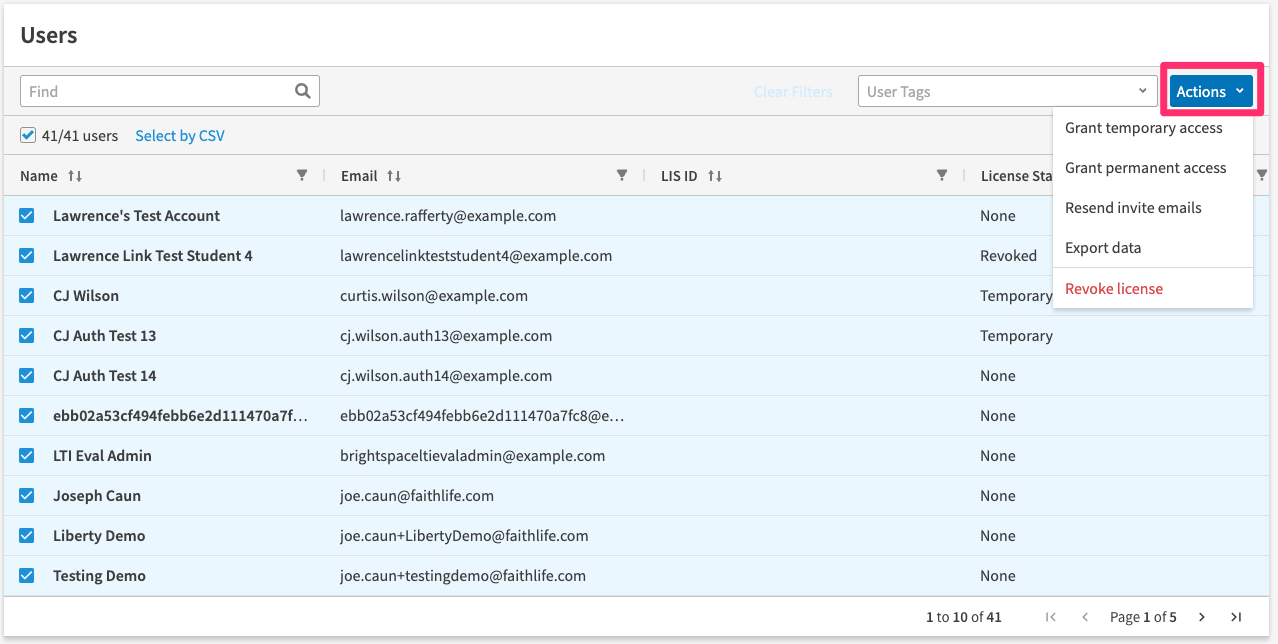 Choose "Grant temporary access" to provide a user with access to your subscription.  Choose "Revoke license" when you need to remove a user's access to the subscription.
Reminder: Reserved status is automatically applied when you initially grant access to a user.  Once access is granted, the user must claim the license.  Reserved status will remain until the access is claimed by the user.
6) Students Claim Their Subscription
*We recommend that you send students the instructions found in the article: How to Claim a Logos License for the next steps.  It is recommended that you also send out your Claim URL with these instructions.  
Once you grant a student access to the subscription, that individual will need to claim it.  This process simply involves following a claim link and either signing into an existing Logos account or creating a new one.  Once this is complete, the subscription will be added to that account.  
Once you grant access, a series of automated emails will be sent to the student to walk them through the claim process.  To learn more about these automated emails, read Automated Emails Sent to Students.
If you have students that do not receive the automated emails, you will need to send them your school's unique "License Claim URL".  This URL will be found in Academic Portal under the "Overview" tab as seen below.

You can also resend the invite/claim email from a library.  Simply choose the user from the list and use the "Resend Invite Emails" option under the Actions menu.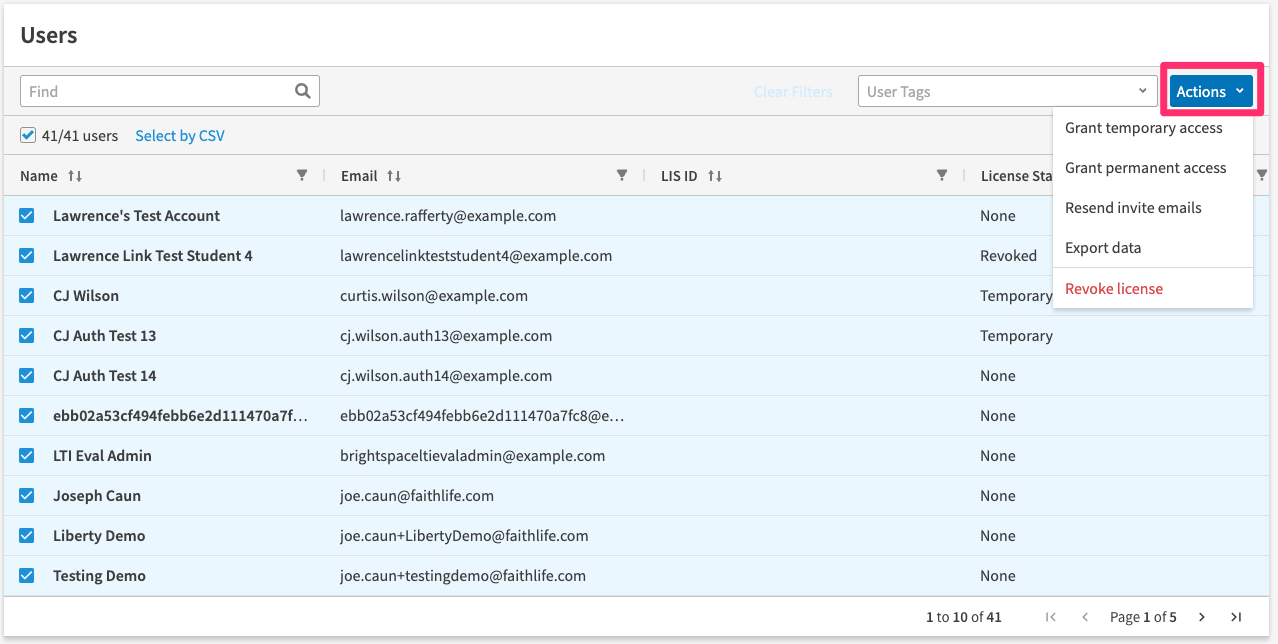 Once a student clicks the claim URL, they will be directed to sign in to a Logos account or create a new one. 
*Important: The email you import into Portal for a user represents your records.  The email on the student's Logos account will be determined by the email used by the student when they claim their access and sign into an account.  In other words, these emails may be different, but Portal will associate the email in your records with the email the student uses for Logos.  If you change the email for a user in Portal, you are simply changing your records and not changing the email on the student's actual Logos account.  The student is responsible to manage their account, change the email address, or reset the password, etc.  
7) Manage Licenses
The process described above introduces the basics of managing your subscription using Academic Portal.  From this point forward, you will need to do the following to manage licenses:
Add and Select Users

Use the Search/Find
Use User Tags
Bulk select by email using the "Select by CSV" option

Grant or Revoke Access

Grant temporary when the license should not be owned by the user
Revoke when the user should lose access to the license
Send/Resent the claim link to those who need it
Tip: When you first open your subscription in Portal, you may find it helpful to start by filtering users by license status.  
If you only select the "Temporary" filter, you will get a list of all users who have claimed access to the subscription.
If you only select the "Reserved" filter, you will see a list of users who have not claimed their access.  You can select these users and use the Actions menu to resend the invite emails.