Admins of your church group can set up subgroups for smaller communities within your church—like small groups or a youth group. Subgroups are free and unlimited, so your church group can hold as many subgroups as you need. Each group and subgroup has its own content, membership, and permissions.
Content stays where you add it, so calendar events, posts, and prayer requests in your subgroup will show only in the subgroup (i.e., they will not show in the main church group).
Assignees: You can assign people to teams or subgroups within your church group. Unlike invitations to your church group, assigning people automatically adds them to your subgroup or team (as long as they're already Followers or above in your parent church group). For this reason, it's usually best to invite people to your parent church group first and then assign them to subgroups and teams. Learn more about assigning people to subgroups or teams.
Permissions for each group and subgroup are independent. This means your main church group can be public for anyone to follow while your small group can be visible only to those you invite, so you can create a more open and vulnerable small group community online.
You can create a new subgroup or affiliate an existing group as a subgroup from the Groups menu in your church group on Faithlife.com.
Note: Your parent church group can hold two types of child groups: subgroups and teams. Subgroups are meant primarily for building smaller communities within your church for fellowship and edification while teams are meant for ministry staff to organize and manage their service. In other words, teams provide access to administrative content and permissions to fulfill a specific service role in your church (e.g., access church finance information, update your Faithlife Site, access your Proclaim presentation, etc.). Learn more about teams.
Skip ahead to:
Create a New Subgroup
Admins of your church group can create subgroups inside your parent church group. To create a brand new subgroup:
Navigate to your church group on Faithlife.com.
Click the plus icon in the Groups panel.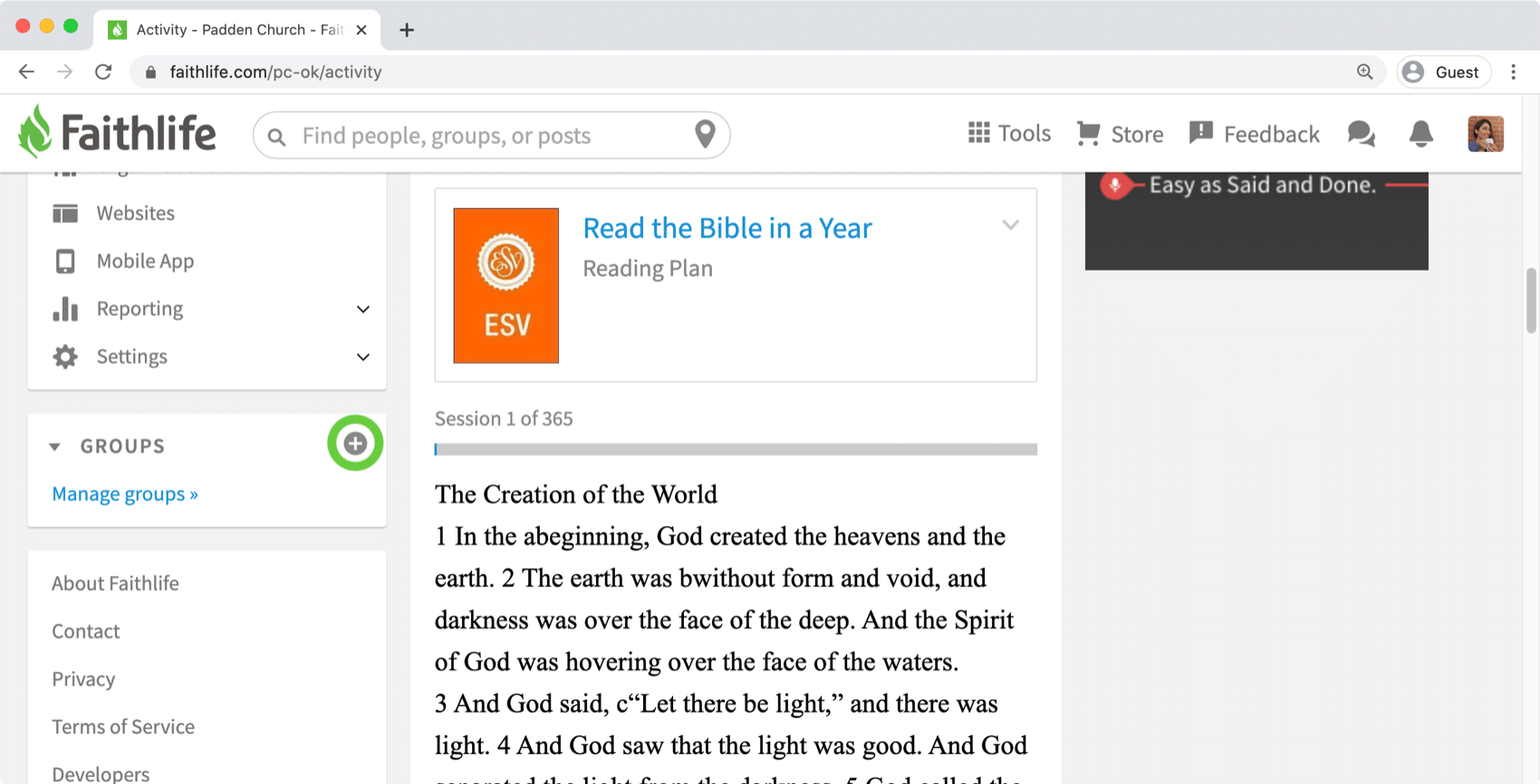 Choose your subgroup type and click Next.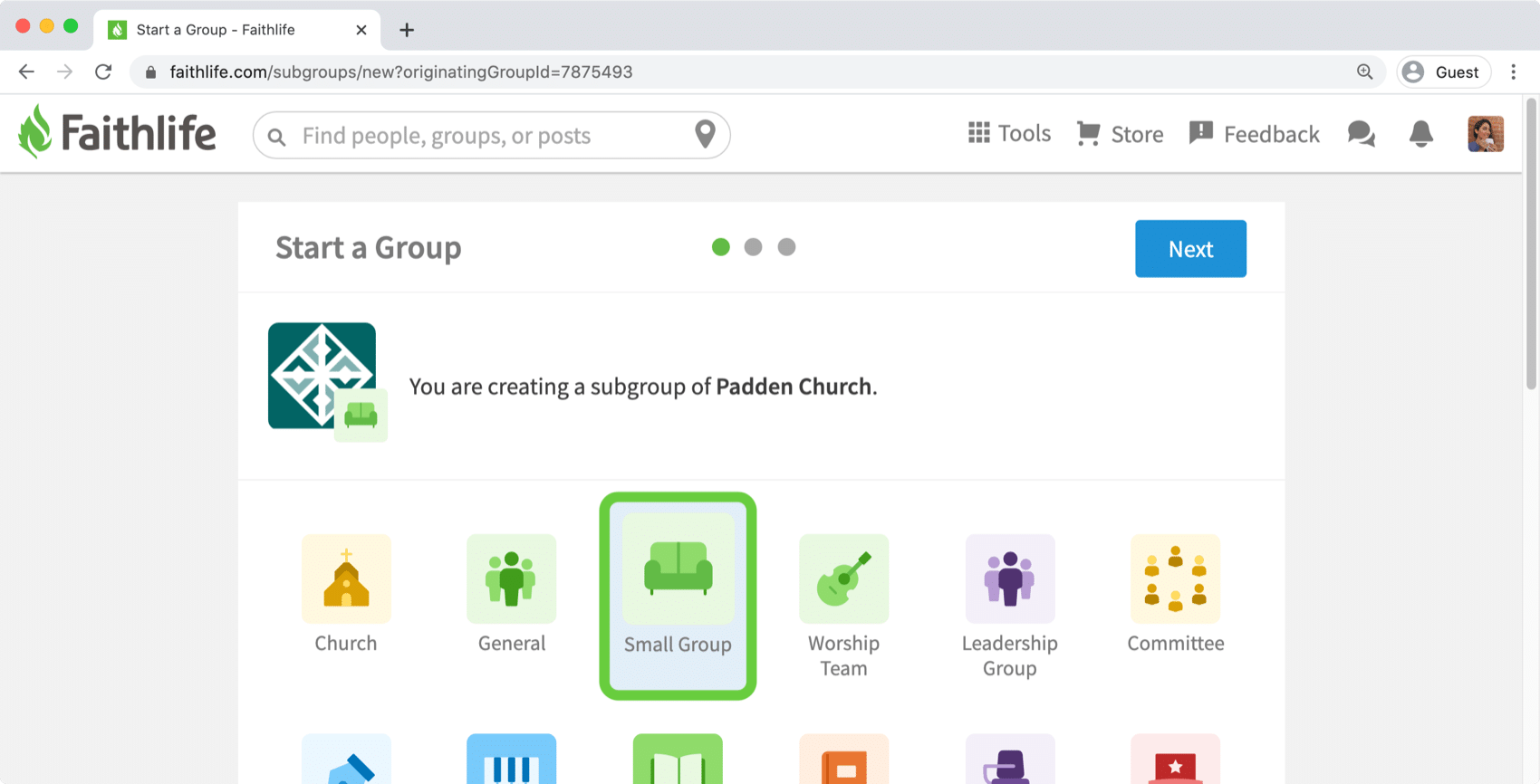 Add basic information for your subgroup.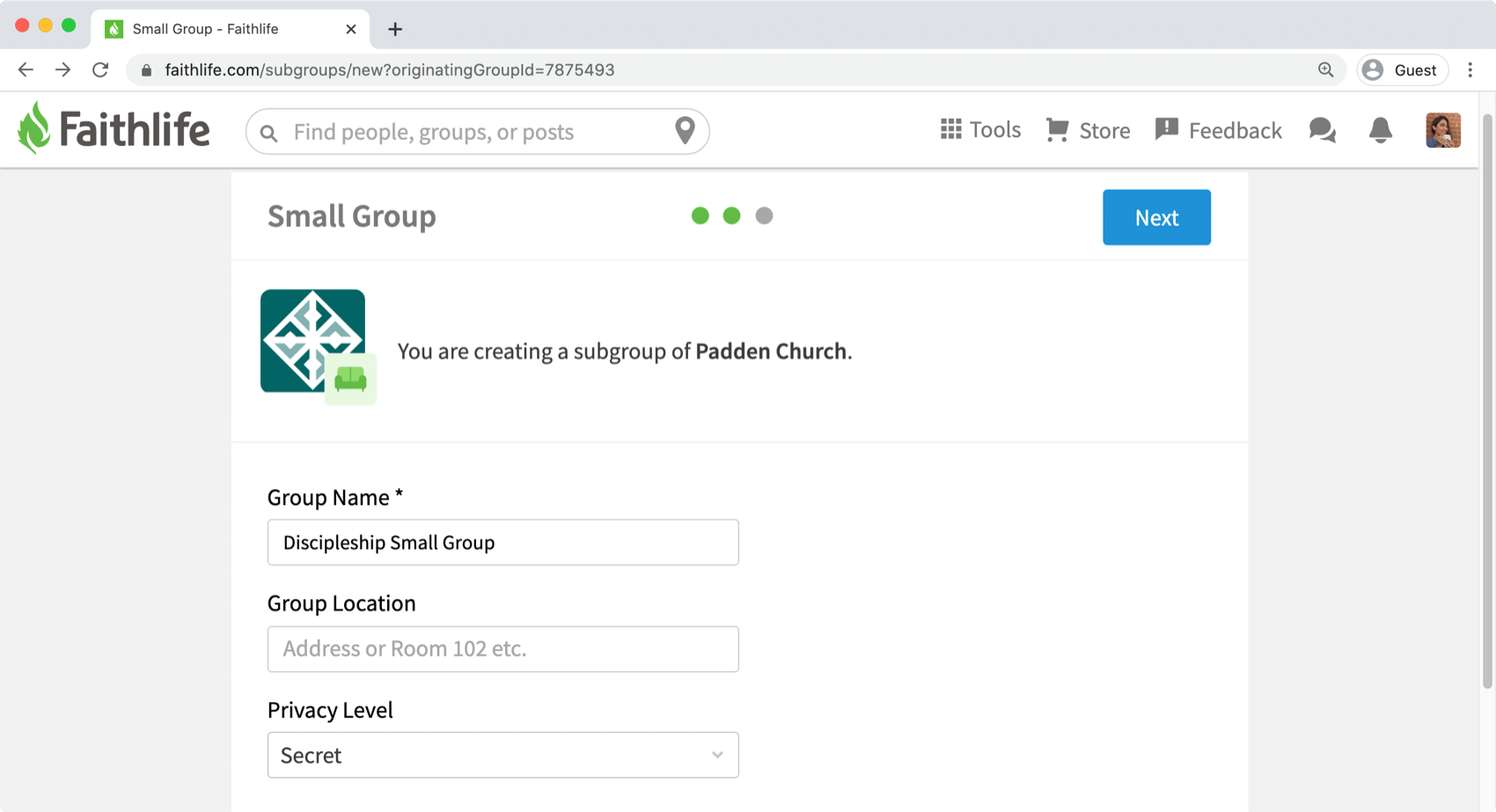 Set your group privacy to one of three levels:
Public: Anyone can find and follow the group. You must be invited to become a member.
Private: Anyone can find the group; depending on your selection, they can ask to join or join only upon receiving an invitation.
Secret: New members must be invited. Nobody outside this subgroup can see it (including other Admins/Moderators of the parent church group).
Note: Remember, each group's privacy is independent, so you can set your parent church group to Public and your subgroup to Private or Secret. Learn more about adjusting group privacy and permissions.
Add optional group details.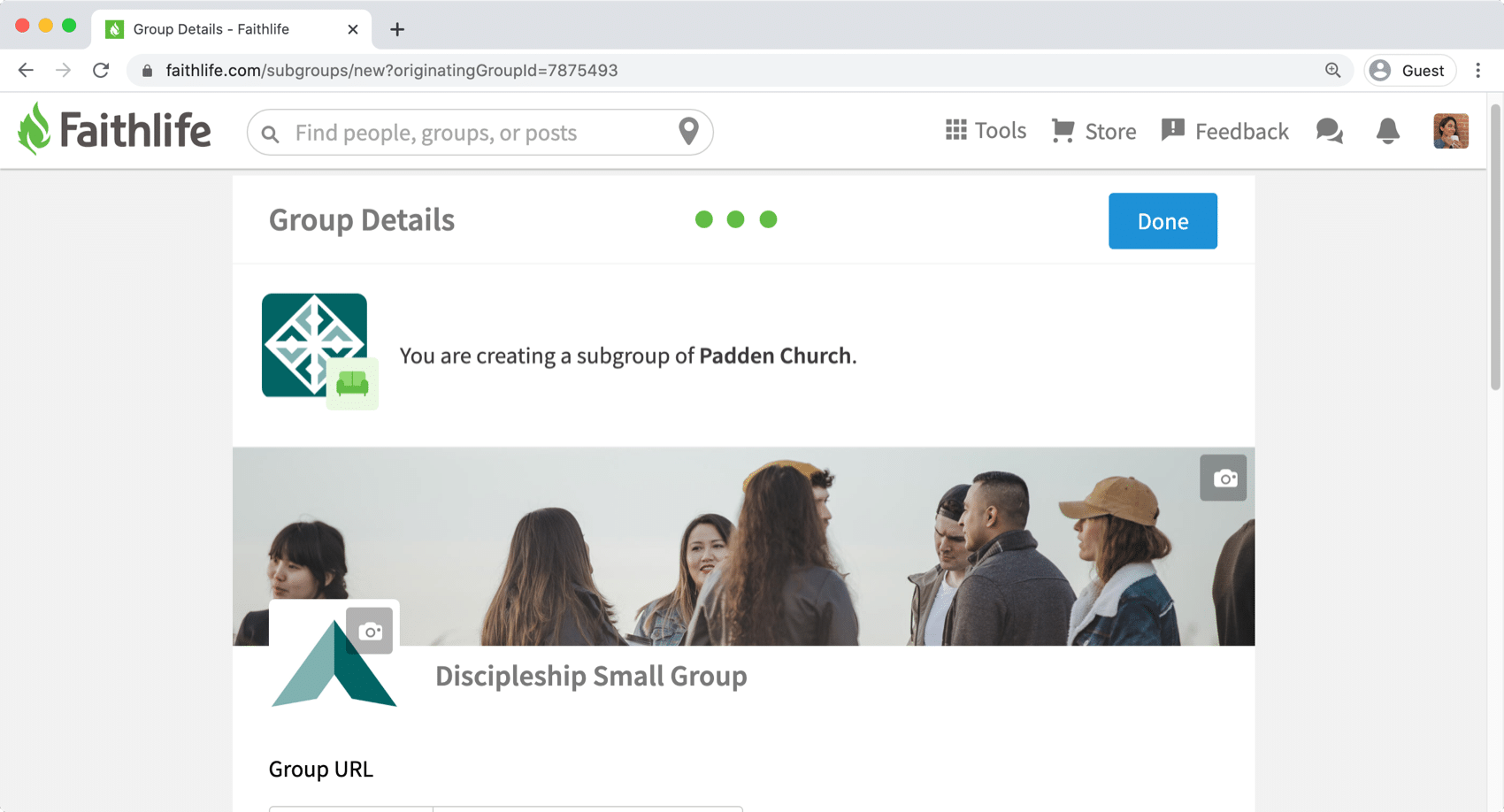 Provide a profile and header image and other option details below, including:
Group URL: your subgroup's direct link on Faithlife.com (a default URL is provided, though you can change it).
Tagline: a short description of the group that will appear under the group's name on the group homepage.
Nickname: a shortened name or abbreviation for the group.
Group Email/Group Phone: the organizer's contact information will display on the group's homepage.
About: the displayed info in the subgroup's About page.
Click Done when you're ready to create your group. Your subgroup is ready! Take some time to invite others so your subgroup can become its own community.
Note: We recommend 1024 x 1024px for your group profile photo and 2560px x 500px for your group header image. View other suggested image dimensions.
Affiliate an existing group
If your subgroup already exists as an independent Faithlife group, you can affiliate it as a subgroup of another group.
Example: you may have started using Faithlife Groups with a small group at your church and now want to create a group for your entire church. You can affiliate your existing small group with this new church group by making your original group a subgroup.
Click Manage Groups.
Administrators or moderators of groups can affiliate existing groups from the left-hand sidebar. Click Manage Groups.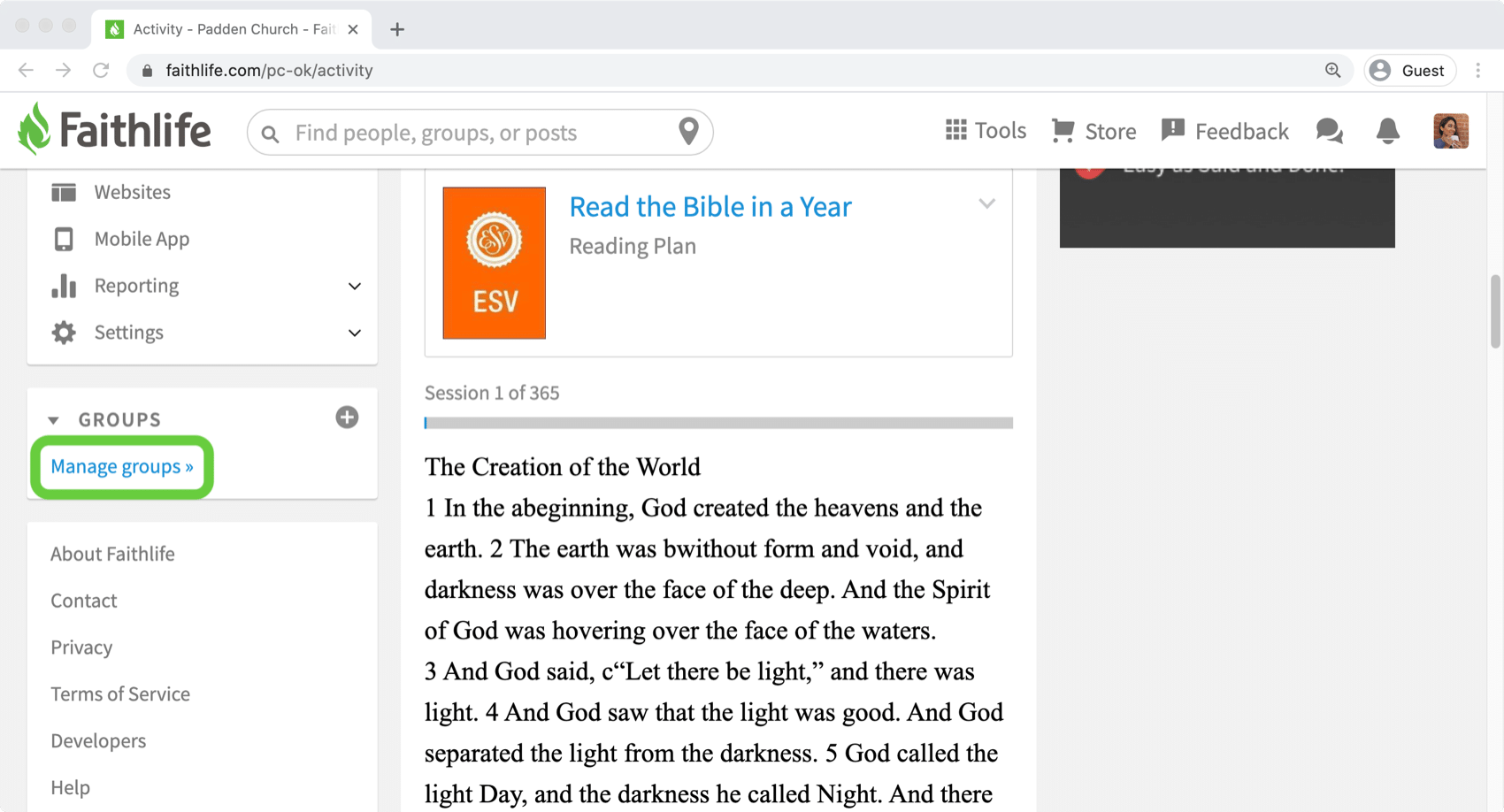 Add/Invite an existing group.
Expand Add and click Add/invite existing groups.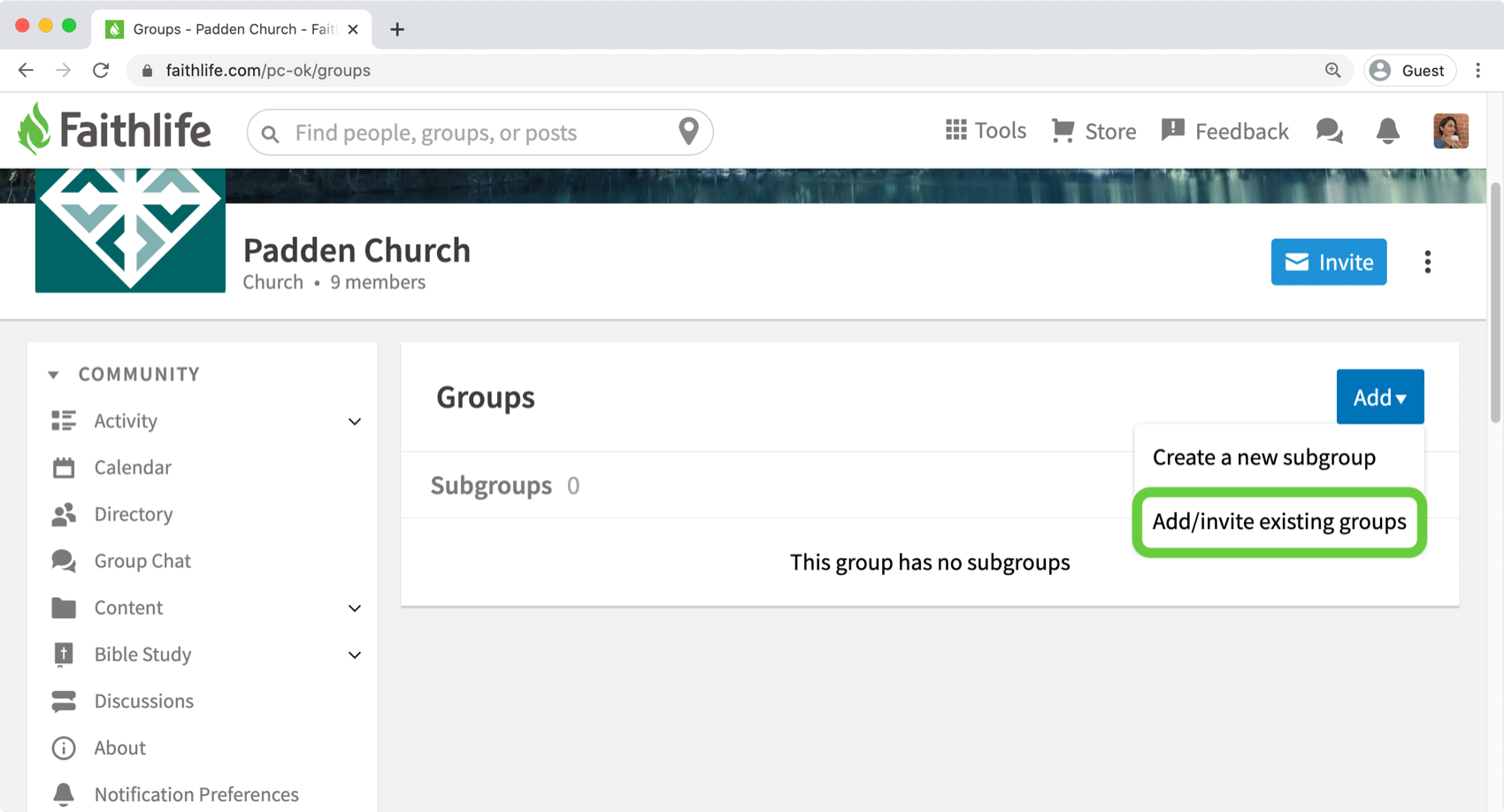 Search for your existing group.
As you type in the search bar, existing groups will appear. Click Add once you find your desired group.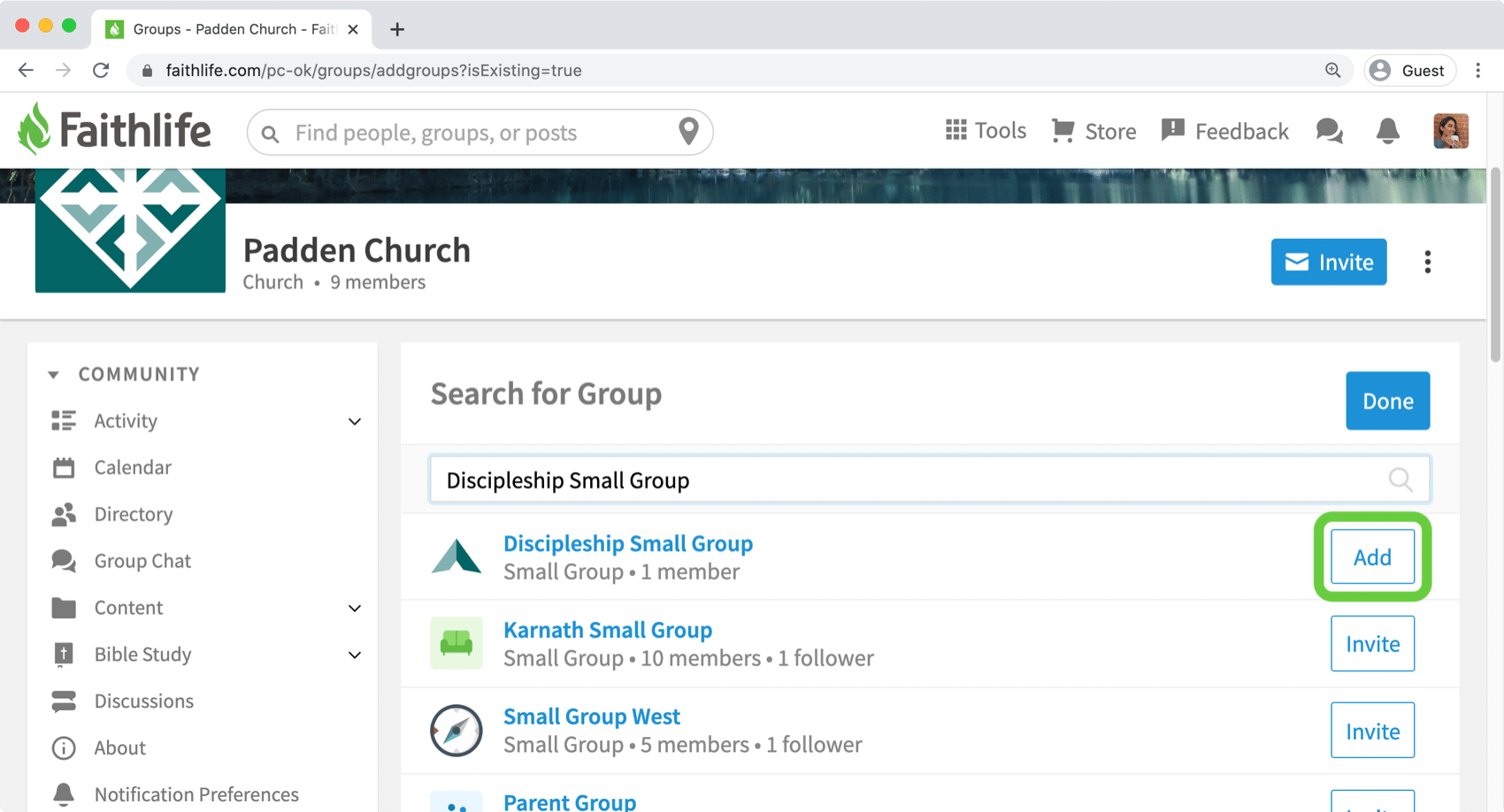 If you have permissions, the subgroup will be added automatically. If not, the group admins of the group will receive an invitation to affiliate their group with yours as a subgroup.
Remove or Delete a Subgroup
You can remove or delete a subgroup if you no longer want it to be connected with your church group.
Remove a Subgroup
When you remove a subgroup, it becomes a parent group and is no longer affiliated with your church group.
Navigate to your parent church group on Faithlife.com.
Click Manage groups in the Groups panel on the left.
Find the existing subgroup, expand the more options menu , and select Remove Subgroup.
Note: Get more detailed instruction on removing a subgroup.
Delete a Subgroup
Admins of any group can choose to permanently delete it from Faithlife. Warning: deleting your subgroup will remove all content and is irreversible.
Navigate to your subgroup on Faithlife.com.
Expand Settings in the admin panel and choose Group Settings.
Scroll to the bottom and click Delete group.
Note: Get more detailed instruction on deleting a subgroup.