Get Started with the Digital Asset Manager
Faithlife's Digital Asset Manager allows you to upload and organize images, documents, media files, and other digital assets for any group or team. This central location for all group assets is available all throughout Faithlife, so you'll always have access to your files in a central location.
Note: This article contains a general overview of the core features of the Digital Asset Manager. For more specific help with a specific feature, see the File Management section of our support center.
Skip ahead to:
View Your Group Files
To view your files, go to Faithlife.com, log in, and navigate to your Faithlife group. Expand Content in the Community panel and click Files.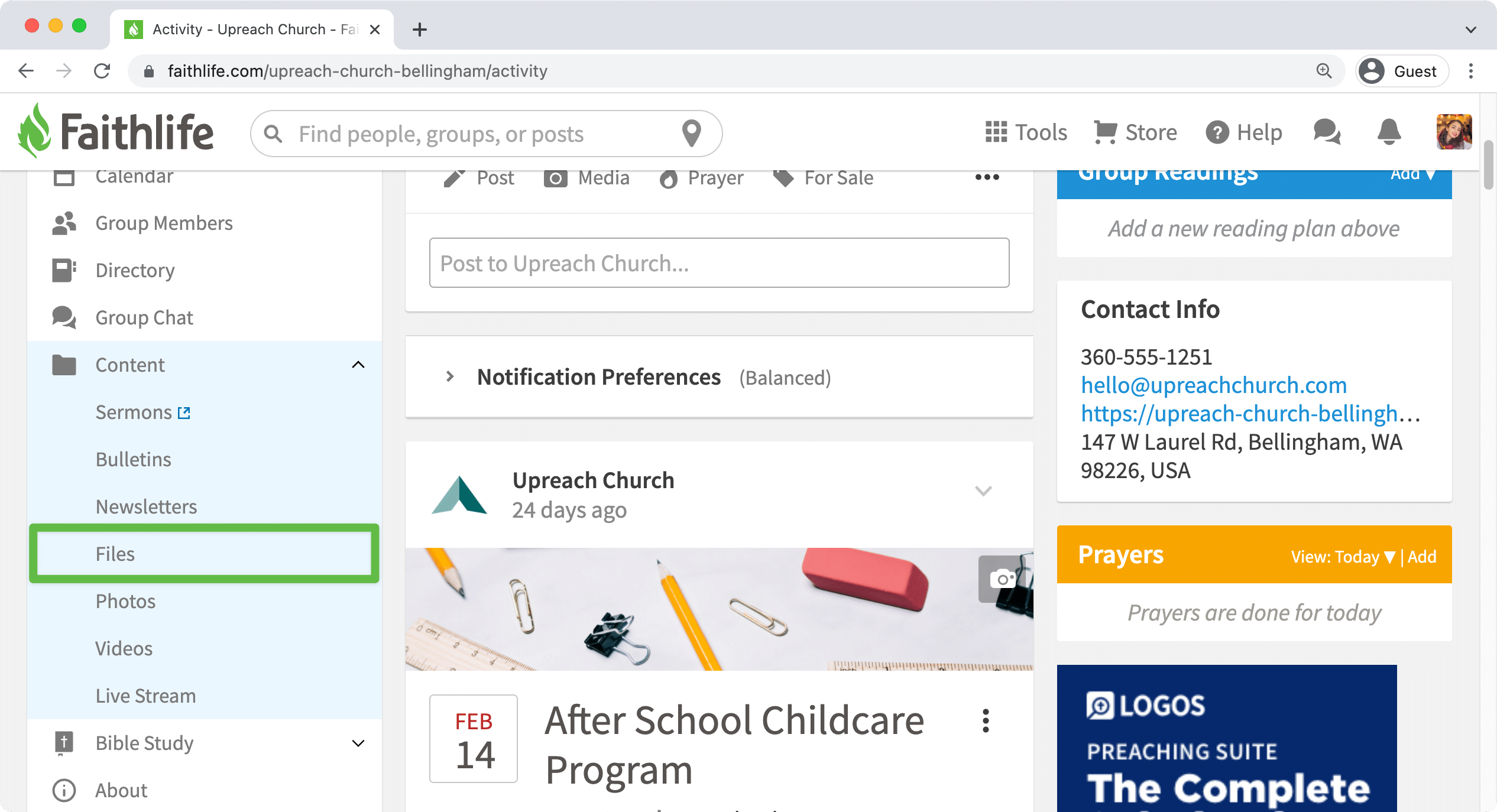 The Digital Asset Manager for your group will open. Learn how to customize the layout of the asset manager to fit your needs.
Note: If Files is not visible, you do not have access to view your files. Contact your group's administrator for access.
Add New Files
You can add any file to your Digital Asset Manager (25 mb maximum size).
Image: all standard image formats, including PNG, JPEG, GIF, and SVG.
PDF: if text is identified in the document, PDFs are text-searchable.
Video: all standard video formats, including MOV, MP4, WMV, and AVI.
PowerPoint: all standard PowerPoint formats, including PPT, PPTX, etc.
Audio: all standard audio formats, including MP3, WAV, AIFF, AAC, etc.
Word: all documents are text-searchable.
Text: all documents are text-searchable.
Other: The digital asset manager will support any uploaded files (e.g., ZIP, Otf, XLSX, Javascript, CSS text files, etc.).
Note: When uploading images, we strongly advise using PNG files. While the asset manager can handle all standard image types, some types are automatically converted to the PNG format, which can increase the file size. This can create problems since the current maximum file size is 25 mb. You can easily convert images to PNG format using a variety of freely available tools.
To add files to your group:
Upload files.
Click the Upload button.
Choose the file you want to upload and click Open.
Note: Alternatively, drag and drop a file (or multiple files) to the main window of the digital asset manager. Your file(s) will automatically upload.
Add files from an external URL.
Click From URL.
Copy and paste or enter the URL for your image, document, or media file and click Upload.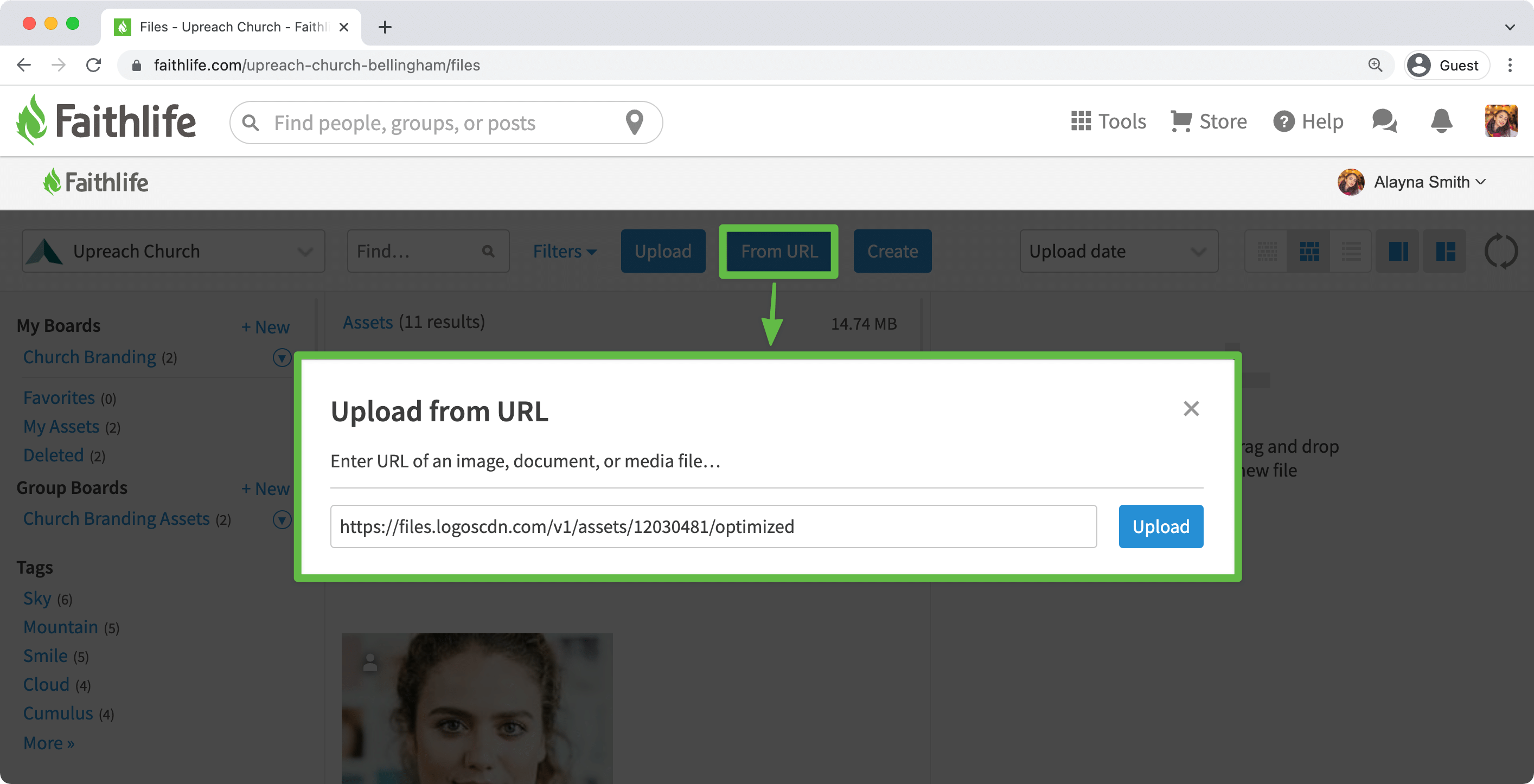 Create an image with the Smart Media Editor
Click Create to create a Smart Media digital asset for your group.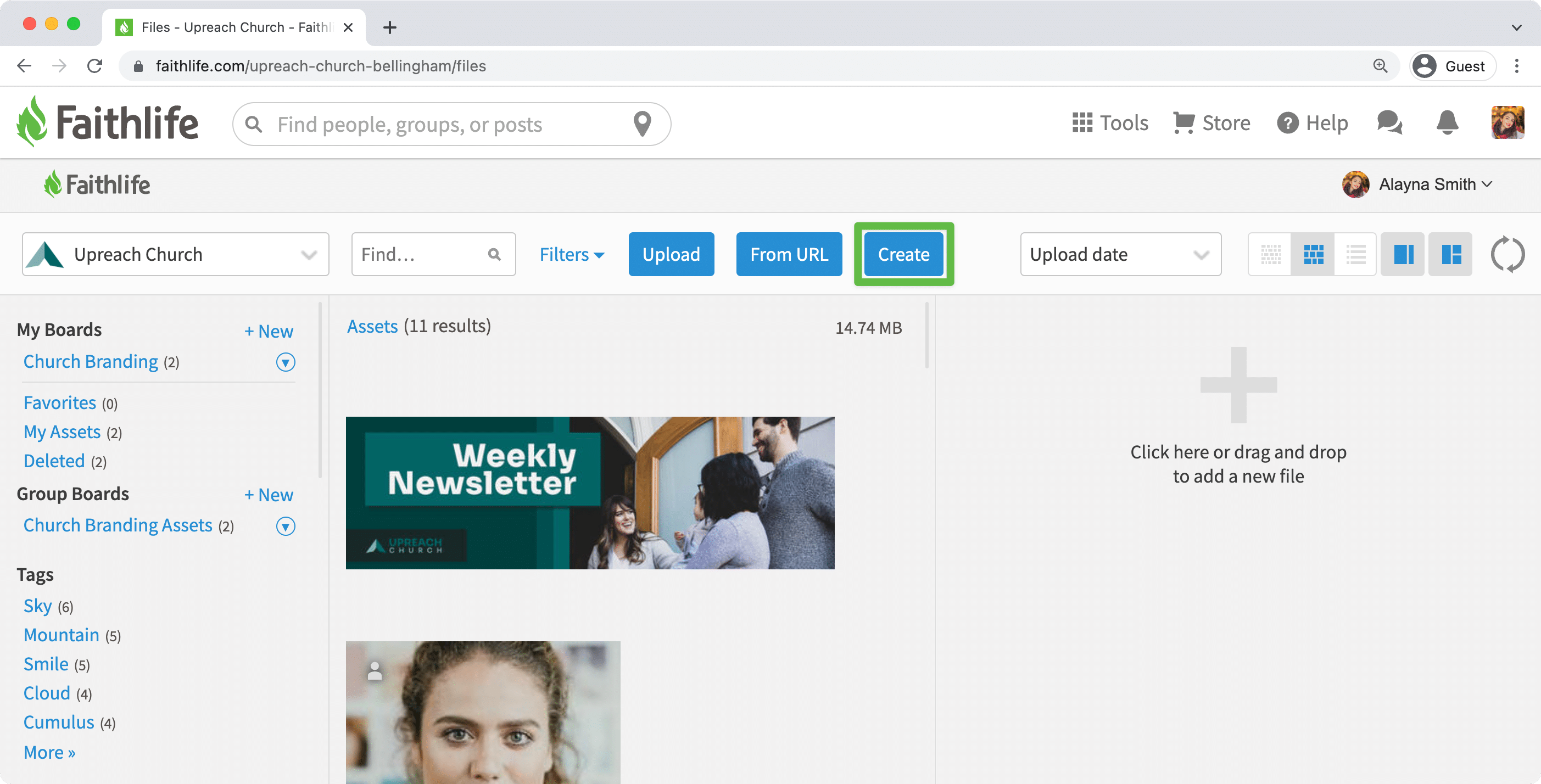 The Smart Media Editor will open. It has three basic sections.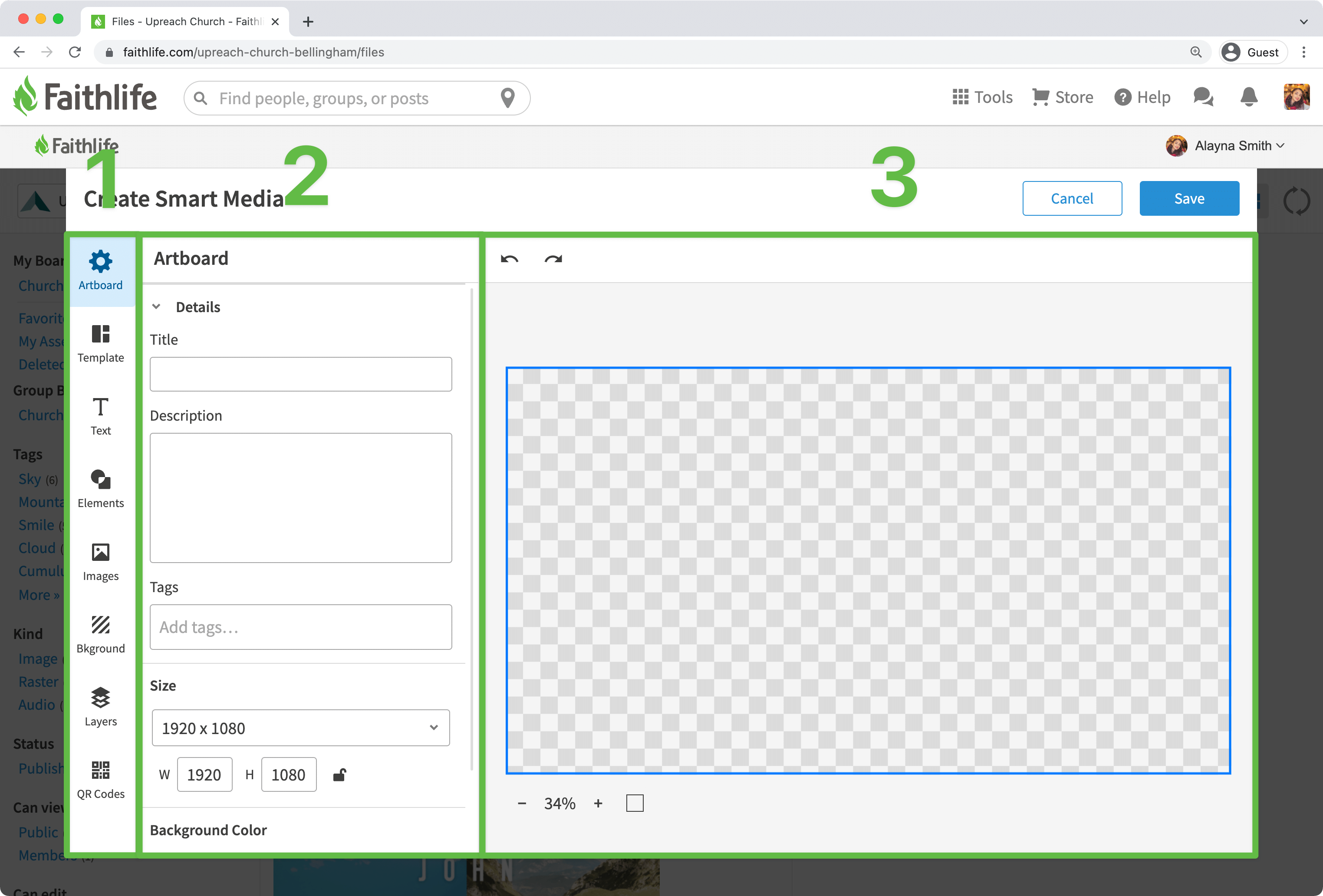 Toolbar: switch between Smart Media tools to build your image.
Editor: Customize the tool or add content.
Preview Pane: See your asset in real-time.
Use the toolbar to select tools. Add content in the editor, and move and arrange items in the preview pane. When finished, click Save to add the file to your Digital Asset Manager.
Note: Learn more about the Smart Media Editor.
Set File Permissions
All files you upload inherit your default file permissions set in your Group Features & Permissions in your group's Settings. Permission to access file is connected to your group membership options (e.g., Admin, Moderator, Member, etc.).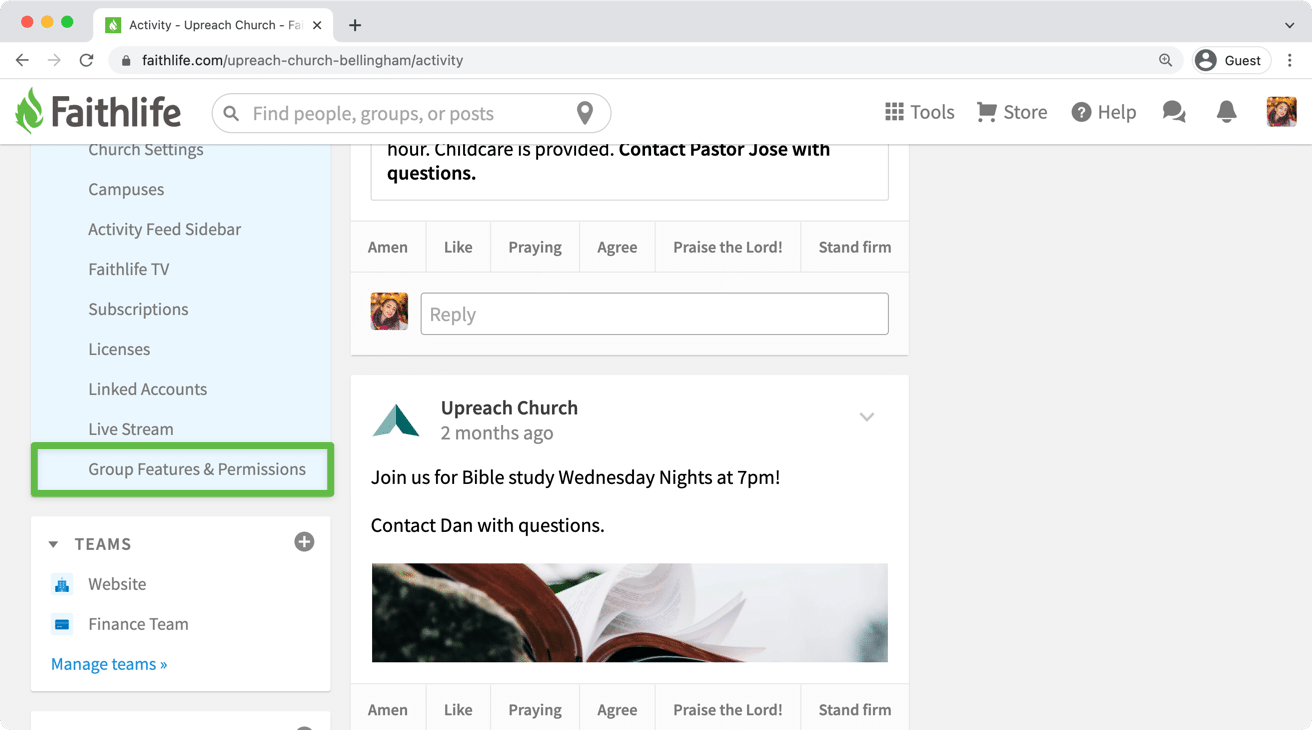 You can override the default permission on any asset using the Can View and Can Edit options in the asset's details.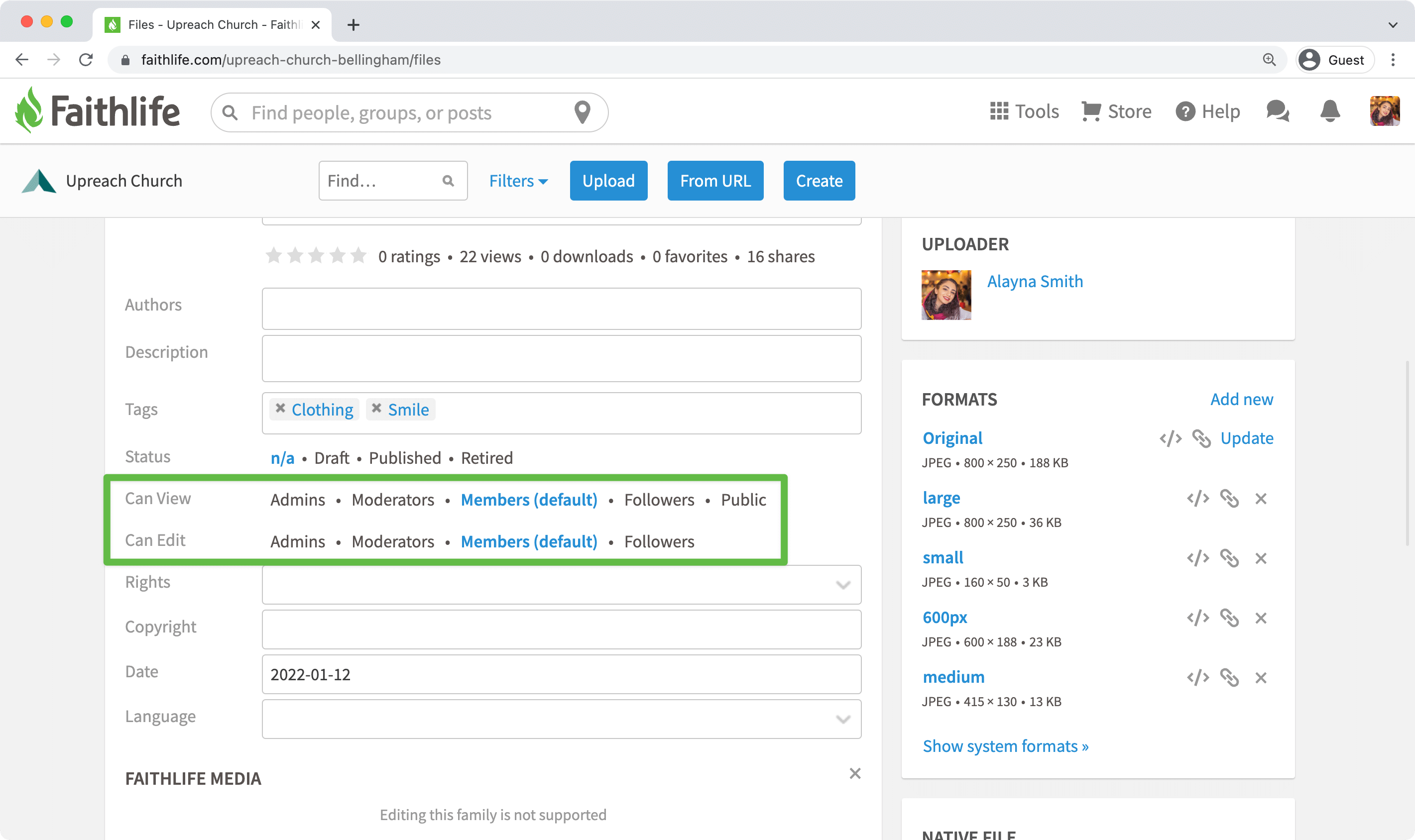 Note: Learn more about setting default permissions or assigning asset-level file permissions.
Update Files
You can replace any file with an updated version through the Formats tile on the View asset details page. If your shared link references the asset itself, it will be updated whenever you update the asset anywhere you've used it. If your shared link, however, points to a specific file or version of your asset, it will not update automatically when you update the asset.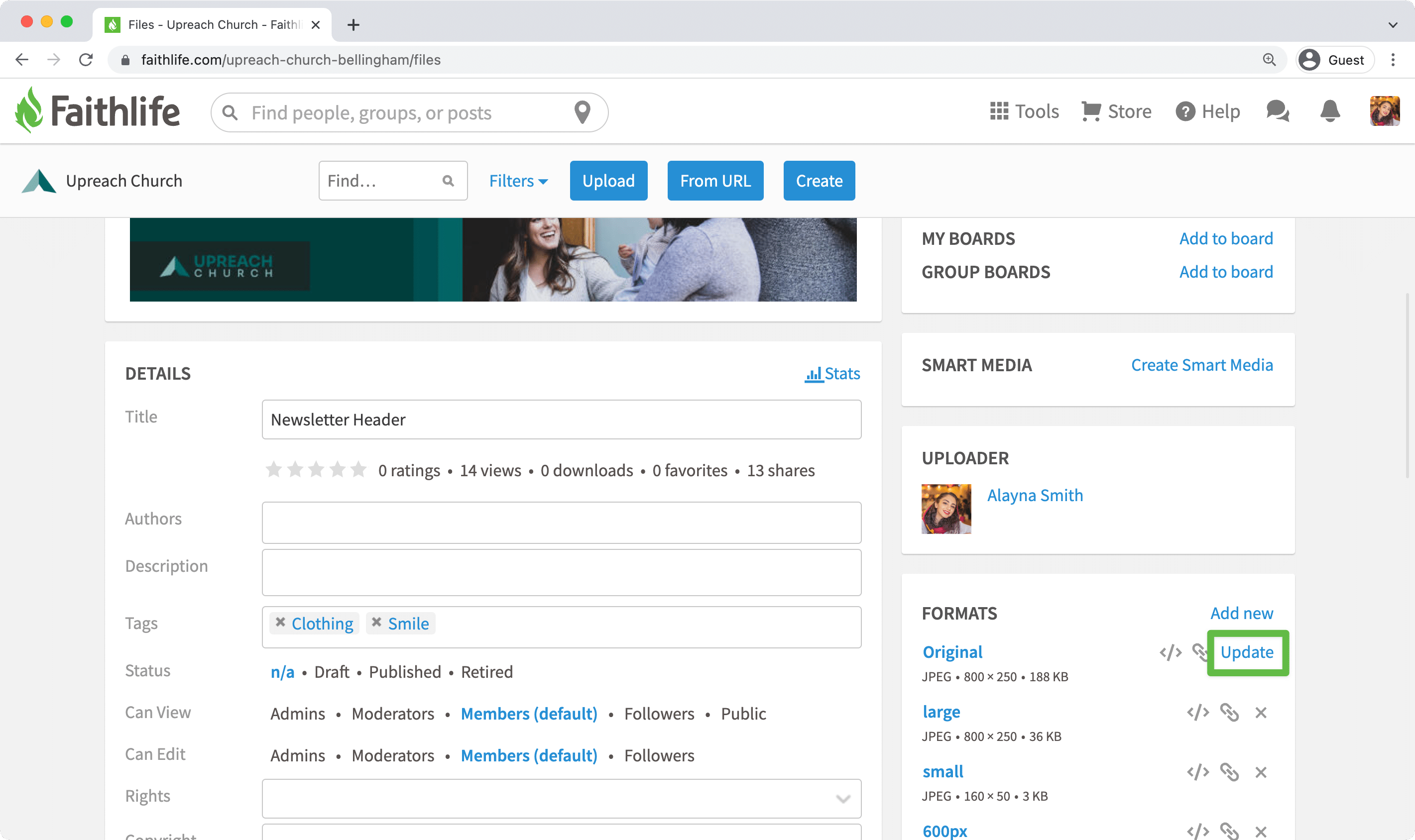 When you upload media files, the Digital Asset Manager automatically creates smaller resolution versions of your asset. This means you can upload your best-quality asset and immediately have access to multiple sizes of the same media file for use in any context. View your asset's original format and system-generated formats in the Formats tile.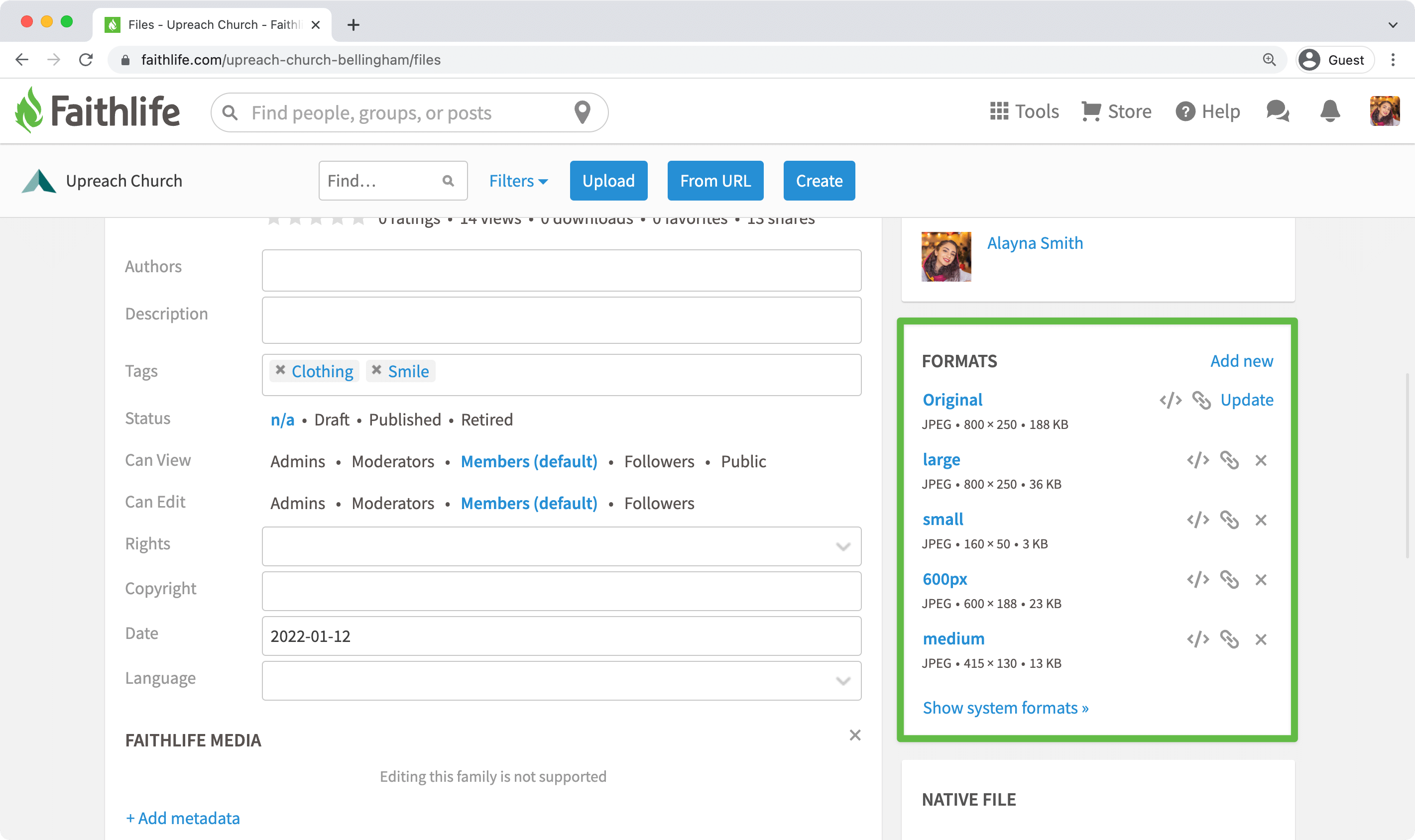 Note: You can also create additional custom versions of your asset. Learn more about updating files and formats.
Every asset includes a full file history so you can return to an older version of your file.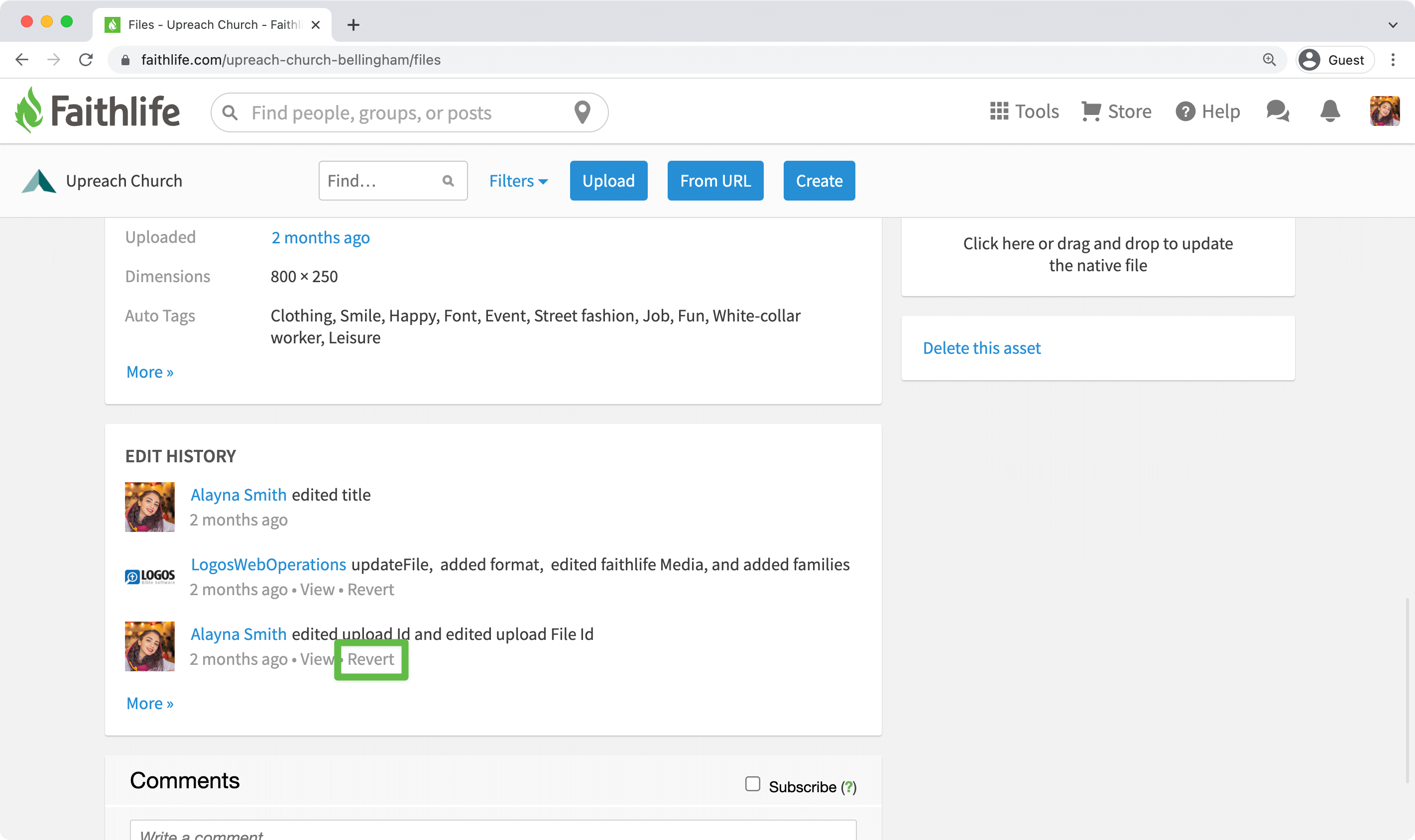 Note: Learn more about version history in the Digital Asset Manager.
Search and Filter Files
Faithlife automatically adds metadata like tags, uploader, and more to files you upload. This means you don't have to manually tag or organize your files, although you can add custom metadata to any asset or create personal or group boards for more organization if you prefer.
You can quickly find any asset from the search bar. Search looks at asset names, metadata, PDF and Word document text, and more! To remove a search, click the cancel icon

.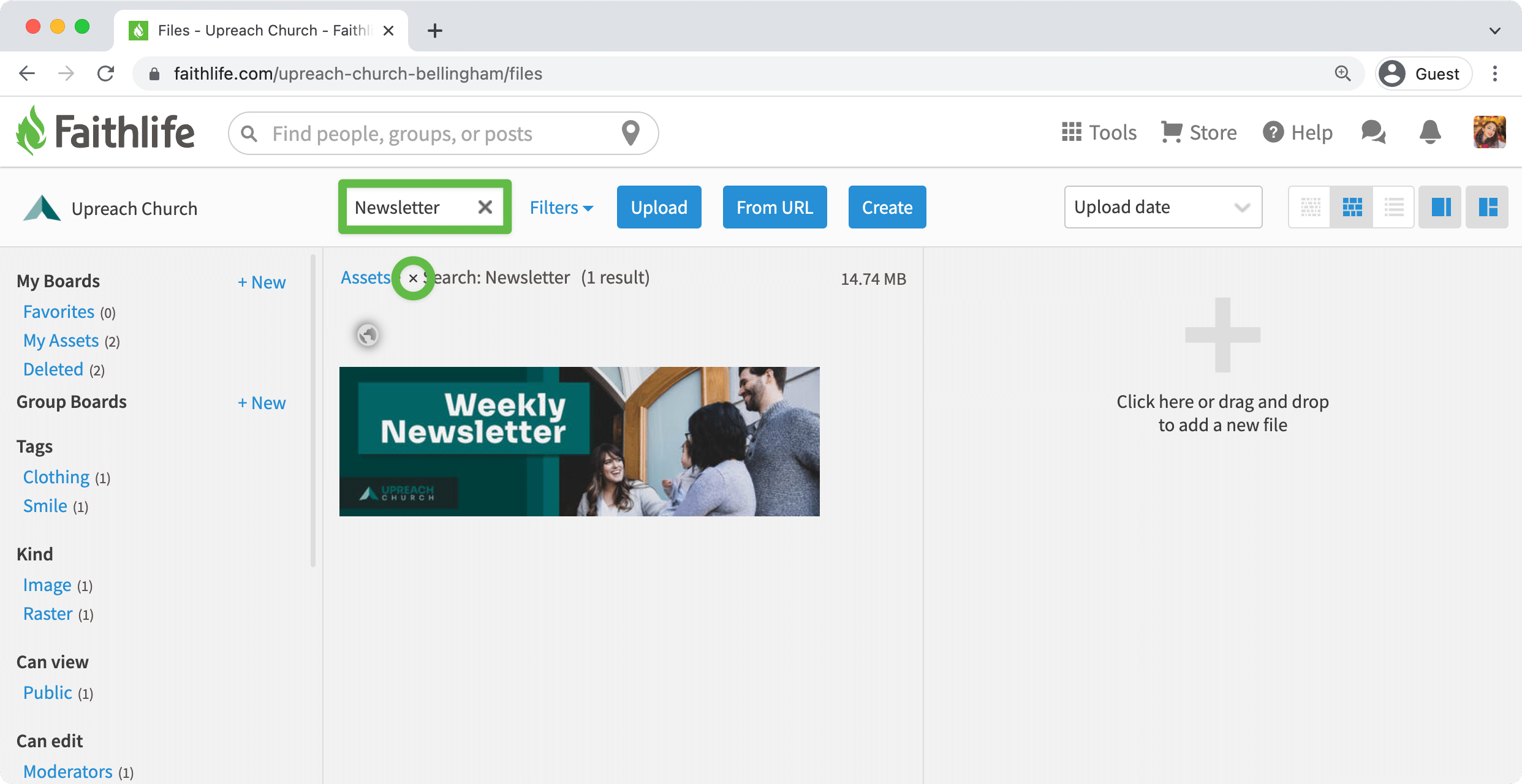 Note: Learn more about advanced searching in the Digital Asset Manager.
Filters allow you to quickly find files that match a set of selected categories in the left-hand panel. To filter by any attribute, select it in the sidebar. Continue to add as many filters as needed to locate your desired file.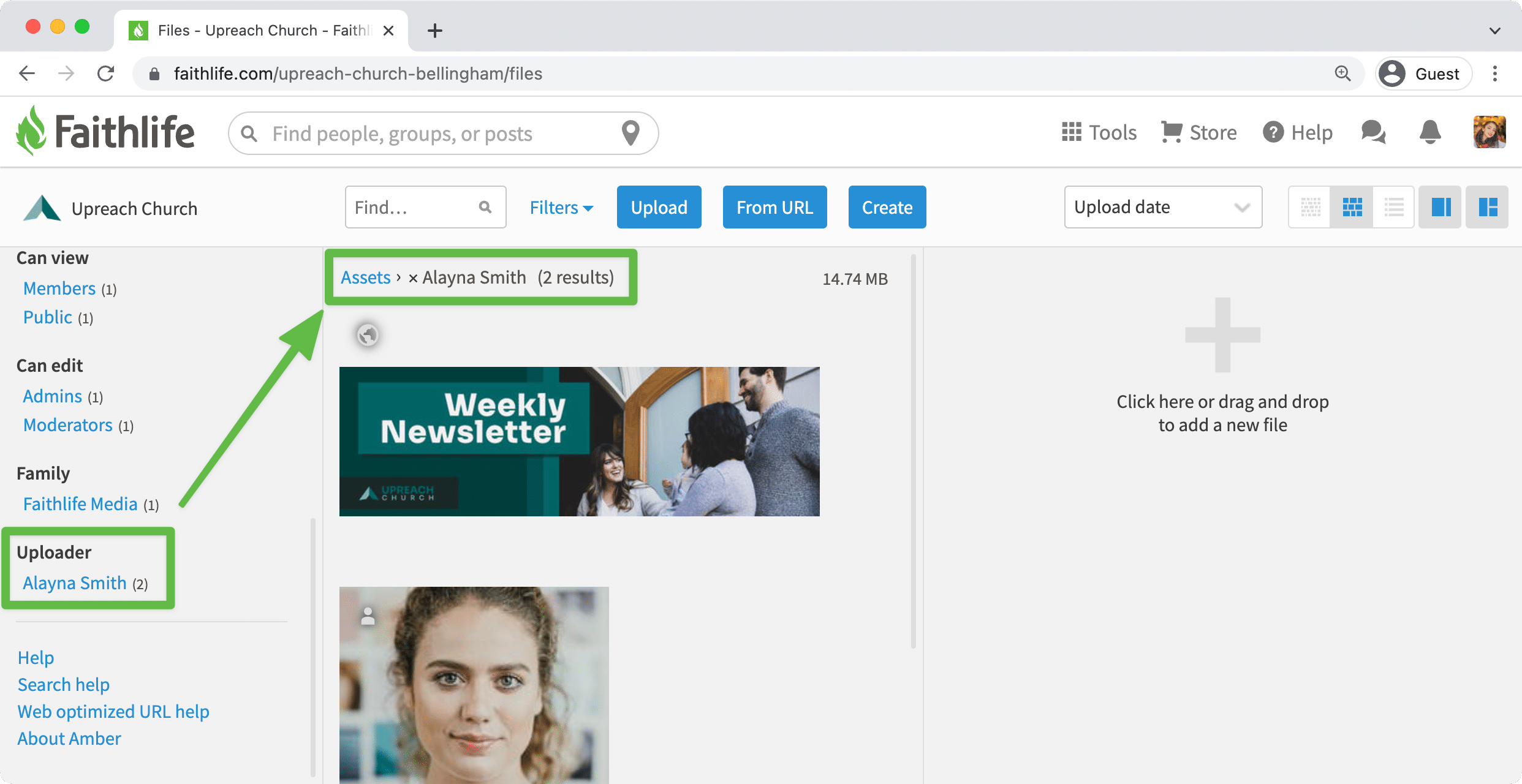 Note: Learn more about filtering files in your asset manager.
Share Files
You can share any assets with others from your Digital Asset Manager by either creating a share link url or copying a direct CDN link.
Create a share link or embed script.
While viewing any asset, click Share and choose to create a share link or copy an embed script.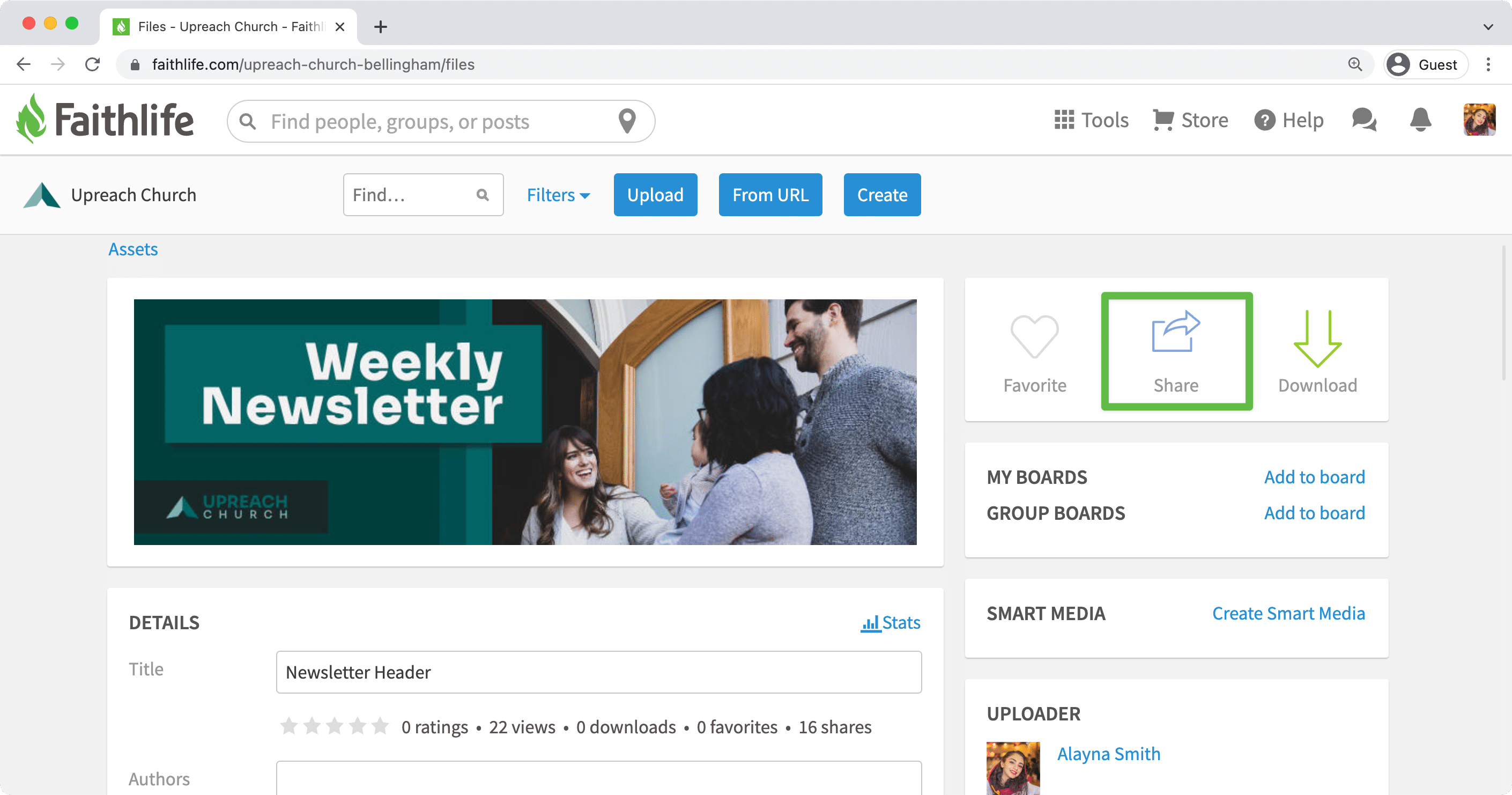 Share direct CDN links
You can also share a direct CDN link to any of the asset versions.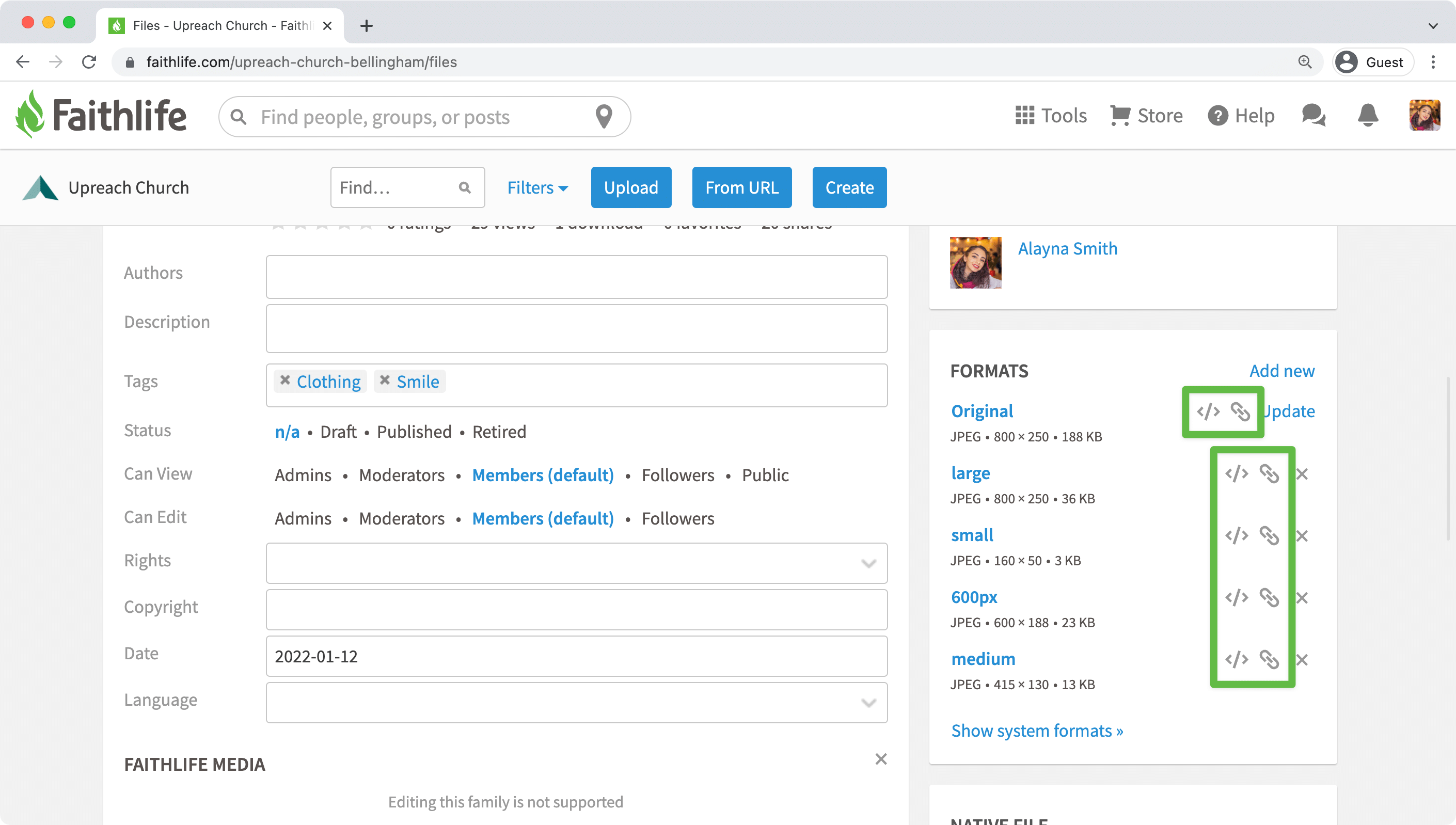 Note: Learn more about sharing assets.
Delete Files
You can delete any asset while viewing the asset's details. Click the View asset details icon

, scroll down and click Delete this asset.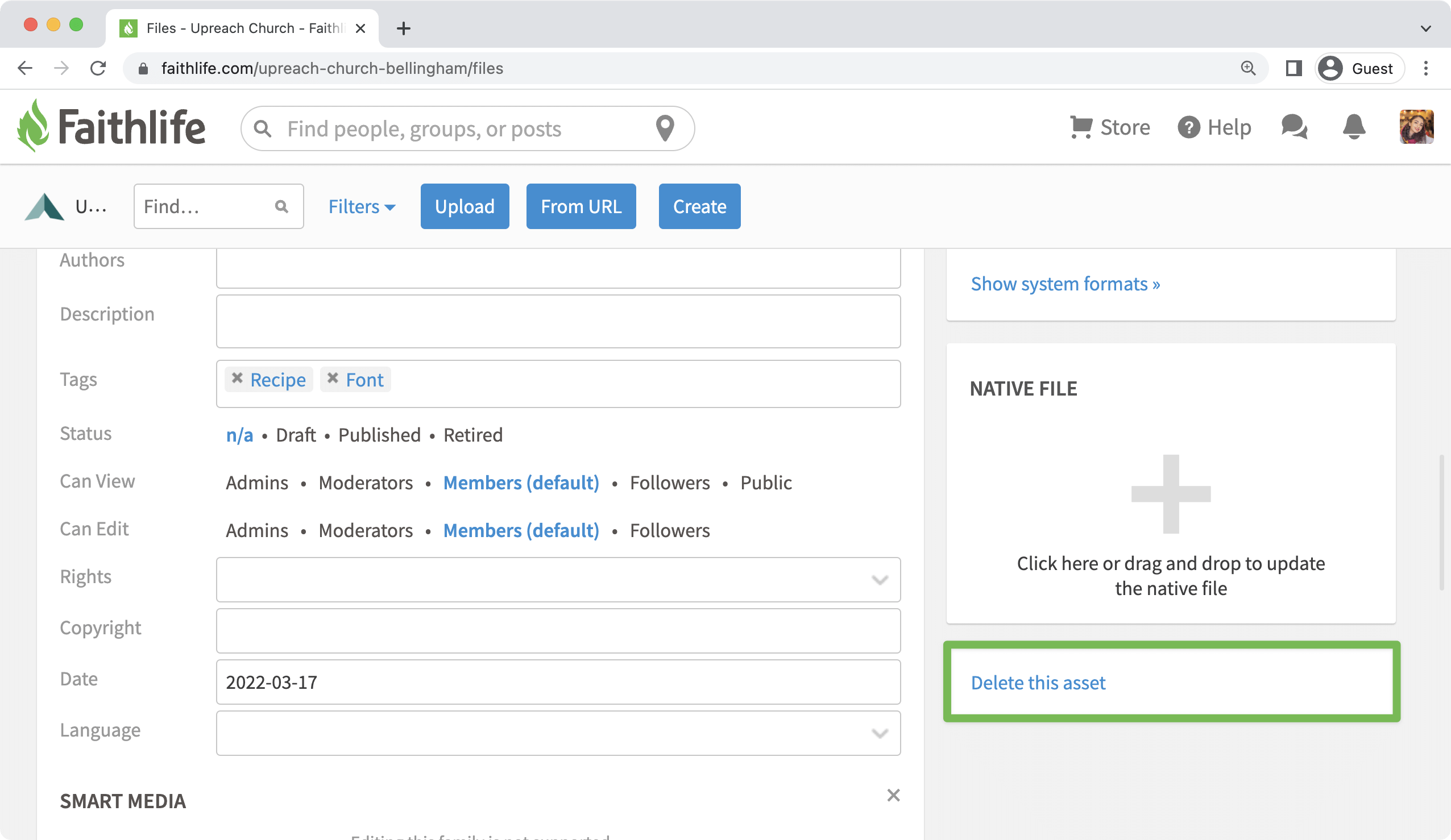 All deleted assets show in the Deleted group board for everyone in your group with permission to see it (regardless of who deleted the asset).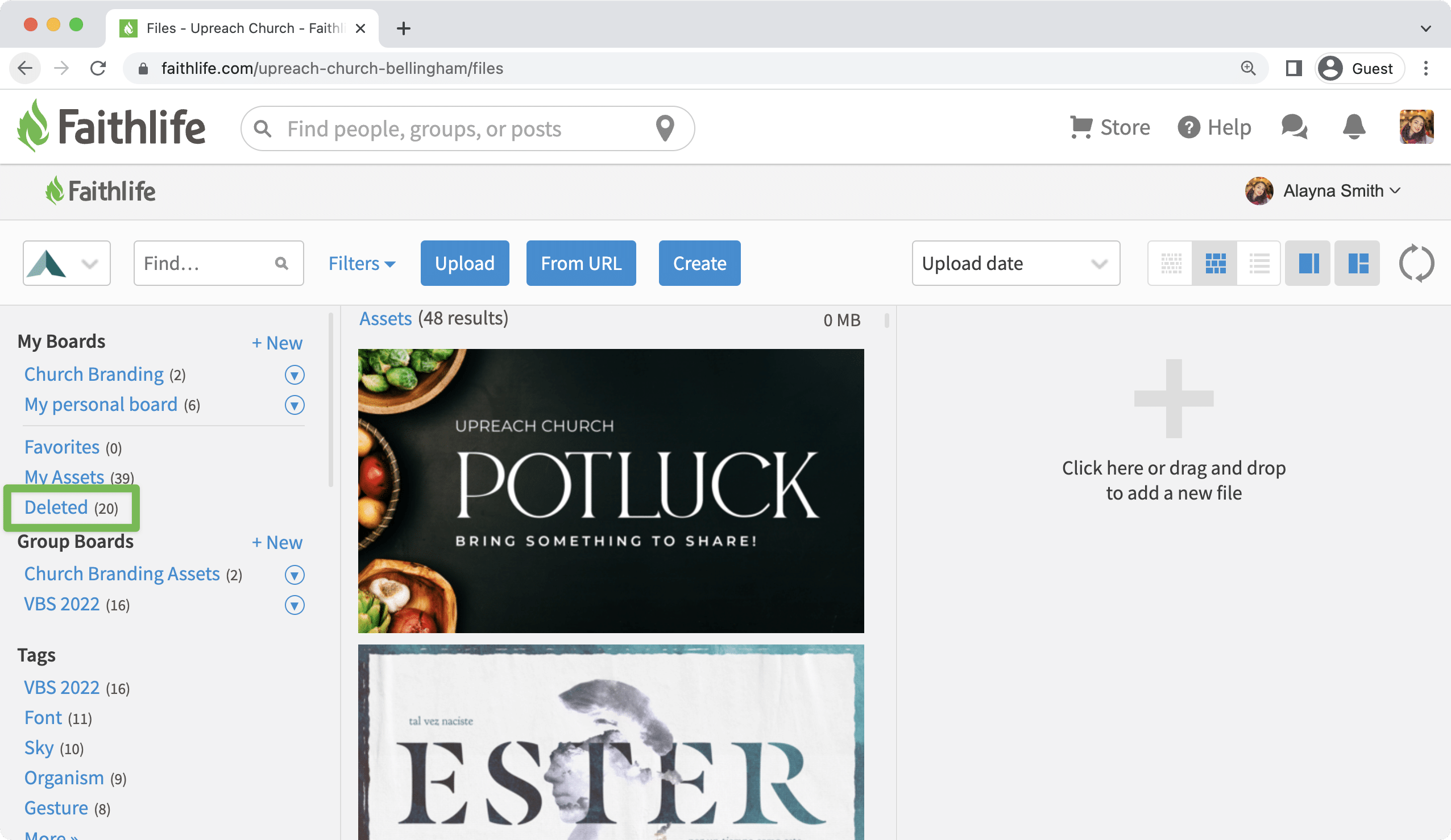 You can reinstate any deleted file from the Deleted group board. Click the View asset details icon

and click the Undelete button.