Your church has Faithlife Equip, which means you have access to a diverse and growing collection of resources designed to help you grow in the Word! To access your church's content, you'll need to join your church group on Faithlife.com and then navigate to your content.
Skip ahead to:
Get connected to your church group
Get Connected to Your Church Group
Accessing your content starts with connecting to your church group.
1. Accept the email invitation.
You should have received an email from your church inviting you to join. Open it and click Join group.
2. Create an account or sign in.
A web page will open prompting you to create a free account or to sign in. If you already have an account with Faithlife, click Sign in to enter your email and password.
If you don't have an account, provide your name, email address and a password. Click Register to create your account and join your church group.
Note: You'll use the same free account to access every service connected to Faithlife (e.g., Logos Bible Software, Faithlife TV, Faithlife Ebooks, etc.).
Access Your Content
There are three broad categories of resources:
Logos Bible Study: Digital Bible study tools and books
Faithlife TV: Christian TV and movies
Faithlife Courses (video only): Bible, theology, and ministry video courses
1. Logos Bible Study
Once you join your church group, you'll have access to over 260 resources, including commentaries, Bible dictionaries, and more through Logos Bible Software. You can access your content via the web, desktop apps, or mobile apps. However you access your Logos content, you can learn more about how to get the most out of this powerful software.
Connect on the web
To access your resources on the web, enter app.logos.com into your web browser. If you're not already logged in, provide your email name and password for your Faithlife account.
Connect through a desktop app
You can also access your Logos content through our Windows or Mac apps. Go to the Logos website, sign in to your account, and click the download link for your operating system.
When your download is complete, open the app and sign in using the same credentials you used above.
Connect through a mobile app
You can also access your Logos content through our mobile apps. Download the app for your mobile platform, sign in with your email and password for your Faithlife account, and click Sign in.
2. Faithlife TV
Faithlife TV is a Christian video-streaming service featuring Bible teaching, documentaries, dramas, kids shows, and more. You can watch it on your phone, iPad, laptop, or Smart TV. You can also use it to share your church's own video content.
Stream thousands of hours of video
Choose from hundreds of kids shows, documentaries, and more
Watch your church's own video channel
Turn on Bible Screen to fill your home with Scripture
Watch it on mobile, desktop, or a Smart TV
Seminary-level teaching
To access your Faithlife TV content at FaithlifeTV.com. Sign in with your Faithlife email and password to see all your content.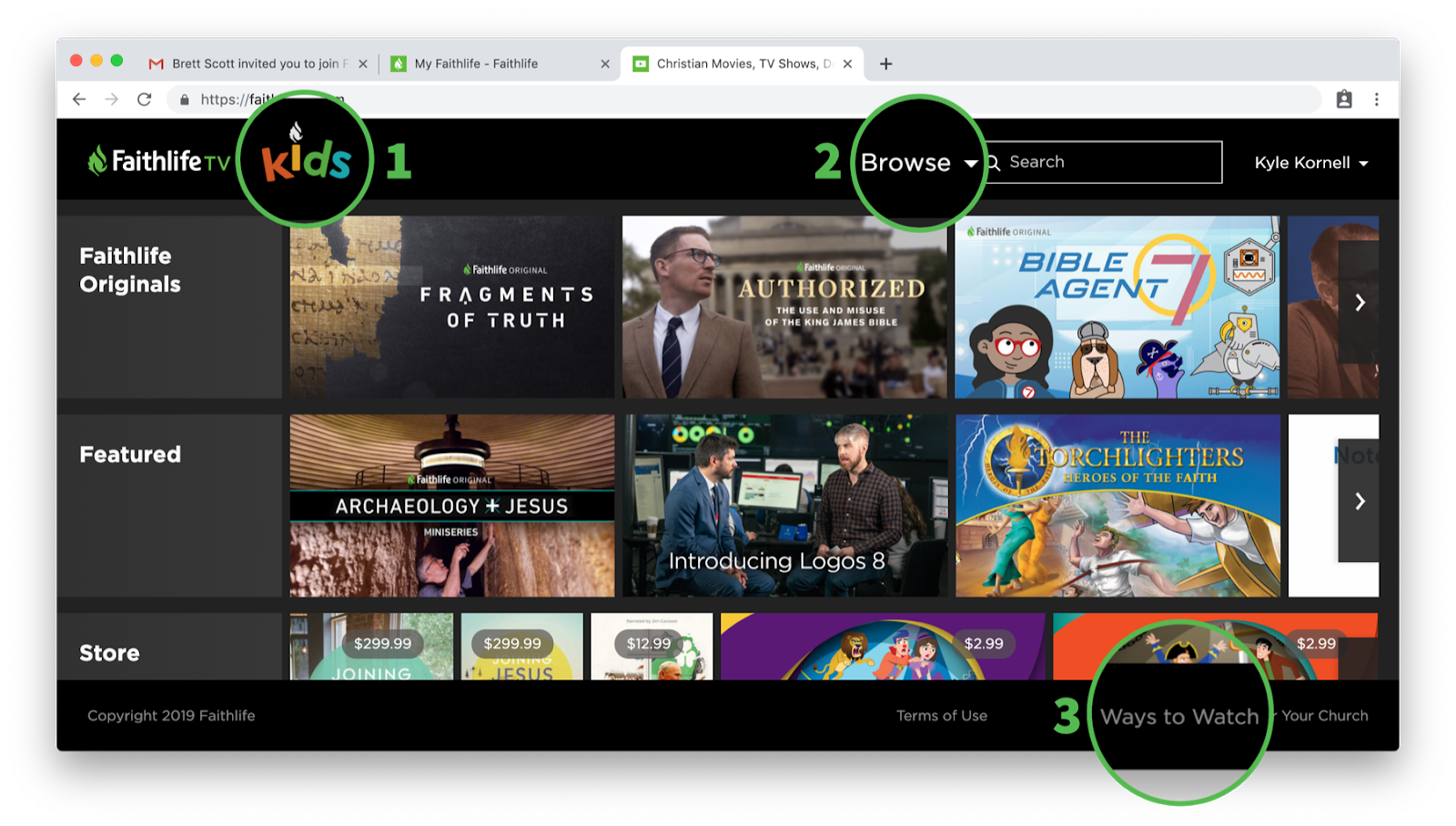 Notable features:
Kids Mode: Parents love Faithlife TV because it's safe and entertaining for their kids.
Browse menu: Scroll to see the available categories of content or expand the Browse dropdown menu.
Ways to Watch: You can watch anywhere, on your TV, mobile device, or on any computer.
Note: There are three tiers of content available on Faithlife TV: 1) Free content, like anything your church posts, 2) individual items available for purchase in the store, 3) Faithlife TV subscription content, like the hundreds of movies, shows, and educational content.
3. Logos Mobile Education
Logos Mobile Education brings seminary to your living room—but without the homework. Enjoy over 200 courses spanning more than a dozen topics in 5–10 minute segments for on-the-go learning.
Learn from trusted Christian professors, pastors, and scholars as they teach on a wide array of subjects, including (but not limited to):
Bible
Theology
Leadership
Church history
Counseling
The courses available to you through your church are video-only courses. You can access these through Faithlife TV, or through Logos.
Access Logos Mobile Education using Faithlife TV
1. Navigate to FaithlifeTV.com.
Go to faithlifetv.com and sign in with your Faithlife email and password.
2. Navigate to Logos Mobile Ed.
By scrolling or from the dropdown Browse menu, go to the Logos Mobile Ed category.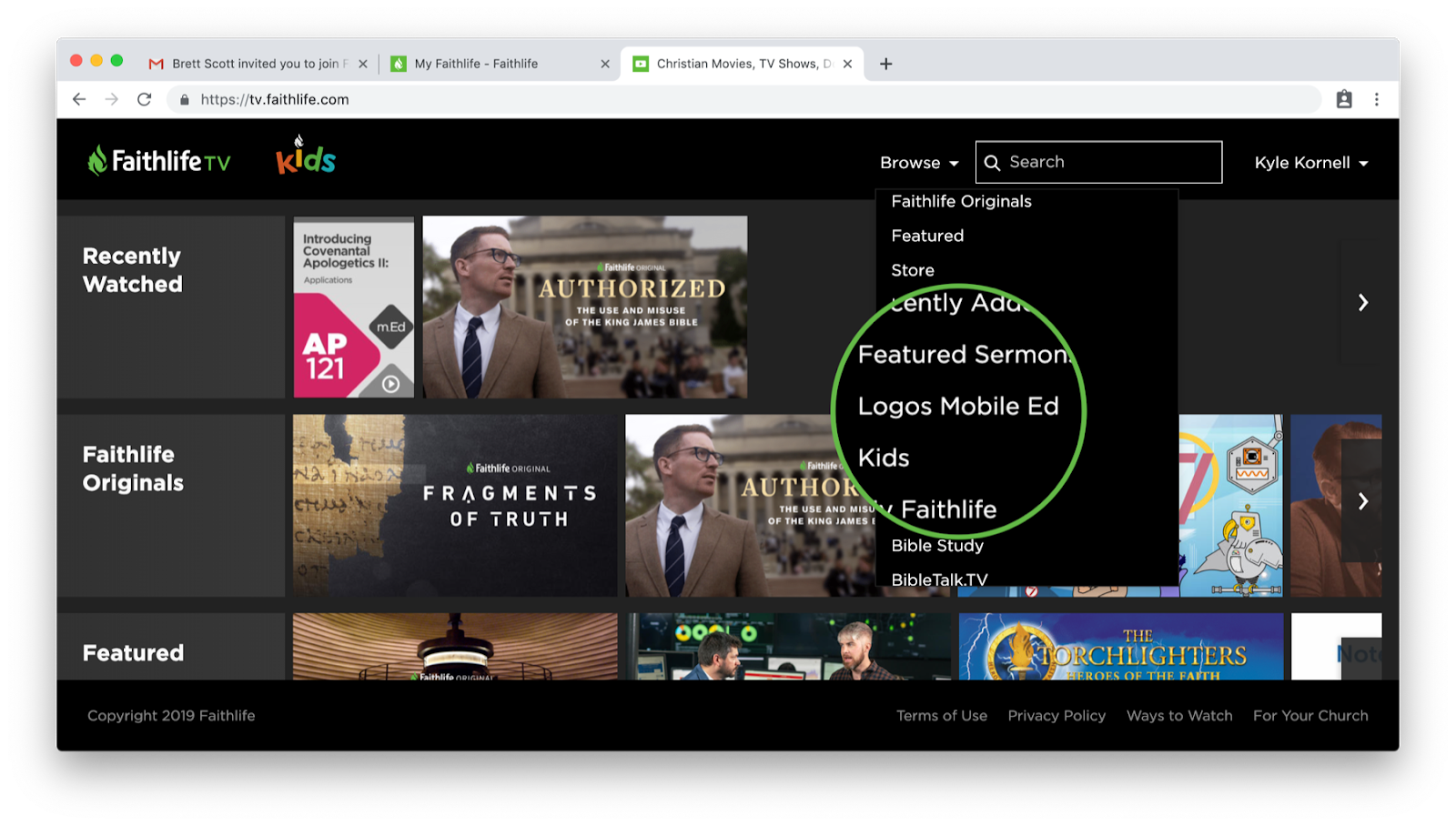 2. Choose a course to watch.
You have access to dozens of courses across a variety of topics. Choose one to get started.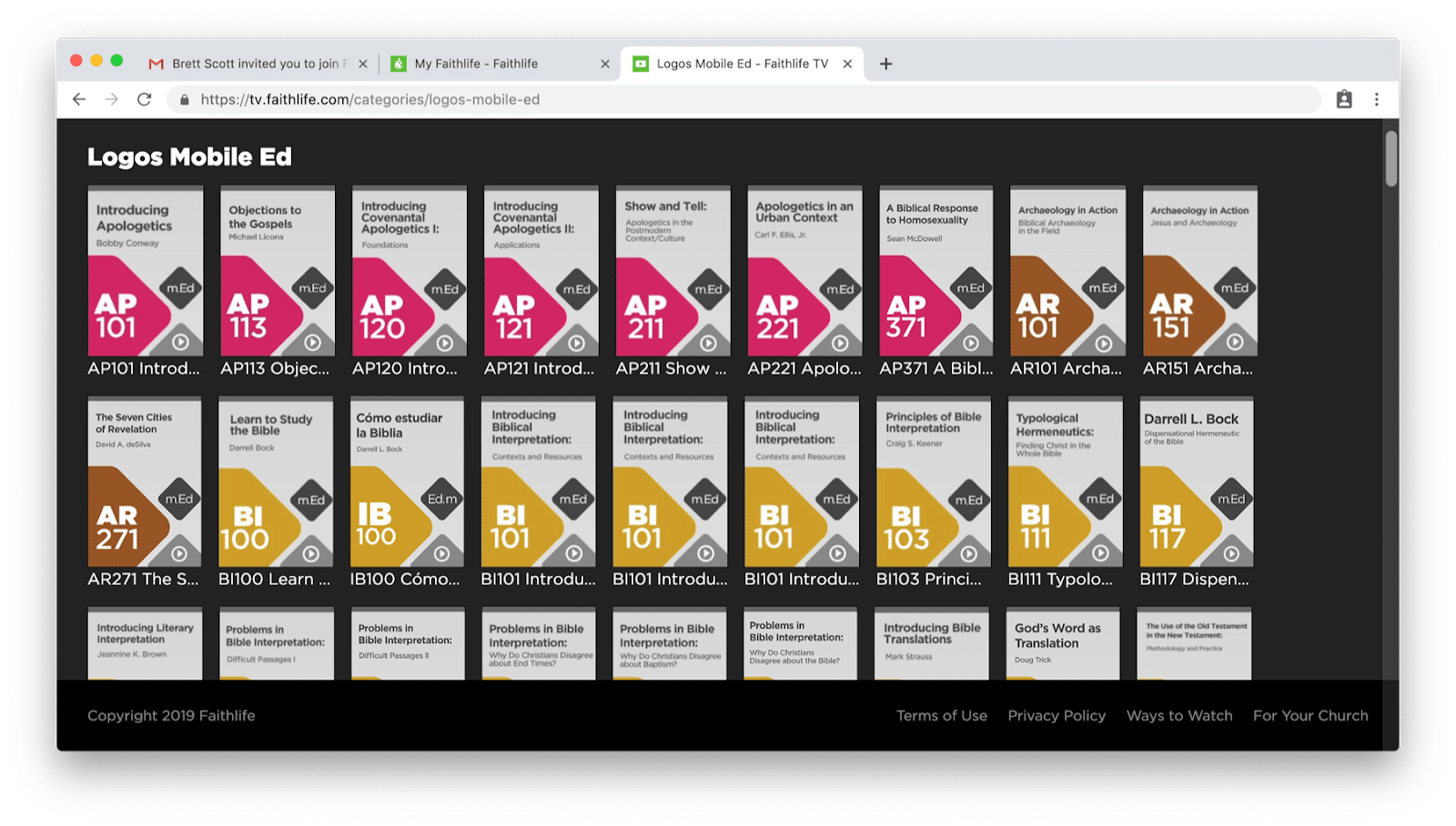 A course description provides a basic preview of the content.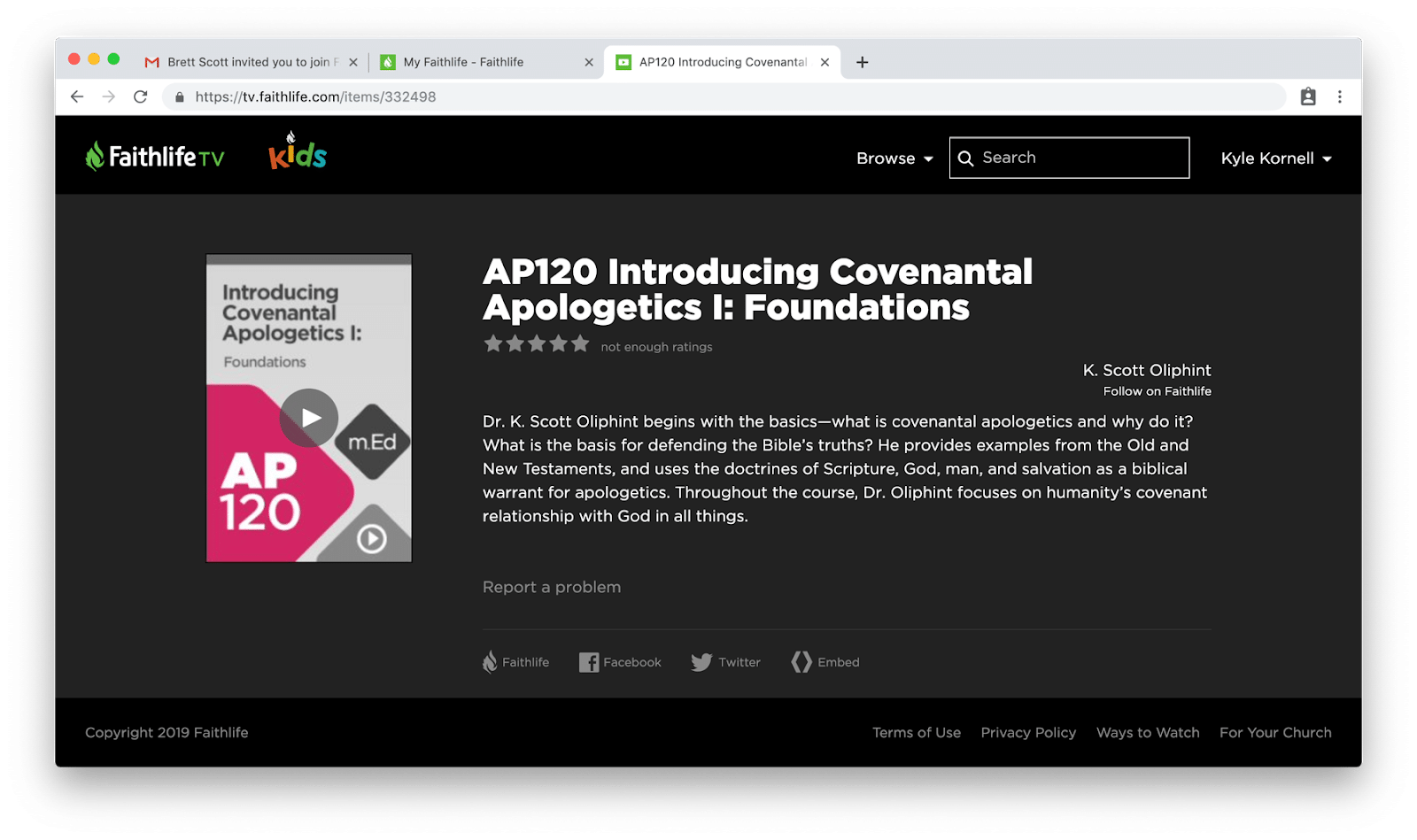 Scroll down to access a dropdown menu that shows sections included in the course. Most segments are 5–10 minutes long so you can learn step-by-step even on the go!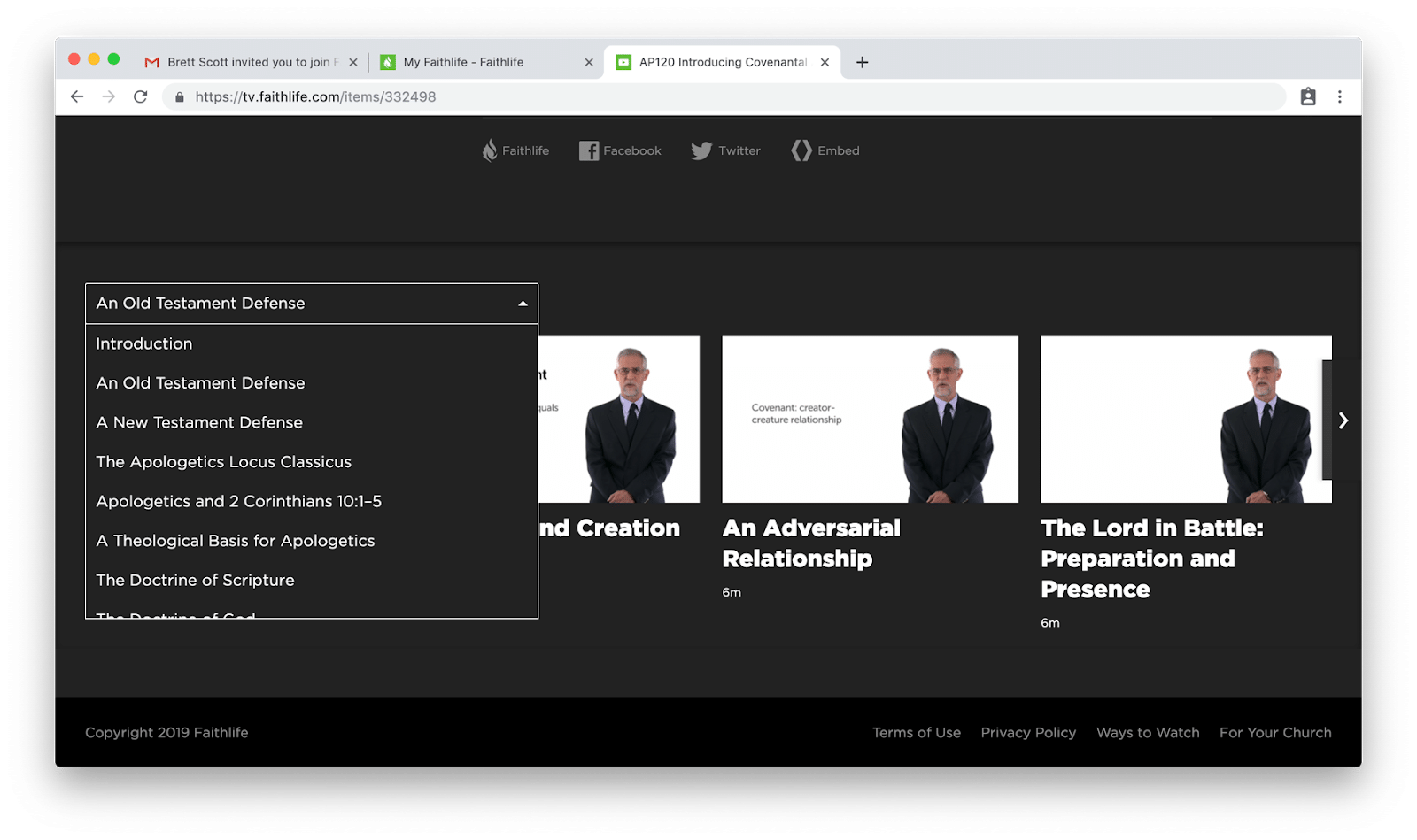 Note: Because your courses are available on Faithlife TV, you can access your content anywhere—on your TV, computer, or even on the go!
Access Logos Mobile Education through Logos
1. Visit app.logos.com or open the Logos desktop application.
2. Click the Library icon to open it.
3. Expand the Library filter menu, then select Type>Courseware Media Collection.
All of the video courses available to you will display.
With the "Courseware Media Collection" filter active, you can search for topics, books of the Bible, and more.