You can configure your privacy settings from the Profile tab in your personal Account Settings. Any changes you make will be automatically saved.
Note: In addition to controlling your personal privacy settings, Account Settings also lets you adjust your personal notification preferences and sidebar settings.
1. Open your Account Settings.
Click your avatar at the top right of the screen and select Account Settings.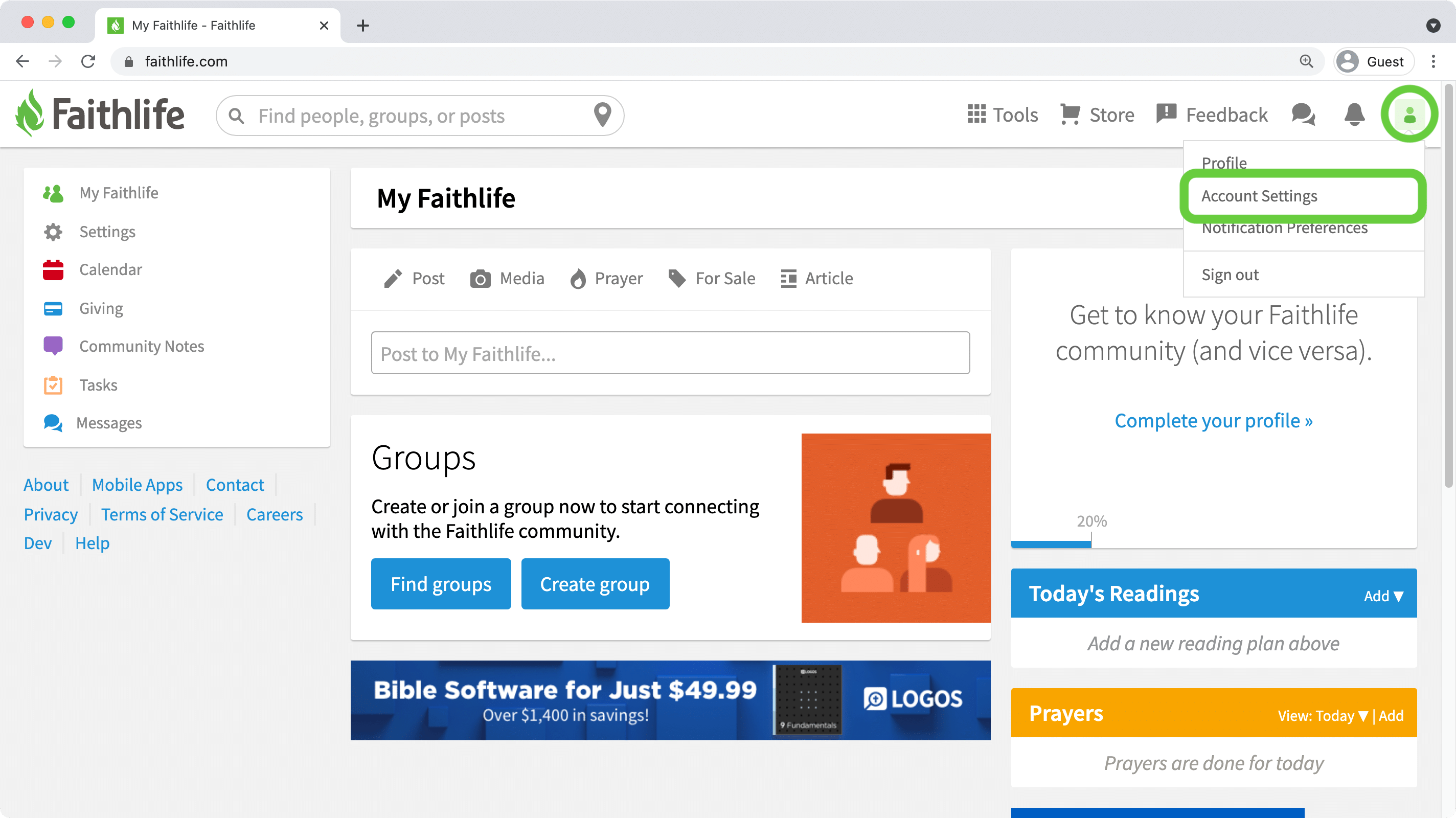 By default, your Profile tab is selected, which allows you to view and edit your profile on Faithlife.com. The tab is divided into multiple sections to give you maximum control over your profile. Faithlife will save any changes you make automatically.
2. Provide Basic Profile Info
This top section is always visible to everyone on Faithlife. Add a profile photo and other profile details to update it.
Profile Photo: Click the Camera Icon and upload a photo from your computer. We recommend a photo 1024px × 1024px.
Display name: Your display name is the name that appears publicly on your profile. Some users prefer to use a nickname or an incomplete name (e.g., "Terrance J") for their public-facing name rather than their full name.
Short bio: Provide a brief public-facing bio to tell others about yourself.
Profile URL: Faithlife auto-generates a unique URL for your profile, but you can alter it in the input box.
Pro Tip: Click the View profile button to see how your profile will look to others on Faithlife.com.
3. Provide Detailed Profile Info
Each section below holds more detailed information about you. As always, you keep full control of the details you providing. Choose who can access each piece of information using the blue dropdown: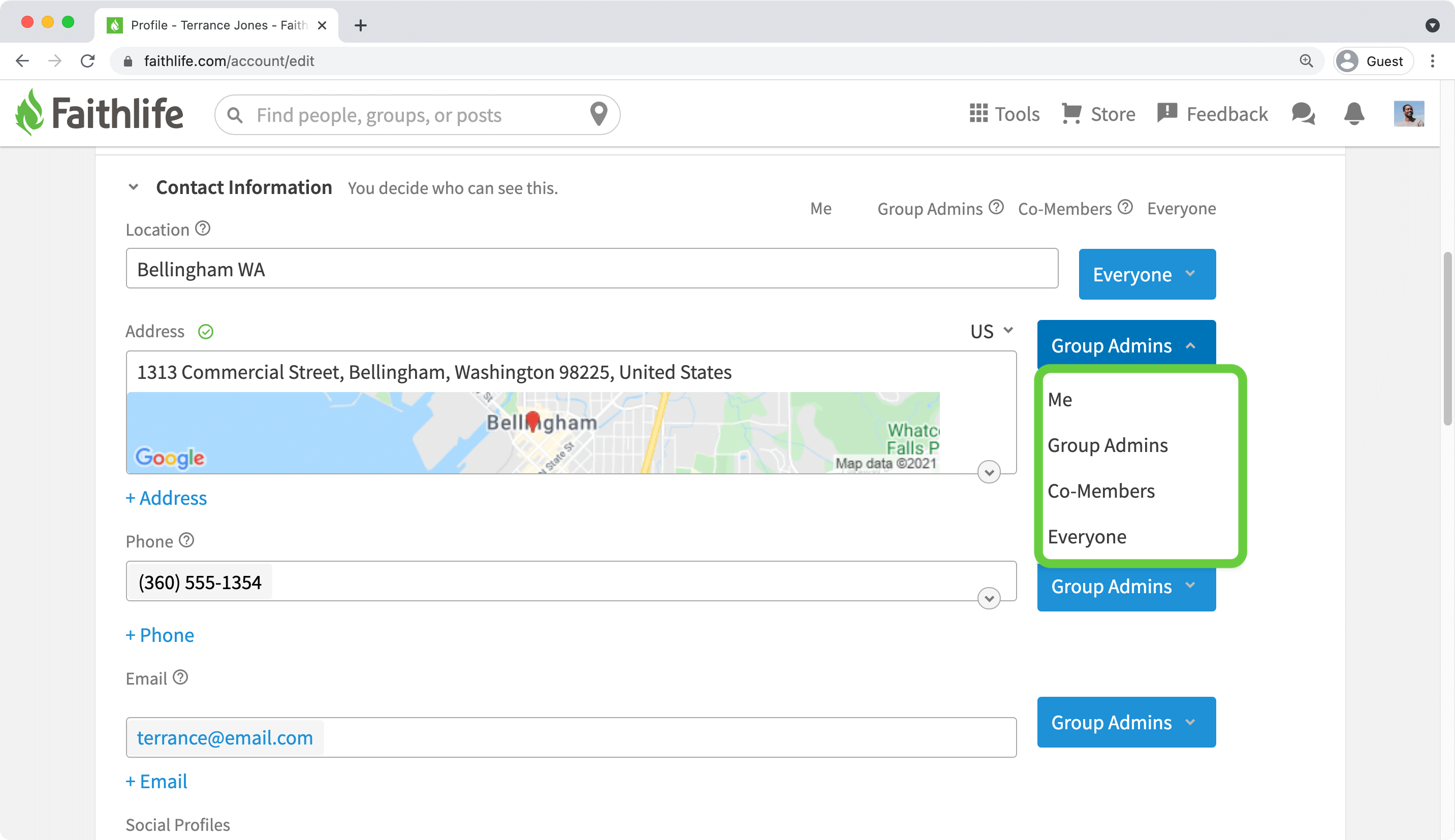 Me: You are the only one who is able to view this information.
Group Admins Admins and moderators of groups you join can access this information. This allows your church to pull in important information you want to share (e.g., for the church Directory, for example).
Co-Members: People who are members of groups that you are also a member of can view this information.
Everyone: Anyone who has a Faithlife profile can view this information.
Update each section below accordingly. Changes you make will save automatically.
Contact Information
Enter details about how people can connect with you (address, phone, email, etc.). Select the level of sharing for each mode of contact.
About You
This includes more detailed profile information, including gender, birthday, and bio. You also can see options for your faith background, skills, personality type, and more. The more information you provide, the easier it will be to connect with others and communicate together.
Faith
Share your spiritual gifts and testimony.
Marital status
Select a marital status and enter your wedding date.
Employer
Enter basic information about your employment history.
Education
Use this section to let others know where you went to school and what degree(s) you earned.
Visibility
Select who can see your posts and groups that you are a member of. You can also block other users, if necessary.
Account
Access your full name (as opposed to your display name under the basic profile info) and login credentials. You can change your email or password from this section.
Timeline
This section displays events from the previous sections where dates are included (e.g. Wedding date, employment, education, etc.)