Once you create a free account and join your church group on Faithlife.com, you can access all of the benefits available to your church. Here's how.
1. Community
Your group administrator will send you an email invitation to join your group. Once you've accepted your invitation, you will gain access to your church's online community, Logos Bible Software, Faithlife TV, and more. Here's how to accept your invitation:
1.1 Accept Your Invitation
You should have received an email from your church inviting you to join.
Open it and click Join group. (If you don't receive an email invitation, check your spam folder, then contact your church administrator.)
Create a free account or sign in. When you click the invitation link in your email, a web page will open, prompting you to create a free account or to sign in.


If you don't have an account, provide your name, email address, and password. Click Register to create your account and join your church group.
If you already have an account with Faithlife or Logos click Sign in to enter your email and password.
Remember: You'll use the same free account to access every service connected to Faithlife (Logos Bible Software, Faithlife TV, etc.).
1.2. Say Hi and Take a Look Around
Once you've connected to your church group on Faithlife, take a few minutes to say hello and look around.
There are three basic areas in your group: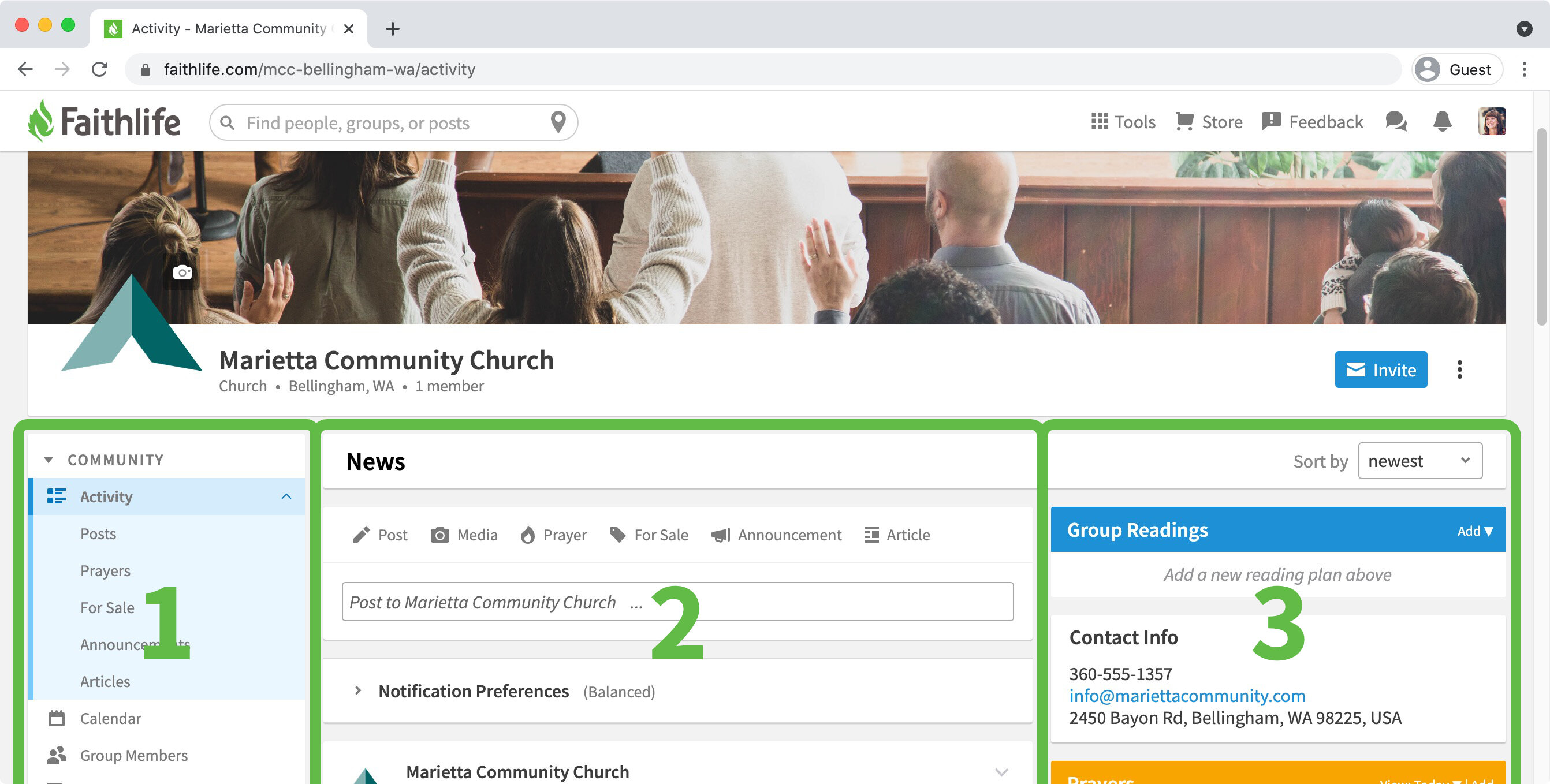 Navigation: you can quickly access nearly every tool from the Community panel.
Content: the middle area holds your current content.
Sidebar: your church can put group prayer requests, Bible reading plans, and more in the right-hand sidebar to help you connect on a deeper level with others in your church.
Your group gives you access to a shared feed where you post messages, shared prayer lists, a group calendar, chat, and more. Consider posting a question, something you've learned recently, or an encouraging comment.
Questions about posting to your group? Learn more here.
1.3 Customize Your Group Notifications
You may want to tailor the notifications that you receive from your group. This gives you the ability to be as up-to-date on the activity in your church group as you want to be. You can make detailed selections, or pick one of the preconfigured options: None, Less, Balanced, More, All In. Visit your account notification page on Faithlife.com.
2. Bible
When you log in to Logos, remember to use the email and password that you used when you joined your group. Your one login gives you access to all the resources that your church is providing you, as well as the ability to share Logos documents, reading plans, prayer lists, and more with your church group.
Logos is available as a desktop application, mobile app, and on the web. Visit logos.com/get-started for download links and more.
If you'd like some more help learning how to use Logos, check out the Basic Bible Study video series.
3. Stream
Faithlife TV has streaming Christian TV, movies, and study content for all ages. Your church's Faithlife subscription gives you free access to many titles on Faithlife TV (some premium content still requires purchase), as well as your church's sermons (if your church has opted to publish their sermons in Faithlife TV). You'll also be able to access all of the Logos Mobile Education course videos available to you here as well.
You can access Faithlife TV:
On the web at faithlifetv.com
Suggested content on Faithlife TV
Once you've signed in with your Faithlife account, you can search for content or browse the different categories. Here are some suggestions of where to start.
Logos Mobile Education courses are great for individuals or small groups. You could build a small group around a Mobile Ed course, or use individual videos to supplement the curriculum you're already using. Here are some courses you may want to start with:
Faithlife TV has some great documentaries that you may enjoy, such as:
Fragments of Truth

, with Dr. Craig Evans, explores the transmission and reliability of the biblical text.

The Fantasy Makers

examines the spiritual influences of J.R.R. Tolkien, C.S. Lewis, and George MacDonald and the lasting impact their works have on our present-day culture.

Bonhoeffer

weaves archival footage together with interviews with friends, family students of Bonhoeffer, leading historians, and theologians to explore Bonhoeffer's life and thought. 
Faithlife TV also includes engaging content for kids, like:
The Jesus Storybook Bible

invites children to join in the greatest of all adventures, to discover for themselves that Jesus is at the center of God's great story of salvation—and at the center of their Story too.

Bible Agent 7

is a cartoon series for elementary-aged children designed to spark their curiosity about the Bible.

Torchlighters

. Each Torchlighters episode presents the story of a true-life hero from Christian history. Kids will see what God can do through a "Torchlighter" and will be challenged to carry their own torch while learning about the history of our faith.