Any group can read through the Bible together as a church with group reading plans. In a few moments, you can set up, share, and connect your church to any reading plan. If you have access to Logos, you can even fully customize the plan with more than one resource in your library.
Skip ahead to:
Create a Reading Plan
You can create a reading plan from your Faithlife.com group or from Logos.
Create a reading plan from your Faithlife group.
Read through the Bible together as a church by creating a group reading plan.
Note: By default administrators, moderators, and members can create reading plans. An administrator can adjust these permissions from Group Settings in the left-hand admin navigation menu. For instance, you may want to limit creation of new reading plans to administrators and moderators only.
Expand the Add dropdown for Group Readings.

To begin, navigate to your church group on Faithlife.com. The right-hand sidebar displays items related to your group, including Group Readings. Click Add to expand the group reading options.

Note: By default, church groups display group readings in the right-hand sidebar. If you've removed it from your sidebar and need to re-activate it, an administrator can do so from the group settings. Expand Settings in the admin navigation menu, select Group Settings, and scroll down to the Sidebar settings.

Select a reading plan.

You can choose between nearly seventy different reading plans. Some focus on biblical themes over a short time period while others guide you to read larger sections of the Bible over the course of a month or a whole year.

Once created, your reading plan displays in the right-hand sidebar of your church group along with a preview of the day's reading.
Create a Reading Plan from Logos
Logos makes it easy to read through books in your library or explore a topic by creating systematic plans you can tailor to your pace and schedule. Customize an existing Reading Plan or create your own using Passage Lists or Clippings documents. You can also share a plan with your Faithlife Group or export it to your calendar application.
Your Reading Plans automatically sync and track your progress across your desktop, web, and mobile platforms.
Note: You can also create reading plans from the Logos mobile app.
Here's how:
In Logos, click Docs > New to expand the menu.

Select Reading Plan.

Select your plan

Logos displays three types of reading plans for you to choose from.

Choose a predefined Reading Plan

Selecting this option opens a menu of Bible reading plans pre-arranged by the range of Scripture covered or topics addressed.

Generate a Reading Plan

This option is designed to create a reading plan for any resource in your library. The default plan is reading your preferred Bible in one year. However, you can click the hyperlinked fields to select a resource from your library and set your schedule. (See more about customizing your plan below.)

Custom Reading Plan

Choose this option to create a reading plan using multiple resources or a variety of selected passages.

Customize your plan

Customization options vary depending on the type of reading plan you've selected. Click here to learn more.
Start reading
Join or Quit a Reading Plan
Anyone can join a reading plan from your church group homepage or from the mobile app.
Join from your church group.
Select Connect in the right-hand panel or Join reading plan from the group newsfeed.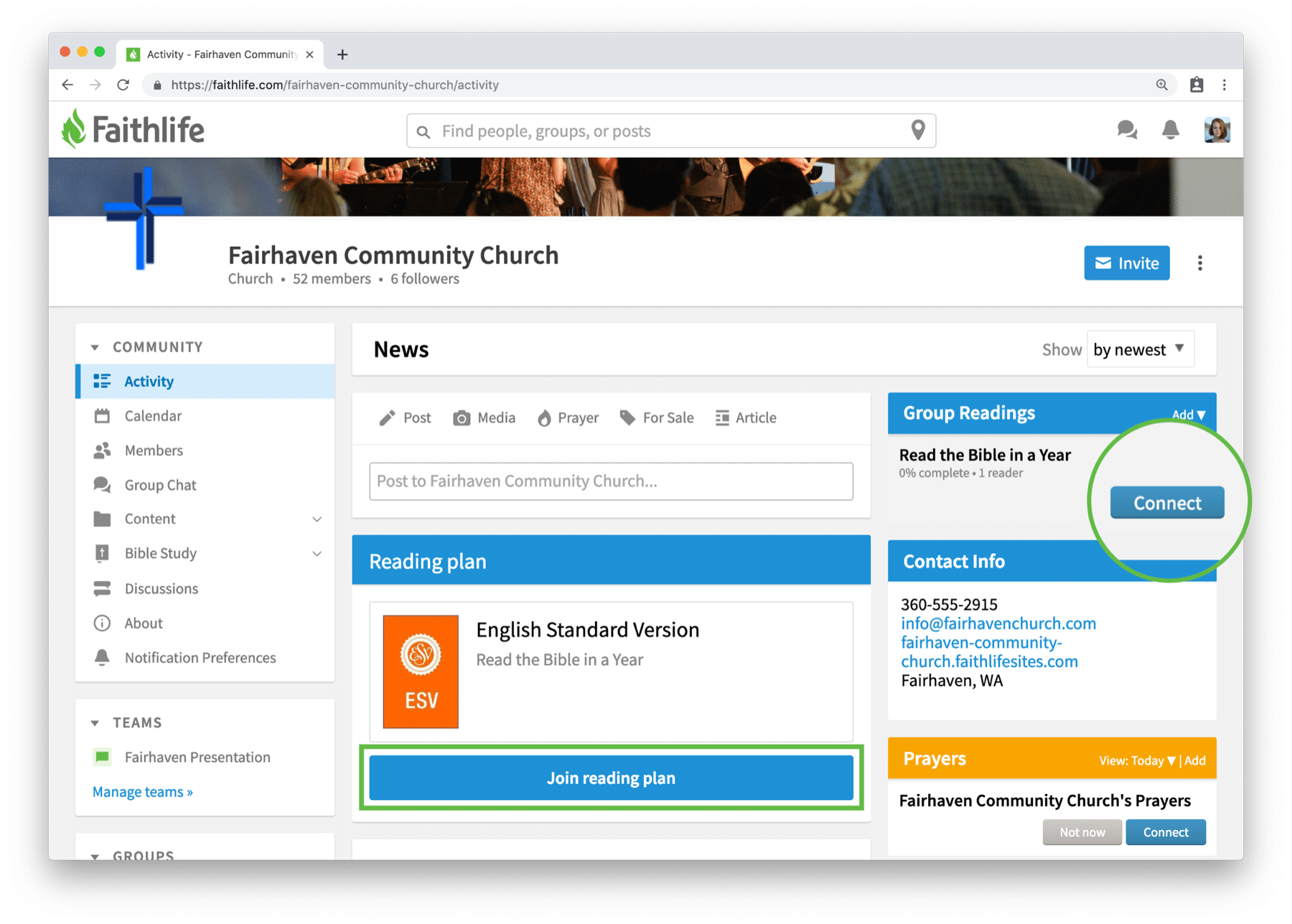 Once you join a reading plan, you can request your daily readings to be sent to you in an email. Expand the dropdown and select Subscribe to email.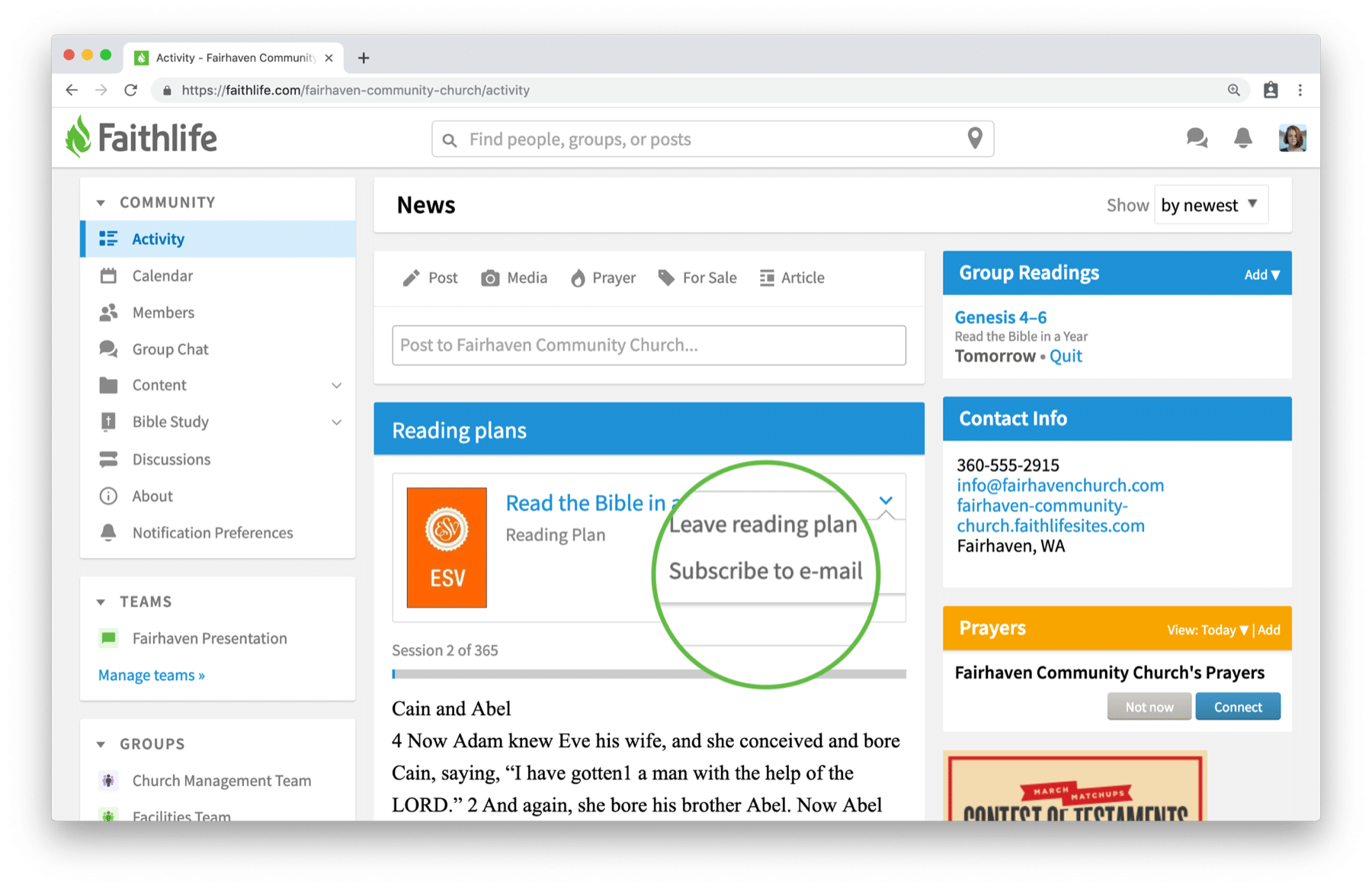 Selecting the reading for the day takes you to bible.faithlife.com. If you prefer to read in a different version than the default, expand the dropdown menu and select your preferred translation. Most common translations are available.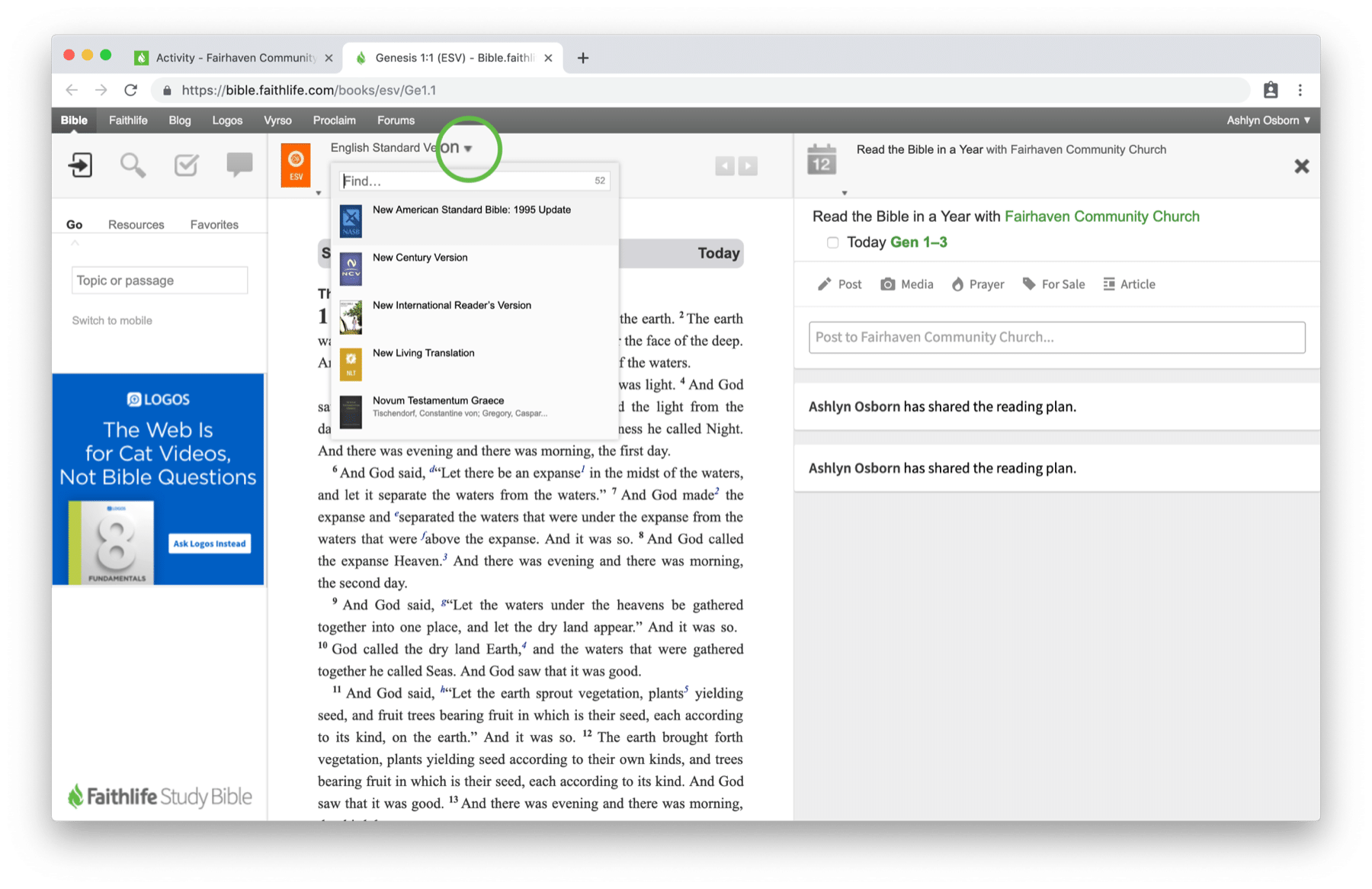 A progress bar appears to indicate where you should start and stop your reading for the day. When finished, click Mark Read.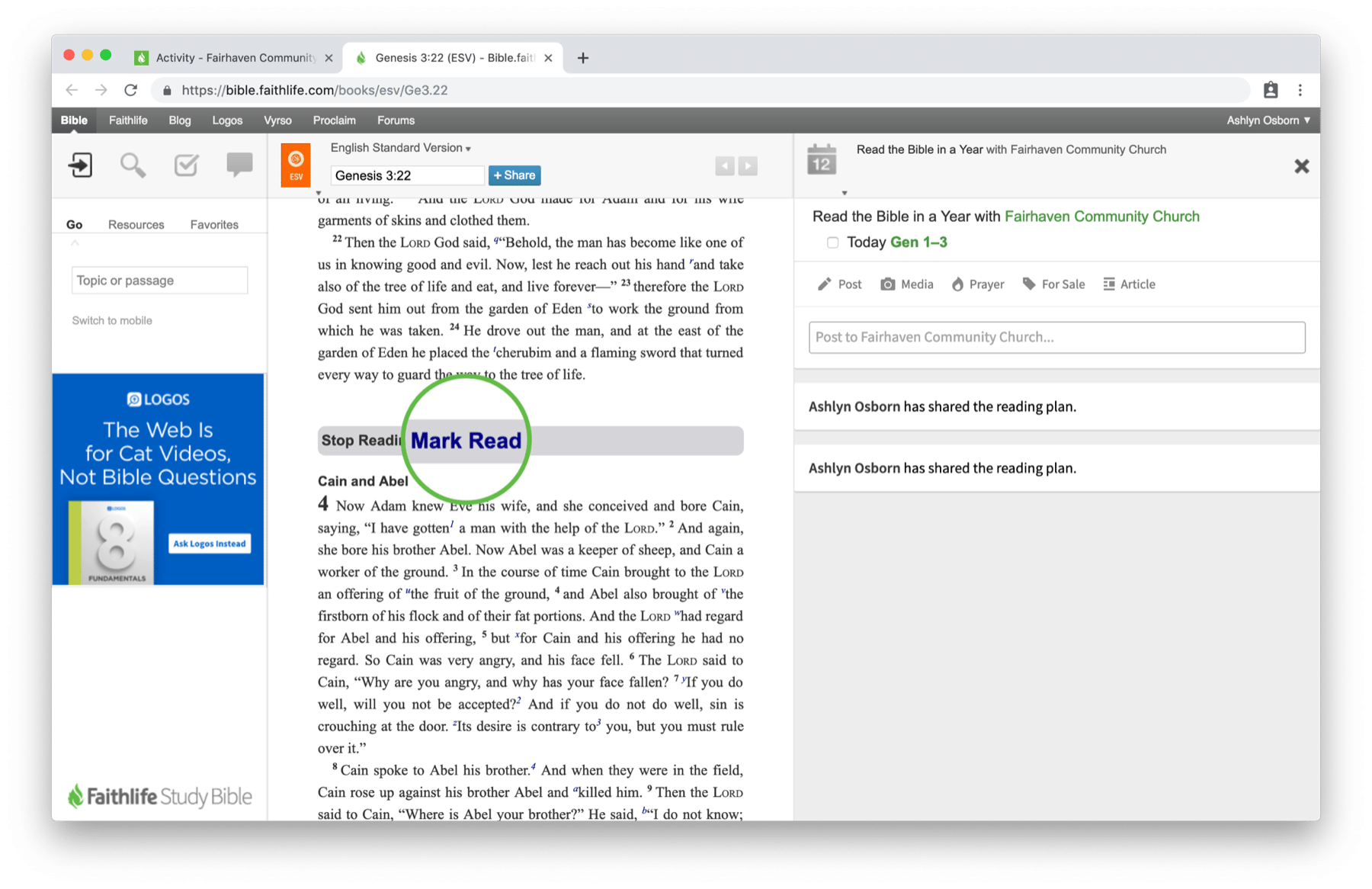 If readers fall behind, you can quickly catch up to today's reading.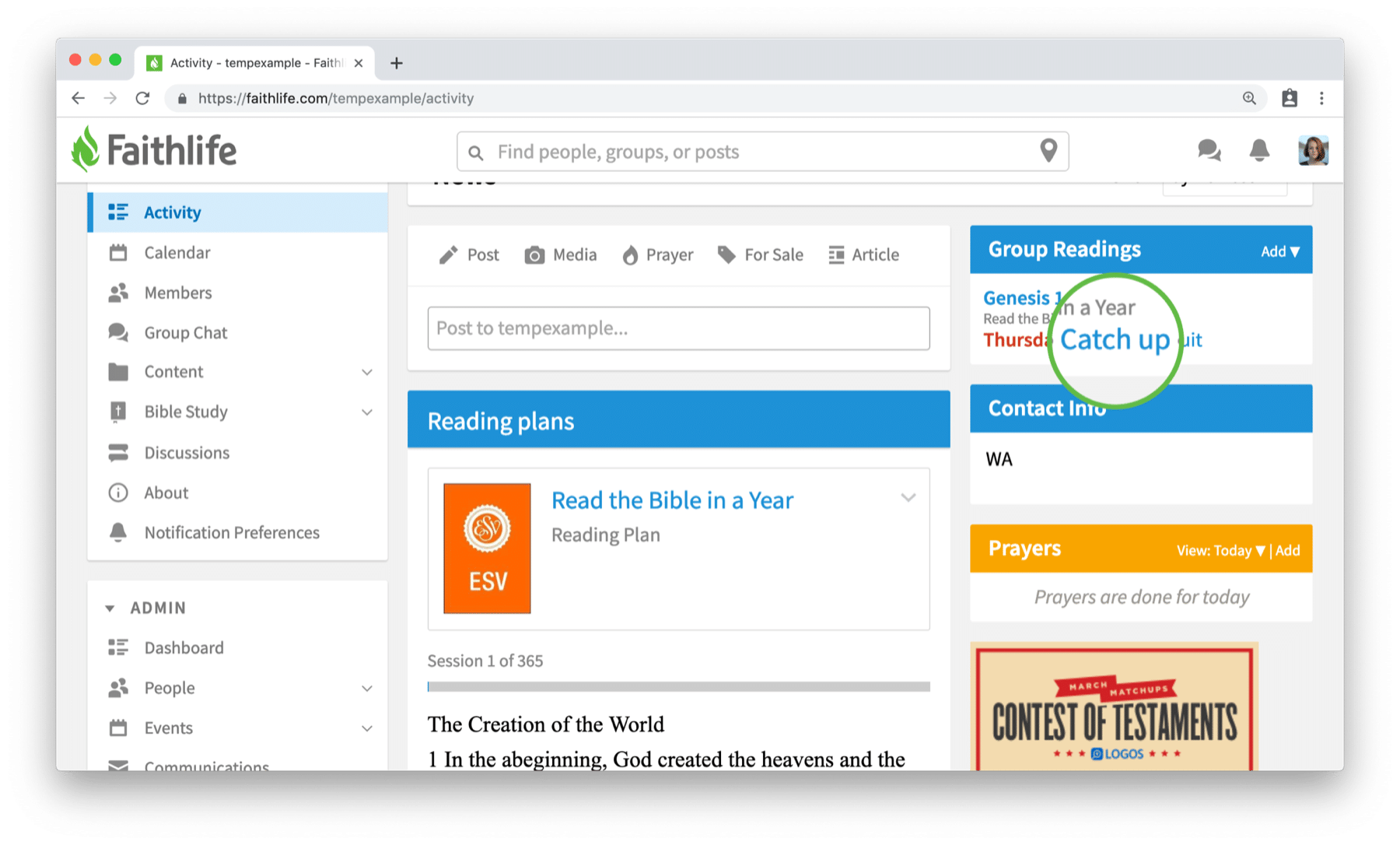 To quit a reading plan, choose Leave reading plan from the dropdown menu in the newsfeed or select Quit in the right-hand panel.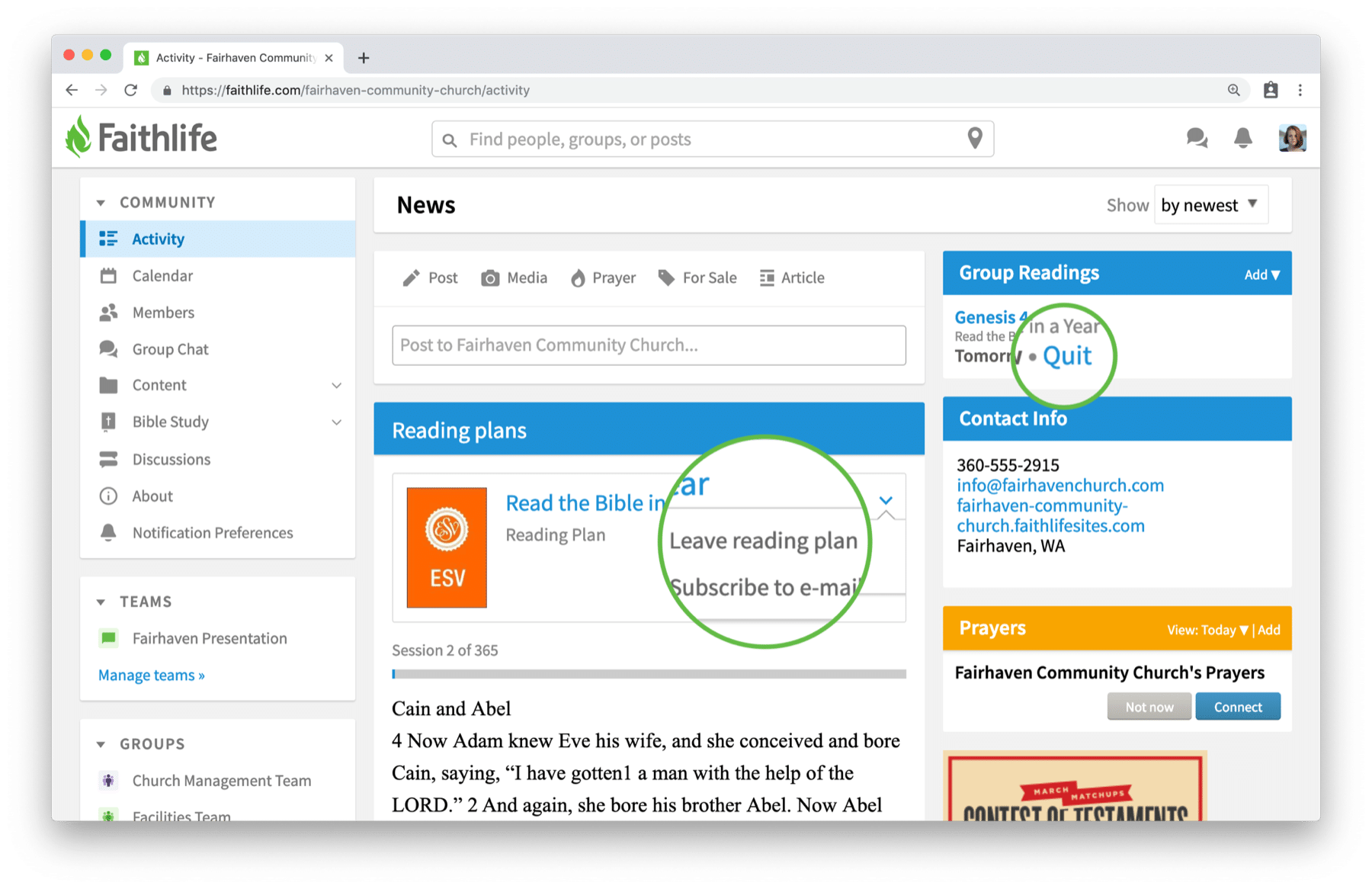 Join from your mobile app
If you're part of a Faithlife group that has created group reading plans, you can also choose to join your group's reading plan to work through a book or Bible together. You can access group reading plans from the Faithlife Study Bible app or the Logos Bible app. Both are available on Android, iOS, or Kindle Fire.
Open the Library .
Select the Readings tab.
Tap Group Readings.

Select any plan and tap Start.

Joining a group plan will move it to your Reading Now list with an indication of what group is associated with the plan.
Delete a Reading Plan
By default, only administrators and moderators can delete reading plans. You can adjust these settings from the Group Settings found in the left-hand admin navigation menu.
Navigate to Logos Documents.

Your church group shares reading plans via the Logos collaboration feature, so in order to delete a plan in your group, expand Bible Study in the left-hand navigation menu and select Logos Documents.

Select End Collaboration.

Find your desired reading plan in the list (search for it if necessary), expand the Actions dropdown, and select End Collaboration to remove the reading plan from your church group.
Share a Reading Plan from Logos
To share a Reading Plan with your Faithlife Group from within your Logos desktop app:
Open Logos.
Click Docs on the menu bar.
Select the entry row for your Reading Plan (not the linked title).
Click Share.
Click the Groups tab.
Expand the dropdown menu and select the group name you want to share with.

Click Done.

Logos uploads your Reading Plan to your group. Group members join your plan by following the steps listed above.