As a group admin, it's important to help educate your people so you can get the most out of your group. When people join your church group, there are two helpful ways to welcome your members and introduce them to your group's features and content: pin a welcome post and/or schedule an automated newsletter.
Note: You can find suggested text for your welcome post, newsletters, and more on this page.
Pin a Welcome Post
Note: Learn the basics of posting to your group newsfeed.
As an Admin, it's a great idea to pin a welcome post to your group's activity feed to welcome your members. To get started, log in to Faithlife.com and select your group from the left-hand sidebar.
Select a post type.
We recommend choosing Post or Article. The Article post type provides the most customization options. Write a welcome message and help your people get oriented.
Note: If you are an Admin in your group and you have a Faithlife Site, posting an article will simultaneously publish a blog article on your blog widgets unless you configure the widget to only show content from certain accounts. Learn more.
Here's an example using the Article post type.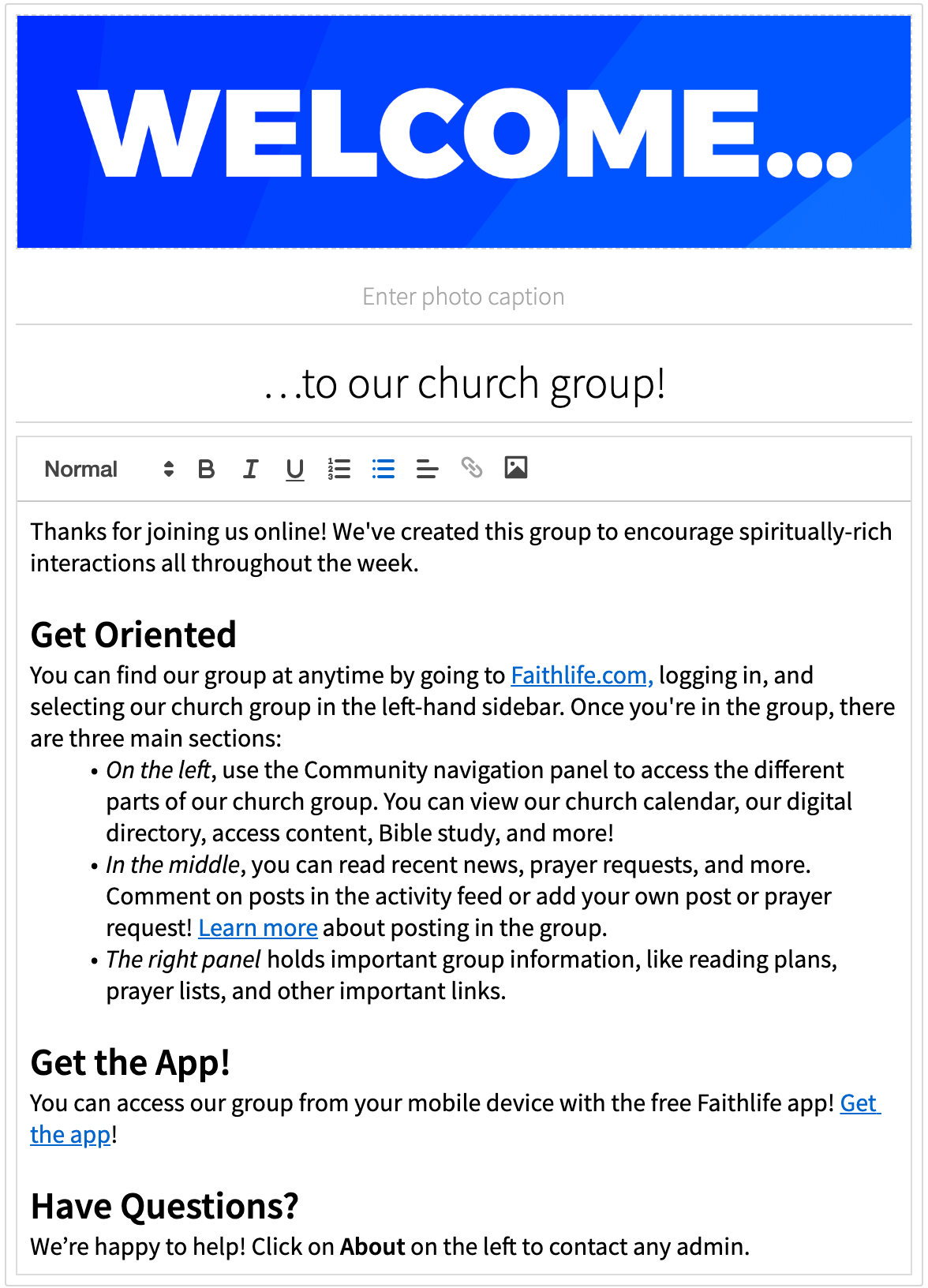 Here's the content if you want to copy, paste, and adapt it for your needs:
Thanks for joining us online! We've created this group to encourage spiritually-rich interactions all throughout the week.
Get Oriented
You can find our group at anytime by going to Faithlife.com, logging in, and selecting our church group in the left-hand sidebar. Once you're in the group, there are three main sections:
On the left, use the Community navigation panel to access the different parts of our church group. You can view our church calendar, our digital directory, access content, Bible study, and more!
In the middle, you can read recent news, prayer requests, and more. Comment on posts in the activity feed or add your own post or prayer request! Learn more about posting in the group.
The right panel holds important group information, like reading plans, prayer lists, and other important links.
Get the App!
You can access our group from your mobile device with the free Faithlife app! Get the app!
Have Questions?
We're happy to help! Click on About on the left to contact any admin.
Set your post visibility.
Your post will use your group's default Read the activity feed privacy permission. Many church groups set this level to "Public" so people visiting the group online can get a sense of your online community without needing to join. You can always set visibility for your specific post via the dropdown. For this welcome post, set the visibility to Members.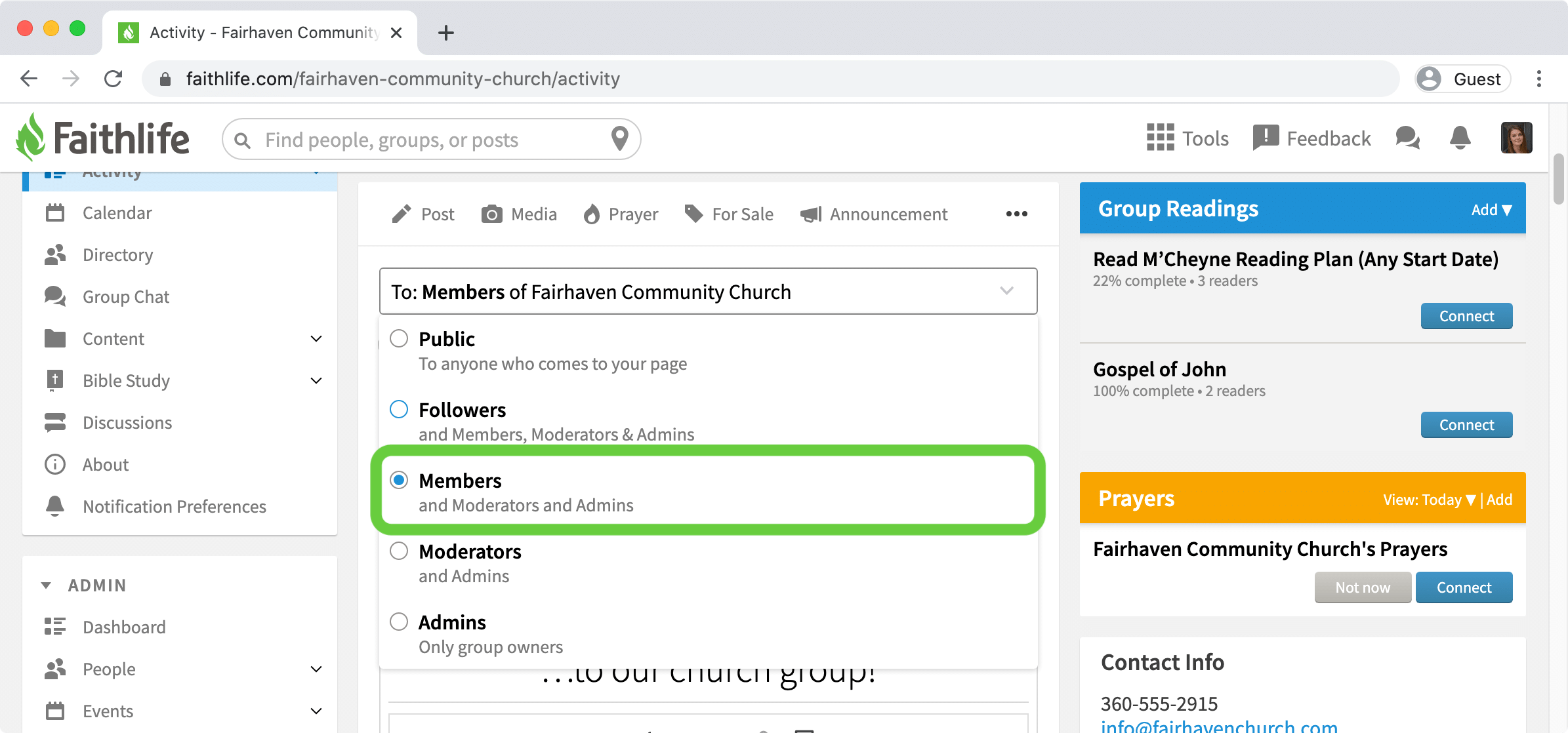 Note: Group Admins can change the default activity feed permissions from the Group Settings. Learn more.
Choose the posting account.
As an Admin in your group, you can choose to post with your personal Faithlife account or as your group. Select the option that works best for your needs.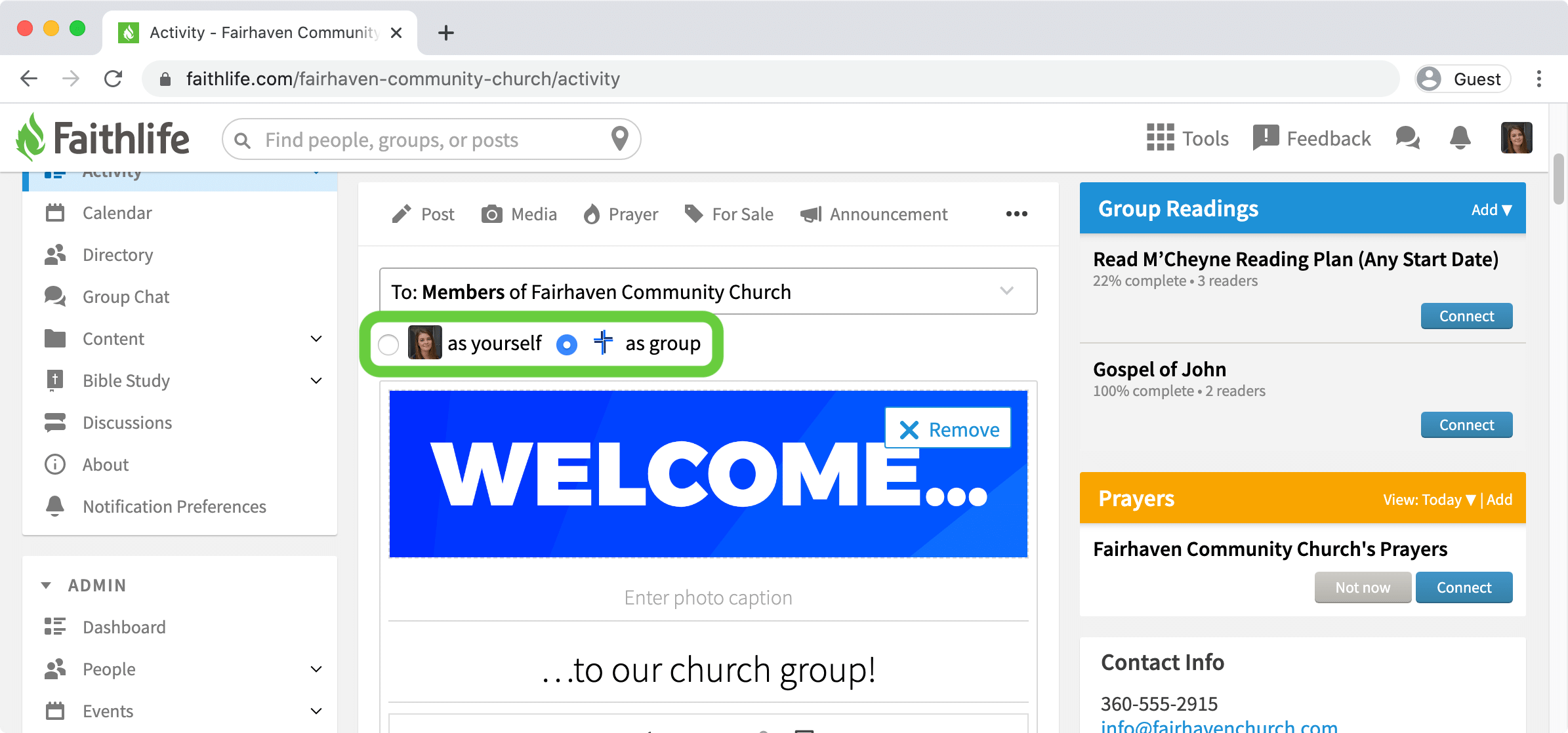 Post and pin the post.
When you're ready, click the Post button. Once it's posted, click the down arrow

on the post and choose Pin post to pin it to the top of your newsfeed.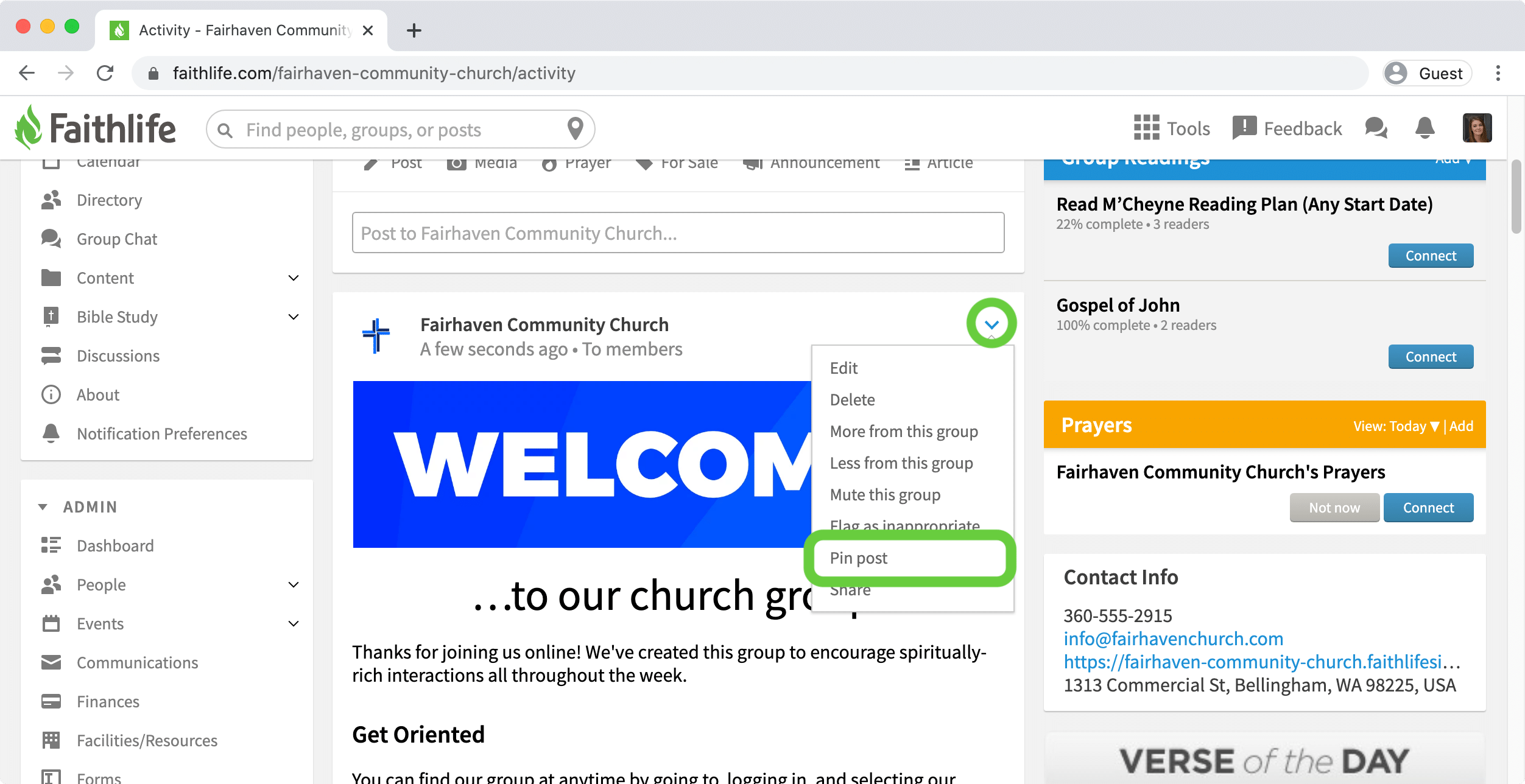 Any member who visits your group will see the post at the top of the Activity feed.
Note: You can update and edit the post at any time from this same dropdown menu. Click Edit, update the post and save your changes.