You can quickly search for sermons, illustrations, and media from the Logos Sermons home page.
Select a search category 
Sermons: searches all sermons hosted on Logos Sermons.
Illustrations: searches all published sermon text.
Media: searches all media files and media packs designed for announcements, worship backgrounds, sermon backgrounds, motion graphics, or verse art.
To search sermons, illustrations, and media, select All. You can change the limits of your search after it runs if you need to expand or limit it later.
Provide search criteria and click Search
You can add keywords (separated by commas), Bible passages, and topics or tags to your search. As you add search criteria for Bible passages or topics/tags, the input fields will help identify existing search terms. Click Search all to display your results.

Note: Search will show only results that meet at least one of each type of criteria you include. At least one criterion must be met from each input box for a result to show. For instance, the example above requires that an illustration includes John 3:16, a topic or tag "God's Love" or "Gospel", and the keyword "love." All three must be present for the illustration to show in your results.
Sort and refine your results
You can sort your results in the top right-hand corner of the webpage. On the left side of the webpage, you can adjust the Kind, Media type, Tags, or Language to narrow the search results.
As you make adjustments, your additional selections will display above. To remove one of these adjustments, click the corresponding X.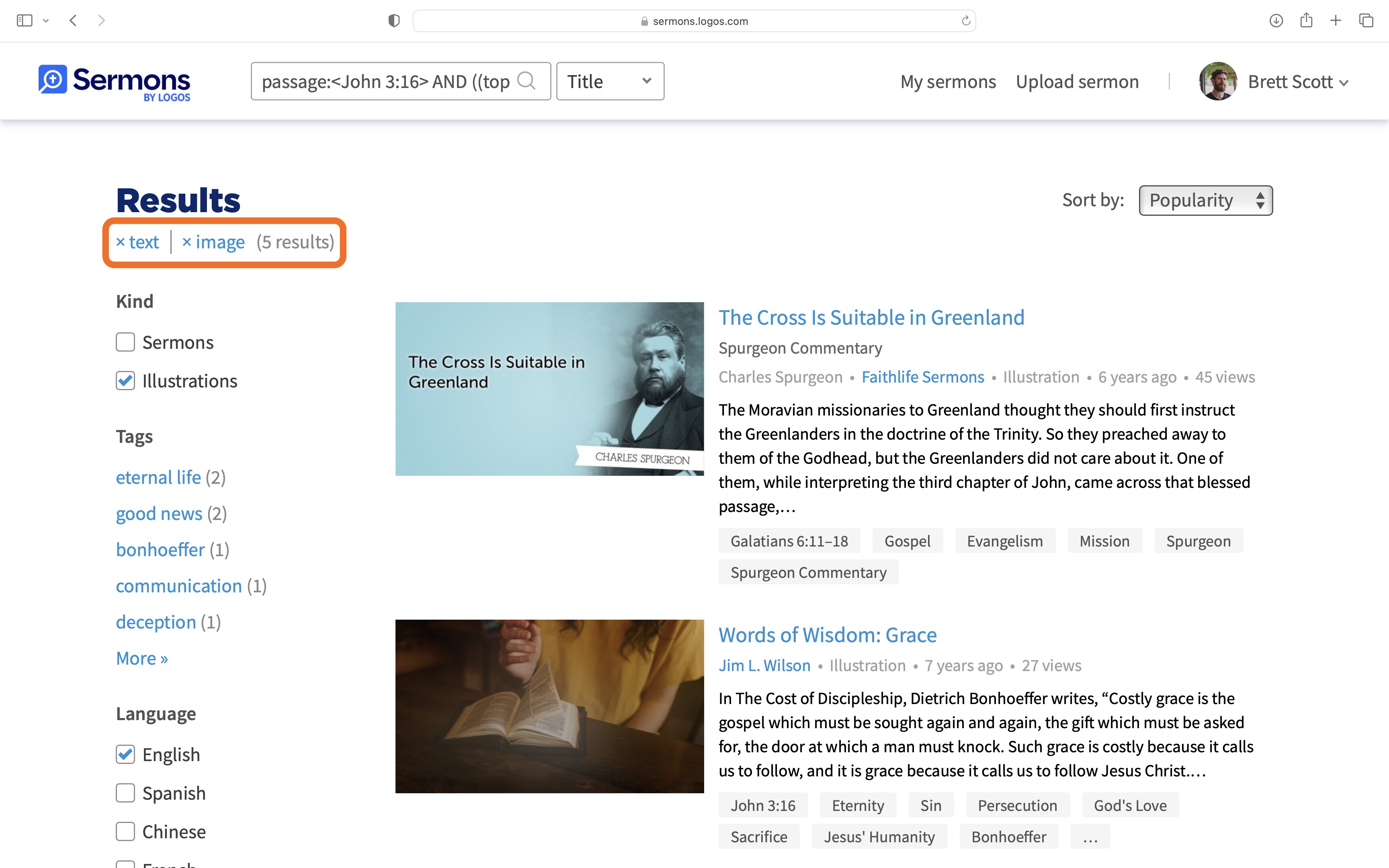 If you want to change the parameters of your search, you can adjust the wording in the search bar.
Advanced Tip: You can adjust the wording to include any single search criterion by changing the AND search terms to OR. This will broaden your search considerably, as it will require that only one search criterion is met for a result to display.